I'll go ahead and agree with every recent Vanderpump Rules recap: the show is largely no longer fun. I fondly remember when 9pm was the tiny glimmer of light at the end of yet another hideous Monday. But I don't seem to be alone in feeling like the show is on its last legs. The Vanderpump Rules cast is aging out of the debauchery they were cast for—and all the icky, real-life stuff we're watching now is way too relatable (and dark) to be fun. So, because I suspect the show will be cancelled relatively soon, and I've always wanted to know if could make good money as a VPR star I selflessly hope the cast is financially stable enough to survive it, I looked into the Vanderpump Rules cast's net worth. Here's what I found out.
How Much Are They Really Being Paid?
According to TMZ, the Vanderpump Rules cast earned $5,000 each for the entire first season. Season 2, the cast earned $3,000 per episode, and season 3, they earned $5,000 per episode. By Season 4, they started earning what Slice refers to as "Housewives money": roughly $15K per episode.
In other words, Scheana was only slightly exaggerating with her constant refrain of "dream wedding on a waitress budget." She made around $63K for season 3, and we've discussed exactly how far that income range gets you in LA. (FYI, I can actually do math and recognize that $5K times 21 episodes doesn't sound quite right. But I'm trusting Slice's numbers and assuming varying pay rates depending on screen time, or taxes or whatever. You're welcome to find better numbers and share below.) Now, however, the cast is netting a cool $360K per season. So I'm sure the Scheana and Rob wedding plans are were even more elaborate, and that Rob will slide into Scheana's DMs once he reads this.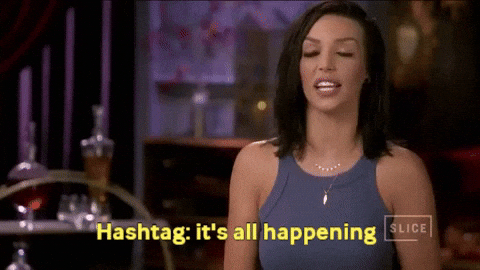 Who's Worth The Least?
In a revelation that makes perfect sense, Tom Schwartz is worth the least. Celebrity Net Worth estimates his worth at $25K, which means the tears his shed when paying for his wedding were definitely real. Katie, on the other hand, has been around since day one—and seems like one of the few competent waitresses on top of it. Even so, she has the second lowest net worth: $30K. Even accounting for wedding costs and medical bills, Katie's given this show six years of her life. I'm kind of shocked that she and Schwartz combined are still worth under $100K, and each are worth the equivalent of an entry level assistant's salary. Dark.
Finally, Katie's low net worth is even more insulting when you see who's tied for third lowest. Brittany and Lala (who joined the show for season 6 and season 4, respectively) are each worth around $50K. I'll begrudgingly admit that Lala seems like a hustler, and yes, Brittany got her own spin-off, but still. Katie can't be feeling good about that.
In retrospect, probably one of the more financially responsible decisions Schwartz has made: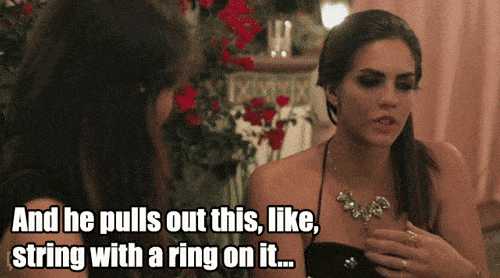 Who's Worth The Most?
Lisa Vanderpump is worth an estimated $75 million, and is the highest valued cast member by far, but honestly, Lisa doesn't really count as a Vanderpump Rules cast member as far as I'm concerned. I'll give you .05 of a second to pretend to be surprised before moving on. Beyond this, the list of highest-valued Vanderpump stars makes me want to throw my laptop out the window. To preserve my sanity, I'll rattle off the numbers quickly and then dig into analysis. Jax: $500K. Sandoval: $400K. Vail: $400K. Stassi: $300K. Kristen: $250K. Scheana: $150K. Everyone still with me? Still breathing? Great. Let's do this.
First of all, I feel literally ill over the fact that Jax is the highest-valued non-Vanderpump member of this cast. Spin-off aside, he's been on the show as long as Katie, and he is worth over 15 times more. Also, Jax pretty exclusively engages in criminally stupid, criminally cruel, or just straight-up criminal acts. (Seriously—doesn't he have legal fees to pay off? Shouldn't he be worth less from that alone?) And I don't love the power dynamic of him being worth 10 times as much as girlfriend/hostage Brittany.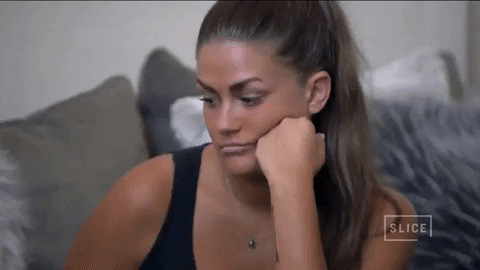 Similarly, I'm pretty fucking outraged by the value attached to Sandoval, resident assface of season 6. Slice, equally puzzled by this valuation, dubiously posits that maybe he's "good at saving." If you've watched the show and seen Sandoval's makeup drawer, you will join me in thinking probs not. Vail's value is not worth discussing (apparently it's soap opera money), and I'm nostalgically, vindictively pleased that Stassi is worth twice as much as Scheana. Other than the fact that the women's values are all so much ludicrously lower than the highest worth men, I have very little opinion on Stassi/Kristen/Scheana playing out as it did. I bet Katie has a few opinions though.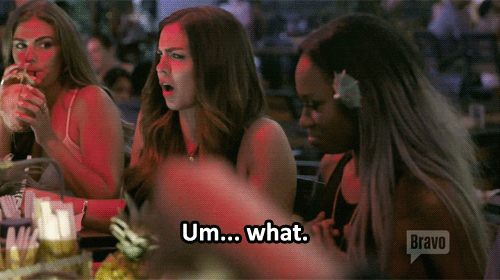 So: another Monday, another disappointing set of realities. We live in a world where Jax Taylor is worth half a million dollars. And where a spin-off called "Katie & Schwartz Navigate Bankruptcy" is probably being green-lit as we speak. At least The Handmaid's Tale comes back this month, so we'll have something relatively cheerful to look forward to.
Images: Giphy (4)