While I've absolutely loved this season of Vanderpump Rules so far,I've loved the off-camera drama even more. AKA James Kennedy's multiple meltdowns between aired episodes, as his life slowly unravels on screen. The latest in this series? An Instagram statement from James Kennedy's mother, Jacqueline Georgiou. Before I tear this woman to shreds begin, I'd like to acknowledge her struggle with alcoholism, and put forth my sympathies for how it has affected both her life and the lives of her children. THAT BEING SAID: James Kennedy's mother has had more than enough time to thoughtfully respond to his behavior, and the fact that this is what she comes up with is halfway between hysterically funny and rage blackout-inducing. Let's dive in, shall we?
The Background
In case you haven't been avidly watching, here's a quick recap of James Kennedy this season. He rapped about Jax sleeping with Faith while Brittany was working at SUR, then got drunk and body-shamed Katie at Pride. Lisa promptly fired him from SUR for both his alcohol problem and his treatment of the women who work there. (If you're on board with the logic of that sentence, congratulations. You're already miles beyond Kennedy's mother's understanding.) In last week's episode, Lisa Vanderpump met with James' mother, Jacqueline. We learned that Jacqueline is nine months sober (very sincere congrats!), and struggling to justify her past failures as a mother (also congrats, important step).
On the not-so-great side, she also said James was entitled to his behavior because he was "provoked." She also told Lisa she "can't give up on James" because he considers Lisa a "mother figure." To which Lisa responded, as gently as possible for such an obvious burn: "no, you are his mother figure."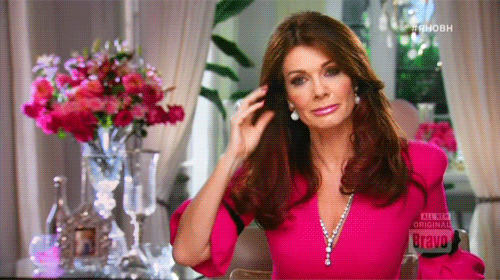 Next, James doubled down on all his crazy by talking sh*t about the recent deaths of Lala and Jax's fathers. (A risky move! Do not recommend!) Lala, not to be outdone, screenshotted the VPR scene with James' mom and posted an Instagram story, captioned like this. "Is this for real? Did this woman actually raise someone?" It's unclear whether this was the final straw for Jacqueline, but we now have her response.
The Statement
I'm too lazy to re-type the whole thing You've waited long enough, so I'll put the statement in full here for you to peruse.
https://www.instagram.com/p/Bsd_GMqjgpQ/?utm_source=ig_share_sheet&igshid=2jt0382bbgh1[/embed]
Done? Still breathing? Excellent. Many, many comments off the bat from me! In a baffling first move, she begins with the phrase "to whom it may concern." I understand this is (to an extent) celebrity Notes app protocol, but it's also a phrase that feels overly formal when used in a cover letter, let alone an Instagrammed picture of a note handwritten on a piece of looseleaf. Also, someone should inform Jacqueline that Notes app exists, because the handwritten aspect makes it that much more upsetting.
Next! It is shocking to me how little anyone even peripherally involved with VPR understands what "feminism" means. And they use the word all the god*mn time! In this instance, Jacqueline accuses Katie of "claim[ing] to be a feminist then play[ing] victim." While "playing victim" is generally a bad move, I kind of fail to see what it has to do with "claiming" to be a feminist. Maybe Jacqueline is one of those feminists who believes women showing any kind of weakness detracts from the whole movement, but I think more likely she doesn't care about feminism or anything really other than continuing her moment of fame. Which will very, very swiftly end if James is not reinstated at SUR.
On this particular incident, she also defends James by saying he "never used the word 'fat'" (low bar there, Jackie), "nor did he speak to Katie first." Ok but Jackie!!! Inappropriate comments do not have to come out of a void to be inappropriate. And the fact that you can't condone, even a little bit, what he did say to Katie makes it impossible to take anything else you might say seriously. Sorry!
Also me:

On the Kristen/Hope situation, she has a similar take (TL;DR James is blameless, hire him back). Yes, Kristen has a serious problem when it comes to finding people's past hookups and bringing them to their workplace, but Jacqueline manages to void her criticism on this point too. She refers to it as "harassment (single white female style)," at which point I became incapable of thinking about anything Kristen has done wrong and could only focus on how truly insane this woman is. Also, if all else fails I hope James releases a single titled "harassment (single white female style)".
The note wraps up with a few more baffling moments, like the mention that "Ms. Doute repeatedly beat the shit out of my son on previous episodes." (Was it repeatedly? Not that once is okay—just trying to gauge how mentally sound this letter writer is). There's also "Mother figure…anyone with ½ a brain should know what I meant." (Lisa did know what you meant! She just wasn't down for you to offload your maternal responsibility!) She finishes off with a note to "all you judges and jurors," who she warns "before you speak and give your opinion," "unless you are living your best 'Oprah Life' then SYMFM." I cannot find backup for this on the internet, strangely, but I can only assume that stands for "shut your mother f*cking mouth." What "your best 'Oprah Life'" means, I can't begin to guess at.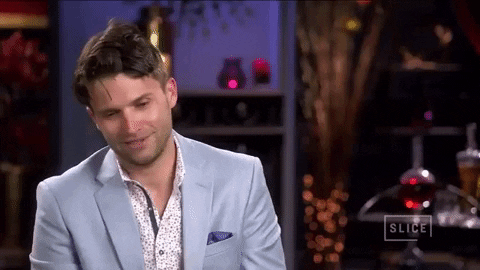 Finally, Jacqueline signs the note like this: "Jacqueline Georgiou/Mother." Because honestly, after reading through that, you may have been tempted to forget that she's an adult woman, let alone a mother. I can't f*cking wait to see James' response to this, and I can only hope it's half as savage as me tearing my mother apart in middle school for calling my teacher when I got in trouble. Until the next tweet storm, have a great weekend!
Images: Giphy (3); @jacquelinegeorgiou / Instagram