How did YOU spend your Christmas Eve? I spent mine pretending to understand my uncles' fancy finance jobs (I'm sorry, but how are BlackSTONE and BlackROCK NOT the same thing?) or acting like my cousins' PR jobs and Etsy shops selling festival accessories for Burning Man are legitimately rewarding and respectable career paths (LOL they aren't). But then again, I write about Shakespearean sh*tshows like Pump Rules and the Kardashians for a website my grandparents think is called "B*tches," so who am I to judge them? And yet I do judge them, because, like my grandparents said, I write for a site that's called "B*tches." At least I got to sneak off to the bathroom for copious amounts of time to vicariously live through the Kardashians and watch their Instagram stories from their Khristmas Eve party! (Special shoutout to lactose intolerance and eggnog for giving me a believable excuse). We've talked about how the Kardashians have the most iconic holiday celebrations, so of course I had to give you the lowdown on what I learned about the Kardashians while I was hiding away from celebrating Christmas with my own flesh and blood.
Over-The-Top Decor
So instead of Kris throwing their annual Khristmas party this year, Kim threw it instead. (Sidenote: do I seriously have to spell everything that has a C with a K for this article? Because I can't go along with this joke for that long.) Anyways, upon entering, there was a tunnel of lights that legit looked electric (no pun intended). That tunnel is literally what Thomas Edison invented the lightbulb for (that was his doing right?), and it is literally what environmentalists are protesting! But oh well, it looks cool on Instagram! The inside of her house was all white. Like, whiter than Sunday brunch at Bagatelle. Let me put it this way: it was as if P. Diddy's white party's event planner and Jeff Koons did a collab on an igloo. That's honestly the only way I can articulate it. Pictures do it way better justice.
And leave it to Kim Kardashian to make it snow in L.A. Because if this chick can make it from being Paris Hilton's closet organizer to being on the cover of Vogue, she can certainly make it snow in L.A. while it barely even snowed in New England. This may sound sacreligious, especially on his b-day, but Kim Kardashian frankly performed a miracle more impressive than Jesus turning wine into water. No offense, Jesus!
The Fam's Outfits
So let's start off with the hostess, Kim, who totally underwhelmed us by wearing a dress that's a knockoff from her Met Gala dress from 2017. Kourtney, on the other hand, looked leggy and gorgeous by wearing a black velvet mini dress with a bow accent (is that what it's called? I'm not Anna Wintour here!). Kendall must've gotten the memo that she was too boring to make our worst Kardashian makeovers list, so she decided to go against the theme and dress in a highlighter yellow full length dress. Sweetie, in a party that is all white, you look like a trail of dog piss that's left in the snow. But at least you got our attention!
Khloé and Kylie had matching outfits with their respective condom accidents–I mean–publicity stunts. But it wasn't some Laura Ashley level sh*t our moms used to make us wear. Kylie wore a sparkly dress and Stormi wore a sparkly onesie, and they both totally worked it. Meanwhile, Khloe wore a star-studded top that matched True's star-studded onesie, but she spared True the embarrassment by being the only one who wore a skirt that looks like…I can't…I don't even know what that monstrosity looks like. A wedding dress on the sales rack at David's Bridal that went through a woodchipper? That's all I got.
And can we please talk about Kris, while we're at it? Kris wore an all silver full length gown and a platinum blonde wiglet. Was Schitt's Creek's Moira Rose based off Kris Jenner or was Kris Jenner based off Schitt's Creek's Moira Rose? These are the questions that we should've answered when I was a Philosophy major instead of meaningless sh*t like "Does free will exist?".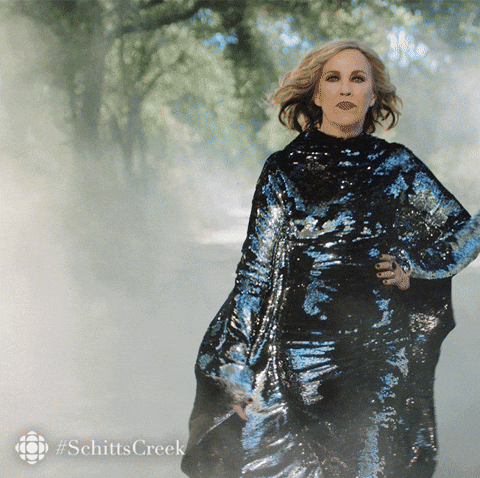 The Guest List
Of course, the Kardashian's annual Christmas Eve fête had the creme de la creme of the C-list with some A-listers thrown in. Jennifer Lopez showed up with her rumored fiancé A-Rod (I don't even know his real name-I just know that he has a giant painting of him as a centaur in his house). Kyle Richards of RHOBH and her fam also showed up. John Legend performed, but it doesn't look like Chrissy Teigen showed face because there's no photographic evidence of her being there and her Instagram stories were surprisingly dead on Christmas Eve. Kimora Lee Simmons was there because apparently they wanted to stay on theme for Christmas and stay on #brand for E! so they invited the Ghosts of Failed E! Reality Shows' Past. Look, if you're gonna do that, at least invite ones that know how to party, like Alexis Neiers from Pretty Wild or the Olly Girls from Sunset Tan. Those girls were my idols in middle school. It looks like Jonathan Cheban was a no-show, which is weird because usually he would be super in-your-face about how he was invited. I suppose they realize that he was so creepy as Santa on their contrived "Christmas Special" they had him dress as the Grinch instead. (Yes, they actually had someone dressed as the Grinch at this party.)
…And The More Interesting Guest List
Paris Hilton ended up showing up again this year, and she actually went sledding with Kim! It was some early 2000s level antics, but I can't help but think they're still frenemies. You know why? She was caught on Instagram cuddling up to Sofia Richie. They made a video selfie together with Paris saying her catchphrase "That's hot." #TBT to 2004 when we all had the dELiA*s t-shirt that said "That's hot" back when it was actually relevant. Stop trying to make "That's hot" happen again, Paris. It's never going to happen. She really is trying to make some Simple Life shenanigans again with the mini Richie, yet Sofia's big sis Nicole Richie clearly can't be bothered to relive the past. Anyways, kinda crazy that Sofia Richie showed up, right? Well, we all saw it coming since she just got back from vacationing in Mexico with Scott, Kourt, and their kids, like, hours before.
But the most controversial guest? Caitlyn Jenner. Kim and Kris both were up on their soapboxes saying how they'll never talk to Caitlyn again after she aired out Kris in her tell-all book, yet there she was. And she brought Sophia Hutchens, her much younger girlfriend? Or companion? Business partner? I'm not sure what they are, and Sophia doesn't either. Oh well! The craziest part is that barely legal Sofia and Sophia (weird coincidence) were up past their bedtimes and out at a party instead of waiting for Santa to come. At least Caitlyn and the Kardashians have made amends in time for the holidays. This was so touching, and if my shrink didn't increase my antidepressants to the point where I didn't feel emotion, I probably would've shed a tear.
Reign Is Still Kourtney's Favorite
I don't even know what Penelope or Mason wore that night. They may not have even shown up. Clearly Reign is the favorite. We told you so!
Kris Jenner's Cooking
First off, props to Kris Jenner for including Travis and Tristan on the family's gingerbread house even though they were no shows at the party to make it seem like their relationships aren't totally doomed. Anyways, Kris talking about getting up at 4 a.m. to make this meal that puts Martha Stewart to shame?
Kris is a queen, but she sits on a throne of lies. I am the proud owner of an autographed copy of Kris Jenner's cookbook, and I can assure you that none of the recipes in that book are this ornate or creative. The only highlight in that book is when she talks about her Hermes dishware. While she clearly is business savvy, she's no master chef and doesn't have a modicum of culinary finesse. Kris so obviously ordered this smorgasbord of diabetes from professional chefs. I mean, I do the same thing when I order off GrubHub for a date and pretend that I made it, so I can't really blame her for passing this off as her own.
I hope everyone had a merry Christmas, and I will be spending the next year trying to secure an invite to the 2019 Kardashian Khristmas.
Images: @kimkardashian / Instagram; @kendalljenner / Instagram; @khloekardashian / Instagram; Giphy; @foodgod / Instagram; @caitlynjenner / Instagram; @kourtneykardashian / Instagram; @krisjenner / Instagram