If you told me 10 years ago that the Kardashians would be one of the most fashion-forward families out there, I wouldn't have believed you. In fact, if you told me 10 years ago that the Kardashians would be relevant in 2018, I wouldn't have believed that, either. But here we are: Kim and Kendall are in Vogue, Kylie and Kendall have a successful fashion line, Kim and Kylie are killing it in the beauty industry, Khloé has a successful jean brand that's available to women of all shapes and sizes, and Kourtney…exists. Even though they've built a fashion and beauty empire, it's still a nice reminder that even NYFW fixtures and tabloid mainstays still have had their not-so-chic moments. Let's take a look at some of the worst Kardashian makeovers!
Kourtney

Kourtney is the most down-to-earth out of all of her sisters and tends to keep it consistent and natural when it comes to her face and hair. But we still haven't forgiven her for this terrible blonde look she was going for decades ago. It looks like she went into the salon, sat her 4'11" ass down, and told her stylist, "I want you to think of the most flattering hairstyle for me, and give me the opposite of that." And it looks like she went to a eyebrow specialist and asked for the Gwen Stefani 1999 look. While this look may would have made her a runaway favorite in Daytona Beach wet T-shirt contests or to be Bret Michael's girlfriend on Rock of Love, it still isn't a look that works for her.
Khloé
This is Khloé Kardashian. Not a blow-up doll from the Pleasure Chest. Not Janice from The Muppets. This is seriously Khloé Kardashian. You know, the sister we preferred because she was the cool chick who didn't take herself too seriously and seemed like a good time. Then she got a hot body and perhaps some light plastic surgery to show Lamar what he was missing when they split up. But over time, Khloé went from having a major glow-up to looking like every other girl in L.A., and it totally bums me out. This platinum blonde look is just the final nail in the coffin that she would rather look like a Barbie doll than look like herself. And by the way, it's an incontrovertible truth that out of all the girls that get platinum blonde hair, only a small percentage of them actually look good with it. The rest are just trying to look either edgy and grunge, are rushing a sorority, or are gunning for a job as a Fox News correspondent but just end up looking washed out. At least when she and Tristan break up and she has that inevitable post-breakup makeover, she won't be able to get a new hairstyle worse than this.
Kylie
Kylie Jenner doesn't even look like Kylie Jenner anymore. It's no secret she's gotten, like, a ton of plastic surgery. So when she took out her lip injections, I was legit happy for her. We've all been watching her grow up since she was 7 or 8 years old, so it was nice to get a glimpse of the old Kylie again. It honestly felt like she was finally having a breakthrough (although she probably should've had that breakthrough before she had a baby at the age of 20 with a guy she knew for like, five seconds). She was in the midst of becoming—wait for it—a normal, down-to-earth human being. She looks gorgeous without the lip injections, right? So it was a giant step backwards when she decided to get comically huge lips again. Sighs.
Kendall
I don't think you can have a bad makeover if you're too boring to change up your look or hold my attention for more than five seconds. Thank u, next.
Kim
Kim Kardashian's early 2000's vibes: it truly was the best of #content, and it was the worst of #OOTDs. Let's look at the best of #content:
Take a moment and conceive of a world where Kim chose to do a show about closet organizing instead of airing out her and her family's dirty laundry. Think about how different the landscape of pop culture would be. I like to think Alexis Neiers and her family would have taken the throne as E! Entertainment's first family instead.

Now let's take a look at the worst of #OOTDs:
Kim, Scott Storch called. He wants his T-shirt back, and he thinks he left his Von Dutch trucker hat in the back of your Range Rover too. Check your bedazzled T-Mobile Sidekick, I'm sure he left a voicemail about it.
Kris
In my eyes, Kris Jenner can do no wrong. Sure, she raised her children to be paychecks and she can be so difficult that her assistants have a group text message to alert each other when she's had a cocktail and loosened up enough to talk to, but the only person above Kris Jenner is God himself. So it pains me to say that Kris has had some fashion faux pas, and her worst makeover was season one of KUWTK.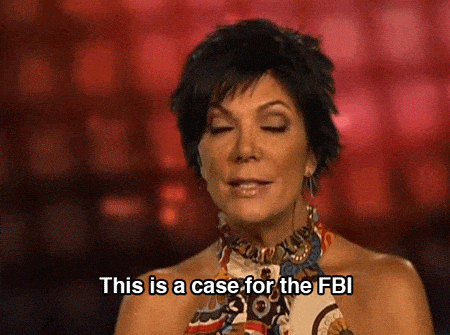 This is the haircut of a woman who takes her job as head of the PTA way too seriously. This is the haircut of a woman who spends copious amounts of time writing Yelp reviews for places that won't take her expired coupons. This is the haircut of a woman who says sh*t like, "It's wine o'clock!" and puts ice cubes in her Barefoot Moscato. And what's up with her top? It screams "I got this from the clearance bin at Bebe!" Seriously, I just got headache just looking at the pattern of that shirt. Also, if you look at all of her talking heads from season 1, her tops get more and more revealing. Like this one, for instance:

Kris really is Regina George's mom come to life.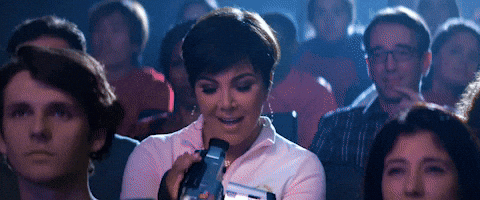 Images: Giphy (5); 2000sgal, popculturediedin2009, letthelordbewithyou, kyliejenner, khloekardashian / Instagram