There are so many different kinds of Photoshop abuse. We show you a lot of celebrities' toxic relationship with Facetune, photoshoots gone wrong, and occasionally missing/messed up body parts. But the one I'm gonna show you today you'll probably remember because it was so hilariously bad. I mean, it wasn't just a run-of-the-mill nose amputation that we usually see. This photo retoucher failed spectacularly. Which also makes me angry because this is a huge magazine, and how did you possibly get this job if you're so lazy you can't even do this correctly? How much did they pay you for this, sir? However, this image is an example of what magazines do all the time, they just usually remember to fix it first so you can't tell. I'm speaking, of course, about the time Vanity Fair decided Reese Witherspoon and Oprah didn't pose well enough for the probably 1000 photos they shot. So they fixed it. And made it a lot worse.
Here is the cover:

Come on children! What's wrong with this picture? Whoever edited these photos seems to use the same ~*dangerous*~ editing method over and over: do whatever first and clean up later. And if you don't pay attention to detail, it's risky. Because:


So, I consider myself an expert on Reese's work, mostly because I've seen Legally Blonde probably 50 times. And guys, I have to tell you, I always thought she had two legs? Vanity Fair then attempted to defend themselves, saying that what we're seeing is actually just the lining of Reese's dress.
While we would have loved the exclusive on @RWitherspoon's three legs, unfortunately it's just the lining of her dress. https://t.co/HJjvbc037S

— VANITY FAIR (@VanityFair) January 25, 2018
However, you can clearly see the top of Reese's thigh, and the straight leg match perfectly. The dress lining even has what looks like a knee and a calf? It doesn't look anything like dress lining!

Like no sorry, you done f*cked up. But here's where it gets really good. Although VF tried to play off that the cover was not a mistake, they obviously used the same retoucher for all the other photos. Why you ask? Because this candid gem was later in the issue: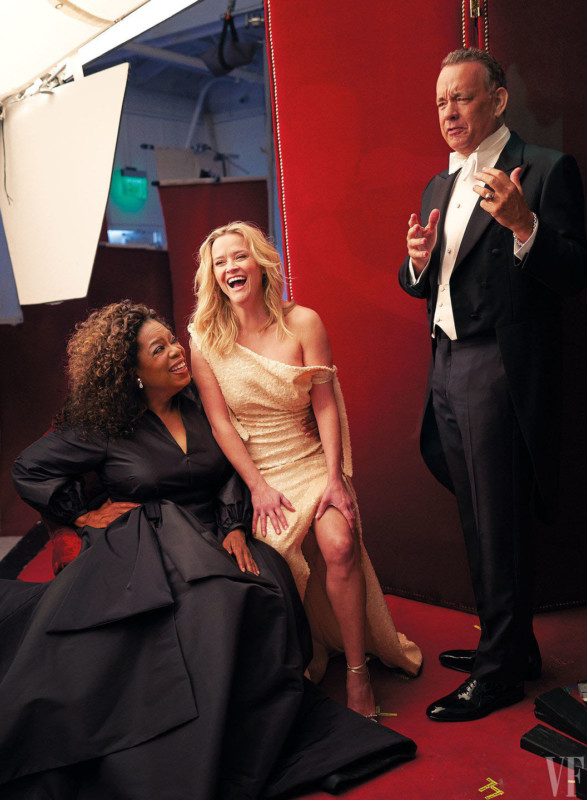 Again I ask you, what's wrong with this picture?

So you're telling me that while this retoucher did not give Reese three legs (although the inseam has its own knee, so sure Jan), he definitely gave Oprah three f*cking hands. It seems like his editing technique just sucks. Vanity Fair at least copped to this one:
As for @Oprah, how can we expect her to juggle it all with just two hands?
¯_(ツ)_/¯_/¯ (We are correcting this error​ online​.) https://t.co/QNd74YtSTz

— VANITY FAIR (@VanityFair) January 25, 2018
The retoucher obviously just really enjoys giving everyone extra body parts. But in actuality, this happens very frequently in photo editing, it's just normally cleaned up so you can't tell. I mean, that's like, what a professional does. And YES OFFENSE, Retoucher, because you probably made an insane amount of money for this catastrophic cover. So basically, here's what happens. A photographer takes a ton of photos all in different poses. Especially with a big group, it's hard to get everyone to look their best. So then they splice up each person for their most flattering pose between all of the images. I don't even mind that they do this to some extent—like, if Reese is blinking in Oprah's best shot, for example, swap Reese's best face shot with the blinking one, and now it's the best picture of both of them. That doesn't even bother me, because it's still her real face.
But what happened here is the retoucher seems to have this strange work flow where he piles on every option of arm, leg, etc, on different layers, and then chooses what one looks best. However, he forgot more than once to recheck his work, which is how he ended up making Reese a tri-ped and Oprah into an octopus. Check *clap* your *clap* work *clap*.
Also? What is Nicole Kidman leaning on? Does this not look super weird to you?

This practice, while super common, is also one of the many ways retouchers and magazines try to f*ck with us about what reality looks like. They rearrange everyone's anatomy to make it look like perfect proportions, perfect angles, and perfect pose. The second photo, with Oprah's three hands, looks like it's supposed to be candid, and yet was edited so much so that they couldn't even casually sit together without being dissected. It's a room full of some of the most beautiful, strong, influential people in the world—why can't they just take a photo with perfect lighting, perfect makeup, perfect staging, perfect outfits, and leave it as is? It still needs to be ripped apart limb by limb to be acceptable to us?
Are triple limbs now the unattainable beauty standard? What do you think of this practice? Why do magazines in particular edit already-beautiful people so hard? Who was this retoucher and how did they get this job? Did you know magazines edited their subjects so severely? LMK!
And guys, pleaseeeee send me your Photoshop Fails. See you next week!
Images: Vanity Fair; vanityfair (2) / Twitter