Okay, so it's been brought to my attention that for some godforsaken reason, Scott Disick doesn't have a Wikipedia page. Even Rob Kardashian has one, and he's best known for…um, selling socks. How can one of the best characters on KUWTK and the most salacious riotmaker of the tabloids not have a Wikipedia page? Since Wikipedia helped us graduate high school (and, let's be honest, college), we decided to do them a solid and make a page for Scott. Check out the SparkNotes version of Scott Disick's life (with some opinions thrown in, obvi).
Childhood
Scott Disick was born to a wealthy family in the Hamptons. He was an only child, which is pretty obvious based on the fact that he's bratty and selfish. Scott attended a ritzy private school called The Ross School, which boasts other famous alumni like Alexa Ray Joel and Tessa Grafin von Walderdorff. And before you say, "who"?? Alexa's dad is Billy Joel, Tessa's husband is Barron Hilton, and Scott swindled his way into the Kardashians. So pretty much they get trained there to piggyback off of famous people in order to become famous.
Scott had his ups and downs in his adolescence. It's actually not known whether or not he really graduated high school. He modeled for a young adult series about horses, and I can't tell whether that's an up or a down. He also was nicknamed "Number One Scum" and "S.T.D." which just so happen to be his initials. He actually found those nicknames funny because they underscored what a party animal he was, and how he was such a player in high school. Scott also got arrested for a DUI under the age of 18, which is a huge foreshadowing of what was to come in his future.
"Career"
Entrepreneur
Okay, I don't even know what this means. I'm pretty sure it's a career you have if you're trying to make it seem like you do a lot of things when in actuality, you do nothing. There was an episode where Kourtney said she doesn't even know what it means, largely because he was so evasive about it. His evasiveness means that a) he doesn't know what it means either or b) he's involved in something sketchy like underground poker games or a drug cartel. With friends like Joe Francis, you never know what this guy will get himself into.
Reality Star
Let's not act like Kourtney was involved with Scott for so long because she was in love with him. I mean, he got caught cheating on her multiple times, he obviously had a substance problem that he barely attempted to get help for, and she was pretty open that she found everything about him annoying. TBH, I'm pretty sure she was only with him because they make adorable babies and he's probably the most interesting character on the show, so they needed a way to keep him tethered to the franchise.
Recently, Scott was given a new reality gig, a show called Flip It Like Disick about flipping houses. It's an eight-episode, hour-long series where Scott and a team of designers, contractors, and other people who actually know sh*t about real estate will renovate luxury homes. Tbh, the only thing Scott Disick is an expert in flipping is Kourtney's world upside down, but sure.
Almost An Actor
Remember American Psycho? Of course you do, because every finance f*ckboy has a quote from the movie as his dating app bio or he makes you watch it on a cozy night in. After all, what says romance more than Christian Bale slaughtering Jared Leto while blasting Huey Lewis and the News? Anyway, the writer of American Psycho announced on Twitter that the way he would ever do a remake is if Scott Disick or Miles Fisher played Patrick Bateman. No, seriously.
I have warned Lionsgate that I will not approve a new version of "American Psycho" unless it stars SCOTT DISICK or MILES FISHER.

— Bret Easton Ellis (@BretEastonEllis) December 9, 2011
Approve! RT @BretEastonEllis I have warned Lionsgate that I will not approve a new version of "American Psycho" unless it stars SCOTT DISICK

— Scott Disick (@ScottDisick) December 9, 2011

So, Bret never ended up making the remake, yet he was willing to make "The Canyons," which starred Lindsay Lohan. So Kanye West took it upon himself to do a remake of "American Psycho" starring Scott Disick and—get this—Jonathan Cheban. My dream come true.
Restaurateur
Remember when Kourtney and Kim took New York the first time around? You probably don't, because that season wasn't too memorable. You also probably don't remember Scott's restaurant, RYU, because it was doomed from the get-go and only lasted 191 days. Kourtney didn't even believe the restaurant would even open. But hey, that's more than 2.5 times longer than Kim's marriage to Kris Humphries, so at least Scott accomplished something.
Royalty
While the fam was in London, Scott had nothing to do because he basically does nothing for a living. He decided to become a Lord because anyone—even citizens of other countries—can be awarded this title. One of my majors in college was History with a concentration in Modern European History, and one thing we learned is that the try-hard social climbers that were so desperate to hang out with the elite would buy these "lord" titles to make themselves seem like they were members of high society. Scott leeches off the royal family of America and posts pictures of himself with overly priced watches and on private jets, so that sounds about right.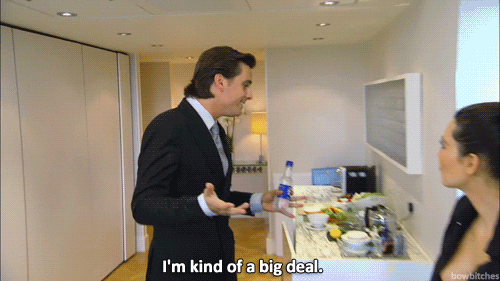 Designer
Scott started a clothing line, appropriately named "Talentless." Way to be self-aware for once, Scott! It donates 3% of the proceeds to a charity called "Fuck Cancer!" which is really sweet. The brand's mission statement is: "'Talentless' is an homage to the new wave of creators, innovators, and influencers who've made a name for themselves by going against the conventions of what it means to be 'talented.'" Okay, cool, that sounds super deep and inspiring or whatever, but how is selling plain old T-shirts with nothing on them for $42 an homage to creative people? This isn't some Derelict-level sh*t like most of Kanye's fashion shows are. But still, you're thinking way too highly of yourself here, Scott.
Influencer
Scott will throw up Instagrams about FitTea, cell phone cases, and asking his followers to follow Lala Kent's fiancé. Yet he barely posts pics with his girlfriend of two years. He also does appearances at clubs like 1OAK, which is where that bratty, try-hard girl from high school wears a leopard print outfit and takes tons of bathroom mirror pics to prove that she is better than you. But you know what? All of these jobs are probably less pathetic than Kourtney's CV. At least Scott tried(ish)!
Relationships
Kourtney
Kourtney and Scott met at the mansion of Joe Francis, best known as the creator of Girls Gone Wild. That in and of itself was a sign that their relationship would not work. First off, I would not wanna use the same toilet as Joe freakin' Francis, much less do body shots with him and his friends. Anyway, a year later, these two fell in love. Her entire family hated him at first. But soon, Kris, Kim, Rob, and Khloé fell in love with him too.
Sofia Richie
Sofia Richie is best known for being Nicole Richie's little sister, modeling (although I can't think of a single brand she's modeled for), and now, dating Scott Disick. But is their relationship serious? I'm not sure *grabs tinfoil hat*, and here's why. Before Scott and Kourtney broke up for the final time, Sofia was dating Justin Bieber. Also, Kourtney Kardashian and Nicole Richie have been friends since childhood. Kourtney's rebound after she broke up with Scott was Justin Bieber. So Scott came up with a conniving plan to hook up with Kourtney's friend since childhood and Justin's ex-girlfriend. Oh, and did I mention Sofia used to be besties with Younes Bendjima before he started dating Kourtney? That's honestly the most brilliant clapback ever—it's almost Shakespearean. Is Scott is totally in love with Sofia, or is this the most convoluted plan to make Kourtney jealous? I'll let you decide.
Hookups
Scott pretty much cheated on Kourtney all. The. Time. But the final straw was Chloe Bartoli. They were in the same group on vacation and she just so happens to be his ex-girlfriend, so inevitably they got handsy. Not too long after, Scott hung out with human glitter bomb Bella Thorne in Cannes, yet she denied any hookup took place. Scott also hooked up with Kourtney's best friend since childhood, Kimberly Stewart, and regulation hottie Madison Beer, who is probably the best catch Scott got out of all these hookups.
Children
Scott has three children with Kourtney (although it is unknown how many children he has had with his side chicks). His eldest, Mason, was always his mini-me, and will probably create a streetwear line that sells T-shirts with one logo on it for $400. Penelope is his only daughter, and the only gift he has ever given her is daddy issues. Reign is his youngest and clearly his favorite, so that little dude is set for life.
And that's pretty much all you need to know about Scott Disick's life! Wow, I have aged 10 years and lost most of my brain cells. If anyone works at Wikipedia, feel free to copy and paste this article directly in for Scott's page.