Why We're Obsessed With Megan Rapinoe Right Now (And You Should Be Too)
Whether you're a passionate sports fan, a casual observer or you can't tell golf from basketball, if you aren't following the US Women's National Team (USWNT) as they dominate the Women's World Cup like the Kardashian's do a news cycle, then you are really missing out. Admittedly, I am both a soccer player and fan, so I was primed for obsession – but this has truly been a fun run to watch. And not just because these women are insanely talented athletes who broke U.S. and world soccer records in the first game of the tournament, or because they have mastered the art of turning goal celebrations into subtle yet magnificent shade. No, it's been fun and obsession-worthy largely in part to one star player: Megan Rapinoe. 

Obsessed yet? No, just me, cool – I'll go on.
Before this World Cup, if I were to define my positioning along the sexuality spectrum, I would have secured my spot somewhere entirely surrounded by dick. Now – consider me officially on the hunt for the Megan Rapinoe to my Sue Bird. And I'm not the only one. Women everywhere (and the internet) are going wild for Rapinoe. If you are already on the Rapinoe bandwagon – then hello friends. (If any of you have purple hair, can sink penalty kicks in your sleep and won't stand for the National Anthem – please dm me). And if you aren't already on board, let me explain the reasons why you should most definitely hop on in time to watch Rapinoe and USWNT in the World Cup finals on Sunday. 
1. She's not going to the f*cking White House.
Last week, President Trump threw yet another Twitter tantrum in response to my girlfriend  Rapinoe stating that she had no interest in visiting the White House if the USWNT were to win the World Cup. 
Reporter: "Are you excited about visiting the White House if you win?"
Rapinoe and all women who avoid people and locations where sexual assault is likely:
"I'm not going to the fucking White House." – @mPinoe pic.twitter.com/sz1ADG2WdT

— Eight by Eight (@8by8mag) June 25, 2019
Rapinoe has been an outspoken LGBTQ rights activist and critic of the current administration, and is a former kneeler/current abstainer from singing the National Anthem before matches, so this is both not surprising and also amazing. And in true presidential fashion, Trump responded like a toddler deprived of dessert – tagging THE WRONG MEGAN RAPINOE in a rant inviting the USWNT for a visit but questioning their ability to win. And also for some reason, mentioning a decline in "Black unemployment". 
Anyone who can get under Trump's skin like this a hero in my book – especially someone who can pull off purple hair, back to back penalty kicks, and looks like this in a bikini: 

2. She almost single foot-edly carried the USWNT to the World Cup Semi-Finals.
Rapinoe scored the only four goals for the USWNT during the first two games of the knockout stage of the World Cup, beating both Spain and France – the host and second ranked team in the world. Two of these goals were on penalty kicks. If you've never taken a penalty kick, let me try my best to explain the stakes of a PK on the world's largest stage: Make the penalty kick and you're a hero, winning the game and the hearts of fans everywhere. Miss the penalty kick and your team is out of the tournament and it's your fault. No pressure. 
To have the poise, composure, and f*cking skill it must take to sink back-to-back World Cup PKs in the back of the net, and follow them up with two more goals against your biggest competitor – all while brushing off the bullying of the world's most powerful baby man like you're 2009 Jay-Z, it's just, I can't. It's next level. 
Me when I boil water and cook pasta instead of ordering delivery. pic.twitter.com/iN1gl0ZKRy

— Isaac Fitzgerald??? (@IsaacFitzgerald) June 29, 2019
3. She's fighting for equality
Rapinoe is a loud and proud feminist and lesbian. Her sexuality is central to her identity as an athlete, and she has said you simply cannot win without gay players, "it's science". But she's not just an idol for queer sports fans – she's an activist for women's equality. Rapinoe and the USWNT have been fighting for equal pay for years, and are currently suing U.S. Soccer, the very institution that they are playing their asses off for in the World Cup.
Members of the Women's National Team have earned about $90,000 in bonuses by getting this far in the World Cup.

If they were men, they'd have earned $550,000. https://t.co/yb2cI16yBx

— The Betches Sup (@Betches_Sup) June 30, 2019
It's just, absurd. The USWNT scored more goals in their FIRST World Cup match than the men's team has in EVERY World Cup run since 2006. Maybe, just maybe, they should get paid the same. Especially since U.S Soccer's main argument – that the women bring in less money, is about as legitimate as Bran's claim to the Iron Throne. And is in fact just, not true. 
Megan to U.S. Soccer lawyers and haters everywhere:

If you're still not convinced that Megan Rapinoe is the purple-haired goddess America needs right now, then you can't sit with us I guess we just have different taste in heroes. Either way, you should tune in on Sunday to watch Rapinoe and squad win their second consecutive World Cup championship – because they deserve your support and also deserve to get paid more.

Images: Giphy (4), Sports Illustrated, @IsaacFitzgerald/Twitter, @Betches_Sup/Twitter
The Cutest Workout Clothes You Need This Summer
They say summer bods are made in the winter. K, I don't know who "they" are, but they clearly don't live on the East Coast.  Because if they did, they would understand the depressing treachery that winters here are, and they certainly wouldn't spew such BS. I mean like, in the winter, my boss is lucky if I make it into work, let alone get my lazy ass to the gym after work. But anyways, I digress.
Summer is here, and now is the time that most of us are finally actually motivated to kick our workout regimens into high gear. Everyone wants to look and feel their best on the beach, and what's more motivating than some cute new workout clothes that will make you actually want to go to the gym??? When I get new workout clothes, I can't wait to show them off. And like, maybe that's silly, but I have to take advantage of whatever will motivate me to get there. That being said, here are the cutest workout clothes that you need this summer, to help you look and feel your best! 

These leggings are a major upgrade from your standard black Lulu leggings and will totally make you want to actually go work out. Not only are they chic and cute, but according to the reviews, are also super comfy! Not to mention, the neon star graphics at the bottom are very on trend, so people may even mistake you for like, a cool fitness Instagram influencer, or something. Hey, maybe you'll get a free Gatorade out of it!!!

This plain cropped tee may seem basic, but that's because it is a basic. But that doesn't make it any less cute or essential to your summer workout wardrobe. Everyone needs a basic white cropped tee, just like, in their wardrobe in general. So you might as well go ahead and get yourself one that's designed for the gym, as well! A basic crop tee will make you look like a casual off-duty model at the gym. Which consequently gives off the vibe that you came there to get sh*t done. And just giving off the perception that you're getting sh*t done will make you actually want to get sh*t done. I realize this may seem like a stretch, but again, when it comes to getting myself to go hard at the gym, I need all the motivation I can get, logical or not.

Snakeskin was all the rage for spring, and continues to stay a big trend for summer. So why not bring this fashion trend to your workout outfits too? Not only will this Kardashian-worthy set elevate your workout style game, but these pieces could even work with your everyday summer wardrobe as well. There's legit no occasion that they wouldn't be perfect for…except like, maybe a corporate job interview or a funeral…but like, everything else besides that!!!

Windbreakers are cool right now, especially this retro cropped Nike one that's perfect for summer. You'll look so legit wearing it to warm up on a breezy summer morning or when they're blasting the AC at the gym. It's also great for if it's raining and you don't want to look like a wet dog by the time you actually  get to the gym. Nothing's less motivating than looking like a soggy mess and starting off your workout in already wet clothes. Like, I'm just gonna go home now.

With these neon leggings, you simply can't get away with even attempting to try to slack off at the gym. Like, if you're wearing bright-ass leggings such as these, you have to expect some attention from your fellow gym attendees. And, if you're being so bold as to demand everyone's attention, you're going to need to actually perform when you get on that treadmill. Unless of course, you're at like a Planet Fitness where your pink neon leggings are the least shocking thing anyone is wearing in there (no shade to PF, I go there because I'm poor). I have legit seen a guy at Planet Fitness wearing a polo and jeans before, so these neon leggings wouldn't make anyone bat an eye. Smh, don't be that polo guy, get yourself some cute summer workout clothes.

Lavender has been the color of the season, and these lavender running shorts are the perfect addition to your summer workout wardrobe. They're Adidas by Stella McCartney so they're like, fashionable af. Like, probs the most fashionable you could ever possibly get when it comes to workout shorts. Pair it with a cute sports bra or a flowy tank, and you're totally ready to go on that five mile run! Okay, maybe three mile…eh 1.5???

This cut out crop top will have you ready to slayyyy. No, not like slay at the bar drunk on vodka sodas kind of slay, but "slay" like actually get through your entire workout today. But like, the top really is that cute, that you could easily wear it out to the bar and slay there too! Okay, I'm single-handedly making "slay" uncool by saying it so many times right now, so I'll stop. But hopefully you get my point here.

I'm obsessed with this fashionable workout top. It's chic with the center ruching, yet functional with its silhouette and thumbholes. If you think thumbholes are an irrelevant feature, uh, think again. It would be impossible to wipe off every dumbbell or machine that the jacked up frat guy high on C4 used before you. And like, you don't know where his hands have been….and tbh, that's probs for the best. The thumbholes help cover your hands, and keep you extra safe from all the gym germs. It's kind of like when you use a paper towel to grab the bathroom door handle, but like, in this instance, that paper towel is just part of your shirt.
People like to say fashion is materialistic. But what you wear to the gym and how it makes you feel when you're there impacts your self-confidence, drive, and ultimately, success. I realize that sounds v dramatic, but like, it's true. So set yourself up for success in the gym with some cute new summer workout clothes ASAP.
Images: @lauren_alexandra / Unsplash; Free People (3); Revolve (4); Bandier
Betches may receive a portion of revenue if you click a link and purchase a product or service. The links are independently placed and do not influence editorial content.
7 Super Bowl Commercials That Would Never Fly Today
Apparently, the Super Bowl is something people still care about. This comes as a shock to me for many reasons, mainly that the NFL has been a literal magnet for controversy this past year, whether it be about the kneeling issue or the concussions issue.  (Which, seems to be no issue for halftime performers Maroon 5). But also, on a less important level, football is just so boring. Think of all the Netflix you could be watching, or crushes' Instagram stories you could be refreshing.
Regardless of personal opinion, the Super Bowl is very much happening this Sunday, and with that, so are its infamous commercials.One of (if not the) prime times for advertises to promote their products, slots during the game cost roughly around five million. They're usually trying to be funny — and some of them succeed, mainly when Tiffany Haddish is involved — but some them are not only unfunny, but also offensive. Let's take a look back at some that aired in the past that… would hopefully never pass a pitch meeting now.
Carl's Jr. Sexist Burger Commercial (2015)
I feel like we can all imagine the people around the conference room table who thought this was a good idea. Without a doubt, four of them were named Brad. In efforts to promote 'all natural" beef (wtf is the rest of beef? Oh yeah, chemicals) they have a woman… you guessed it, eating a burger almost-naked while being ogled by men that look like they think going to an Irish Bar in Times Square counts as a "night on the town." Of course while doing this she is erotically describing the burger — she's only human! Wait JK, women aren't human in this world.
GM's Suicidal Robot Commercial (2007)
Not a joke, General Motors truly thought it would be a good idea to put a commercial out that starred a robot who commits suicide after losing its job. Unclear how this seemed okay to air at anytime, but this would 100% not fly today. Not only does this poke fun at suicide, it also laughs off the stress and mental issues that come with someone losing their job which — read a news article, is happening at an alarming rate.
Homophobic Snickers Commercial (2007)
Because after two men kiss, they have to immediately either prove their masculinity, or drink motor oil. Or in this case, both. Not only is this commercial homophobic, it's just plain dumb. Besides, who the hell splits a Snickers? Also, hate to burst ya'lls bubble but: Snickers are pretty phallic, so I guess any hetero guy who's afraid of their sexuality, maybe just eat some kale. Let's see how that works for you.
Pro-Life Commercial (2010)
Remember when you had to deal with people randomly stopping what they were doing to 'Tebow'? No wonder we're the species that caused climate change. This advertisement for 'Focus on the Family' seems to just be like the most boring confessional in a reality show, but it faced immediate backlash for it's seemingly pro-life message. Which, checks out, because it's for a Christian conservative organization that promotes things like abstinence-only sex education and is against all things LGBTQ+. K.
Holiday Inn's Transgender Commercial (1999)
Maybe Y2K should have taken us all out after all, if this is what people were truly thinking of in '99. A commercial comparing a woman and her elective surgeries to a piece of property is awful as it is, so let's just thrown in some transphobia to be the cherry on top of the pile of shit that we are. Seriously, f this. Bob Johnson does look great though.
SalesGenie.Com Racist Commercial (2008)
Because nothing is funny than stereotypes, right? Wrong. This commercial aired in 2008 at the 42nd Super Bowl and was immediately hit with backlash for its racial insensitivity and also just being really f*cking stupid.
Deforestation Commercial For GroupOn (2011)
Pro tip: never start a sentence with "but not all deforestation is bad…," because guess what? It is all bad. This commercial completely missed the mark in terms of what metaphors should and shouldn't be used when talking about Brazilian waxes. Still love your dress made up of safety pins though, Elizabeth Hurley.
The Top 5 NFL Fans To Avoid At All Costs
We're just about halfway through the National Football League's regular season, which means that a pretty significant number of males aren't even worth interacting with at the moment. I'm not a statistician, or even really someone who knows a lot about sports. However, I am a human being who spends time on social media and in public places that simultaneously serve alcohol and play football games on giant TV screens. So I do know a thing or two about which NFL fans are unbearable.
Whether you're swiping through a sea of dating app profiles that seem to be filled with tailgating photos, debating whether to get the guy you're seeing to DTR, or are simply trying to decide if you should go to that work happy hour at a sports bar later, it's probably worth knowing which NFL fans to avoid at all costs. If the guy you're interested in is a fan of one of these teams, it's a red flag. He's going to be annoying for the next eight weeks (or longer if they make it to the playoffs).
It's kind of like how I would advise anyone not to date you when you're doing Whole30, going through a phase where you really love vintage dresses, or when you're thinking about getting bangs. It's all you would talk about, and you would sabotage the relationship before it even had a chance to begin. There are just certain times in life where people are too annoying to date. For fans of these teams, that time is now.
5. The Green Bay Packers
If a dude is a Green Bay Packers fan, there is an extremely likely chance that he has spent at least $30 on an enormous piece of foam shaped like cheese. With a hole in it, of course, to stick his f*cking head in and wear as a hat. Do I even need to go any further? This is the definition of a red flag. Stay away.

4. The New York Jets

and

the New York Giants
Issa tie! Whether he's a Jets fan or a Giants fan, it's going to be extremely annoying for you to constantly hear about why he has chosen a lifelong dedication to either team. It doesn't matter if he claims to be a purist, and roots for the Giants because they've been around longer. Or if he's a fan of the Jets because he enjoys losing his grandfather brought him to all of the games as a kid. Either way, if he has a reason to word vomit about how much he hates a football team from the same city that shares the same stadium (in another state, no less), it's a can of worms you don't want to ever open. There is no "right" answer, and that's that.
3. The Dallas Cowboys
The Dallas Cowboys have not won a Super Bowl in 22 years, yet they've been the most valuable sports team in the WORLD for the past three years, according to Forbes. Like, they're more profitable than any soccer team, and the rest of the world is totally obsessed with soccer. I mean, it's just simple math. If you're falling for a Cowboys fan, you're falling for a dude who throws a sh*t ton of money at a team that has not won a Super Bowl since he still had baby teeth. What other trash decisions is he capable of making? These are the questions you must ask yourself while you try to decide if he's worth double texting.

2. The Philadelphia Eagles
Everyone knows that every year, fans of the team that has most recently won a Super Bowl are on a 365-day tear to remind everyone that they're Super Bowl champs. Therefore, they should be avoided at all costs during that reign of terror. Even if Eagles fans weren't still reeling from the Super Bowl LII win, they'd still be pretty annoying. Like… congrats on your discounted hoagie or coffee that you've received as part of whatever promotion Wawa is hosting following a win? Can we talk about literally anything else? Perhaps their only saving grace is that they beat the team that carries the most annoying fanbase on its back. Which brings me to…
1. The New England Patriots
Good GOD. There is nothing worse than a New England fan. Before you maniacs find me and try to tell me about how Boston is the "city of Champions" for literally every sport (even though you're from what? New Hampshire? Maine? Do you even have WiFi up there?), I'd like to disclose that I am from New England, and would like to be removed from this narrative. A guy who is a New England fan is immediately undateable by default. Simply because he thinks that rooting for a team that wins everything is some kind of personal achievement. Do you guys realize that "New England" technically includes six separate states? The odds of you living in an area in which you are basically forced to root for this team are pretty solid. While I'm at it, I'd like to mention that drinking Bud Light, following Barstool on Instagram, and worshipping Gronk are not legitimate personality traits. If the guy you're into is a Pats fan, it is a major red flag. And you need to get out of there as fast as you can.

Images: Giphy (3)
Serena Williams Says Tennis Is Sexist And We Agree
Typically, the only sport I would consider myself a true follower of is The Bachelor (don't try to tell me it's not a sport – it is, they just play with people's emotions instead of balls.) But this year, the GOAT of all GOAT's, Serena Williams – has turned me into a tennis fan. Because her comeback story was so compelling, her outfits so iconic, and because finally there was a sport I could watch whose biggest star was a woman. It also didn't hurt that this was one sporting event whose main draw was the story of a new mother's return to glory. This year's US Open was the Serena Williams show, and I was fucking here for it.
But the Serena Williams show came to an abrupt and disappointing end on Saturday when the chair umpire influenced the outcome of a championship match because he couldn't stand for a woman speaking her mind. By imposing point and game penalties on Serena that had at most, questionable merit – and absolutely no place in a finals match, a small man in a tall chair turned a glorious female led tournament into a sexist sh*t show.

(Yes, yes it does…)
It shouldn't be a surprise really, that tennis and it's officials are sexist. I mean, earlier in this same tournament a female player received a code violation for turning her shirt around while wearing a fucking sports bra. Meanwhile all of the male players get to walk around the court fully shirtless. Honestly, in today's world it would actually be more surprising if a man was capable of going a full two hours without doing something horribly sexist. But this marring of a historic championship – a match between two badass women of color, by another dude's need to assert his power over an outspoken woman, this was just too f*cking much. Could we not just have one tournament where women where the stars? I guess not, because it's only the 21st century and oh, we still have tits.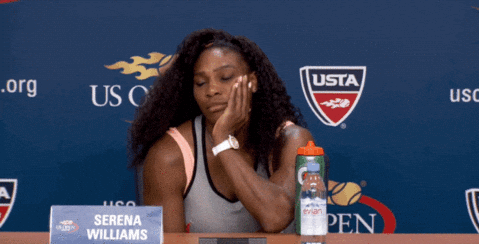 For forever, male tennis players have been arguing with chair umpires, throwing tantrums, and smashing racquets in response to heated matches and unfair calls. But have any of them ever been penalized to the degree that Serena was on Saturday? Of course not, because having a penis on the court is like having a get out of jail free card. And the worst part is – not only can men not be trust to run the government call a tennis match, they also can't seem to understand the real problem here. When I tried to discuss what happened with both my father and cousin, both long time tennis fans and lifetime white males, they basically said, "the rules are the rules" –  arguing that Serena should have known better. That's the thing though, the rules are not the f*cking rules if they are only applied to women.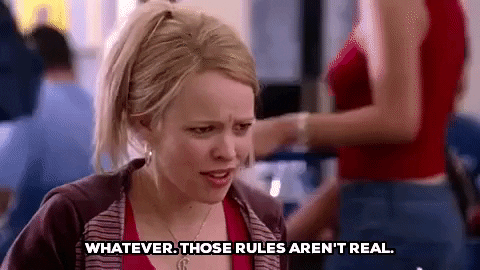 Serena Is Still Our Hero
The whole thing is super f*cked up –  that Serena lost the way that she did, that Naomi Osaka's first grand slam win will be tainted by controversy, that it's still so hard to be a feminist sports fan – oh and that society has made like zero progress since women's suffrage. But my short tenure as a tennis fan has also reminded me how v grateful I am that there are women like Serena in this world – that will stand up for what they feel is right, no matter the consequences. Honestly, the GOAT said it best during her post match press conference:
"I just feel like the fact that I have to go through this is just an example for the next person that has emotions, and that wants to express themselves, and wants to be a strong woman. They're going to be allowed to do that because of today. Maybe it didn't work out for me, but it's going to work out for the next person."
Heads up, you need to keep up with the news. It's not cute anymore. That's why we've created a 5x weekly newsletter called The 'Sup that will explain all the news of the week in a hilarious af way. Because if we weren't laughing, we'd be crying. Sign up for The 'Sup now!
The Hottest Players In The 2018 World Cup
Let's just come right out and admit it. What we know about soccer can be summed up with "David Beckham". And if you thought 2018 couldn't get any worse with Trump, it turns out the U.S. has to face the worldwide humiliation of not making it into this year's World Cup competition for the first time since 1986. The U.S. women's national team, on the other hand, has three World Cup titles under its belt—though they are paid a lot less, but that's a conversation for another time. On a lighter note, the World Cup gives us the opportunity to search for the next generation of soccer hotties. And a convenient side-effect is that you can sound like you know what you're talking about while traveling abroad or impressing guys who are into soccer (and obnoxiously call it "football" even though they studied abroad one time in Barcelona for three months, six years ago). Here's a cheat sheet of the hottest players in the 2018 World Cup to get you started.
Olivier Giroud, 
France
Giroud is the striker for the French National team. He has modeled just as much as he has played soccer. Giroud has been featured on the covers of Tetu and GQ, and the 6'4" 27-year-old endorses Hugo Boss and Puma. Oui oui, j'aime Olivier.
Gerard Pique, Spain
So what if he's married to Shakira…
Asmir Begovic, Bosnia and Herzegovina
We couldn't locate Bosnia or Herzegovina on a map if our lives depended on it, but now we have a valid reason to do some research. Begovic is a 6'6" 28-year-old goalkeeper playing for the Bosnian National Team. On top of being gorgeous, he can speak four languages: English, French, Bosnian, and German. If that isn't sexy, I don't know what is.
Mats Hummels, Germany 
Basically, the best thing that's come out of Germany since beer. 
Yaya Touré, Ivory Coast
Yaya Touré is a midfielder and devoted captain for the Ivory Coast National team, exemplified by his impressive build. He recently led the Ivory Coast National Team to victory in the 2015 African Cup of Nations. He's extremely humble and charitable, shown by his major involvement in many philanthropic organizations in West Africa.
James Rodriguez, Colombia
Rodriguez is a 24-year-old striker for the Colombian National team. In the 2014 World Cup, he emerged as the top scorer of the entire South American continent. One of his goals was even awarded the best goal of the entire tournament. Rodriguez is a family man who's been married since 2010 (sighs) and endorses Adidas and Rexona, among other brands.
Sergio Ramos, Spain
Sergio Ramos represents the Spain National Team in the World Cup. He is the proud captain of Real Madrid FC. His devotion to his career has resulted in a faultless six-pack, which I believe we can all agree to be a positive side effect.
Cristiano Ronaldo, Portugal
This guy needs no introduction at all. If you don't know who Cristiano Ronaldo is, you just may have been living under a rock. His dedication to his performance has resulted in his beautiful physique, and Ronaldo has been topping lists of sexiest soccer players since day one.
Images: oliviergiroud_love, 3gerardpique, asmirbegovicfans, aussenrist15, yayatoureofficial, jamesrodriguez10, sergioramos, cristiano / Instagram
3 Times Sports And Weddings Should Never Mix
Now that the Super Bowl is officially over and we're done pretending to care about it (shout out to Kylie Jenner and Stormi for stealing everyone's thunder… bad weather pun 100% intended), let's talk some shit about insane sports fans. Namely, guys who feel the need to have a sports wedding, or just fit sports into their wedding somehow. I might just still be salty over the fact that although I chugged mixed drinks and housed buffalo chicken dip as silently as possible while the ball was in play, the dudes in the room were incapable of keeping their mouths shut while Justin Timberlake was performing. Maybe I'm just feeling triggered by the idea of Lady Doritos. IDK. Whatever it is, guys who are such obsessive sports fans that they need to incorporate it into their wedding need to chill TF out.
You hear it all of the time. Brides-to-be are like, "I'm spending all of everyone's money on pink sparkly shit and mason jars, so it's only fair that I let him wear a jersey in our engagement shoot!" Um… hold on there. There's a serious difference between making a couple of compromises while planning your wedding and turning the whole thing into a shrine to your fiancé's fragile masculinity. If you want to make him feel involved throughout the process, let him pick the signature cocktail or give the groomsmen some quirky socks or some shit. Your wedding is not the time or place to remind everyone that he has an unhealthy obsession with a team of dudes he's never even met. Here are a few sports wedding things you need to be aware of so you're prepared to shoot them down before they ever come to fruition.
Wearing Jerseys, Period
Do you think Gisele let Tom Brady wear his jersey during any event related to their wedding? Nope. No chance. He probably has no desire to wear it anytime besides when he's literally playing football. Considering it'd be pretty cringeworthy if Tom wore a jersey in a save the date photoshoot, imagine how stupid it's going to look when a regular guy does it. Grown men wearing sports jerseys in any way, shape or form really just scream, "I could have gone pro if I didn't have that pesky knee injury sophomore year of high school!"
Jokes About Loving You "Even When It's Football Season"
I get that humor is totally subjective or whatever, but this is never funny. If the person you're about to sign up to spend the rest of your life with thinks that it's funny to joke about not being able to love you while he's cramming Tostitos scoops into his mouth and yelling at a TV screen, that's a red flag. You're still able to keep track of whose Instagrams he's liking while you're watching The Bachelor, so any sports-excuses he's making are totally invalid.
Proposing To You At A Game
Why do I even have to explain why this is the worst idea of all time? Do you really want to remember your proposal as an event surrounded by hundreds of drunk, sweaty, screaming strangers? Do you even want to risk having a Bud Light can in the background of any photos? Probably not. Best case scenario, you'll provide the content for a random onlooker to get a viral tweet. Congratulations. Obviously, you don't have full control over when you're going to get proposed to, but try to drop hints like "I'll fucking kill you if you propose to me at a game" as frequently as possible.
OMG A MAN JUST PROPOSED!!! pic.twitter.com/6cyMnifgh5

— max (@MaxOnTwitter) February 5, 2018
10 Hot Guy Olympians From Around The World That Will Make You Care About Sports
The Olympics are upon us, which means the world will get to watch as the best athletes on Earth compete against each other for metal necklaces – it's truly thrilling. Even more so when those athletes are, on top of being the pinnacle of athletic ability, really fucking attractive. Now, we all know that Team U.S.A is and always will be the most gorgeous hunk of team ever to walk the face of the Earth, but in the spirit of global unity here are some other athletes from around the world whose events you should def ditch work to watch DVR when the time comes:
Team Spain
Javier Fernandez – Figure skater
Anyone who says male figure skaters aren't hot are seriously disturbed, and clearly haven't seen Javier Fernandez. Javier is a two-time World champion, sex time consecutive European Champion, three-time Grand Prix final medalist, eight-time Spanish national champion, and a certified ten – or diez – depending on if you're trying to impress him with your 9th grade level Spanish skills.
Team France
Martin Fourcade – Biathlete
Umm…yeah, obviously Team France was going to bring the heat. Fourcade is a "biathlete," and for those of you who still need to brush up on your knowledge of random Olympic sports, that means his event involved both cross-country skiing, and shooting a gun. Not sure why those two skills were combined, but I'm very open to letting Martin change my mind on this subject.
Team Norway
Henrik Kristoffersen – Alpine Ski Racer
So let me just say right now, you are not ready for Henrik Kristoffersen. You think you are, but you are mistaken. Let me also say, that after a brief (read: 2 hour) stalking of his Instagram, he has a girlfriend and/or wife. Sorry for the bad news. Kristoffersen is a skier who focuses on both the slalom and giant slalom events.
I think I speak for everyone when I say I can't wait to see this man's giant slalom in South Korea this year.
Team Japan
Yuzuru Hanyu – Figure Skater
Once again, the male figure skaters are holding it down by being both athletic and fashionable. Get yourself a man who can do both, fam. Yuzuru Hanyu took home the gold in Men's singles at the last winter Olympics, though I feel like he won't be a single man for much longer. *ba-dum-CHI*
Team Germany
Axel Jungk – Skeleton Racer
Axel Jungk is a skeleton racer who represents Germany in the Skeleton World Cup which is a real sport and not, as I initially thought, an extremely competitive Halloween costume contest. Anyway, based of his Instagram, this German Jungk is something to behold:
Team Canada
Alex Pietrangelo – Ice Hockey 
If you're looking for a hot Olympian who is a little closer to home, might I suggest Alex Pietrangelo of the Canadian Ice Hockey team. Sadly, he is married (boo) and his Insta profile pic is literally him at his wedding (so rude), but a girl can dream, eh?
** Okay, so turns out Alex won't actually be at the Olympics because NHL players aren't allowed to go this year (boo) but we're going to keep his Insta on here so you can scroll through his pics and dream of a world where you give a fuck about hockey.
Team Tonga
Pita Toufatofua – Skier
You probably remember Pita from the Rio Olympics when he made a major entrance by showing up fully shirtless and covered in oil as if to say, "It's Tonga time, bitch!" Well this year, your boy is back, and competing as Tonga's only Olympian. Because like, who needs a whole team when you're only competitor looks like this:
Team U.K.
Joel Fearon – Bobsledder
Joel Fearon is a not only a winter Olympian, he is also a sprinter, meaning he competes in the Summer Olympics too. And on top of all of that, he is foooooooooine af, and represents our ex-turned-BFF, the United Kingdom. Mmm. I'd start a special relationship with him any day:
Welp, there you have it. I'm sure more hot Olympians will reveal themselves as the games goes on (we didn't even touch on the subject of lady Olympians here, because they're honestly all so attractive there's no reason for a roundup), but for now I think we can all agree that the old saying is true: It's a hot world after all.
Heads up, you need to keep up with the news. It's not cute anymore. That's why we've created a 5x weekly newsletter called The 'Sup that will explain all the news of the week in a hilarious af way. Because if we weren't laughing, we'd be crying. Sign up for The 'Sup now!