Sponsored by Queen V
I'm sure I'm not alone when I say I've often thought life would be easier without a vagina. I know I'm supposed to embrace it and take pride in my womanhood and blah blah but come TF on. The only times I'm really paying attention down there are when it's busy ruining my favorite underwear with a surprise period or surprise infection, or busy ruining my sex life by suddenly being bone dry. It's not exactly the perfect recipe for a loving relationship with my platinum vagine. (I kid. I'd probably give it like a bronze.)
Luckily, sexy new company Queen V is here to solve all my problems. A group of like-minded women got together and decided they were sick of out-of-touch dudes manufacturing bogus vaginal products (same). Instead, they thought the women of today deserved cute, affordable, and genuinely effective vaginal products. (Groundbreaking, right? Sadly, it really is.) Here are the products you're about to be obsessed with. You and your "Queen V"—as founder Lauren Steinberg refers to it, a term I fully intend to steal—can thank me later.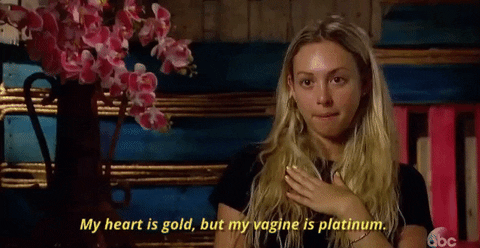 Make It Reign/V Bar
You know how gynecologists are always telling you not to douche up there? How your vagina is "self-cleaning" and body wash will just fuck up the pH? Well, while the pH stuff is spot on, I've never loved the alternative of "just throw a little water on it and hope for the best." Enter Queen V, with not one, but TWO cleansers I am allowed to use for my whole entire body! With V Bar or Make It Reign (moment of credit for the cute-ass names), you can actually clean yourself without worrying about accidentally giving yourself BV. And they say women's lib is a myth. As an added bonus, they're made with yummy ingredients like rosewater, aloe, green tea, mango, and chamomile. So you can still smell like you paid an extra $10 for a marked-up "women's soap"—when you could actually buy both for a total of $9. Score.

DD Probiotic
Honestly, if you're not taking some kind of probiotic right now, it's time to move into 2018. We already discussed how good they are to beat bloat—but did you know they can also help prevent yeast infections? Queen V's Daily Dose Probiotic has all the same digestive health properties, but is specially formulated to keep your yeast/bacteria levels where they should be. It also includes turmeric, which has amazing anti-inflammatory properties in addition to helping skin conditions like acne, eczema, or psoriasis. Basically, this shit will keep you 100 from head to toe. Buy ASAP.

The Eraser
Speaking of yeast infections—is there anything that makes you hate your vag more? Sure, there's the excruciating pain of UTIs. (And should that problem arise, Queen V's UTMI supplement is formulated with cranberry to promote urinary tract health.) But at least most UTIs can be treated with an antibiotic that's meant to work within 24 hours. With yeast, you're basically told to handle it on your own for the coming week, and shove a bunch of chemical goop up there whenever it gets unmanageably itchy. (So like, every second of every day until it's gone. Seriously, I don't know why I even buy cute underwear anymore.) Enter The Eraser: a boric acid suppository for soothing yeast symptoms. It's basically a less-scary and longer-lasting alternative to the creams that promise to remove all feeling from the area and wear off 20 minutes later. (Neither of which is an ideal outcome). With The Eraser, you get relief without the mess, and without the ingredients you can't pronounce.

P.S. I Lube You
Finally, we've arrived at my favorite of the bunch. As my local Rite Aid can attest from watching me crouch for 45 minutes in the "family planning" aisle, lube options often really, really suck. Also, as my local Rite Aid can hopefully NOT attest, lubes can often seriously fuck up your vagina. (Anyone think they'd test the ingredients more if lube went inside men? Yeah, me too.) Anyway, all the more reason to buy lube made BY women, FOR women. P.S. I Lube You (another adorable name, minus the images it conjures up of a sobbing Hilary Swank) is an aloe-based lubricant that does more than make sex better. (Though honestly, that's enough for me.) It actually protects and hydrates you down there—which, given my obsession with moisturizing, was incentive enough for me to double my order. Oh, and it's organic. Gwyneth would so approve.

If nothing in this list spoke to you, you should absolutely check out their full list of products here. Whether you're looking to #maintainyourv, #enjoyyourv (hint: this is the section with lube in it—also a nice bubble bath), or #healyourv, Queen V has you covered. Now that Queen V has pointed out that men really shouldn't be selling you vaginal products (and are in fact getting it wrong a lot of the time), I'm not sure I can ever go back. These products are available at Walmart across the country, affordable AF, and come in way cuter packaging than vaginal products have any right to—without the insulting "pink tax" connotations. It's basically the Glossier of vaginas, and I for one am obsessed.
Images: Giphy (1); Instagram (4)