As I've mentioned in previous articles, I'm not exactly a skin care expert. My dermatologist, who gently told me to throw out most face products I own earlier today, would agree on this. On the bright side, I have now sought professional advice and am here to share my experience/her wisdom. Today's topic is dermarolling: an at-home skincare treatment boasting celebrity users including Kim Kardashian, Jennifer Aniston, and Gwyneth Paltrow. (Yes, the one who stuffs jade eggs up her vagina. But her skin is glowing, no?) In my ongoing quest for flawless, "I can afford weekly facials" skin, I bought a $24 dermaroller two weeks ago. Here's what you should know before you buy.
What Is Dermarolling & What Does It Do?
If you've heard of microneedling, dermarolling is just the at-home version of that. Both treatments involve creating small punctures all over your face. This (in theory) enhances collagen and elastin production. As your skin heals, the collagen boost helps smooth out wrinkles/fine lines, firm up sagging skin, and improve overall texture/tone. Both treatments can also improve the appearance of acne scars, dark spots, and large pores. As a general rule, microneedling will be more effective than dermarolling for many reasons. It's kind of like the difference between doing a mask and getting a facial—the version performed by a professional with higher-tech tools is always going to come out better. Plus, microneedling tools can create deeper punctures than at-home dermarollers (for obvious reasons), so they naturally have a stronger effect. (Wondering why anyone would bother dermarolling? Because microneedling, like most things Gwyneth Paltrow supports, is prohibitively expensive, at $500-1,000 per session.)

Face Microneedle Dermal Roller System
How Do You Use It?
A dermaroller basically looks like a razor with a rolly head covered in needles on top. Before using it, it is VERY IMPORTANT that you disinfect it. Dermarolling with a dirty roller is literally injecting your skin with bacteria. (Sidenote: really love lecturing you all knowing full well that I "disinfected" my dermaroller with tequila. Whatever, at least I'm trying.)
To use it, you roll the needle-wheel (not the real name, do not refer to it as such) all over your face. One section at a time, roll five times in each direction (up/down/left/right) until you've covered the areas you want to treat. Redness is a known side effect, but I didn't notice much. Just like, the amount you'd expect for having rubbed needles all over your face. After dermarolling, your skin will be primed for absorbing hydrating products—so load up on your fave serum/moisturizer to finish.
Not quite my experience, but you get the idea: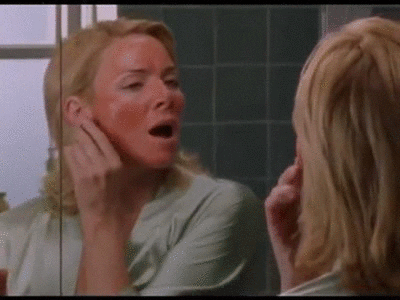 What Are The Effects Of Dermarolling?
The day after using this, I was the most annoying person on earth. I disappeared to my office bathroom maybe 60 times to take yet another "#nofilter" selfie. Even the most heinous of fluorescents couldn't dim my #glow, and I felt like there was a noticeable difference in some roughness/bumpiness that had been bothering me on my cheeks. While effects like taming discoloration require long-term, consistent use of dermarolling (and my day-after glow didn't really last), I definitely noticed a difference. Mostly, it was just a kind of shine/plumpness (I hate that word but I can't think of a better description), plus the glow I won't shut up about.
For reference, here was my scary face before dermarolling:

And here is my post-dermarolling glow:

Real results. Not FaceTune.
The Warnings
All that being said, dermarolling is not without its dangers. Common side effects can include infection, inflammation, breakouts, and damaged skin. Most experts say this can be avoided with proper cleaning and technique, but unless you're going to dermarolling seminars on the regular, chances are you could fuck up. A lot of these issues do stem from improper cleaning practice, so please buy proper cleaning solution and be rigorous about it. Or just like, replace your dermaroller fairly often—I know you spend more than $24 on less important shit.
When I asked my dermatologist about it, she didn't say dermarolling was bad, but she didn't say it was good either. Mostly, she thinks of it as a less effective version of microneedling, and cautioned that dermarolling on any existing inflammation or pimples was a surefire way to spread the irritation to the rest of your face. I also found out that those bumps/redness on my cheek are in fact my new, fun mild rosacea (getting older is great), so whatever improvement I noticed after dermarolling was almost certainly in my head. Whatever! At least I was glowy!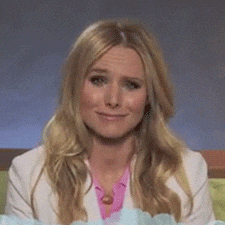 Is this a wholehearted recommendation for dermarolling? If you caught me the day after, it would have been. But after hearing my dermatologist's advice, I've sobered up on the idea of making this part of my routine. While I love buying trendy beauty products way more than as much as the next girl, sometimes less really is more—especially if you're not sure how your skin will react. A dermatologist, on the other hand, is always a good investment.
Images: Dermstore; Giphy (3); Chris Howard / Pexels