If you want to know how relevant a celebrity is, take a look at what they wear to an award show red carpet. If they're irrelevant, they'll probably wear something over-the-top. This usually creates enough buzz to promote whatever shit they're trying to sell, or at the very least, gets their name Googled a couple of times. However, if a celebrity is totally iconic, they generally nail a red carpet look. Like, let's be realistic. Britney Spears has never needed to dress up like a cartoon character or animal to get people to talk about her or listen to her music. In honor of the upcoming 60th Annual Grammy Awards, let's obsess over the most perfectly executed Grammys looks of all time.
Rihanna, 2017
Realistically, this list could just be filled with photos of Rihanna every time she has attended the Grammys. I think we've all established that an ugly outfit is no longer ugly only when Rihanna decides so. Besides the fact that this skirt is totally to die for and the sparkly crop top shows off her legendary underboob tat, RiRi made a lasting impression at the 2017 Grammys by drinking out of a blinged-out flask all night. We do not deserve Rihanna.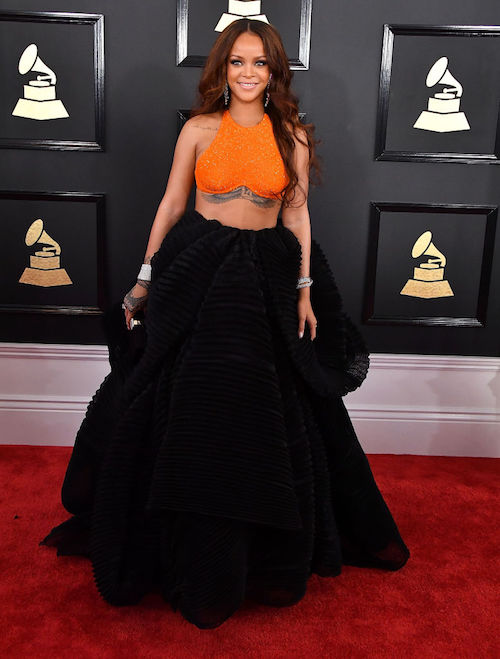 Adele, 2017
When I think of iconic Grammys looks, Adele's green gown always comes to mind. It's the perfect example of a genuinely elegant, not stupidly extra red carpet look. Like, hate to sound like a cliché dad, but it's definitely possible to have a memorable Grammys look without whipping out a boob or wearing a dress that wouldn't make it through airport TSA.

Jennifer Lopez, 2000
I mean, to be totally honest, I don't LOVE this dress. But in 2000, everyone lost their shit over JLo's green Versace gown with the most insane plunging neckline in history. People loved this dress so much that it actually is the reason Google Image Search was invented.

Beyoncé, 2013
The Grammys red carpet is basically just a chance for celebs to try to one-up each other. If done correctly, a strategically styled Grammys look can guarantee you'll be buzzed about for years to come. Except, when you're Beyoncé, you're already the most relevant person on the face of the planet, so you can just throw on a laid-back jumpsuit and watch as all of the peasants of the world still talk about how amazing you look.

Taylor Swift, 2016
I rip on Taylor Swift all of the time, but I have to admit that she did have the ultimate Grammys glow-up. This unreal Atelier Versace two-piece gown is definitely an upgrade from her old prom-inspired red carpet looks.

Britney Spears, 2000
UGH. This dress is actually iconic. This photo is 18 years old, and I still randomly think about it and get pissed off that I'll never look this good at any point in my life. It's basically the "Lucky" music video in real life. This is one of the greatest red carpet looks in history.

Lady Gaga, 2015
Lady Gaga has pulled some really wild shit on red carpets, but in 2015, she did something that really surprised us all. Gaga opted for super low-key, classically glamorous looks all night long. She walked the red carpet in a silver Brandon Maxwell gown, and changed into an unreal black gown for the end of the night. Plus, her hair looked incred.

Kim Kardashian, 2011
Before Kanye was sending KKW memos on how to dress, Kim had a very distinct style that was soooo Calabasas. Gold sparkles, hair extensions, a spray tan, and chunky patent Louboutins is classic Kardashian. Looking at this outfit makes me nostalgic for when Rob was still really hot and Kylie was still in her awkward phase.

Ariana Grande, 2016
I'm pretty sure Ariana Grande's 2016 Grammys red carpet look is what started girls captioning every picture of themselves in a red dress with the chick in a red dress emoji. Ariana is literally the human embodiment of the red dress emoji in this Romona Keveza gown. Classic red dresses are almost always a hit, but Ari really killed it in this one.