Welcome back, friends, to your regularly scheduled Bachelorette recap! For those of you who missed last week's episode, congratulations! You're not better than me. Here's what you missed: despite its usual difficulty vetting contestants each season for racism and toxic masculinity, The Bachelorette somehow managed to thoroughly vet each and every man vying for Clare's heart for an extremely infectious disease in the amount of the time it takes for a blowout to go to sh*t. Seems very chill. Other things that feel permanently seared into my brain: Clare coming dressed for her big Bachelorette debut like she walked right out of the lyrics to Taylor Swift's "Mirrorball," hearing Tyler C blubber "but his DMs!", and watching Clare mentally sift through the one improv class she took in undergrad when Dale stepped out of the limo and she had to pretend like they weren't actually dating already. Fun!
Which brings us to this week's episode. We start with a close up of Clare lounging by the pool asking the viewers back home if we think Dale likes her or if he likes likes her. Christ.
The First Group Date
So does Chris Harrison not even read the date cards anymore? He's like, "welcome to the house guys, I'll just leave this scrap of paper here and hope one of you knows how to read something longer than a 134 characters!" Oh, sweetie. Why would you ever assume that?
Clare shows up to the group date, and once again I'm going to need to speak to the manager of her wardrobe team this season. I mean, why is she dressed like the head of a Girl Scout troop?? And not even a cute one! Phyllis Nefler would be AGHAST.
I'll be seeing those khaki green shorts in my nightmares.
This date is all about the men learning love languages, which I'm all for. Knowing your love languages are important, as it helps you communicate with your partner and better understand their needs. It's nice to see that they're taking this whole mature bachelorette thing seriously and aren't planning any super gimmick-y dates. But just as I'm about to applaud ABC for their maturity I see that their version of "love language" involves a set they stole from a local high school's rendition of Romeo and Juliet. So, I guess I'll go shave my back now. Touché, ABC. Touché.
As much as we're told this is a group date, the main focus is clearly Dale. He steps up to the papier-mâché tower with all the confidence of a man who has only played one actual minute of professional football in his entire adult life. He says something about wanting to give her everything he has physically, so I guess his love language is boning? Subtle, Dale. Real subtle.
DALE: I'll give you everything I have.
ALSO DALE:

Look, it's not that I dislike Dale exactly. It's just that he's SO boring. He's definitely attractive, don't get me wrong. But that's good for a two-episode character arc on Riverdale, not as the only defining quality in the man you leave your sponcon deals for.
Clare says it's been a while since a man has been kind to her, and I love that the men are all nodding in unison as if none of them have ever left a girl on read before. Please.
Apparently part of learning love languages involves gifting Clare with loose bits of trash the men found in their hotel rooms. Wow, this is bleak. I'm half expecting one of the guys to be like, "and here's this complimentary soap that made me think of you. Not complimentary in the sense that it was free with the room, but complimentary in the sense that I am complimenting you with it." Christ.
And finally, the last love language the men learn about is touch. I'm guessing ABC was hoping this would make for some hot, romantic moments, but last time I saw this much giggling and caressing on my screen it was from a documentary on the underground world of professional tickling.
Dale steps up to the plate and Clare immediately has a small orgasm. Why is she sighing that much! Clare, you're in public!
MY ROOMMATE: Did they date before the show or did they just DM?
ME: Is that not the same thing?
Asking for a friend!!
As we move into the cocktail portion of the evening, Clare's expectations are high. And why shouldn't they be? She just spent the better part of an afternoon being showered with adoration and praise—praise I'm sure that wasn't at all manufactured by an ABC intern holding up helpful cue cards with potential compliments written on them behind Clare's back.
Guys, I want to f*cking disintegrate into my couch. WHY IS NO ONE ASKING TO STEAL HER FOR A SEC?! She's like, "so, should we get the night started??" and it's CRICKETS. They do know this is the part where they're supposed to pretend to be interested in her, right? Damnit, where are those cue cards when you need them!
Harvard takes pity on Clare's groveling and offers to spend five minutes alone in her presence. You're a real prince, sir! Despite the fact that he was the only one to show an ounce of interest in her, Clare can't focus on their conversation because she needs to go pick a fight with her boyfriend Dale for not whisking her away like he's contractually obligated to do.
Also I love how Clare just ditched Harvard to scream at the other guys and then doesn't even go back to him. I guess she was done talking about how his love language is his timeshare in the Hamptons.
Speaking of which, now that Clare and Dale have run off together I'm starting to think this was maybe her plan all along…
DALE: Why do I scare you?
CLARE: You scare me because I'm worried about breaching my contract with ABC.
You're right, that's downright terrifying.
The rest of the evening carries on uneventfully. Clare has some meaningful conversations and slow dances with Riley to a knock-off version of Boyz II Men, which weirdly wins him the group date rose.
Jason's One-On-One Date
Jason gets the first one-on-one of the season and I know this not because Chris Harrison graced us with his presence, but because, once again, a contestant was made to read his own date card. Look, I'm starting to think Chris didn't even need to come out of quarantine for this. Couldn't they just have Zoomed him in for his allotted 20-60 seconds of snarky commentary?
Clare wants Jason to write a letter to his younger self before their date, because there's no sexier form of foreplay than assigning homework. Well, if they didn't wish the bachelorette was an illiterate 22-year-old Instagram model before, they certainly do now.
https://www.instagram.com/p/CGlh7o3gcSy/[/embed]
Guys, I don't even know what to make of this evening. First, they scream into the night to purge themselves of their past traumas, then they read aloud negative words exes have called them… and this is a date? This is usually an activity I reserve for the hours of 2-3am after drinking two bottles of wine and FaceTiming every man in my phone, but I guess we're defining everything a little differently in quarantine.
Oof, Jason starts listing some things people have said about him, and he might as well be regurgitating words under the Merriam Webster definition for "sociopath." He's like, "people have said I'm manipulative, cold, and mean, can you believe it?" And it's like, well what is the context here? Did someone call you cold and mean after you beat them up, because that would be valid. I'm gonna need a little more from you here, Jason.
Finally, they read the letters they wrote to their younger selves, and I'm starting to understand why Clare has been single for so many years. Daddy issues make her wet.
JASON: *reads from his letter*
CLARE:


Okay, is Clare getting paid for the therapy she's giving him? Because she absolutely should be.
Listening to Jason discuss the demons from his childhood is weird because I'm not used to seeing sincerity with this franchise. Like, he might not even be reading from cue cards!! I feel like I'm taking crazy pills!
This burning of Clare's dress from Juan Pablo's season feels random, but I like that Jason is into pyros. Somehow when I do things like that with a guy it gets twisted into being "arson" and "in need of police involvement," but Jason chalks it up to a fetish. It's nice to know there are still good ones out there!
JASON: I'm glad you burned that dress, it was fugly
HAHAHA JASON. You can't just say that to her face! This is why people call you cold and mean!
The Second Group Date
Clare starts the second group date off by declaring she needs a man with balls, and what better way for the men to prove their toxic masculinity than a sadistic game of dodgeball? The men are broken up into two teams and a lot is on the line. By "a lot on the line" I mean literally nothing. Seriously, the stakes could not be lower. We're told that the winners will get to move on to the cocktail portion of the evening, while the losers have to endure being emasculated on national television. Fun!
Sensing that their pride and fragile masculinity aren't high enough stakes, Clare tells us that she would like to up the ante by turning this into strip dodgeball. STRIP DODGEBALL?! At the mention of potential nudity, Chris Harrison lets out a small squeak of abject horror and then pointedly looks at the producers off screen with eyes that say "I don't get paid enough for this sh*t." You and me both, buddy.
Let's keep in mind that half the men on this date are or were professional athletes at one point in their lives, and now they're here. Wearing nothing but their jockstraps in front of God and Chris Harrison at a resort gym. Oh, how the mighty practice squad players have fallen.
Clare decides to throw the blue team a bone by saying she'll even the playing field: the red team has to strip too!! I'm sorry, but is this an orgy? These are the kinds of things my mother warned me about when I told her I was moving to Bushwick.
https://twitter.com/betchelorpod/status/1318722943040417793[/embed]
Clare declares the game over after the blue team, stripped of their dignity and their little blue thongs, has been thoroughly ogled by her. Honestly, there's really no need for them to go to the cocktail hour now anyway. She got to see their d*cks. That's really all the info she needs at this point in the season.
The cocktail hour is super blah. Having all bared their, um, souls, the men are now looking to make deeper connections with Clare. Plus, they heard from Jason that she's really into emotional trauma porn. I mean, I'm guessing that's the reason for why Chasen decides to make a sob story out of being short. He's like, "at one point in my life I wasn't 6" feet and I played video games and people made fun of me for it." Short and played video games? So… he was 12? His trauma is that he had an adolescence. Got it.
CHASEN: They called me hermit crab!!
EVERY WOMAN IN AMERICA WHO HAS SURVIVED THE NUCLEAR WARFARE THAT IS 7TH GRADE: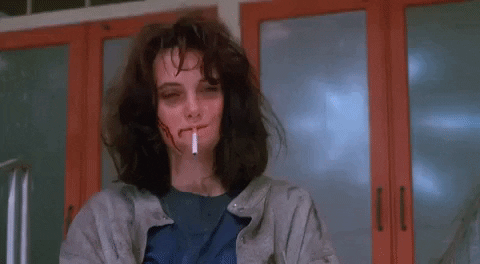 Mr. Wildlife Man whose name I can't remember and will henceforth be called Ranger Rick for the remainder of this recap, decides to crash the cocktail party despite being a dodgeball loser. Why do I feel like the first thing he's going to say upon arrival is "look, I'm not a shower, I'm a grower."
Ranger Rick says he's "breaking the rules" for Clare. I think I'd be more inclined to believe this "rebel" act if he didn't just soil his khakis at the sight of five grown men confronting him about the sanctity of dodgeball game outcomes.
On his way out, Ranger leans in for a kiss AND SHE GIVES HIM THE CHEEK?? Hahahahahahaha. Oh god, that's so painful to watch. Do we think this is more or less humiliating for him than having to strip to a g-string on national television?
Clare tries to save the evening by hanging out with Brandon, and that promptly blows up in her face. He makes the mistake of saying that he came on the show for her but all he knows about her is that she's hot. Honestly….. I don't think it's that horrible of an answer. At least he didn't say I hated her fugly green dress, amiright Jason?
And while it's not that bad of an answer, I sort of understand where Clare is coming from with this temper tantrum. Like, he could have said ANYTHING else. He could have said "that dodgeball thing was super funny" or "your dog is cute" or "I want to know more about you than just what I've seen on TV," but instead he settled for an easy answer, and she's too old for this sh*t. She wants more from a connection than "you're hot." She wants romance and commitment and for Dale to talk dirty to her in that monotone, robotic voice of his. God, Brandon, get with it!!
The group date ends with Chasen and his hermit-sized hands getting the rose. He's really showing those middle school bullies now! They may be selling a pyramid scheme on Facebook, but he is the pyramid scheme, bitches!!
The Rose Ceremony
Yosef is still throwing a fit that this show has mild nudity on it. He says that after the stunt she pulled on the group date, he's lost all respect for Clare. He calls her "classless" and does so with a straight face as he stands shirtless in front of the cameras. K.

Wow. For once I have no complaints with Clare's ensemble. It's sleek, it's chic, her boobs look great. Carry on.
Clare grabs Ranger Rick first and apologizes for her dismissal of him on the group date. He just has to understand that had she shown him an ounce of kindness that mob of khaki wearing men would have drawn and quartered her on live television. You get it, right?
The rest of the rose ceremony is all about Dale. And by "all about Dale" I mean "all about the back of Dale's throat." Seriously, that is a LOT of tongue. I fear for Yosef's delicate sensibilities. What if he were accidentally to happen upon this scene! Shield your eyes, Yo Yo!
And that's all she wrote, kids! We'll have to wait until next week to see the rest of the rose ceremony and if Yosef ever self-combusts at the sight of Clare and Dale's writhing bodies. Until then!
Don't miss out on anything happening in Bachelor Nation. Subscribe to our weekly newsletter here.
Images: ABC/Craig Sjodin; Giphy (3); ABC; @thebetchlor /Instgram (1); @betchelorpod /Twitter (1); @bachelorusaspoilers (1)