If there's one thing that literally every single person in the world should own, it's a good denim jacket. For the first time in my life, I'm not even exaggerating. Everyone looks good in a denim jacket, and when you're trying to find a last-minute outerwear option for an outfit that seems otherwise doomed, denim always saves the fucking day. But like, don't get carried away. You can't just throw on any denim jacket and expect to instantly turn into an off-duty 90s model. There are some seriously atrocious denim jackets in this world, so here are a few that don't suck.
Gap basically invented the denim jacket. Don't quote me on that, because it's probably not true, but you get where I'm going with this. You wore Gap denim jackets growing up. Your mom had Gap denim jackets. The cast of Friends probably had tons of Gap denim jackets. They're a classic staple.

Last year Aritzia had a longline denim jacket that I didn't buy, and to this day I still regret it almost as much as I regret the time I decided to get side bangs after a few hours of day drinking during my freshman year of college. Anyway, this thing is basically a giant denim robe, so you can hide any kind of lazy betch outfit underneath it when you need to make a last-minute dash into public.

If a denim robe isn't really your style but you still want to dabble in longline denim, go for this jacket from Topshop. It's a classic denim jacket that's long enough to cover your butt while you're wearing leggings, if you still care about that kind of thing. (Side note: It's 2017, I'm pretty sure you can show as much butt as you want these days, so maybe you don't need to stress about that anymore.)

Realistically, every denim jacket looks basically the same (unless it's a gross cheap one from Forever 21 with a pizza patch sewn on the sleeve), so if you want one that nobody else has, you're gonna have to go custom. Shop Betches teamed up with Unemployed Denim to give you the opportunity to have your own genius idea embroidered across the back of a vintage denim jacket. And yeah, it's actually vintage and not like "Urban Outfitters vintage inspired." You're welcs.

Madewell created this design to mimic the oversized relaxed fit of a perfectly worn-in jacket. It's basically a men's jacket but designed specifically for women. At least if we're not going to be paid as much as guys, we can be excited about having denim jacket equality, right?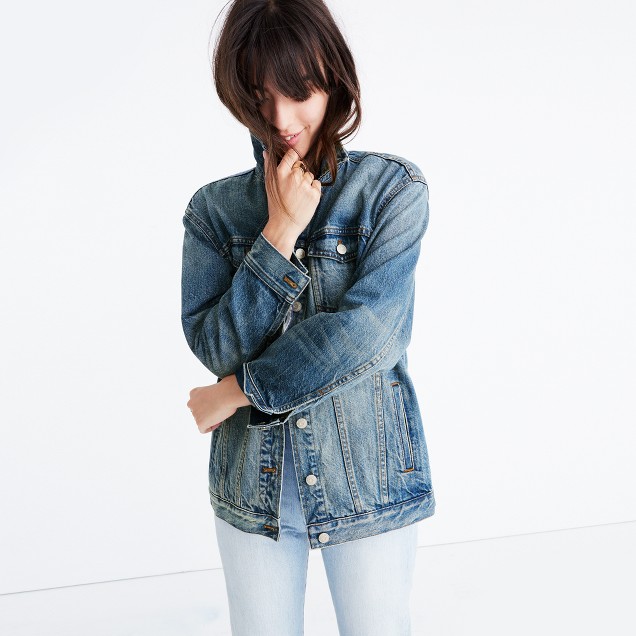 If you can look past the fact that this is called the "Trucker Jacket," this Levi's coat is actually super cute. It's another really timeless design, and the sherpa liner kinda makes it feel like you never really had to roll out of bed this morning.