We all learned in like, infancy, that carbs are evil incarnate. But it would probs surprise you to know that working whole grains into your diet is actually like, good for you. They won't make you fat, and they could actually make you live longer. Shit, they'll even reduce cholesterol, improve your heart health, keep you full, and make you better at sex. One of those things was not true. But like, aside from rice and couscous, what else is there in the grain world? (And don't say pasta.) We rounded up a few so that you don't have to traipse through the aisles of Whole Foods' self-serve bulk area for longer than is absolutely necessary.
1. Amaranth
Ever heard of it? Probs not but that's okay. Amaranth is full of protein, calcium, fiber, AND iron so naturally it's great for you. You can cook it and add it to your morning oatmeal, use it as a rice or pasta, or just eat the raw seeds for extra crunch (jk, don't do that). Oh, and it's gluten-free for all you fake celiacs out there.

2. Oats
Yawn. Oats are totally boring and have been a snoozefest at breakfast for years, but that doesn't mean they aren't healthy. As told by the frightening Quaker man on the box whom I've had nightmares about, oats are super heart healthy and can keep you full for more than breakfast. If you really hate oatmeal, sprinkle whole oats into your baking adventures or make a savory oat porridge and serve it with something fancy. Really.

3. Quinoa
Quinoa was a super popular buzzword (buzz-grain?) a few years ago, but just cause it's kinda gone out of style doesn't mean it lost its benefits. If you aren't super tight with heart disease, diabetes, and being a fat fuck, this should be your go-to grain. It's also a complete protein since it actually contains all nine essential amino acids. The ancient Incans must've been some healthy motherfuckers.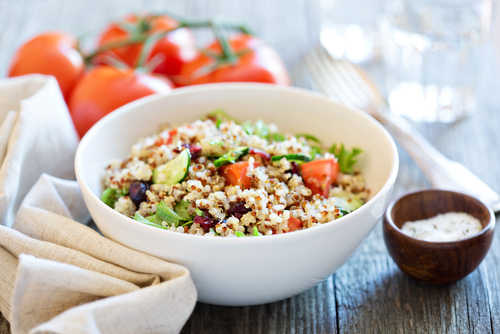 4. Barley
Do the cholesterol goblins keep you up at night? Me either, but keeping them at bay still isn't a bad idea. Whole grain barley (not pearled, which is the not-as-healthy variety with the germ and bran removed) lowered cholesterol by A LOT for people in a study who apparently had to eat it for five weeks. That's a lot of barley, but the benefits are legit. It'll also keep you fuller for longer, making you less likely to reach for a candy bar later.

5. Freekeh
The name is stupid, the benefits are not. And no, it is not the first half of the hook to a Petey Pablo song. This ancient wheat is super low carb and has four times the fiber of brown rice. This shit also has more vitamins and minerals than other grains. FUCK, it even helps digestion. I guess the real question is why aren't you already inhaling this? You can make it rice style and serve for dinner OR get kinda weird with it and make a sweeter version for breakfast. Oh, and if you can't find it, head to the Middle Eastern section of the grocery store.