Betches may receive a portion of revenue if you click a link and purchase a product or service. The links are independently placed and do not influence editorial content.
We need to have a serious talk about the dreaded "thigh friction" situation. You know what we're talking about–that annoying and uncomfortable feeling when your beautiful summer shorts or dresses turn into a battle zone for your precious thighs. But fear not, because we've got the perfect ally to save the day–the Megababe Thigh Rescue Mini Anti-Friction Stick.
Imagine a superhero in the form of a compact, travel-friendly stick that comes to the rescue when your thighs are in distress. The anti-rub stick is here to save you from the perils of chafing and skin irritation. It's like a protective shield that ensures your thighs glide seamlessly together, allowing you to strut your stuff in style and comfort.
Say goodbye to the days of having to choose between wearing your favorite summer outfits and dealing with uncomfortable chafing. This little wonder stick creates a silky-smooth barrier on your skin, preventing any friction that can lead to irritation. It's like a force field for your thighs, keeping them happy and irritation-free all day long.
But wait, there's more. This anti-friction stick isn't just a lifesaver for your thighs. It also works wonders in other areas prone to chafing, like your underarms or even your feet when wearing those strappy sandals. It's a versatile sidekick that ensures your whole body stays comfortable and irritation-free in any situation.
The compact and convenient packaging of the Thigh Rescue Mini Anti-Friction Stick makes it a must-have for your on-the-go adventures. Toss it in your bag, and you're ready to conquer the world without worrying about uncomfortable chafing ruining your day. It's like having a secret weapon always by your side, ready to save you from any chafing catastrophes.
So, ladies, it's time to reclaim your summer wardrobe and embrace the freedom of movement without the fear of thigh friction. Say goodbye to discomfort and hello to the smooth, irritation-free bliss that the Megababe Thigh Rescue Mini Anti-Friction Stick provides. It's time to strut your stuff with confidence and let your thighs be free to conquer the world, one chafe-free step at a time.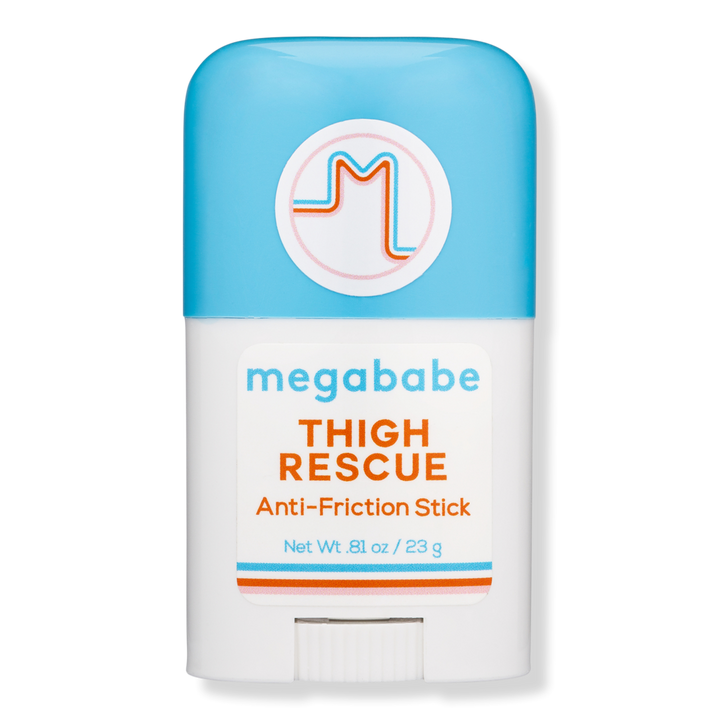 Shop It: Megababe Thigh Rescue Anti-Friction Stick, $10, Ulta