So, unless you're Patrick Star and you live at the bottom of the sea under a literal rock, you've heard about the Bachelor in Paradise drama by now. I mean, thank The Lord Baby Jesus that the show isn't cancelled forever and we'll get to see this stone cold pack of weirdos make out with each other on a beach at some point in the near future. Still, the drama surrounding Corrine and DeMario raised a lot of questions about what these cast members actually sign up for—like, literally sign up for, with their contract and all.
CNN Money got a hold of the legit Bachelor in Paradise contract and had a lawyer look at it, because journalism. The contract basically gives the show and its producer free reign over your life. That means you can't sue them if they portray situations in a way that definitely isn't truthful, if they show you butt-ass naked, or clip your soundbites together to make you say something you definitely didn't really say. The producers are basically like:

You also can't sue if you suffer emotional or physical trauma, or, like, you know, catch an STD from someone. You would think you should get tested for that shit before you go on a sex vacation, but some people like to ruin things for others.
Instead of like on actual news shows, where, if you portray someone in a way that didn't happen you get a lawsuit slapped on you so fast your head spins, on Bachelor in Paradise, the producers get total free reign with no repercussions.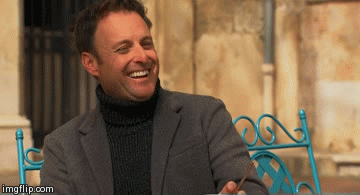 Like, how Ashley I. was always talking to a parrot instead of a producer. That didn't really happen, but it was funny and she signed a contract so the show had its metaphorical way with her. Also, producers can make it look like you did the dirty with a cast mate with a few well-placed "mmmm" and "oh yeah" and "oh my god" captions, even if all that went down was generally PG-13.
The contract does say that you shouldn't do anything technically illegal and should also probably not assault other people on the show. Yet, the show and its producers aren't responsible if someone goes rogue and eats you out in a pool gets weird with you.

So the question you may be asking yourself is, why would anyone sign on for this shit? The answer is fucking obvious. Have you seen the money people make on Instagram endorsements after becoming Bachelor famous? Yeah, that's why. Also, if you don't sign the contract, there are about 50 other contestants from the last two seasons of The Bachelor and The Bachelorette who would gladly sign their lives away for a little more screen time.