The time has come to talk about one of the lesser-talked-about award ceremonies of the year: the Golden Globes, aka the Oscars' younger, drunker sister. While the Golden Globes red carpet allows stars to give less fucks be a little more casual/experimental than they would be at the Academy Awards, the 2017 lineup was lit. As in, there really weren't that many terrible beauty looks that made me want to (internally) scream/cry/cry-scream. I mean, of course there were still a few losers who missed the mark, but before we get into the fuck ups, let's talk about the shining stars who killed the game, i.e. the red carpet.
BEST:
Emily Ratajkowsfsfsdfksafsfki The Hot "Actress" From "Blurred Lines"

The monochromatic shadow and lip combo. The tousled lob. The full brow. 10/10 would bang.
Emma Stone

Though she's the palest person I've ever seen, Emma Stone usually does it right on the red carpet. Following the success of her 75th film with Ryan Gosling, Emma donned a laid back, whimsical low pony, a sheer rose lip, and a subtle cat eye.
Millie Bobby Brown

As the breakout star of Stranger Things and a former Betch of the Week, Millie murdered the red carpet. Not unlike how she murdered the Demogorgon. Only difference is this time she had soft, subtle makeup and a sleek bob.
Lily Collins

Pulling off a red lip with a pink dress and pink shadow is not easy, but somehow Lily did it just to prove that she can.
Kerry Washington

Here for Olivia Pope's sleek, buttery-highlighted hair and dark lip combo.
Olivia Culpo

The mocha smoked out eye/matte lip/low braid story Olivia's telling is my 2017 mantra.
WORST:
SJP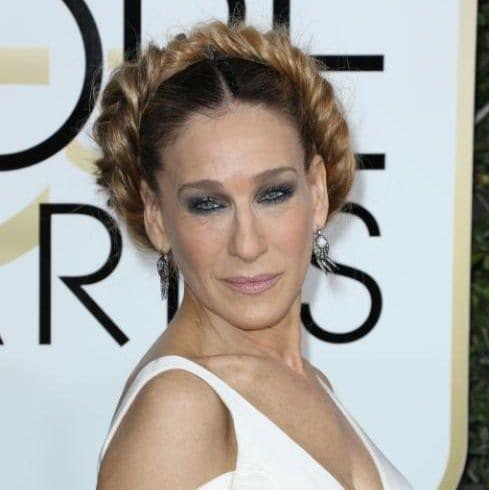 While she might have meant to honor the late and great Carrie Fisher, whatever the fuck is happening with SJP's braids makes me sad. She should have consulted Olivia. (Culpo, not Pope. Though both would probably be appropriate.)
Milo Ventigmiglia

The poor man's Tom Selleck is now registered under Megan's Law. Seriously, go check.
Tom Hiddleston

Tbh, he looked OK on the outside (whatever), but last night we saw Tom Hiddleston be ugly on the inside. Proving that he loves himself more than he loves poorly printed tank tops, Hiddleston wanted everyone to know that he is an inspiration to UNICEF and Médecins Sans Frontières and the World Food Program.
Tom Hiddleston: Omg thanks for the award. Let me use this platform to talk about Sudan.
The audience: All ears.
Tom Hiddleston: And how I've saved it by acting in a boring show about guns with House.
The audience:

The only thing that would have made up for this is if he thanked Taylor Swift and the audience subsequently boo'd. Sigh. Maybe next year.