Betches may receive a portion of revenue if you click a link and purchase a product or service. The links are independently placed and do not influence editorial content.
Picture this: glowy, bronze, hydrated skin minus the sun. That's exactly what you get with the Coco & Eve Sunny Honey Bali Bronzing Foam. This amazing product has been making waves on TikTok and for all the right reasons. It's the perfect self-tanner for anyone who wants a gorgeous, natural-looking tan without exposing your skin to harmful UV rays or risk turning orange and giving major Cheeto vibes.
On top of the fact that it's easy to use and has color that lasts for days, it also smells incredible (and those of us who self-tan know how stinky that can get). This bronzing mousse comes in a beautiful golden bottle, and the formula is enriched with natural ingredients such as mango, papaya, and cocoa to nourish and hydrate your skin while giving you a sun-kissed glow.
Applying the Coco & Eve Sunny Honey Bali Bronzing Foam is a breeze. Just pump some of the foam onto the included tanning mitt and apply it evenly all over your body. The foam is tinted, so you can see exactly where you have applied it, which is a lifesaver for those hard-to-reach areas. And don't worry about any streaks or patches–the formula is foolproof and guarantees a flawless finish every time.
One of the best things about this self-tanner is the incredible scent. Unlike many other self-tanning products that have a strong, unpleasant odor, the Coco & Eve Sunny Honey Bali Bronzing Foam smells like a tropical vacation in a bottle. You'll feel like you're lounging on a beach in Bali, even if you're just hanging out in your bedroom.
But what really sets this self-tanning mousse apart is the fact that it's so long-lasting. Unlike other self-tanners that start to fade after a day or two, the Coco & Eve Sunny Honey Bali Bronzing Foam can last up to a week. That means you can enjoy your gorgeous, golden tan without having to reapply every day.
And TikTok agrees. There are so many videos of content creators and self-tanning fans showing their before and after results, and the proof is right there in front of us. Everyone is left looking a few shades darker and like a glowing, radiant goddess. Don't believe us? Check it out for yourself below.
All in all, the Coco & Eve Sunny Honey Bali Bronzing Foam is a game-changer in the world of self-tanning. It's easy to use, smells amazing, and gives you a beautiful, natural-looking tan that lasts for days. So, if you're looking for the perfect self-tanner, this one's got you covered from head to toe–literally.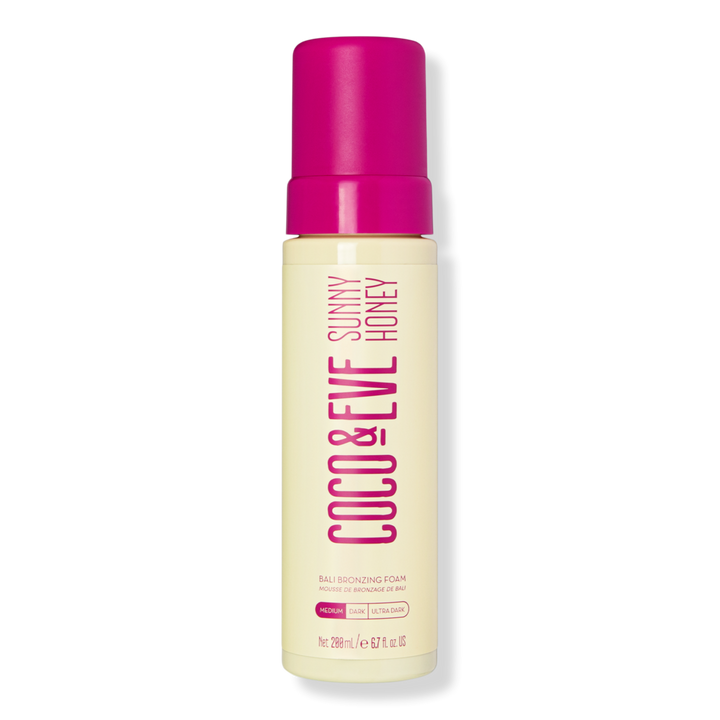 Shop It: Coco & Eve Sunny Honey Bali Bronzing Foam, $35, Ulta