Wearing distressed denim shorts, in the summer? Groundbreaking. When it comes to summer fashion, denim shorts are an absolute must-have, but they can be low-key annoying to wear. From being too tight around the thighs, squeezing your waistline, or simple riding up your ass with each step you take, sometimes you just wanna give up and throw on some bike shorts instead. But, don't give up on denim just yet. At the end of the day, denim cut-offs are versatile, effortless, and some can be comfortable. Whether you're headed to the beach, a music festival, or a backyard barbecue, a great pair of denim shorts can with whatever look you're going for. If you're tired of stressing over finding a simple pair of denim shorts, keep scrolling because the team found the absolute five best pairs.

First up on this list is the Good American Good Girlfriend Short. These shorts are the perfect combination of comfort and style. The high-quality denim provides a flattering fit, and the indigo wash pictured above adds a touch of edginess. Whether you dress them up with a blouse and heels or keep it casual with a graphic tee and sneakers, these shorts are sure to be a summer staple.
Shop It: Good Girlfriend Short, $99, Good American

If you're looking for a pair of denim shorts with a vintage-inspired vibe, look no further than the Abercrombie High Rise 90s Cutoff Shorts. These shorts feature a high-rise waist and a frayed hem for that perfect lived-in look. They come in a variety of washes, allowing you to find the ideal pair to match your personal style. Get ready to channel your inner '90s cool girl with these trendy shorts.
Shop It: High Rise 90s Cutoff Short, $60, Abercrombie & Fitch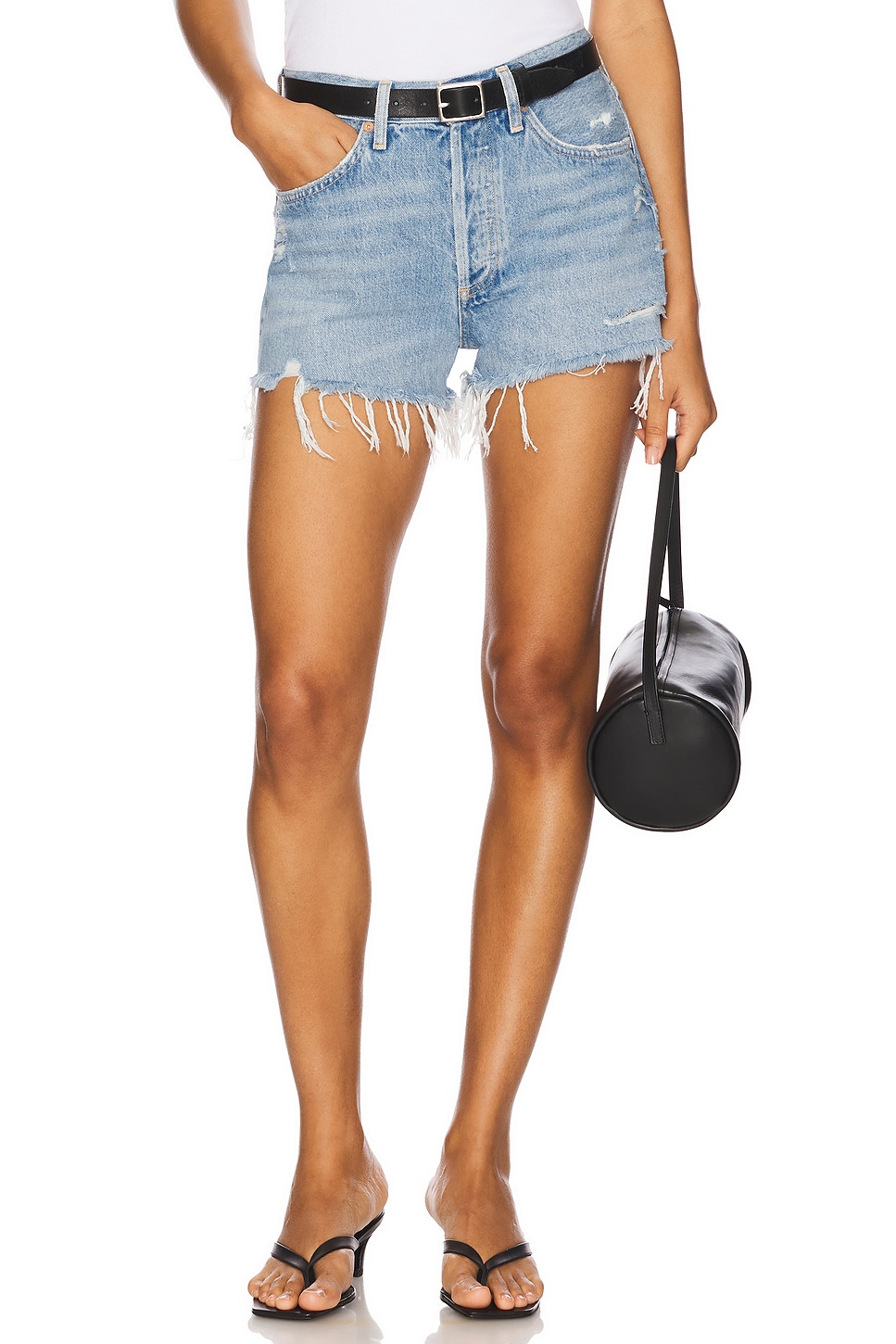 For those who prefer a slightly lower rise up top, the AGOLDE Parker Vintage Cut-Off Short is a great option. These shorts offer a relaxed fit with a slightly longer inseam, giving them a laid-back and effortless feel. The vintage wash and distressed detailing add an edgy touch, making these shorts a go-to choice for fashion-forward individuals.
Shop It: Agolde Parker Cut-Off Vintage Shorts, $138, Revolve

If you're all about that classic '90s aesthetic, the Everlane Women's Relaxed 90s Short in Deep Indigo is the perfect choice for you. These shorts feature a mid-rise waist and a relaxed fit, exuding a cool and carefree vibe. Made from premium denim, they offer both comfort and durability, making them a worthy investment for your summer wardrobe.
Shop It: The Relaxed '90s Short, $37, Everlane

Last but certainly not least, we have the Madewell Relaxed Mid-Length Denim Shorts in Kimbrough Wash. These shorts are all about the details, with a side-slit design that adds a unique and playful touch to your look. The mid-length cut provides a flattering silhouette, while the versatile wash makes them easy to pair with any top in your wardrobe. These shorts are a definite must-have for fashion-conscious individuals who want to stand out from the crowd.
Shop It: The Momjean Short, $70, Madewell
Denim shorts are a summer wardrobe essential, and with the options listed above, you'll be sure to find the perfect pair to suit your style. Whether you prefer a classic fit, a vintage-inspired look, or a relaxed and casual vibe, there's a pair of denim shorts out there for you. So, embrace the summer heat with confidence with these shorts that won't expose your cheeks or squeeze the f*ck out of your thighs.