Contrary to what this bipolar weather is telling us, warmer temps ARE allegedly on the way. That means that it's time to give those pasty white limbs of yours a nice little bronze glow if you don't want to blind everyone at the first day party of the season. So, if you're opting for a spray tan to revive your post-hibernation skin (or you're just feeling really inspired by Jersey Shore's recent reunion), it's important to know how to prep for a spray tan to get the most out of your bronzing session.
To avoid looking splotchy and all of the other not-so-well-known airbrush faux-pas, we consulted with the ultimate bronze betch: Heather Shaw, spray tan connoisseur, tanner to the stars, and owner of Heather Airbrush Tanning. Heather has two salons: one on Sunset Boulevard in West Hollywood, and a brand new NYC spot at 12 West 27th street in NoMad (open Wednesdays and Thursdays from 9am to 8pm). That means she's the betch behind some of the best looking tans from coast to coast.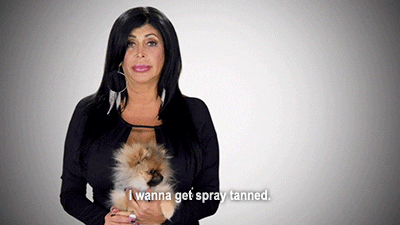 She told us everything you need to know about how to prep for a spray tan.
Before The Spray Tan
Betches: How long before the spray tan appointment should you shower/exfoliate/shave?
Heather Shaw: You should shower/exfoliate/shave with 24 hours of your appointment. If you have sensitive pores that are easily irritated by this preparation, do this prep earlier. Otherwise, right before the appointment or the morning of works.
I also suggest completing all other beauty services prior to your tanning appointment (if you can): nails, wax, eyelashes, hair, massages, facials, etc. It's not mandatory, but don't get a tan and go straight to a pedicure appointment and put your feet in the water. It's a more common mistake than you'd think. If you're getting your nails done after your tanning appointment, wait until the color has had time to develop (3-6 hours), shower first, and opt out of the extra sea salt massage scrub.
Any products that you should stay away from pre-appointment? (lotions, perfumes, etc.?)
Yes. Come fresh. No lotions, oils, makeup, deodorants or perfumes. Oils act as a repellant to the tanning solution because it is water-based. If you're coming straight from work and you didn't have a chance to shower off your morning moisturizers, you can wipe off any remnants of beauty products with a baby wipe. If you want to tan your face but keep your makeup on, the product may not develop completely or evenly. Try to wash makeup off prior to tanning application for maximum results.
What should you wear to the appointment?
It's best to have dark, comfortable, loose-fitted clothing to change into after the appointment. Flip flops are best, but for those that have to wear shoes and socks, try to remove them when you get home.
Sunless tanners develop by science of oxidation, so they need oxygen to breathe and develop evenly. Ideally, no tight jeans or yoga pants with tight inseams immediately after application. Also, no bra for at least an hour. The tight elastic bands can suffocate the product, resulting in an uneven development.
However, disclaimer: I've had clients break all the above rules and still get away with a great, natural looking tan.
During The Apointment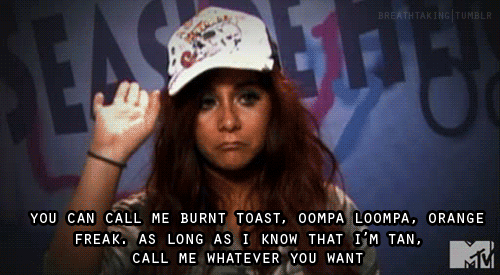 What should you wear during the appointment? Can you go completely nude?
Most girls tan nude because they want to get rid of tan lines (and look skinnier). For those that prefer a tan line, I suggest a solid string thong. If you wear hanky panky lace bottoms, be sure to fold the material in half so the tanning solution doesn't penetrate through the lace and give you a lacey tan line that looks like a skin disease. (Yes, it has happened.) It ruins any illusion of the airbrush tan looking natural.
Industry standard is that men wear something minimal for the tanning process. Boxers, briefs, speedos—or a professional tanning garment for the "no tan line" effect—basically, a sock with a drawstring.
How should you stand/position your arms/legs?
When facing the back, if you're like most girls, you get a little bikini "smiley face" at the top of your thighs if you don't relax your knees or lift your hips (aka your bum). Be sure to do one or the other so the technician can tan this natural crease (Basically, slightly squat).
Keep your hands out of the way when your legs are being tanned so they don't catch overspray and discolor your palms (prayer position works great to keep your shoulders relaxed and your hands safe).
Thoughts on wearing hair nets? Disposable underwear? etc.
Hairnets = yes. Disposable underwear = no. Unless you want bronzer in your hair, wear a shower cap (especially for clients with lighter hair tones). But if you don't wear a shower cap, it's not the end of the world.
I'm blonde and do a million tans a day without wearing a shower cap. However, when I get a blowout, tanning solution certainly washes out of my hair. So, with that being said, I might also suggest that the technician wear a shower cap if they're taking clients back-to-back in an enclosed space.
I'm not a fan of disposable underwear. They're so thin and flimsy, and the tampon string size bikini line they create looks cheesy and un-natural to me. I'd suggest going nude over wearing them.
After The Appointment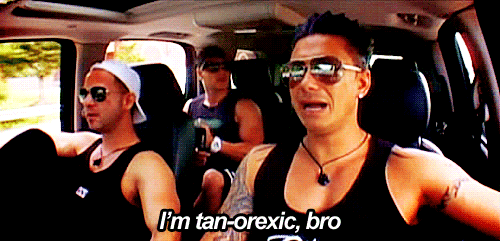 How long should you wait to use any products? Shower?
I would wait a minimum of 2-3 hours to shower, but the most common suggested time for a client that wants more developed color would be about 6-8 hours. That is, unless you've been tanned with an "express" product where you can technically shower within 1-2 hours. Personally, I'm not a fan of the express products. They are so oversaturated with bronzer that you leave the appointment looking like you've just been dipped in chocolate (you should not be seen in public).
I prefer a more natural application with delicate bronzer so you can get dressed and go about your day instead of having to hibernate before your first shower.
If you use a darker product with a higher percentage of DHA (aka dihydroxyacetone, the active ingredient that interacts with amino acids in dead skin cells to produce a brown color change), you can shower sooner because it will develop faster. [In general], I wouldn't wait longer than 24 hours to shower. Editor's Note: Ya nasty.
If you get your tan in the evening and wish to sleep in it, don't sleep nude. Sweat and movement will leave bronzer remnants in your bed. Although it washes out, I would suggest wearing comfortable loose-fitted clothing to bed, then rinse the product off when you wake up.
As for beauty products and makeup, you can wear powders and eye makeup right away, but I don't suggest using any face lotions, creams or sunblock until the product has had a little time to develop. You chance kaleidoscoping the tan before it's had time to develop. The face usually develops quickly, so for some clients, they wash their face after 1-2 hours, then apply a full face of makeup for going out.
Any products you should stay away from to make sure the spray tan lasts longer?
YES: glycolic or salicylic acid, acetone, and most acne or bleaching cleansers/exfoliators. Tanning solution only develops on the top layer of skin, so it's only going to last as long as the top layer of skin lasts [which is] on average 7-10 days. Any activity that exfoliates or removes the top layer of skin will result in a potentially splotchy looking fade. Use all-natural products in the shower and avoid cheap cleansers.
Any products you should use to make sure the spray tan lasts?
Use all-natural, water-based moisturizers and drink lots of water. Dehydrated skin is the #1 cause of an uneven fade.
Can you workout the morning after a spray tan?
Yes! But shower FIRST. Don't go to SoulCycle wearing bronzer sweating from head to toe (not a good look).
Can you still get tanned by the sun with a spray tan?
Yes! Tanning products don't protect from UV exposure, so maintain sunscreen applications. Using a natural, oil-free SPF is best.
Any other tips/tricks to know?
Take quicker showers, and avoid steam rooms, saunas, and long visits in the hot tub [while you have the tan]. Most clients get away with swimming in pools and the ocean on vacation, but chlorine is a strong chemical that can make the tan fade sooner than expected if you have prolonged exposure.
If you like to work out, don't wear the tightest sports bras that pull and tug and take the tan off with it. Wear bralettes or more breathable activewear.
Lastly, airbrush tanning is an art. Do your research and hire a good artist. Someone who understands the subtle details involved in a natural application so you don't end up with overly tanned hands, feet, wrists, ankles, and armpits. At the end of your appointment, detail the inside of your palms, wrists, and cuticles with a baby wipe to remove any potential overspray.
Images: Giphy (3), Unsplash (1)