2020 fashion seems to be one big mashup of years past, and I mean, who can really blame us? This year is nightmare fuel, to put it nicely, and I for one am here for the return of most of the 2000s trends that have come creeping back into our lives. The 2000s were an easier time, you know? Where your biggest stress was which CD you were going to purchase from FYE (My Chemical Romance for me, always) or if the cute salesperson model in front of Abercrombie was going to notice you. Like I said, easier times.
So let me take you down memory lane, 2020 reboot style, with the best and worst 2000s trends to return this year.
The Best
Velour
I'm just going to start here with velour, because it feels really relevant to current times, and I am absolutely on board with this comeback. Obviously, we're in a time where comfy clothes have never been more relevant, and it feels like the perfect opportunity for velour tracksuits to be a thing again. If you haven't been on social media in the past few weeks, Kim Kardashian's SKIMS dropped a collaboration with the president of velour sets, none other than Paris Hilton. That's hot. I'm going to be honest, I bought a set myself after telling everyone around me how I couldn't wait for the affordable Target knock-off to launch. I simply had no self control, and I am not even sure why. Let us pray that $80 sweatpants are in fact worth it.

Juicy Couture's Limited-Edition 25th Anniversary Collection in partnership with New York City Alliance
On the topic of overpriced velour sets, we also have the comeback of the absolute OG velour sweatsuit brand, Juicy Couture. Personally, I am not ready to see "JUICY" slapped across the behind of my peers, but like, I'm still glad the brand is back and thriving. The brand is actually now celebrating its 25th year, to make you feel super f*cking old, and announced a bunch of new collabs, so it's going to feel like middle school all over again with everyone you know sporting a Juicy tracksuit. That being said, Juicy obviously has a place in the best comebacks category, because I dare not disrespect a brand that influenced a generation of fabulous middle schoolers.
Tie-Dye
View this post on Instagram
At this point, there's not much to say about tie-dye, except that it was the biggest trend of 2020. It was like a summer camp in every person on the planet's living room, tie-dying anything we could get our hands on. Eventually we all gave up and brands like BrownDyedGirl (who I found from Hannah B. Who even am I anymore?) came to our rescue bringing tie-dye sets to our doorsteps without the hassle of actually hand-dying pieces. I'm putting this in the best category for a few reasons. It hits all the Cs: cute, comfortable, cozy, casual, classic. If I'm being real, I'm not sure how long this trend will actually last, but for 2020 it has served its purpose.
Color-Tinted Sunglasses

Everyone who was someone rocked color-tinted sunglasses in the 2000s, and when they came back to life I was all in. Now, disclaimer, I literally look like Mrs. Potato Head in ALL sunglasses, but that simply did not stop me from hopping on the bandwagon. The pastel colors hit different and make me feel like a pop star. I shamelessly bought a pair from Vogue Eyewear (taking Watermelon Sugar to new levels here). I hope to see this trend live on for a few years, but if not, I'm glad it had its comeback moment.
Press-On Nails

I mean… come on. These things are so convenient. When I was younger I freakin' LOVED press-on nails and my mom thought I was pure trash. Now we've upgraded from the CVS claws to brands that actually are custom printed to fit your nail, and I really think this is the hack that we all need. I personally have been using ManiMe as my go-to, but there are multiple brands with similar concepts that are doing it right. This is great for my people who are feeling lazy, and also great for those not comfortable and ready to go back to a nail salon.
Glasses Chains
In 2020, glasses chains DID make a comeback, and it was a chic one at that. Early 2000s glasses chains were strictly for grandmothers who lost their reading glasses if they weren't literally tied around their neck, but 2020 glasses chains were a cute accessory just because. It also influenced a much bigger and more important trend, the mask chain. The first time I saw a mask chain was on Lara Eurdolian's Instagram (@prettyconnected), and then I blinked and everyone had one. They're convenient for the same reason a glasses chain would be, but also spruce up your mask in the most needed way. If you told me in January that this would be the best accessory of 2020 I'd laugh, but here we are… and that's on pandemic fashion.
Vests

ASOS Neon Rose relaxed sweater vest in marble knit
2000s vest fashion consisted of diamond checkered sweater vests that could only be rocked by Avril Lavigne. If said vests returned in the same style, this would be at the top of my "worst" list, but now they've come back in a cute and fun way, and I'm obsessed. The oversized sweater vest and button-up shirt dress combo is currently the vibe I'm enjoying, and if there wasn't a pandemic, you bet I'd be seeking fall activities weekly to rock this look. Instead, I'll be ordering this outfit and asking my mom to snap a pic of me in the yard, because that's 2020 in a nutshell.
Flavored Lip Balm

If you didn't have EVERY flavored Lip Smacker balm, were you even alive in the 2000s? I don't even recall if these actually hydrated your lips or just made them more chapped, but I do know that the sweeter the smell, the happier I was. While I would not opt for an actual Lip Smacker in 2020, I have noticed the rise of candy flavored lip products returning. My personal favorite is the Laneige Lip Mask, because it makes my lips feel super hydrated for long periods of time and the flavors are real good. Sweet Candy, Gummy Bear, and Vanilla are my top three, but really they're all delicious. As someone whose lips are literally always chapped (no amount of water can save me, I've tried), this is a trend I am here for today and every day.
Furry Sweaters

Tobi Dream of Me Fuzzy Lavender Sweater
#WinterIsComing and as someone who is ALWAYS cold, this is the type of sweater that never left my closet. That being said, I am well aware that a furry fluffy sweater hasn't always remained on trend, but this year, they're back. I picture a young Mary-Kate and/or Ashley rocking this with some pigtails, and that is the energy I am trying to bring back this winter. This sweater in particular is from Tobi (calling all my sorority girls), but it's safe to assume you can find this staple at any store.
G-Shock

Honorable Mention goes to G-Shock. I NEVER saw this comeback coming, but given the fact that these watches fashionable now must be acknowledged. What's next, Etnies?
The Worst
Visible G String
I don't think I have to go too deep into an explanation as to why this trend is falling under my worst comebacks. The first time this trend existed, I was seven years old, so I didn't really understand it. Now, I am 27 years old and still don't really understand it. The wedgie-but-make-it-fashion look is not for me, and while it might be done tastefully by Hailey Bieber and Kim Kardashian, it most certainly does not suit the average human.
Butterfly Clips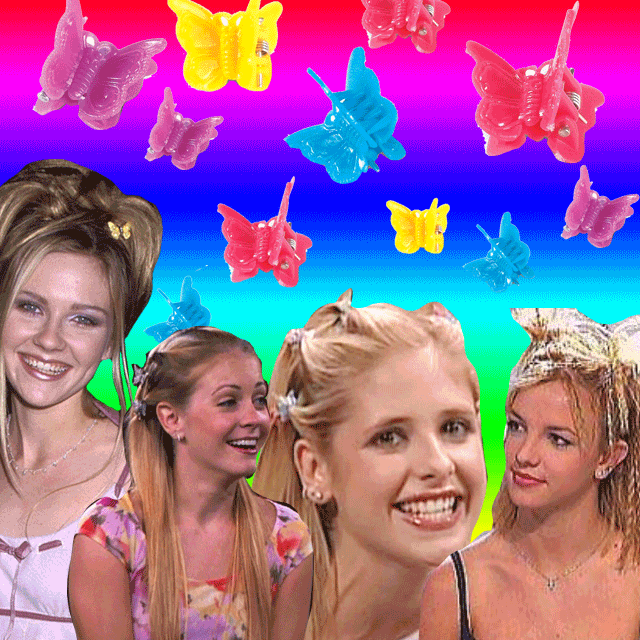 I'm kind of torn on this one, so don't hate me for putting it in the worst comeback category. That being said, I need to be a little realistic here. Butterfly clips were cute AF when we were young, but they were never practical. They never actually held my hair back (granted I have frizzy, curly hair that pre-heat iron days could literally not be tamed) but even worse, the fancy ones would get tangled and lost in my lion's mane and hurt. Now, seeing adults wear them in 2020, I am just wondering… why? Is it for the looks? Is it to test your detangling skills? Again, I see this trend fizzling out quickly, but if you can rock it and make them look as chic as above—all the power to you.
Low Rise Jeans
View this post on Instagram
Not much to say here. I thought low rise jeans were dead and gone, and I was happy about that. Low rise jeans flatter no one, and I thought we all accepted that we just don't need our jeans to expose our pubic bones? I'm just not here for it. So yeah, let's keep these bad boys in the past, please and thank you.
Money Piece
View this post on Instagram
So let me start this bit by saying I myself currently am rocking a money piece, and a thick one at that. But, I am well aware that this trend will be over in no time, and I'll look back and wonder wtf I was thinking. I have physical reactions to how strongly I dislike chunky highlights, so I assume my views will be similar in a few months. I do think they are cute and fun at the moment (when done correctly), but the upkeep sucks, and when the roots start creeping in it goes from funky to disaster real quick. Let's mark this under "worst comebacks that I am currently enjoying but can still acknowledge are the worst."
And there you have it sk8er bois and girls. 2020 has been a fun blast from the past (even the roaring 20s are making an appearance!!!) but the trends remain sharper than ever.
Betches may receive a portion of revenue if you click a link and purchase a product or service. The links are independently placed and do not influence editorial content.
Images: Jun Sato/ WireImage; Provided by Tobi; GIPHY; SKIMS, Juicy Couture, BrownDyedGirl, DoYouLoveThe2000s, ManiMe.Co, PrettyConnected, TheFrankieShop, Laneige, G Shock, NewBalanceLifestyle, Bella Hadid, Brittany Xavier / Instagram