In case you were unaware, today is a very special day in our nation's history. January 17th marks the birth of our most fashionable, intelligent, badass, strong, beautiful queen First Lady, Michelle LaVaughn Robinson Obama. Mrs. O turns 54 today, which is absurd considering she looked like a MF SNACK at the beach just last weekend.
So to celebrate the day the gods built such a magnificent creature, here's a very real, sensible, and well-researched arm workout inspired by the very biceps that single-handedly lifted generations of women up to strive for their full potential, go out and change the world, and feel confident buying strapless dresses again.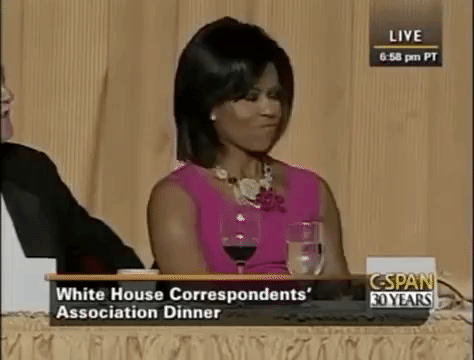 The "When They Go Low, We Go High"
This first move gets its name from the most inspirational sentence you've ever heard in your GD life, and everyone's eternal mantra when it comes to dealing with me petty people.

How to do it: Start with your arms low, and flick your wrists as you bring your arms above your head. Make sure to include as much sass as possible in your coordinated hip bump. Throw in a Backstreet Boys finger point for good measure.
Reps: Repeat until you feel the burning fire of feminist strength coursing through your veins.
The "Veggie Garden"
This one time, I saw Michelle growing her own vegetables, so I started growing my own vegetables. Grool.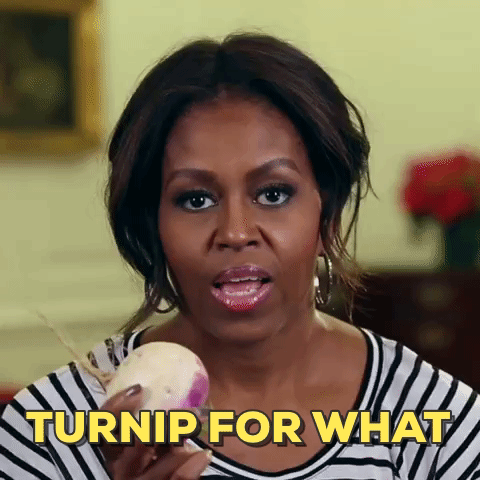 How to do it: Use a yanking motion and pull some carrots out of the ground to add to the kale salad you're lying about enjoying because it's January and you're still pretending you'll stick to that "healthy eating" resolution. Imagine you're kneeling in the dirt with M.O., exchanging gossip and compliments on each other's chic sun hats.
Reps: Stop when you remember there are worms and bugs in dirt and immediately hit the showers.
The "Bye Felicia"
Tell 'em boy, bye.

How to do it: Toss a wave at anyone who tries to imply you weren't the best First Lady America's ever seen. Make sure to include a healthy dose of shade into each finger wiggle to strengthen the hand muscles.
Reps: Repeat every time Melania walks by.
The "I'm Friends With Beyoncé"
Remember when Michelle recreated Bey's "Formation" look for her birthday last year? Brilliant. Incredible. Amaze. Show-stopping. Spectacular. Never-the-same. Totally unique. Completely not ever been done before. I-CON-IC.

How to do it: Have you been living under a dumb rock? Everyone knows how to do the "Single Ladies" dance.
Reps: Repeat until he puts a ring on it.
The "Get It, Girl"
If one thing is true about the Obama family, it's that they have the best taste in music.

How to do it: Go back in time and attend one of the Obama-era White House concerts which featured lineups that put Coachella to shame – I mean, Kendrick Lamar, John Legend, Janelle Monae, and Chance the Rapper have all performed there, just to name a few. Purse your lips, do a little steering wheel move to keep the shoulders loose, and get your groove on.
Reps: Put your thing down, flip it, and reverse it. Repeat 8x to represent the eight glorious years we spent with FLOTUS.
The "Role Model"
Adopt me. Or if you can't do that, at least teach me how to be like you when I grow up.

How to do it: Literally and figuratively lift up every little girl who says she wants to be just like you when she's older. Use caution: Millennials may be stronger than they appear.
Reps: Never stop. Your inspiration means the world to us.
The "Perfect Marriage"
When you look up #CoupleGoals in the dictionary, you get a picture of Barack and Michelle.

How to do it: Use all of your remaining arm strength to hug Barack as tight as you can. Marvel at the fact that you get to call him your husband. Make everyone else jealous.
Reps: Do not let go until you convince him that he should look for a loophole in the Constitution that lets him serve indefinite terms. Reclaim the White House. Save us all. Don't forget to bring Biden.
HBD Michelle. You rock, don't ever change.
Heads up, you need to keep up with the news. It's not cute anymore. That's why we've created a 5x weekly newsletter called The 'Sup that will explain all the news of the week in a hilarious af way. Because if we weren't laughing, we'd be crying. Sign up for The 'Sup now!