The Metropolitan Museum of Art Costume Institute Benefit, aka that #MetGala thing all the celebrities you follow on Instagram kept posting about last night, is basically the biggest fashion party of the year. It's an event to fund the fashion department at that museum where Blair Waldorf ate lunch everyday. Every single relevant celebrity (and some non-relevant ones) shows up in a dress that takes up at least eight square feet of red carpet space and somehow has space to take a bunch of bomb solo pics. If you've ever tried to take an outfit Insta in Manhattan, you know how impossible it is to get a shot without an angry New Yorker in the background. IDK, I'm not like a scientist or a geographer or anything but to me that sounds like this event is pretty massive. Anyway, let's talk about the fashion.
Just like all of the Greek life mixers you attended, the Met Gala has a theme every year. It's pretty similar to college parties in the sense that it doesn't really matter if your outfit isn't totally in keeping with the theme as long as you look hot and/or get a great Instagram. Really, the only difference is that in college, you didn't care about the theme because you were drunk, but for the Met Gala, you don't care about the theme because it's some avant-garde shit you probably can't spell or pronounce. This year's gala was in honor of Rei Kawakubo, the creator of the Japanese fashion label Comme Des Garçons. See? I told you.

Rumor has it Kylie Jenner's Versace gown is made out of the exact beaded curtain Britney Spears is seductively hiding behind on the Oops… I Did It Again album cover. I know that this is just a rumor because I just made it up right now, but it's the least damaging rumor I've ever started so I think that it's probably okay to tell your friends about it.

Gisele's dress was obviously fabulous because we, like everyone else on Earth, have been brainwashed into thinking everything Gisele does is nothing short of dazzling—but her dress definitely wasn't outrageous or confusing, which seemed like a missed opportunity. Like, Met Gala is the one chance you get to literally glue random shit to your head yet Gisele took her wardrobe cues from the Super Bowl trophy her husband almost didn't win this year.

Speaking of gluing random shit to your head and calling it a night, that's exactly what Katy Perry did. I can't really tell if this is like super high fashion or the unofficial release of a new pair of Snapchat Spectacles, but either way, somebody better check on Katy to make sure she's not on the verge of a Britney 2007-esque breakdown. This whole thing looks like if my latest Pinterest fail came to life and started singing about the 2016 election. Like, what is that eyeball? And can't she get a handler to make sure her veil is on straight? Also, is she wearing socks with sandals here? Her feet look like two enormous camel toes. Every inch of this ensemble is just too much, and, to make matters worse, it's not even original. I'm fairly certain I saw this exact look on Winona Ryder at the end of Beetlejuice.

Everyone's freaking out over the fact that Blake Lively looked exactly like Serena Van Der Woodsen returning to the Met steps last night. To those people, I would like to point out the little known fact that Blake Lively actually did play Serena Van Der Woodsen in the hit series Gossip Girl, so like, yeah there's a pretty solid chance she's going to look like her. Anyway, the way the seaming on that dress perfectly accentuates Blake's curves is definitely going to inspire my next going out outfit/crash diet. I don't even hate the large bird trapped in the bottom of her skirt. Ugh, is Blake lively perfect because I hate her, or do I hate her because she's perfect?

In an effort to convince us she's given up the thirst trap life, Kim Kardashian wore the most understated dress possible. Honestly, it looks like one half of an Esmeralda costume. This is actually genius because she's already used every over-the-top play in the book, so the best way to get people to talk about her is to basically do nothing. Honestly the most shocking part of this ensemble was the fact that Kim's third child, Kanye, was conspicuously missing.

Bella Hadid wore the ULTIMATE "I'm going to run into my ex boyfriend and his new pop star girlfriend" slutty outfit. It looks like she was on her way to audition for Catwoman and then got a last-minute invite to the Met Gala. It's literally the most skintight ensemble I've ever seen in my entire life and I'm actually wincing thinking about all of the boob tape she probably had to peel off her body at the end of the night.

Lily Collins looked like what would happen if Regina George and Janis Ian finally gave into the lesbian relationship they both denied in middle school and raised a child together.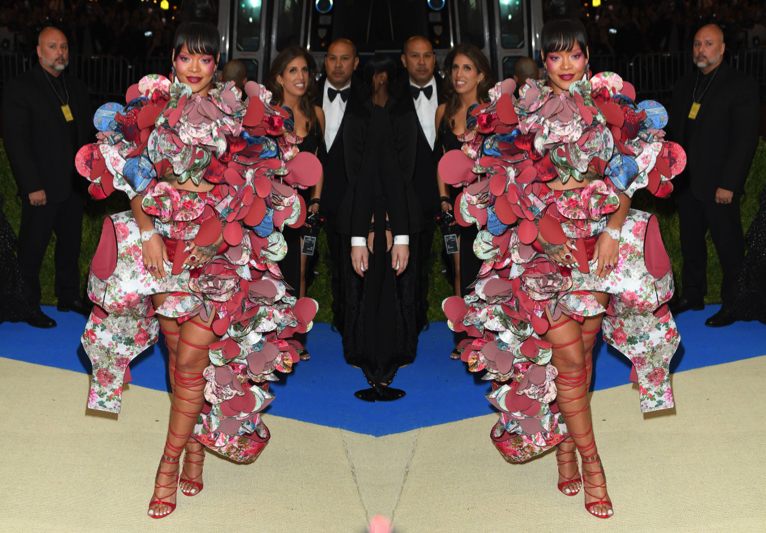 And lastly, Rihanna won best dressed because she wins best dressed at everything these days. It's just a thing, okay? If you Google "Met Gala 2017" it's like 80% photographs of Rihanna. Unlike The Grammy's when she stole the show by drinking out of a flask, this time RiRi showed everyone up by rolling around in your grandmother's potpourri basket. She somehow managed to wear a dress (????) that could double as a second grader's arts and crafts project and was twice the size of her body but still somehow managed to show off her underboob tattoo. She paired it with shoes that a team of people who make more money than you spent 30 minutes lacing up. What a legend.