Well, another nice guy bites the dust. Jed Wyatt has seemed like a clear front-runner for Hannah's affections on this season of The Bachelorette—but now, a new report claims that Jed had a girlfriend back home when he left for the show. The news comes from none other than the girlfriend herself (well, ex-girlfriend now): Haley Stevens, who exclusively told People all the details of her relationship with Jed and why he went on The Bachelorette. We learned on Night 1 how Hannah feels about guys with secret girlfriends back home, so I'm very eager to hear how Hannah will respond to all this—and what her comments might reveal about Jed's fate this season.
According to Stevens, she and Jed were dating for four months before he left for The Bachelorette. The two Nashville-based musicians met last October; Jed was confirmed for The Bachelorette in February, and filming began in mid-March. "We spent the night together the night before he headed to L.A.," Stevens tells People. "He told me [the show] was just an obstacle and we'd be stronger on the other side because of it."
First, I think I speak for all of us when I say: LMFAOOOOOOOOOOOO.
So clearly, Stevens had known he'd applied for the show; Jed had told her it was "probably not going to happen," but he couldn't pass up the "huge opportunity" to advance his music career. As we all know from Jed's one-on-one, he did initially think of his Bachelorette run as a "platform". So did he have a genuine change of heart after getting to know Hannah? Or is he just another manipulative f*ck who knows that elements of the truth make a lie sound better? Given what I know about The Bachelorette and men in general, I know where I'm leaning…
Can someone please get Demi on this?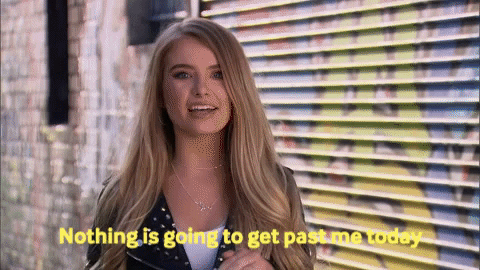 Stevens says Jed's motives in joining the show were purely financial: apparently, Jed's musical talents weren't quite covering the bills. "I don't want my dad to have to help me pay rent anymore," Jed allegedly told Stevens. Jed's plan was to make it to the top five, just long enough to be a "major player." In the weeks before he left, Jed told Stevens he loved her for the first time, and reassured her constantly about the show: "It's not real. It's acting."
Once Jed had arrived at the mansion and had his cell phone taken away, Stevens had no idea what was going on, and naturally, she started freaking the f*ck out. "I was following along on spoiler accounts, trying to figure out when my boyfriend was going to come home," she says. "I bought a homecoming outfit that I was going to wear to maybe pick him up at the airport.'" Honestly, this is the sentence that makes the whole story for me: it's so embarrassing, and so real. We've all spent a little too much time thinking about an out-of-town guy who went on to ghost us; we've all purchased outfits for dates that never happened. We see you and we hear you, Stevens. Stay strong.
Actual footage of Stevens watching The Bachelorette at home: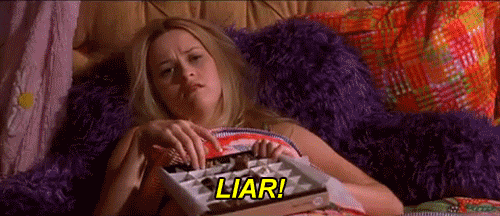 If that's the quote that convinces me of her story, though, here's the one that makes me skeptical: "I was terrified that he would fall in love with Hannah," Stevens tells People. "In the beginning I felt bad [watching the show] because I thought he loved me and was faking dating her. But then I thought, my boyfriend could be engaged to someone else. Seeing him kissing her for the first time was the worst day." Hmm. The show first aired on May 13; Jed's one-on-one aired June 3. Filming likely ended in late April—and no matter how long Jed stuck around, he should certainly have been back home and in possession of a cell phone before May.
So: why is Stevens watching The Bachelorette in late May and feeling "bad" thinking that Jed is "faking dating" Hannah? At that point, she knows she's been ghosted by Jed: even if he did go on there only for his career, he also made no attempt to contact her after returning. That's a pretty clear sign that he wasn't thinking about Haley on these dates.
Maybe I'm being harsh or missing something, but it does seem like selective processing on Stevens' part. She says she was "baffled" to discover that Jed had returned to Nashville without contacting her, and says they ran into each other at a concert this June. "He said, 'Hey how have you been?' and I said, 'How do you think I've been?'" she says. "I asked him, 'You didn't think I deserved a phone call?' And he said, 'I didn't know what to say.'" To be fair to Stevens, this sounds like a very realistic conversation with a guy who has ghosted you—they never do know what to say. According to her, that was the hardest part: "he ghosted me. He loved me, but he didn't have enough respect for me to have that tough conversation."
Jed, thinking about dodging that tough conversation: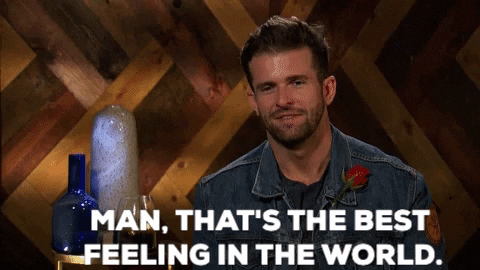 Surprisingly, Stevens is still out here semi-defending Jed (while also majorly blowing up his spot). "I don't believe he's a terrible person," (k) "but it's a terrible situation," she says. "And part of me thinks I was the backup plan and he wanted me to be here in case it didn't work out. I feel 100% betrayed." Yeahhh, sadly, she's probably 100% correct—and I stand by saying that her biggest mistake here was not realizing she'd been dumped by the time The Bachelorette started airing. Either way, if even 75% of her story is correct, Jed is a serious douche, a compulsive liar, and not a particularly great musician. Well, that last part is true either way.
Images: Giphy (3)