Welp, another Democrat has entered the 2020 race. Has anyone let the Dems know that while this seems v similar to the Hunger Games, the presidential race is actually a little different and they don't all need to keep volunteering as tribute? Could help keep these numbers down. Anyway, former Vice President Joe Biden has officially announced he's running. Much like your period, we all knew this was going to happen at some point, we just weren't sure exactly when. Now it's time to take a closer look at what Uncle Joe is all about. Let's dive in, shall we?
Who is He?
You probs know Joe Biden as the former VP of the United States, longtime Senator from Delaware, and BFF to Barack Obama. You may have also seen him on an episode of Parks and Recreations where he played himself. Good stuff. But who is he really? Joseph Robinette Biden Jr. (lol) was born in Scranton, Pennsylvania, which is a fun Office reference if nothing else. He served as Senator of Delaware, and was the sixth youngest U.S. Senator ever to be elected. Biden graduated from University of Delaware (go Blue Hens!), where he earned a degree in history and political science. He's a man of the people of Delaware.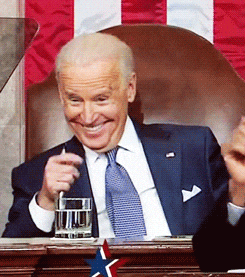 What are the Pros?
Biden has what a lot of candidates are accused of lacking: experience. He's served as a Senator and as Vice President, meaning at one point he was essentially like the backup actor on Broadway who takes the lead role if the star of the show has uncontrollable diarrhea and has to drop out. Wow, a perfect simile. Anyway, a lot of older Dems like Biden, so he already has a supportive base that is known to actually vote. Biden was also pro gay marriage before it was a thing, which we love. You may recall that he ran through the White House wearing a gay pride flag as a cape after gay marriage laws were passed, which we also love. Biden's whole brand is that he's a friendly guy who loves everyone and is in touch with his emotions. That's nice. Also, when the Affordable Care Act was being signed he leaned over to Obama and said, "this is a big f*cking deal" on a hot mic which is like, a full mood if I've ever heard one.

What are the Cons?
Biden was in the news recently after a woman came forward with her story about a time when he violated her personal space . He responded with a lil' apology video, in which he stated that he now understood that times have changed and it's no longer considered chill to smell women's hair at a professional function. Weird way to pronounce the words, "I'm sorry," but sure. Biden was also chair of the committee during the time when Anita Hill came forward with her allegations against Clarence Thomas. And we all know how that turned out (not good).
HE WAS THE CHAIR OF THE COMMITTEE https://t.co/RtC4cKLWk8

— black hole: devour us (@onekade) March 27, 2019
Biden is also one of the more Centrist candidates, which is becoming less and less popular among young voters. As part of an older generation himself, he represents an older version of the Democratic party – one that is seeing its decline as new, more progressive members of the party such as AOC rise in popularity. In relation to this, Biden has a history of writing, passing and supporting legislation that helped fuel the war on drugs, which has famously led to mass incarceration based on racial bias. This explains why it took every fiber in my being not to write "wow, narc alert!!!" after typing out his full name (Joseph Robinette Biden Jr.).
Where Can You Find Out More?
Biden may be old, but he's down with the cause enough to at least have a website and a Twitter. Go check him out and see if you're still as into him as we all were from 2008 – 2016.
Heads up, you need to keep up with the news. It's not cute anymore. That's why we've created a 5x weekly newsletter called The 'Sup that will explain all the news of the week in a hilarious af way. Because if we weren't laughing, we'd be crying. Sign up for The 'Sup now!