Finally a beauty treatment that celebrates our strengths, like drinking flavored water and barely doing any work. Ladies, you can now drink yourself pretty (a motto I've always lived by) via Dirty Lemon, a new beauty treatment from a Brooklyn-based juice company that specializes in raw detox drinks. You're welcome.
Dirty Lemon has been on the rise for a while in super-secret millennial circles. The detox drink is meant to reset the body after too much pizza and rosé because there is a God and She is paying attention to my Instagram story.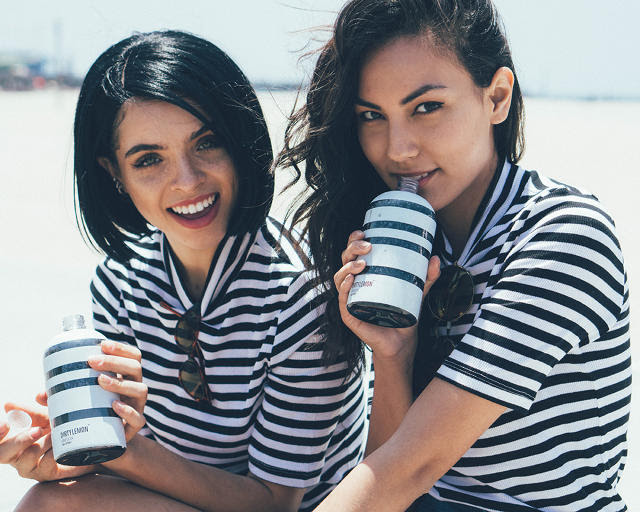 Made with cold-pressed lemon juice, dandelion extract, ginger root extract, activated charcoal, and filtered water, this shit tastes like a fucking dream—unlike that cayenne pepper and maple syrup mixture you've been forcing down your throat. Dirty Lemon Skin + Hair adds to the original recipe a fuck ton of Beyoncé's tears pharmaceutical-grade marine collagen, and other shit that's great for your hair and skin. In fact, it promises to give you better hair, skin, and nails in as little as two weeks. But so does Susi, my German hair stylist, every time she cons me into buying a $60 product on top of my haircut.

How Dirty Lemon Works
Drink one bottle a day on a full stomach, repeat. No lie, that's legit the only instructions. In fact—and this is verbatim—they suggest you ingest the drink "with a side of pancakes." Blessings.

Basically, instead of taking daily vitamins or supplements to stimulate the production of collagen you can now just take a bottle of it to the face. Not so different from what you'd be doing after work anyway but this is, like, good for you.
How To Buy It
You won't find this sleek as hell bottle of eternal youth Dirty Lemon in any stores. You can only order it in $65 quantities via text message because our world is going to shit. But feel blessed because all orders are shipped overnight and free of delivery charges (are you listening to this, Amazon??).

Final Verdict
So let me get this straight: This is a beauty treatment that lets me do nothing live my life, counteracts all the ways I fuck up my skin and body when I'm drunk, and encourages me to eat pancakes for, like, my health's sake? And it comes in a conveniently chic bottle that will look good AF on Instagram? So, like, does anyone know the founder of Dirty Lemon's number or? Asking for a friend…