In case you missed it, The West Wing cast and creators came together over the last few months to produce and release a staged adaptation for HBO Max of one of the series' most beloved episodes: Hartsfield's Landing (season 3, episode 14). Usually, this episode would be a must include on any list of comfort episodes of the series. Still, it should go without saying that this episode is both relaxing and good enough to lessen the total shit show that is our political reality.
I was a baby when The West Wing came out and didn't watch it until I was a junior in high school, but as soon as I started it, I knew I wanted to major in political science and eventually become the White House Chief of Staff for the first female president. Bold, I know, but what can I say?
Well, obviously, that is no longer a journey that I will be taking, but the show is still one of my go-tos (tied with Parks and Rec, ofc) when I'm feeling completely hopeless about the state of American politics and government. The West Wing draws such an incredibly optimistic and idealistic picture of how politics should work, to the point that it left me with a pretty delusional picture of what a potential career in politics would look like.
So, in the spirit of The West Wing reunion, insane Supreme Court hearings, and less than three weeks until the election, here's my (spoiler-filled) list of the most comforting West Wing episodes.
20 Hours In America Part 1 and 2
(Season 4, Episodes 1 and 2)

White House incompetence but make it cute and quirky. When Toby, Josh, and Donna get left behind in rural Indiana by the Presidential motorcade on a campaign stop, they struggle to get themselves home only to be completely f*cked over by daylight savings time. A lot of other stuff happens in the 2 part episode, including Charlie Young stepping up to be a Big Brother, Sam Seaborn being entirely baffled by what happens in the Oval Office, and a devastating pipe bomb explosion.
Highlights include: Josh and Toby totally losing their shit, a Sleepy Rob Lowe falling out of bed, dry rub ribs, and an incredible speech by President Bartlet that will make you totally forget our actual idiotic president (for like 5 minutes max.)
The Midterms
(Season 2, Episode 3)

In general, season 2 might be the best one, but I can't just list every episode. The Midterms quickly takes the audience through several months following the traumatic events of the season one finale. This episode takes on white supremacy and features a really satisfying confrontation of evangelical hypocrisy, something that I think we all are wishing for right now if you know what I mean. Even with all of the heavy plotlines, it's one of my main comfort episodes of The West Wing.
Highlights include: Bradley Whitford in giant PJs, C.J. Cregg confusing the words psychics and physicists multiple times (same, babe), and a few adorable Josh and Donna moments.
The Debate
(Season 7, Episode 7)
This episode takes place during the fictional presidential debate between the Republican candidate, Senator Arnold Vinnick (played by Alan Alda), and Democrat Matt Santos (Jimmy Smits). It was aired live twice, once on the East coast, and once on the West coast. While the candidates may interrupt each other several times, the fictional debate is way less frustrating to watch than the total dumpster fire we experienced in real life a few weeks ago.
Highlights: IDK? Neither candidate had to ask the other to shut up. The moderator actually moderates. The most exciting part was something different than a fly? Take your pick.
Let Bartlet Be Bartlet
(Season 1, Episode 19)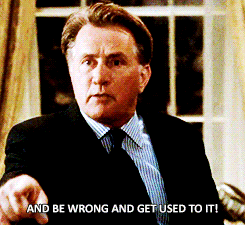 Hear me out, most of the plot of this episode sounds like it comes straight out of today's news cycles, but it's still a perfect escape. After an internal memo about all of the president's flaws gets leaked, the press has an absolute field day, and the administration comes to a screeching halt. Instead of the president firing all of his staff members and losing his shit, like our real-life president would, the memo is a wake-up call to the administration and ends up motivating them to come up with a new agenda based on their values.
Highlights: honestly, overall, it's just great motivation to watch people get their lives together, even if you're lying in bed and on your second bag of popcorn for the night while doing it.
Celestial Navigation
(Season 1, Episode 15)

Without a doubt, this is my favorite episode of The West Wing. It balances really heavy plotlines about racism with some of the funniest moments of the series. While it's obvi all fictional, it is a little cathartic to see cops forced to apologize for profiling a Hispanic Supreme Court nominee and Democratic officials straight-up calling Republicans racist. In the meantime, Sam and Toby get lost in Connecticut while trying to bail the administration's nominee out of jail, and Josh tells Georgetown students way too many details about the week he had in the White House.
Highlights include: Alison Janey's C.J. Cregg recovering from an emergency root canal, Dule Hill as Charlie trying to wake up the president, and Rob Lowe foreshadowing his role as Chris Traeger while talking about dental hygiene.
…. and, in no particular order, honorable mentions: In This White House (Season 2, Ep. 4), Two Cathedrals (Season 2, Ep. 22), The Cold (Season 7, Ep 13), and The Supremes (Season 5, Ep. 17).
Again, there's no excuse for checking out of the real politics that are happening around us, but there's nothing wrong with taking an hour or so to take care of yourself. Maybe Yeah, it's a low bar, but watching a competent administration in the White House is one of the most relaxing things for me at this point.
(Images courtesy of Giphy, NBC)