I'm never usually one to boast about my accomplishments (LOL), but I will say that I've committed a lot of selfless good deeds in my life—like, I always retouch my friends' noses before making myself look better posting a photo to IG, and I'll never prevent my dates from reveling in their manhood and picking up the tab. But probably my most selfless deed that really takes the cake is being a fucking bridesslavemaid.
Don't get me wrong, I'm honored to drop a few Bens on a vacay with 12 girls that'll end up in my personal burn book and purchase crystal wine stoppers that'll serve no purpose but to cork the divorce cabernet six years from now, but as I reflect on what it is I'm really being asked of as a bridesmaid, I can't help but compare each task to legal slave labor for nothing in return—and worst of all, doing all that while drowning in fugly pastel chiffon. Like, take Princess Leia for example—at least that fat worm thing had the decency to make her look hot AF as a slave in a slutty bikini. So as much as I'm not trying to make this all about me, I'm also not not saying that I'm counting on using my bridesmaid headshot to make my ex's new girlfriend jealous as my new prof pic, but I can't do that while parading around as a spitting image of my grandma's linen dinner napkins on Christmas Eve. So brides, think long and hard before dressing your #BrideTribe in the following dress styles you'll prob find on Us Weekly's Worst Dressed list, or you'll end up with eight ex-best friends and wedding convos like this:
Wedding Guest 1: That ceremony was gorg!
Wedding Guest 2: Yeah, but did you SEE those bridesmaid dresses?
Wedding Guest 1: At least the bride looked good…
Wedding Guest 2: What was she wearing again?
I rest my case.
Strapless
Whether you've got man shoulders or chronic pit tit, NO girl looks good in strapless unless you're fucking Gwyneth Paltrow. It's just a fact, and one that the bride most def knows but selfishly decided to overrule. Like, I'm not saying strapless gowns are completely unfortunate looking, but the bride was definitely thinking that when she later framed all but any picture of her and her bridesmaids. She's the type of narc that posts an Instagram of your group of friends where she looks hot, even though Ashley has protruding camel toe and half a lazy eye. She knows that strapless will obv only look good on her, because no shit—a strapless wedding gown contains more boning than senior prom night. Plus, strapless dresses are so early '00s, so I can only assume this country club wedding will contain every other outdated detail, like a beer-and-wine-only bar, "YMCA" on the must-play list, and worst of all, a fucking cupcake tower.
Accurate depiction of me in a strapless dancing to "Shout!" in my own personal hell:

Floral/Any Other Gross Pattern
A bitch who forces her friends into floor-length floral dresses that show no cleavage and aren't worn on Sunday brunch church, is either one of two things: hipster as fuck and more than likely getting hitched barefoot while high off her ass, or an actual descendant of fashion hell who still thinks braid crowns are totes on trend and will "photograph so well." Her altar is probably made of twigs, and tofu burgers were a must-have menu item, made of 100% vegan material. Look, I'm not saying there's anything bad about this Taylor Swift, pre-boob job, flower child thing that's going on, I'm just saying that even if Show Me Your Mumu were to #spon my wedding with free floral bridesmaid dresses, I'd need much more liquor convincing.

One-Shoulder
You know how they say the camera adds 10 pounds? Well single-shoulder chiffon gowns add like, 20. I might've slept my way through world history, but I was conscious enough to know that, last I checked, this was 2017 and not ancient Greece, 1269 B.C. Honestly, I'm going to let this one slide, because I'm a nice person, and I'm just gonna assume this is the 54-year-old bride's third marriage, and that this was all just a bribe in order to make it look like she has friends other than her new step-daughter and the office receptionist. Whatever the case, someone needs to relay the message to Susan that this isn't a frat house toga party, and that, in my opinion that nobody asked for, this dress is tacky and I hate it.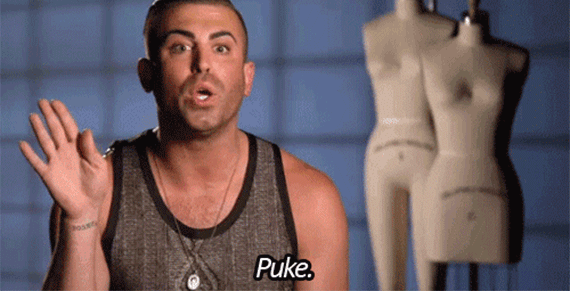 Knee-Length
I once saved a photo to my wedding Pinterest board, in like 2012, of a knee-length bridesmaid dress paired with sunflower bouquets and matching cowboy boots. I also once said I'd like to be married with four kids by the time I'm 31. The difference between these two things? Nothing, because they both now make me want to vomit uncontrollably. This isn't ninth grade homecoming, and there's no reason to show face at a wedding looking like you're about to attend opening day at the county fair. Wedding season is a time for bridesmaids to hide their self-loathing and alcohol bloat under a mop of floor-length fabric—not to show off their legs that haven't seen sunlight or the StairMaster since fucking Nam. Besides blasting her love story all over HowWeMet.com and DIY-ing every detail down to her own goddamn veil, this bride also blasted any chances her bridesmaids will be getting laid at the end of the night.

Sequin/Beaded
This. This is the bride who promised her bridesmaids they'd be able to wear this dress again, because it's not basic as fuck, and duh, it's designer. Nice try. This bitch is so extra, that she's confident enough to not even question the fact that she may not be the center of attention due to the flashy bridesmaids, probably all because of her upcoming outfit change post-ceremony. She took the hashtag #SweatingForTheWedding from 0-10 real fucking fast, thanks to Orange Theory's membership. She is also obviously marrying for the money and the show, since out of her 13 bridesmaids (that's literally more friends than I know actual people), only like, four of them are actually close to her. It's okay, because this bride screams future PTA prowess and tennis player of the month.

Fuck it, just give me one of the Fritz Bernaises.