When I think of my college living arrangements, there are a few things I miss (not paying rent, being a 10-minute walk from everything I ever needed), and a few things I don't miss (campus security stealing my bong, mostly). Of course, some people have legitimately traumatic experiences with campus living, and I'm not even talking about getting stuck with a roommate who won't shower. Just this week, Maddie, a junior at University of North Carolina at Greensboro, found a random man hiding in her closet. I'm barely okay with watching fictional crime shows about break-ins, so I can't imagine how these girls are holding up. Here's what we know about this batsh*t crazy situation so far.
Before they actually discovered the man in their apartment, the girls had noticed a few small things. First, some of their clothes were missing—but given that they lived with several other girls and probably stole each other's sh*t all the time, I doubt this was that alarming. Next, they noticed "handprints on the bathroom wall." Again, not great—but not sure I'd immediately call the cops. I mean, we've all done weird things when drunk. Maddie (the one who actually found the man in her closet) told Fox 8 that they suspected a ghost. Yeah, that's the likely option. How good was this guy at hiding that they suspected a ghost before a human intruder? Or are they just obsessed with American Horror Story?
How they opted to handle the situation: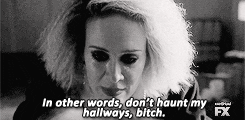 Obviously, it was decidedly not a ghost, which Maddie found out the hard way. She told the following to Fox 8: "I just hear rattling in my closet. It sounded like a raccoon in my closet." When Maddie goes on to ask "who's there," as all white people in horror movies do instead of just running away and calling the cops, the intruder answers, as though they're besties already, "me." A second later, he realizes Maddie has no idea who the f*ck he is and follows up with "oh, my name is Drew."
Umm, okay Drew. This girl might need a bit more of an introduction considered she just learned a stranger was hiding in her closet. You're not introducing yourself to her at a bar, for goodness sake!
At this point, Maddie might've still assumed it was a drunk, entitled frat kid who somehow wandered his way into her closet. But when she opened the door, she found Andrew Swofford, 30—decidedly not a college student, both wearing and holding a bag full of her clothing. Maddie, exhibiting a heroic level of calm, called her boyfriend to come over and stayed with Swofford in the mean time. I think I speak for all of us when I say, girl, WHAT?! You found out a man was in your closet and wearing your clothes and your first response was to stay there and chat?? Wow. And here we all are, tagging each other in memes about wanting to die—Maddie is really living that life.
UNCG student thought there was a ghost in her apartment, but it was a man living in her closet and wearing her clothes https://t.co/WR3EXmIuvW pic.twitter.com/7MkLFINJdD

— FOX8 WGHP (@myfox8) February 4, 2019

Maddie reports that Swofford "started to try on one of her hats," and went to the bathroom to look in the mirror. The tone seems absurdly friendly: "You're really pretty, can I give you a hug?" Swofford asks at one point. (Maddie assures Fox 8 he never touched her.)
Swofford, trying to Mean Girls his way out of this: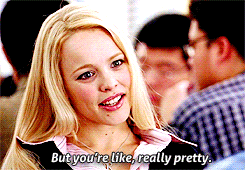 Swofford is now facing 14 felonies: identity theft, larceny, and possessing stolen goods, among others. In a shocking twist, Maddie revealed that their apartment has been broken into before. A few months back, the roommates found "two strange men in their living room." Maddie insists "their doors are always locked," and has no idea how this keeps happening. Well, I think there are two very easy and very likely theories as to why your apartment keeps getting broken into. Theory 1: the locks do not work! Change them. Theory 2: there are non-door points of entry that need to be sealed up. I would have also invested in an alarm system like, yesterday. I understand being new to the whole "living on your own" thing, but Jesus Christ. How many bed intruders does it take before you think "maybe I should do something about this"?
On a slightly more serious note, it sounds like Swofford may be in need of psychiatric help, and I hope he gets it. But for Maddie, who still appears to be sleeping in that apartment and complains that her room has a "bad vibe:" there is only one move when you find a man hiding in your closet, and it's to get the f*ck out.
Update: An earlier version of this article stated Swofford was living in the closet for an extended period of time. This is incorrect, and we have amended the article to reflect that.
If you're obsessed with true crime, listen to Not Another True Crime Podcast and follow it on Instagram.
Images: Giphy (2); myfox8 / Twitter; Lifetime