This Is What Happens To Women When America Outlaws Abortion
As a woman, I can't recall a time (before childhood) when I didn't feel as if my body and my rights were up for debate — if not under attack. But now, with a president who has been accused of sexual assault and rape by upwards of 25 women, an accused sexual predator in the Supreme Court, and access to abortion being chipped away in states like Alabama, Texas, Georgia, and Missouri, I am experiencing the legitimate fear that my body and my choice might actually be taken away from me by federal law.
As women, we have been fighting for our rights for a long time, but since Roe v. Wade determined that we had the right to abortion in 1973, we at least have been able to say we have the legal right to decide what happens when we get pregnant. This is not to say it's a right we haven't had to continuously and rigorously defend, but it has at least stood in place. As a woman of privilege, I have always felt that if I needed to get an abortion, I could. But now, with the newly conservative-leaning Supreme Court, I have found myself asking, "What would happen if abortion became illegal? What would I do if I got pregnant? What would this mean for American women?"
A powerful new film called  Ask For Jane explored and answered these questions for me, as well as made me ugly cry on my couch while reflecting on the resilience of women. It's a film we should all watch like, yesterday, and I'd like to tell you why.

Ask For Jane follows a group of women who took matters into their own hands when abortion was illegal in most states throughout the 1960s. The film is based on a true story and is set in Chicago, where a group of college women created an underground network that helped women with unwanted pregnancies get abortions. The women were known as "The Jane Collective" because they referred to themselves as Jane and instructed women to call them on their secret landline and to "ask for Jane." This was the code that was used to perform an estimated 11,000 safe abortions for women who couldn't afford to travel to the few places where abortion was legal. We god damn f*cking love to see it.
A film that shows women banding together and building an incredibly organized and highly effective system that helps keep women safe and in control of their bodies is obviously very inspiring, but it also serves as a warning, or as producer Caroline Hirsch told Betches: "This is a reminder of what could happen."
The opening scene of the movie shows a desperate pregnant woman punching herself in the stomach and eventually jumping off of a building in order to terminate her pregnancy. It also shows us young middle school girls who discuss drinking rat poison; one ends up dying as a result. Additionally, we see a character with slit wrists because she is pregnant and doesn't feel she can go through with it. As we know, when women aren't given access to safe, legal abortions, many of them turn to unsafe alternatives, which can tragically lead to death.
Abortion saves lives, and this film reminds us of the dire situation that led these women to doing what they did. While what they did is amazing, we hope we never have to do it again, because too many lives are at stake.
The specific story told in Ask For Jane is inspiring because it shows a particular group of women in a particular place who were able to overcome the law's attempt to strip them of their freedoms, but the film as a whole shows us a dark world where this freedom wasn't available to most women — a world we ourselves are heading towards today. Hirsch told me, "This couldn't be any timelier. We had a screening in New York this past May and when we were finished, everyone's phones lit up because what had happened in Alabama, where it would be made a criminal offense if a woman was seeking an abortion or had an abortion."

The film is made by women, which is apparent by its authenticity and clear understanding of the nuances of feminism and autonomy. Hirsch told us, "Of course this movie would be made by women. If it was up to men, this movie would never have been made. And of course the cast is made of women because it's a true story of women. There were women behind and in front of the camera."
The film is written and directed by Rachel Carey, and the original concept came from the film's lead actress Cait Cortelyou. And while the premise's main focus is abortion, it also gives us a close look at how other issues of feminism played a major role in how women were denied agency over their own bodies during this time.
For example, the main character, Rose (played by Cortelyou), attempts to obtain birth control from her doctor so she can practice safe sex with her fiancé. However, her doctor refuses to give it to her before she gets married, and when she tries to protest, he says he would need to speak to her male fiancé about it. Another character, Joyce (played by Sophie von Haselberg) sits idly by in her hospital bed while a group of male doctors discuss with her husband whether or not they should do a procedure on her that would save her life but endanger the baby growing inside of her. Another main character, Janice (played by Cody Horn) sums the significance of all of this up by saying, "Women will never truly be liberated unless they can control whether or not they are pregnant."
You can stream Ask For Jane on a variety of platforms including Amazon Prime, Apple TV, iTunes, DirecTV and more, and I highly recommend that you do. It reminds us of the strength women have and the length we will go to and the risks we will take for no other reason than to protect to each other. It also sends an urgent and important message: the fight is here and now, and it's time to get started.
As Hirsch told me: "The reason why we originally did this film was to tell the stories of very courageous women. More than ever, this film needs to be seen by every young girl today because they do not realize what could happen again and what is in the process of really happening right now in…Alabama, Georgia and Missouri. I think it's a very important reminder that people need to use their writing privileges, voting privileges and get out to the polls to make sure that this doesn't happen again."
You know what to do.
Someone Turned Brett Kavanaugh's Name Into A Site For Assault Survivors
Brett Kavanuagh has just begun his unlimited time in the Supreme Court (vom) and a lot of people feel v worried about what this means for the United States. One positive that came from the Judge of Beer Pong and his crayon calendars is that the topic of sexual assault is not going anywhere. And now thanks to www.BrettKavanaugh.com, that's even easier.
The geniuses at Fix The Courts (an organization that wants to – surprise, surprise – fix the Supreme Court) realized that good 'ol Justice FlipCup had not bought the rights to his own domain name (rookie mistake, Brett) and now brettkavanaugh.com is a site dedicated to supporting survivors of sexual assault. Praise be to whomever did this, because yes! The site opens up to a powerful image of the Supreme Court steps and "We Believe Survivors," written in large AF font. The site also links directly to three different organizations that help survivors and aim to end sexual assault. Judge Boozy may have gotten through this time, but if survivors continue to speak out and we keep the conversation going then we can prevent future Bretts and Chads from getting away with unacceptable behavior.
If you're still v pissed that this A-hole is sitting next to Ruth Bader Ginsburg then make sure that your voice is heard and check out our partnership with Crush The Midterms so you can make sure you're registered and ready to f*ck sh*t up for Democracy on November 6th.
Check out our Betches Sup Podcast episode with Crush The Midterms founder Marisa Kabas to find out more about how you can get involved and support causes you believe in this November.
Heads up, you need to keep up with the news. It's not cute anymore. That's why we've created a 5x weekly newsletter called The 'Sup that will explain all the news of the week in a hilarious af way. Because if we weren't laughing, we'd be crying. Sign up for The 'Sup now!
Try Not To Rage Blackout At This Clip Of Trump Mocking Christine Blasey Ford
On Tuesday, at one of our President's ego-boosting conventions, or "rallies," Trump decided to pile-on to his pattern of bullying by mocking Dr. Christine Blasey Ford. Ford, whose sexual assault allegation against Supreme Court Justice Nominee, Brett O-Kave-another-beer, O'Kavanuagh, has bravely escalated the ongoing, polarizing debate about consent in Washington and our country. Trump, who been accused of sexual assault himself and has never left high school mentally, decided Ford hasn't already gone through enough and could use a few more jabs.
Like a five-year-old's sock puppet show, Trump impersonated Ford for a crowd of thousands of his innocent people under a spell by the Hocus Pocus witches, I mean, sorry, his loyal supporters. "Thirty-six years ago this happened. I had one beer, right? I had one beer!" he said, continuing on to invalidate Ford for not remembering more details of her attack. I knew the President hated SNL, but maybe if he did watch more he could get better at his impressions.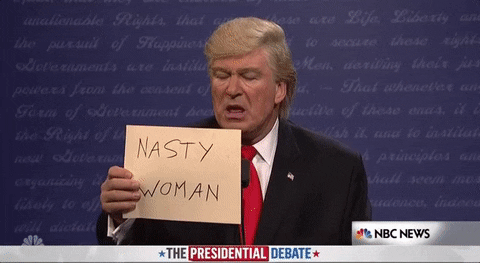 Trump continued on, switching to his own voice, "And a man's life is in tatters.  A man's life is shattered. His wife is shattered." I do feel bad for his wife too, but at least now she has time to GTFO! She isn't shattered, she's free from being shackled to a frat factory for the rest of her life. Referencing what one could only assume are victims of sexual assault who have come forward and the #MeToo movement, Trump said, "They destroy people. They want to destroy people. These are really evil people."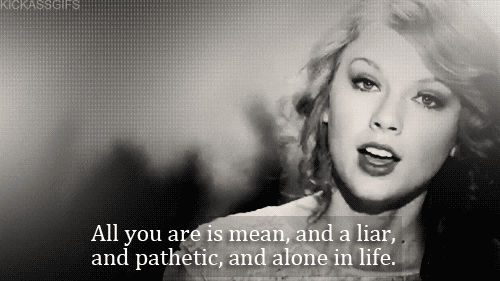 Trump clearly doesn't understand that a woman's life (Ford's) has been privately "in tatters" for years due to the trauma caused by Barf O'Kavanaugh's attempt to rip her bathing suit off at fifteen years old while she was pinned to a bed and her screams were muffled by his hand. Further, she doesn't need to be mocked by an unfunny, garbage impression of her at a narcissism buffets, because she was already mocked through laughter and humilation by her assaulter, Blacked Out O'Kava-Naw, Thanks and his friend, Mark Bad-Judge-ment, while she was feeling most vulnerable.
If you want to torture yourself with the immaturity and astounding lack of human empathy, perspective, and critical thinking skills that our president proudly boasts, watch it here:
WATCH: President Trump mocks Dr. Christine Blasey Ford, who has accused Trump's Supreme Court pick Judge Kavanaugh of sexual misconduct, during rally in Mississippi. https://t.co/pZfWN8IFMV pic.twitter.com/81YEs8oXr5

— MSNBC (@MSNBC) October 3, 2018
Trump, you seem a little stressed. Maybe you could ask your bff You-Brett-I-Did-It O'Kavanaugh for a nice cold beer while you continue to discredit women's voices, actions, and value in America.
Heads up, you need to keep up with the news. It's not cute anymore. That's why we've created a 5x weekly newsletter called The 'Sup that will explain all the news of the week in a hilarious af way. Because if we weren't laughing, we'd be crying. Sign up for The 'Sup now!
Here's What Politicians Are Saying About Brett Kavanaugh
Yesterday, the entire nation was treated to a five hour patriarchy play starring Dr. Christine Blasey Ford and Judge Brett Kavanaugh. While Blasey Ford took a tearful, reluctant, demure approach to her testimony. Brett Kavanaugh decided to go full 80s high school villain (appropriate) and adopted an angry, combative tone. On Friday, the Senate Judiciary Committee voted 11-10 to advance the nomination of Brett "I LOVE BEER" Kavanaugh.
Here's what key politicians are saying about Kavanaugh's nomination after hearing Thursday's testimony.
Sen. Jeff Flake
JUST IN: Sen. Jeff Flake: "I will vote to confirm Judge Kavanaugh." https://t.co/AMrTSO5iHL pic.twitter.com/9kSwXqp8wp

— ABC News (@ABC) September 28, 2018
Senator Jeff Flake was on the fence about Kavanaugh's nomination after the hearing yesterday, but his announcement today that he will support Kavanaugh's nomination guarantees he makes it out of committee and to the full Senate for a vote. Here's a video of protesters confronting him shortly after his nomination:
FULL EXCHANGE between JEFF FLAKE and KAVANAUGH protesters ahead of Senate Judiciary Committee meeting. pic.twitter.com/RGLIQSQexy

— JM Rieger (@RiegerReport) September 28, 2018
UPDATE: In a stunning display of giving a f*ck, Jeff Flake voted to move Kavanaugh out of committee, but said stood with Democrats in calling for a one week delay to allow the FBI to investigate all the allegations against Kavanaugh, indicating that he would not feel comfortable voting yes without one. Whaddya know? Yelling at people in elevators works.
Jeff Flake's statement apparently securing agreement for FBI probe. pic.twitter.com/ibMVuHB4sC

— Josh Marshall (@joshtpm) September 28, 2018
Sen. Dianne Feinstein
"In 25 years… I have never seen a nominee for any position behave in that manner" – Democrat Senator Dianne Feinstein criticises Brett Kavanaugh for going "on the attack" at Senate Judiciary Committee https://t.co/nJMyjVnRxJ #KavanaughHearings pic.twitter.com/Khm6dkksrX

— BBC News (World) (@BBCWorld) September 28, 2018
Sen. Dianne Feinstein, the ranking Democrat on the Judiciary Committee and the person Dr. Ford brought her allegation to originally, believes Ford, will not confirm Kavanaugh, and is calling for a delay to the hearing so that the FBI may investigate. She also wanted to subpoena Mark Judge, the witness in the room during the alleged assault, but the Republicans defeated a motion to do so today because of course they did.
Sen. Chuck Grassley
#KavanaughHearings: Some Democratic senators leave the room as Senate Judiciary Committee chairman Chuck Grassley makes statement in support of Brett Kavanaugh
Follow live updates: https://t.co/nJMyjVFsph pic.twitter.com/EqUIgFz3Oe
— BBC News (World) (@BBCWorld) September 28, 2018
Sen. Chuck Grassley is old enough to remember the invention of sexual harassment the head of the Senate Judiciary Committee. He intends to move Kavanaugh out of committee and will vote to confirm him. He tweeted this the day before the hearing, which is not in a language I personally understand but maybe you can decode it:
On behalf of Judic Cmte Rs a staff counsel w expertise prosecuting sex crimes will question Dr. Ford &Judge Kavanaugh. Why? to DE-POLITICIZE the hrg What we dont want is repeat of Dem grandstanding at Kavanaugh hrg This hrg deserves a serious approach, I hope my colleagues agree

— ChuckGrassley (@ChuckGrassley) September 26, 2018
Sen. Lindsey Graham
Senator Lindsey Graham fully lost his mind at approximately 4:46pm EST on September 27th, 2018. He also is being credited with single-handedly saving Kavanaugh's nomination so thank you Senator Graham. South Carolina, please come collect your man:
Sen. Lindsey Graham: "This has never been about the truth. This has been about delay and destruction. And if we reward this, it is the end of good people wanting to be judges… It is the beginning of a process that will tear this country apart." https://t.co/yuLQgWQoK4 pic.twitter.com/pnMkm7n1de

— CNN (@CNN) September 28, 2018
Sens. Collins, Murkowski, and Manchin
SUSAN COLLINS just told me she hasn't made up her mind yet on Brett Kavanaugh for SCOTUS.

She declined to comment on the hearing yesterday.

— Sahil Kapur (@sahilkapur) September 28, 2018
Democrat Joe Manchin and Republicans Susan Collins and Lisa Murkowski are all undecided, but expected to vote as a block. I guess this is a Sisterhood of the Traveling Votes situation.
Call them now.

Susan Collins: 202-224-2523
Bob Corker: 202-224-3344
Jeff Flake: 202-224-4521
Lisa Murkowski 202-224-6665

— Kumail Nanjiani (@kumailn) September 27, 2018
Governors Hogan, Baker, and Kasich
#Kavanaugh Nomination:
→ 3 GOP governors react

—Baker (MA): Accusations "sickening," need independent probe, should be no Senate vote

—Hogan (MD): Take time to be sure accusers are heard, Kavanaugh can respond

—Kasich (OH): Can't support if they move forward w/ no probe pic.twitter.com/8sXxillNzM

— Fox News Research (@FoxNewsResearch) September 27, 2018
3 Republican Governors decided to be human f*cking beings yesterday and are all calling for the vote to be delayed so there can be further investigation.
Sens. Heitkamp And Tester
Heitkamp and Tester, two Democrats, are also considered on the fence about Kavanaugh. I'm gonna leave this right here…

Telephone numbers:
Sen. Murkowski 202-224-6665
Sen. Collins 202-224-2523
Sen. Heitkamp 202-224-2043
Sen. Manchin 202-224-3954
Sen. Nelson 202-224-5274
Sen. Tester 202-224-2644
Sen. Flake 202-224-4521
Please call and ask them to vote No!

— Linda DelGaudio (@linneydel) September 28, 2018
Donald F*cking Trump
Judge Kavanaugh showed America exactly why I nominated him. His testimony was powerful, honest, and riveting. Democrats' search and destroy strategy is disgraceful and this process has been a total sham and effort to delay, obstruct, and resist. The Senate must vote!

— Donald J. Trump (@realDonaldTrump) September 27, 2018
I mean, are we surprised?
Angry? Same.
If you want to stop the Kavanaugh nomination, there is still time. The number for the Capitol switchboard is: (202) 224-3121. And if he is confirmed, make your opinion known at the ballot box. Click here to get registered and/or check your registration with Rock The Vote.
Remember: don't call your ex, call your Senator.
Listen to The Betches Sup Podcast's episode on Kavanaugh below:
Heads up, you need to keep up with the news. It's not cute anymore. That's why we've created a 5x weekly newsletter called The 'Sup that will explain all the news of the week in a hilarious af way. Because if we weren't laughing, we'd be crying. Sign up for The 'Sup now!
Six Takeaways From Christine Blasey Ford's Incredible Testimony So Far
This morning. Dr Christine Blasey Ford testified in front of a bunch of dusty marionettes aka Senators and bravely told in painful detail her assault by Brett Kavanaugh. It was nothing short of exceptional and if I could Venmo her a million love and hugs, I'd do so.
The testimony is not yet over, but so far here are some of the main takeaways from this morning.
Dr. Christine Blasey Ford Is Smart
Like, she could be a mathlete smart. She's not only testifying but dropping sentences like "Indelible in the hippocampus is the laughter, the uproarious laughter between the two, and they're having fun at my expense." Blasey Ford is a professor of psychology at Palo Alto University and honestly they need to give her tenure if they haven't already because she is a brainiac.
She Isn't "Misremembering" Anything
When asked how positive she was that her assailant was Kavanaugh and not "a look a like" she said "100%". Damn.
The Republicans Hired A Woman To Do Their Dirty Work
Republicans deferred their questioning to Rachel Mitchell, a sex-crimes prosecutor, so her cross examination keeps being interrupted every five minutes for Dems to ask their questions and also constantly by Chuck Grassley having his first on camera panic attack. It's like a completely disorganized AMA.
Blasey Ford Was A Normal Teen Girl
This is just a fun little fact. Every day over the summer Blasey Ford practiced her diving and I think that that is relatable and lovely!

The GOP Should Be Scared
Chris Wallace just called the whole testimony a "disaster for the GOP," live on Fox News. Good.
Blasey Ford Is A Patriot
She alerted her representatives upon seeing that Kavanaugh was just on the short list of Supreme Court nominees. She acted immediately knowing it was the right thing to do for her country. So anyone trying to say she is being opportunist if a conniving asshole. Blasey Ford is an American hero.
You can watch her full opening statement here. Have tissues ready.
Heads up, you need to keep up with the news. It's not cute anymore. That's why we've created a 5x weekly newsletter called The 'Sup that will explain all the news of the week in a hilarious af way. Because if we weren't laughing, we'd be crying. Sign up for The 'Sup now!
Michael Avenatti Reveals Third Kavanaugh Accuser, Here's What We Know
Where there's smoke, there's fire. And where there's allegations of attempted rape against a guy named Brett, there are allegations of actual rape against Brett and his boys, just waiting to be uncovered. Today Michael Avenatti (the legal Robin to Ronan Farrow's #MeToo Batman) revealed the name of a third woman who alleges sexual misconduct by Brett Kavanaugh in high school, and her allegations are serious as f*ck. (Okay, so all allegations of sexual abuse are serious as f*ck, but these are really really bad.) The alleged victim's name is Julie Swetnick, and she's a former government employee with tea to spill. Oh, and this tea comes with a major trigger warning because it's 2018 and literally everything is triggering for assault survivors rn.
In a statement released by Avenatti today, Swetnick says that she personally witnessed Kavanaugh and his BRFF (Best Rape Friend Forever) Mark Judge get their female classmates "inebriated and disoriented so they culd then be 'gang raped' in a side room or bedroom by a 'train' of numerous boys." And now, we'll take a brief pause to let it sink in how fully f*cked up that is.
Michael Avenatti just released a declaration from his client, containing explosive allegations about Brett Kavanaugh and Mark Judge. pic.twitter.com/dYwB2YqbqL

— Renato Mariotti (@renato_mariotti) September 26, 2018
In the statement, Swetnick says that she herself was a victim of one of these "gang rapes," which is corroborated by the fact that Mark Judge's ex-girlfriend, Elizabeth Rasor, told The New Yorker that Judge had once told her "ashamedly" about an incident where Judge and his friends took turns having sex with an unconscious woman.
So now we have three woman, Dr. Christine Blasey Ford, Deborah Ramirez, and Julie Swetnick, with allegations against Brett Kavanaugh, and at least one man, Mark Judge, who could serve as an alleged witness. Even still, the White House is still stanning for Kavanaugh and the Senate is refusing to subpoena Judge, call other witnesses to testify, or allow the FBI to investigate.

Heads up, you need to keep up with the news. It's not cute anymore. That's why we've created a 5x weekly newsletter called The 'Sup that will explain all the news of the week in a hilarious af way. Because if we weren't laughing, we'd be crying. Sign up for The 'Sup now!
Of Course There Are New Allegations Against Brett Kavanaugh
In the theme our country has been keeping up with lately of finding all of the sexual assaulters and putting them into positions of power, Brett Kavanaugh, Supreme Court nominee, now has not one, but two accusers. Last week, Christine Blasey Ford, a professor in California, accused Kavanaugh of violently trying to get her clothes off and muffling her screams while she was pinned down on a bed at a party when they were both in high school. Now, a second woman has come forward, which shouldn't be a surprise considering most men who are terrible don't have just a one-off terrible moment and then learn from their mistakes.
Deborah Ramirez, 53, told The New Yorker  (and Ronan Farrow because, of course) that while she and Kavanaugh were both studying at Yale University, Kavanaugh exposed himself to her while she was heavily intoxicated. Ramirez admits her memory contains gaps and foggy details, because understandably, she was binge-drinking in a dorm room. After spending six days of piecing together the details she does carefully recall, Ramirez is confident it was Kavanaugh who thrust his penis in her face, forced her to touch it, and mocked her with two of his friends.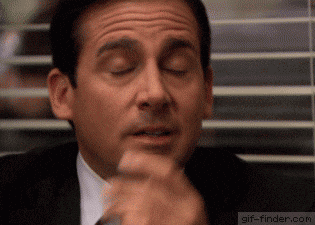 Kavanaugh has, of course, denied the allegation and relied on statements from peers that knew and liked him in high school in college, stating, "The people who knew me then know that this did not happen, and have said so. This is a smear, plain and simple." Kavanaugh, getting a group of people who remember you as "not a sexual deviant" doesn't dismiss the people who do remember you that way. If I hit a guy drunk driving, a list of people I didn't hit would not help my case.
In both cases, Blasey and Ramirez remember feeling humiliated and mocked by Kavanaugh and the other boys in the room. Ramirez remembers the students were all playing a drinking game where each player chose who would drink next. Ramirez was chosen the most, and quickly became very drunk. She recalls the boys throwing a fake plastic penis at her as a joke, but then being on the floor and seeing a penis in her face. In her drunken state, she said, "that's not a real penis," and Kavanaugh and his friends, laughing, instructed her to "kiss it."  She says she can still remember Kavanaugh pulling up his pants while another student yelled down the hall, "Brett Kavanaugh just put his penis in Debbie's face!"

Reportedly, senior Republican aides learned about the Ramirez accusation before The New Yorker article was published, which is why they've been scrambling to push Kavanaugh's nomination forward. Trump, who has continued to support his nominee and dismiss the accusations, held a rally in Las Vegas on Thursday to praise Kavanaugh as a "great gentlemen" and "one of the finest human beings you will ever have the privilege of knowing." On behalf of all women in America, I'm going to take a shot in the dark here and say we're fine without ever having "the privilege" to know him or his penis.
Heads up, you need to keep up with the news. It's not cute anymore. That's why we've created a 5x weekly newsletter called The 'Sup that will explain all the news of the week in a hilarious af way. Because if we weren't laughing, we'd be crying. Sign up for The 'Sup now!
The Biggest Drama On Day Two Of Brett Kavanaugh's Hearings
Mamma Mia, here we go again. Welcome to our breakdown of Day 2 of Brett Kavanaugh's confirmation hearings, betches. Ultimately, while lots of out-of-the-ordinary sh*t went down, it was our girl Kamala's day.
If you weren't paying attention to the first day of Kavanaugh's confirmation hearings, here's what you need to know. Trump's Supreme Court nominee has the potential to tilt the court drastically to the right, jeopardizing important issues like women's rights, health care, gay rights, and about a million other things. So these hearings are much more intense than normal, with protestors and Senate Dems doing their best to slow down the proceedings while Republicans keep rushing ahead. Here are four of the biggest takeaways from day two.
1. Kamala 2020
Kamala Harris (D-CA-GOAT) didn't get a chance to question Kavanaugh until late in the proceedings, but holy sh*t did she come in swinging. "Can you think of any laws that give government the power to make decisions about the male body?" she asked the judge, who many suspect might help overturn Roe v. Wade if confirmed. In response, the Carpool Dad looked as uncomfortable as a f*ckboi when someone drops the word "relationship," before admitting that he couldn't think of any.
.@senkamalaharris asks Judge #Kavanaugh: "Can you think of any laws that give government the power to make decisions about the male body?" pic.twitter.com/HbmkmIzuJg

— CSPAN (@cspan) September 6, 2018
BUT THAT'S NOT ALL, FOLKS. Harris also got everyone talking when she pressed Kavanaugh, over the course of a nearly 8-minute exchange, about whether or not he'd ever discussed the Robert Mueller investigation with anyone at the law firm founded by President Trump's personal lawyer. He couldn't give a definitive answer, she implied that he was hiding critical information, and a million journalists' Spidey senses began tingling.
CSPAN has posted the entire nearly 8-minute exchange between Kamala Harris and Kavanaugh on the Mueller probe. It is worth your time. pic.twitter.com/ezJVEuDeUK

— Kyle Griffin (@kylegriffin1) September 6, 2018
2. Protestors Gonna Protest
Dozens of protestors got arrested on the first day of Kavanaugh's hearings, and they showed no signs of letting up on Day 2. They continued to disrupt the proceedings, pleading with senators to vote no on the nominee, sometimes wearing handmaid's outfits because of course. Meanwhile, in an interview with The Daily Caller, Trump said he thought it was "embarrassing for the country to allow protestors." Uh, Donnie? Your dictator tendencies are showing.
3. Kavanaugh Stays Coy
When it came to questions about the limits of presidential power like, say, whether or not presidents could pardon themselves, Kavanaugh refused to answer directly. Not like this is super-relevant because we have a corrupt, totalitarian-leaning leader who's been implicated in crimes but desperately wants to hold on to his office, right? Hold on — *checks notes* — this is one of the most important issues the Supreme Court might soon be ruling on? Cool cool. Still, at one point Kavanaugh did say "No one is above the law," so I guess there's that?
.@SenFeinstein asked a critical constitutional question: Can a sitting president be required to respond to a subpoena? @realDonaldTrump's Supreme Court nominee, Judge Kavanaugh, refused to give a straight answer.

That is incredibly troubling. pic.twitter.com/KczwfYZEEW

— Senate Democrats (@SenateDems) September 5, 2018
4. Everyone Got A Little Distracted
The political world's laser focus on the hearing got more than a little disrupted late in the day, when The New York Times casually dropped this bombshell anonymous op-ed supposedly written by a senior staffer on the Trump team. We have reached full Gossip Girl, fam.
But to focus back on the hearings, Kavanaugh's not confirmed yet. So pick up the phone and call your senators, because this is a f*cking lifetime appointment
Heads up, you need to keep up with the news. It's not cute anymore. That's why we've created a 5x weekly newsletter called The 'Sup that will explain all the news of the week in a hilarious af way. Because if we weren't laughing, we'd be crying. Sign up for The 'Sup now!