On Tuesday, at one of our President's ego-boosting conventions, or "rallies," Trump decided to pile-on to his pattern of bullying by mocking Dr. Christine Blasey Ford. Ford, whose sexual assault allegation against Supreme Court Justice Nominee, Brett O-Kave-another-beer, O'Kavanuagh, has bravely escalated the ongoing, polarizing debate about consent in Washington and our country. Trump, who been accused of sexual assault himself and has never left high school mentally, decided Ford hasn't already gone through enough and could use a few more jabs.
Like a five-year-old's sock puppet show, Trump impersonated Ford for a crowd of thousands of his innocent people under a spell by the Hocus Pocus witches, I mean, sorry, his loyal supporters. "Thirty-six years ago this happened. I had one beer, right? I had one beer!" he said, continuing on to invalidate Ford for not remembering more details of her attack. I knew the President hated SNL, but maybe if he did watch more he could get better at his impressions.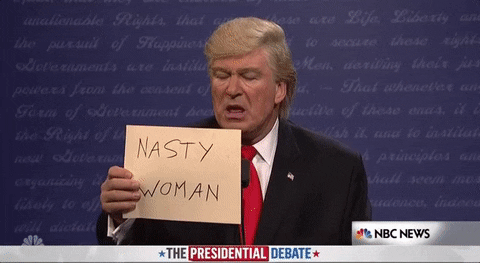 Trump continued on, switching to his own voice, "And a man's life is in tatters. A man's life is shattered. His wife is shattered." I do feel bad for his wife too, but at least now she has time to GTFO! She isn't shattered, she's free from being shackled to a frat factory for the rest of her life. Referencing what one could only assume are victims of sexual assault who have come forward and the #MeToo movement, Trump said, "They destroy people. They want to destroy people. These are really evil people."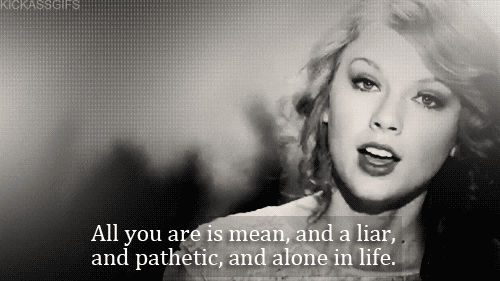 Trump clearly doesn't understand that a woman's life (Ford's) has been privately "in tatters" for years due to the trauma caused by Barf O'Kavanaugh's attempt to rip her bathing suit off at fifteen years old while she was pinned to a bed and her screams were muffled by his hand. Further, she doesn't need to be mocked by an unfunny, garbage impression of her at a narcissism buffets, because she was already mocked through laughter and humilation by her assaulter, Blacked Out O'Kava-Naw, Thanks and his friend, Mark Bad-Judge-ment, while she was feeling most vulnerable.
If you want to torture yourself with the immaturity and astounding lack of human empathy, perspective, and critical thinking skills that our president proudly boasts, watch it here:
WATCH: President Trump mocks Dr. Christine Blasey Ford, who has accused Trump's Supreme Court pick Judge Kavanaugh of sexual misconduct, during rally in Mississippi. https://t.co/pZfWN8IFMV pic.twitter.com/81YEs8oXr5

— MSNBC (@MSNBC) October 3, 2018
Trump, you seem a little stressed. Maybe you could ask your bff You-Brett-I-Did-It O'Kavanaugh for a nice cold beer while you continue to discredit women's voices, actions, and value in America.
Heads up, you need to keep up with the news. It's not cute anymore. That's why we've created a 5x weekly newsletter called The 'Sup that will explain all the news of the week in a hilarious af way. Because if we weren't laughing, we'd be crying. Sign up for The 'Sup now!