In honor of Jennifer Aniston's upcoming birthday, I'm here to celebrate one of TV's betchiest characters: Rachel Green. If you have any idea what you're doing in life, you watched Friends and immediately knew several things: you are the Rachel of your friend group; there's no way she actually cut her father's credit card in half; and she absolutely could have done better than Ross (or, like, at least gotten someone richer). That being said, Rachel dates who she wants, and I'm not here to make judgments on a certified player. I am here, however, to judge the caliber of the men she dated. Here's a ranking of Rachel Green's boyfriends from worst to best.
Barry
In Rachel's defense, Barry was her fiancé before she really became Rachel (aka left the suburbs, got a job, and learned what rent is—all of which sucks but really frees up your dating options). Barry was short, sweaty, and a cheater, among other flaws like dipping his hands in children's spit as a profession. (Picture the average day of an orthodontist and tell me I'm wrong.) Zero stars for Barry, one million stars for Rachel for figuring out that he looks like Mr. Potatohead and getting TF out.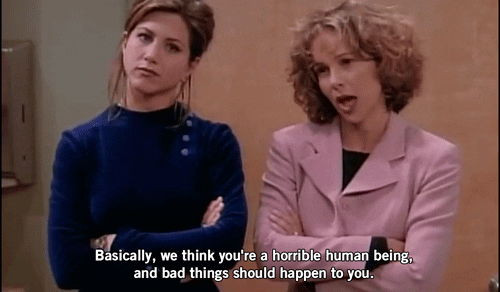 Paolo
Paolo is unfortunate, but forgivable. Rachel is still highly impressionable and new to the city when she encounters Paolo, and it's easy to confuse a foreign accent for true love. (No? Tell that to the string of exchange students you hooked up with your freshman year of college). Of course, Rachel eventually figures out that he's not all that into her when he grabs Phoebe's ass, and she promptly ends her annoying but obligatory Foreign Boyfriend phase. Also, does anyone else think he definitely spoke English and was trolling all of them?

Danny
Danny, the downstairs neighbor Rachel mistakes for a Yeti (I love this show), is cuter than Barry but just as weird. Once Rachel discovers that he's cute under the beard, she demonstrates her interest by talking about Danny's giant, obvious crush on her every time he leaves the room. Since he largely ignores her, this is great insight into Rachel's worldview. Ultimately, though, Danny was already sus for not asking her out and only got more so when he started wrestling with his half-naked sister. Ew.

Joshua
Joshua, the recently divorced client whom Rachel hooks up with a new wardrobe, was good on paper but that's about it. He takes forever to ask Rachel out, then handles her Ross-induced crazy with all the humor and emotional depth of a paper towel (I'm not saying he should have married her, but he clearly couldn't keep up with her). There's not a single moment where Joshua thinks to himself, "Hey, how would an adult man handle this?" and that includes when Rachel goes to dinner with his parents wearing nothing but lingerie.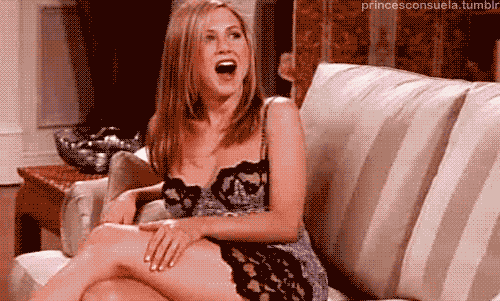 Joey
I've never totally understood the raging Joey v. Ross controversy. They offer two completely different things, and if this show were set in present day then Rachel would be dating them both at the same time and thriving. As two conventionally hot people who have never let intellectual standards hold them back from proving that they're cooler than you, it was inevitable that Rachel and Joey would hook up at some point, and just as inevitable that they would recognize they're better off as friends. Joey was an itch Rachel needed to scratch, and my only regret is that it turned into a tortured love story rather than a series of drunken one-night stands.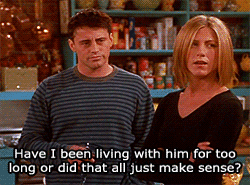 Paul
Paul initially seems like the best catch Rachel's ever landed. He's hot (young Bruce Willis, who knew), he's a lawyer, and he's excellent at making fun of Ross. But because Rachel is used to dating whiny little girls Ross, she pushes him to open up about his emotions. She's hit with a tidal wave of tears and very unsexy childhood grievances, and discovers a sad truth. Behind most "strong and silent" types, there is a screaming baby who will expect you to fix him. Rachel isn't on board and jumps ship back to the Ross type: guys whose neuroses are right on the surface.

Tag
Honestly, I wanted to put Tag as #1, but he has to be demoted for the fact that Rachel can't remember his last name a year later. For those of you blasphemous enough to forget, Tag is the uber-adorable assistant Rachel hooks up with and proceeds to dump because she's turning 30 and needs to focus on a long-term plan, which I guess never involved him. Is he a little simple? Sure. But is he also sweet, devoted, and an endless supply of eye candy? YES. Again, a more modern Friends would have let Rachel freeze her eggs, focus on her love of fashion, and live happily ever after with Tag the house husband.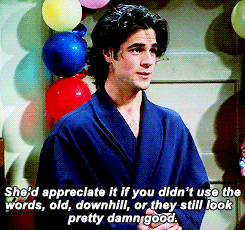 Gavin
While Ross's paranoia knows no bounds, he was actually dead-on with his Gavin suspicions and should have been afraid. Gavin was sexy, charming, shared Rachel's interests, and handled himself with confidence. Even though Rachel's first impression here was yelling at Gavin for "stealing her job," he doesn't let her failure to understand how companies work, or the father of her child standing next to her, prevent him from forming a crush on her and pursuing her—proving he has good taste and the game to back it up. Gavin would have pushed Rachel to become the best version of herself, starting with that job in Paris.

Ross
I know. I came in heavy with the Ross hate and I stand by it, but this is a list of Rachel's best love interests, and Rachel ultimately gets to decide. In her defense, Ross did have almost a solid decade of crushing on Rachel before they ever got together. It's hard to find that kind of devotion somewhere else. For this reason, he can never be accused of not knowing what he has in Rachel. (Though obviously, he handles every chance with her terribly.) Ultimately, their new parent moments later on are undeniably cute, and they do kind of improve each other. AKA Rachel becomes more responsible and Ross becomes less of a loser. If Rachel's happy, I'm happy.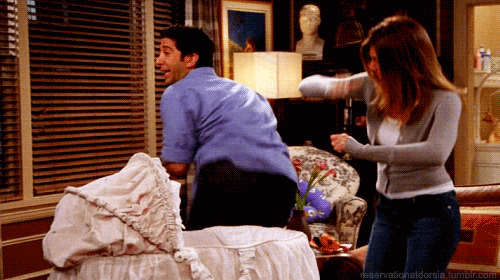 That's it for me—happy birthday again to the incomparable Jennifer Aniston. May we continue reading fictional accounts of your reunion with Brad Pitt for years to come.
Images: Netflix; Giphy (9)