If you have trouble explaining to your parents what the Kardashians do, try answering the same question about Jonathan Cheban. I mean, don't get me wrong. There's nothing wrong with being famous for being Kim Kardashian's tag-along bestie who jets around the world trying the four-cheese lasagna dish at Italian restaurants and making random appearances in the Fountainebleau lobby, but let's not pretend he does anything more than that. We've been following our favorite barely-out-of-the-closet foodie on Instagram for a while, but now that Keeping Up is back on air and we get to see Jonathan's spray-tanned face every Sunday night, we decided to go through his Instagram feed and write down some of the questions we have for him. Here we go:
Why are you still trying to make 'Foodgōd' happen?
We're gonna need the full story about how you stumbled upon the nickname "Foodgōd," and whether or not you stole it from a chubby 9-year-old boy's Snapchat username. We understand that being rich and bored can cause anyone to travel around the globe trying churros in Paris and truffle pizza in the South of France, but don't you think the name kinda ruins the glamour of it all? Like, did you think you were pulling a "Lord Disick" move, but in the foodie world? Were you hoping a Cooking Mama-style video game would be named after you? Was your intention to be the next Guy Fieri, minus the greasy hair and impending heart attack? Also, what the fuck is with the accent over the O? You're from New Jersey.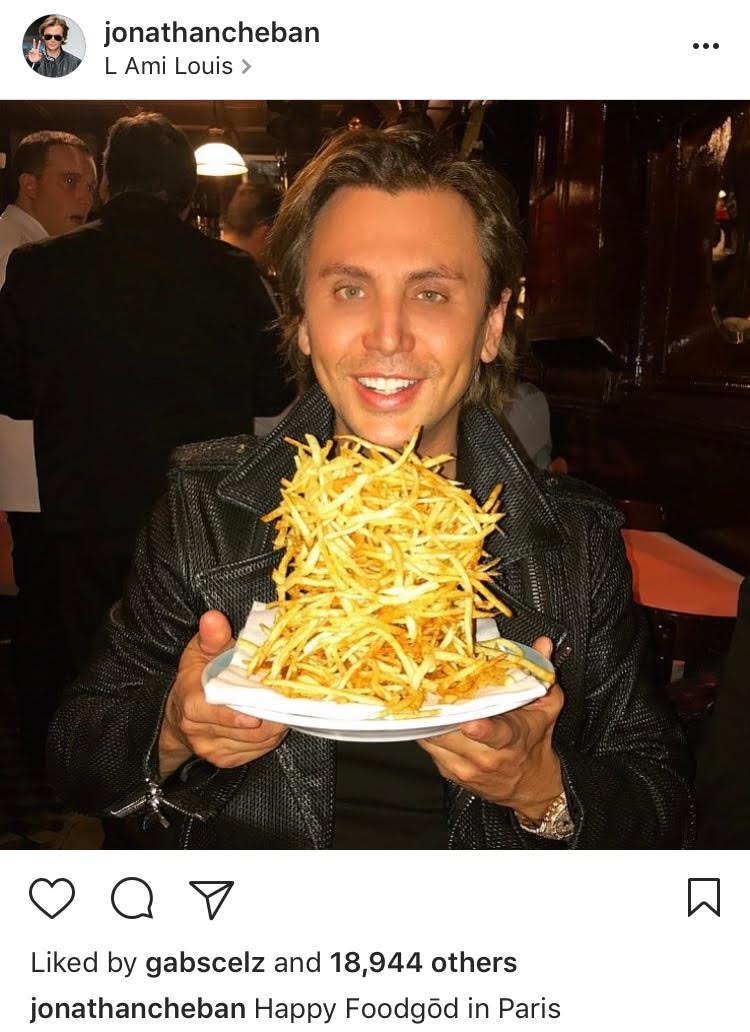 Why are you so obsessed with The Kardashians?
So, we obviously understand they're the reason for your fame/existence, but are the constant references completely necessary? Jonathan is constantly advertising for the Kardashians' products, whether it be their show, their app, Khloé's denim line, or Kylie's holiday palette. Are they paying you to promote their brand? Like, are you gonna start writing #ad on selfies with North and P? Plus, when you post clips of you on the show, it's just awkward because you're literally there to fill space. The Kardashians don't actually care whether or not you think Kris' new botox looks natural, and they don't think it's cool that you have a Yeezy Season 3 poster hanging above your bed. I mean, how many times have you taken the "How well do you know the Kardashians" quiz on Buzzfeed?

Who goes to this many fucking basketball games?
The Kardashians have gotten a lot of shit about their basketball player obsession over the years, but they've gotten over it, so why haven't you left the stadium? We understand it looks somewhat cool to be sitting front row at a Heat game once in a while, but you've taken it to new levels, and it's weird. Has the American Airlines Arena just become somewhere you spend time when you're early to your Makoto reservation? Is this your attempt to look equally sporty and chic while catching a glimpse of Gabrielle Union? Or is this something deeper? Maybe you're trying to make up for some childhood insecurity about being picked last in gym class? Please send over an explanation as soon as the game's over and you get your selfie with Chris Bosh.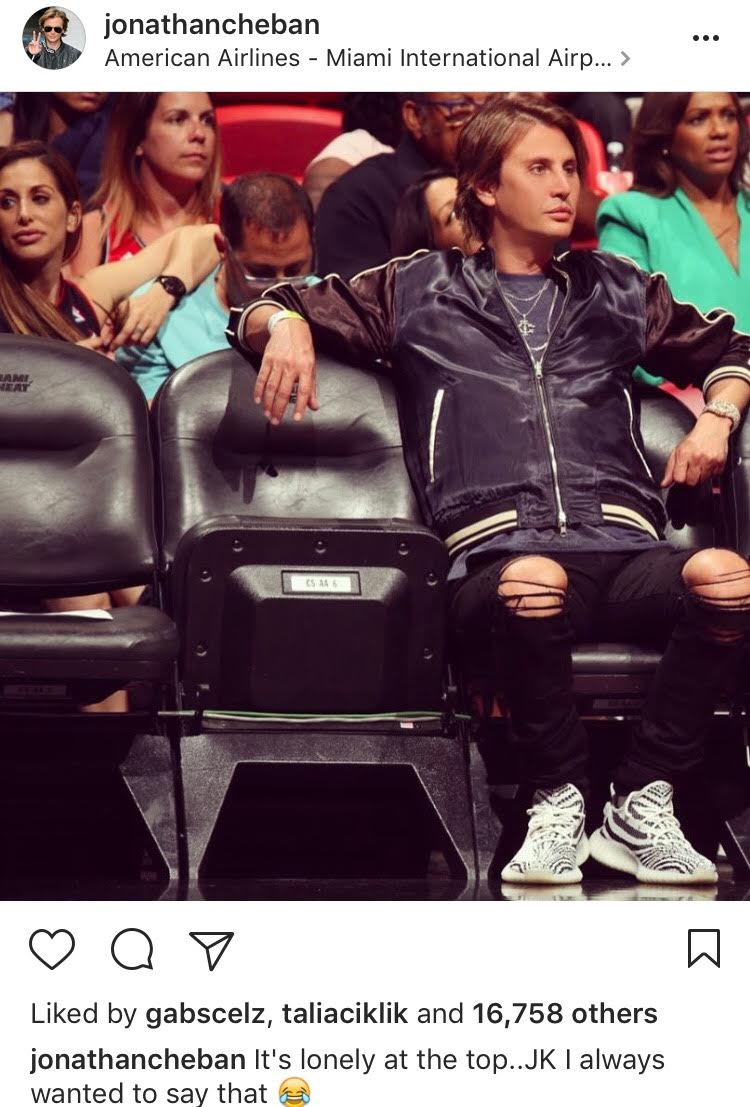 Who is taking all of these solo shots?
The amount of solo shots on Jonathan's Instagram is honestly mind-blowing, and it's not like they're selfies or paparazzi shots that he's reposting. They're clearly taken on an iPhone, and we need to know who the fuck is willingly taking them. Do you ask the pilot on your private jet to snap a pic of you before takeoff? Do you give the Nobu waiters a bigger tip if they snap a candid photo of you eating your spicy tuna sashimi? We understand that you've taken #EatingForTheInsta to new heights, and we're not judging you for wanting to document every luxury massage and hotel suite you're being paid to promote, but we're gonna need to know who is agreeing to take these pics.

There is more, but we don't have all day and we don't want to overwhelm Jonathan. Clearly, his Instagram creates wayyyy more questions than it does answers and will require significantly more investigation before we are able to come to any conclusions. But before we go, there's just one final question Cheban fans (do these exist?) need answered: Are you okay? Like, seriously.