There's truly a lot to take away from the excitement of New Year's Eve. Planning your midnight festivities is always a bitch, the chances of getting a cliché midnight kiss are slim to none, and the pressure to look your best on the first night of the new year is enough to make me want to boycott the holiday forever. Essentially, NYE is always a goddamn hassle. When it comes to scoring the perfect dress, it seems as though every store has puked glitter, sequins, and a fuck ton of sparkles on everything. Uh, unless you want to look like a walking disco ball, this shit is getting absurd. Like, glitter is fun and all, but only in small increments. Some of us want to blackout sans sequin scratches and itchy cleavage. I'm literally only wearing the dress once, so all the extraness is as unnecessary as Taylor Swift's comeback album. Believe it or not, some of us prefer to ring in the new year with a low-key dress that still makes us look skinny, glam, and gorg. On that note, here are five NYE dresses that aren't extra af.
This is definitely the cutest effing dress I've ever seen. Besides totally loving the flirty blush hue, I'm obsessed with the bead-accentuated sleeves. The balance between its revealing off-the-shoulder neckline and thinning bodycon fit makes it a chic, yet edgy option for 2018.

When in doubt, black out in black. This sophisticated style comes off as bad and boujee, but also low-key says you'll be blacked out by 9am. It has a frisky front with intricate detailing, so with fab highlighter and sexy tousled waves, you'll most def have a midnight kiss with something (or someone?) other than a champagne bottle.

Obviously, a turtleneck on anything is usually always a major no-no, but what the latest fashion trends call for, we follow. Stay with a classy style like this high-neck velvet bodycon that mixes a holiday Merlot red and our BFF, black. With the long sleeves and thick velved material, you'll probs be the only sane one staying warm when it's freezing af this January.

In case you haven't heard from like, scrolling through Twitter, the color of this year has been declared as Ultra Violet. This comes from a company called Pantone that I know nothing about, but I'm not questioning their sixth sense. It could mean we have a year of royalty, mystery, or complete and utter disaster ahead of us, so cheers to that alone as we see if 2018 could possibly treat us any worse than 2017 did. Put forth good vibes by wearing the color nice and early with this dramatic-sleeved bodycon style. The bottom comes with a hiking slit for that touch of slut we absolutely can't resist, obvs.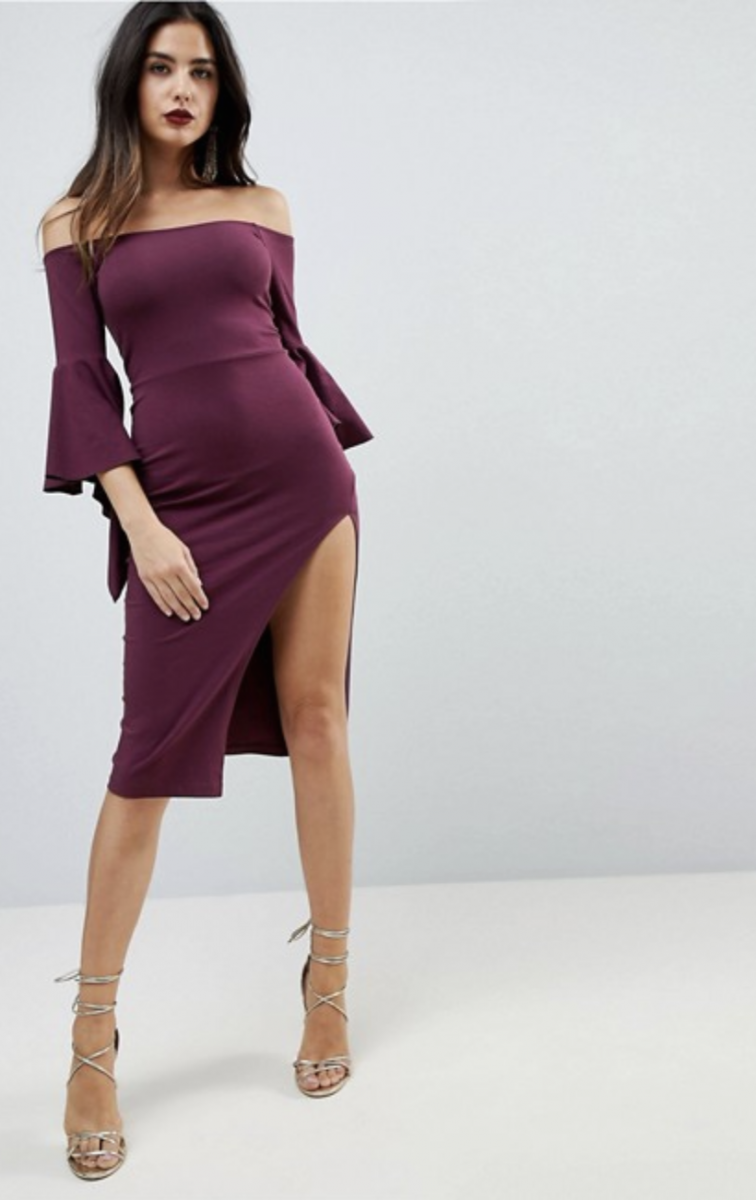 Whether you actually give a shit about keeping our earth clean or not, Reformation is a new brand that prides itself on making v cute clothes out of materials that happen to be good for the planet and all the little birdies and the little monkeys that inhabit it. Amazing. This bestselling holiday dress falls down to your ankles (SRY to everyone who's five feet tall, like myself), and comes with a high slit and deep V neckline. The all-over formal navy velvet makes the dress a prime option for NYE if you pair with strappy stilettos and dainty Y-necklace. You'll def slay in your "new year, same me" Insta with this one.