Friends, it has not been an easy few weeks for Khloé Kardashian. Not only did she have to push the giant spawn of an indiscreet cheater out of a hole the size of a lemon, but she had to do it while knowing that in the end she really should have gone the sperm donor route. I can only imagine this birth required lots of drugs, ice chips made from Evian water laced with liquid gold, and high thread count sheets. Then, since the birth of True "I was named to shame my father" Thompson, Khloé has also had to endure the media saying she is "living in hell." What a beautiful way to describe Khloé's time with her brand new daughter. Put that one in the baby book for sure. Well, Khloé has finally had enough.
Yesterday E! News posted a picture on Instagram and linked to a story they wrote about how Khloé is "leaning on Kourtney" right now, since Kourt has also endured the shame of a cheating boyfriend with no regard for the woman whose organs literally shifted around inside her body to accommodate their child. I'm paraphrasing.
https://www.instagram.com/p/BiU2865hter/?taken-by=commentsbycelebs[/embed]
And after all the stories written about her since the cheating scandal broke, Khloé finally decided that a story claiming her sister was helping her out required a comment. So that's the line, then. Not her boyfriend being taped motorboating a rando in a club, or her mother telling Ellen that she is struggling with breastfeeding, but it was this nothingburger story that I can't even find a record of on the internet. Am I bad at Google? Anyway, Khloé commented on E!'s insta saying "oh damn… I hope I don't crush her by leaning on her! I love my little @kourtneykardash"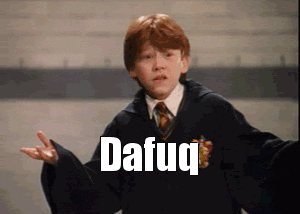 First of all, I feel betrayed by the stories claiming Khloé was "breaking her silence" and "clapping back." V misleading. It would be more appropriate for them to say "Khloé was finally so fucking bored while attempting to get True to latch on to her breast that she commented on an Instagram so she could get some more free media attention." Should I make that this story's headline?
Next, is she trying to shade E!? Like I just can't tell. If it's an insult, it's not a good one. It only serves to remind me that Khloé is, in fact, much larger than her sisters and that I really should get back to my investigation into who her real father is before the case goes cold. That bulletin board of clues in my basement isn't going to solve itself.
And finally, is she just agreeing with them? Like, "yeah I'm leaning on her, us gals with shitty taste in men gotta stick together"? I'd love to see how these sisters actually lean on each other. I'm sure we'll find out soon though, documented by a nude photo shoot for Insta.
Kourtney: "I'm sure you're feeling sad Khloé but, like, you're blocking my ass and stealing my best light"
Khloé: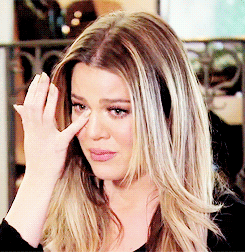 So basically it appears that the media made a story out of nothing. Shocking! Hit me up when Khloé actually breaks her silence with a scathing statement about Tristan's cheating ways while clasping his balls triumphantly in her hand. Sound good?
Images: @commentsbycelebs /Instagram (1); Giphy (2)