As someone who reads and writes about skincare on a daily basis, I find myself hitting something I call "skincare fatigue." Just when I'd mastered toner (kind of), I start hearing about serums, retinol creams, and whatever the f*ck an "essence" is. Thankfully, the concept of day cream vs. night cream isn't new to me—but actually using a different moisturizer for morning and evening is. I'd always kind of figured that "needing" two different moisturizers was just a way for companies to sell you more products. But three weeks in to my new regime, I'm sold. Here's why.
Night Cream Needs Time To Sink In
The purchase that kicked off this whole venture is Tatcha's Dewy Skin Cream, a moisturizer I feel confident in calling pure magic. From the moment I got my hands on all that silky lavender goodness, I loved it so much I wanted to take a bath in it. This moisturizer has brought my skin back to life after a night out, scared burgeoning pimples back into hiding, and—praise be—NOT activated my rosacea, which just about every other celeb-approved moisturizer does. (Looking at you, La Mer. I wanted so badly to love you.)

Now that my shameless Tatcha evangelizing is out of the way, on to the real point. Because I was so excited about this moisturizer, I was using it morning and night—and quickly realized my mistake. I have a four-step routine I stick to: cleanser, toner, treatment, moisturizer. Because the sun exists, and because my skin is so dry that sunscreen alone does not moisturize it, I have to follow up that four-step routine with an SPF cream in the morning—all before adding any makeup.
Now, anyone who's tried to quickly apply five different face products and then add foundation on top will immediately see the problem here. My beloved Tatcha moisturizer is on the thicker side, which is perfect for my dry skin—but it takes a solid 15-20 minutes to be completely absorbed. That would be fine if it were my only morning skincare step, but I also have to give my toner and treatment steps 5-10 minutes each to sink in. That gets us up to 30 minutes on pre-make-up skincare, minimum. In my week of trying to use the Dewy Skin Cream as a day cream, I don't think I managed to put foundation on once. Since I never had enough time to let the moisturizer sink in all the way, even my sunscreen was barely getting absorbed—which means I was going out looking like a greasy, white-tinged mess.
Note: Dewy Skin Cream isn't advertised specifically as a night cream—there's a different night cream from that product line—but that's how it works best for me. As a rule, night creams will be thicker than day creams, and are formulated to moisturize while you sleep.
Me, waking up post-Tatcha moisturizer: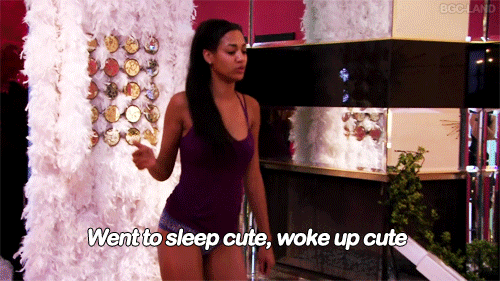 Day Cream Protects; Night Cream Repairs
Day cream, I learned, has one major job: to protect your face from the sun, so basically to contain as much SPF as you can stand. (For reference, I use SPF 46—do not come at me with your SPF 15 liquid foundation). Like I said before, I have a special breed of lizard skin that requires me to pair said SPF 46 lotion with a second day cream—but if you have the option of combining these steps, I strongly recommend you do. I love this one from Origins (so brightening), or this SPF 50 IT Cosmetics CC cream. (No, I don't know what a CC cream is, and my head will explode if I research further.) I own this cream, and would refer to it as somewhere between light coverage foundation and tinted moisturizer.

Scott Disick knows what's up, a sentence I never thought I'd utter.
If you are like me, and SPF products aren't moisturizing enough on their own, I recommend a super lightweight cream that sinks in quickly. My personal fave for this is Cerave, which makes both a day cream and a night cream.
While day cream bears the brunt of sun protection, your night cream can and should have active ingredients too. We've already discussed the benefit of adding retinol to your daily routine, and 2019 is heading toward being the year of glycolic acid. These ingredients are both great, because they help speed up cell turnover, AKA get rid of the dead skin and bring in the new, better skin. Very scientific, I know. However, both of these ingredients also make your skin more sensitive to the sun. I can personally attest to this—this past December, I used a retinol oil and then went out for a day of skiing. Within 24 hours, I developed dark, rough patches of sunburn on my face like I'd never seen before, and they lasted well through New Year's Eve. Happy 2019 to me!
So, while retinol and AHAs are a good addition to night creams, they should absolutely be avoided in your day creams. On the flip side, you're welcome to put on SPF at night—but unless you're sleeping at a campsite, I'm not sure why you would.
Ultimately, you could just say f*ck it and use the same lightweight moisturizer with zero active ingredients for both day and night (plus sunscreen, obv). But if you have skin that's on the dryer side, I highly recommend investing in a thicker night cream—and not making the mistake I did of piling it on in the morning, too.
Images: Tatcha; Giphy (2)