Consider this a humble brag, but being from LA *flips hair*, I don't do seasons, drinking hot coffee is solely due to the fact that the ice melted in my cold brew, and the only hurricane that's ever hit me was an alcoholic bevvy that resulted in morning-after regrets (too soon?). I don't want to talk about it, truthfully. That said, there's one of three ways I am fully aware that fall is a current thing: 1) My coconut oil has returned back to its solid state, 2) wearing a sweater in the morning results in pure, unadulterated heatstroke by 12 pm, and 3) Instagram. Motherfucking Instagram.
Fall used to be a time of spending all my babysitting money on Bath & Body Works candles and roughing puberty with Marnie Piper while she simultaneously conquered the world of witchcraft. But since Instagram, fall is now a time of gothic hair shades and slutty lingerie that somehow passes as things that should never be costumes, like a fucking Twister game board. We all play by the same rules when it comes to fall Instagram aesthetic, and frankly, I'm over it. Actually, I was over it eight years ago when I realized PSLs were pretty much just steamed milk, artificial nutmeg and the reason for that fat ring around my belly button in high school. Anyway, I've found better alternatives to get me through fall while scrolling through your dumb Instagram that probably contains one of the following unacceptable photos. So hold onto your suede booties, basics, because you probs already know what I'm about to say.
1. Throwing Leaves In The Air
Unless you're from the fucking countryside and have to drive an hour out of the backwoods to get to the nearest Walmart, there should be no reason to sacrifice an entire day for the sole purpose of a Boomerang throwing leaves in the air, especially when we all know that Boomerangs get way less likes than a normal pic anyway. Like, imagine putting in an entire eight hours worth of effort into throwing around dead plants only to get more likes on last week's "You Have Just as Many Hours in the Day as Beyoncé" post because that's exactly what will happen. Ugh, my self-esteem hurts for you.

2. Pumpkin Spice Lattes
I had to. Don't @ me. But seriously, if you feel the need to brag about the 600 calorie journey you're about to embark on the moment temperatures take a step below 75 degrees, I hate you. I hate you more than I hate drivers who leave their blinker on for 12 miles straight. I hate you more than I hate myself for probably hitting up Starbs on my next lunch break. Tbh these things wouldn't be so bad if pumpkin spice wasn't as unnecessarily overused as Adam Levine's voice on rap hooks. Like, we now have the option to coat our armpits in PSL-scented deodorant. Pumpkin. Spice. Armpits. What in the actual fuck, America. The only ever acceptable PSA should be a public service announcement that we need to get our shit together.

3. Pumpkin Patch
You know what's worse than documenting your trip to a pumpkin patch holding a pumpkin you probably didn't even end up buying? Documenting your trip to the pumpkin patch holding a child. Either this makes me an old fucking hag or just a responsible badass at taking Plan B within the designated timeframe, and I'm gonna go out on a limb and say the latter just for the sake of my sanity. Regardless, this now marks two filthy objects you'll never see in my custody.

4. A Summer TBT
Oh, this asshole. This is normally always the bitch who thrived on juice cleanses all summer while hashtagging #TreatYoSelf on a picture holding a PSL. Fucking spare me. I already go out of my way to avoid Instagram like the fucking plague every Thursday, so I don't need to be reminded of a season that caused me emotional distress every time I put a bikini on and tried to binge drink my insecurities away. Plus, summer was over like, four hours ago, so sit down. Wait until February and then come talk to me about how much you miss summer.

5. A New Hair Color
Trying to mask all your summer regrets with a new disguise hair style isn't fooling anyone. It's like the "new year, new me" trend, except it's still not a new year and you're the same hoe you were three weeks ago, only with better matching eyebrows and less split ends. I've never understood the point of throwing away half a paycheck on bleaching your head for the summer, only to go dark the second Labor Day ends. But do I myself give into this absurdity? You're damn right I do. But do I regret not spending that money on more important things like a new pair of riding boots, or say, alcohol? Every damn time. In conclusion, the only thing your before-and-after photo proves is that you're still the same egotistical dickhead, and also whoever thought to slap blonde highlights onto a natural black mane should probably never step foot near a head of hair again.

6. Studying For Anything
Anyone who's anyone that's ever gone to school knows that the entire fall season is basically a bunch of syllabus bullshit and making sure you bought your protractor and/or the stupid amount of books you'll never touch, so your "I Woke Up Like This" morning studying aesthetic is fooling nobody. The whole point of Instagram is to at least make it seem like your life is somewhat exciting and not at all miserable. Like, a photo that shows that it probably took more time to set up than the amount of time that actually went into studying proves nothing. The only thing worth studying and actually documenting in the fall is the bulge in every dudes' pair of gray sweatpants. On second thought, that bedding is SO cute—where did you get it?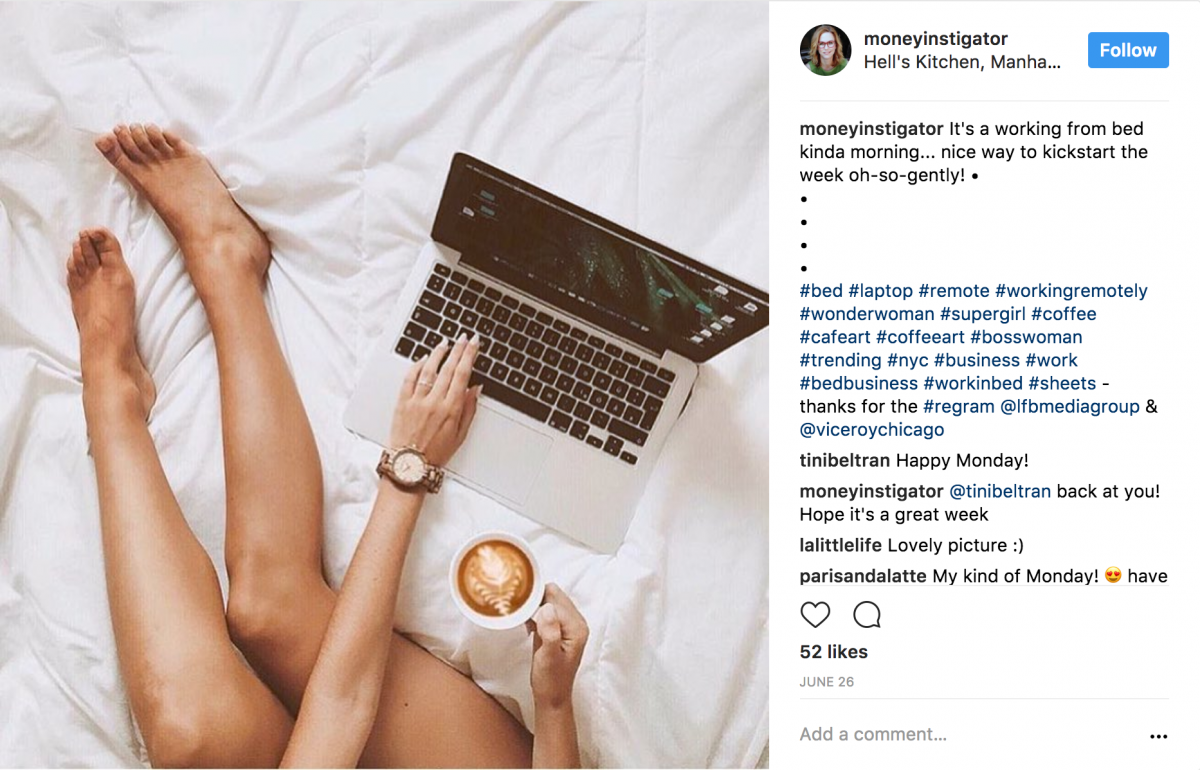 So, by the power vested (and severely built up) in me, I now pronounce you unfollowed. Until next fall…