Last night Nick Viall cleared the house of contestants faster than I cleared my inbox of sale emails this morning. After watching him say bye bye bye to half the girls, we're finally down to the core few, and it's simultaneously terrifying and amazing that Corinne is one of them. This is especially true because we all know that once she's gone this show is about to get V boring.
End Of Corinne's Date
Taylor thinks that she's going to somehow change the results of her last date by taking a solo hike back from the bayou to personally character assassinate Corinne. It's totally plausible that she knows where Nick and Corinne are having dinner.
Taylor: Nick, look at me in the eyeballs. Corinne is lying.
Nick: I appreciate your sincerity and I respect you a ton. Now please GTFO.
Corinne about Taylor: Don't ever call me a liar in front of my boyfriend. — Only on this show is that something women say before they say "don't make out with my boyfriend."
Corinne: What I learned today was that cats have nine lives and bitches have two. — Okay this makes no sense, in or out of context. Are you the cat in this situation?
Rose Ceremony
Jaimi: I have no regrets.
America: You should regret this last ensemble.

Ensembles you won't regret: our Bachelor Tee, only available at shopbetches.com.

Bye dolphin girl, you can go back to Seaworld now. Jk we'll actually miss you the most. See you in Paradise.
Nick: It's beautiful blue waters. It's lush greenery. We're going to the island of St. Thomas! — Okay Nick, the script the producers wrote for you was supposed to give you a general idea what to say, not meant to be read verbatim.
Vanessa: This island will be 100 years old next month and that is how long it has been a US territory.
Rest of the house:

SIGN UP: Our Bachelor emails are the only thing more scandalous than the Fantasy Suite.
Date With Kristina
Kristina totally mixed up the mail-order bride forms with the Bachelor application forms.
Nick: Tell me about your childhood.
Kristina: ::continues to tell the tale of Princess Anastasia::

"Your life in Russia is in black and white, if you move to America your life will be in color." — I think that was before America became so great again.
Kristina's story really turned her around in my mind—she actually didn't seem like she was acting or using it to get ahead. How could she ever not get the rose!? (She's safe until next week.)
Kristina is a hotter Russian version of Anna Kendrick.


Group Date
Nothing like a catamaran and beach day during a tropical storm.
Corinne: Lorna is the St. Thomas version of Raquel in that she's a poor person who does whatever I say and I'm not sure who's paying her.
This volleyball date should probably just be called the swimsuit competition.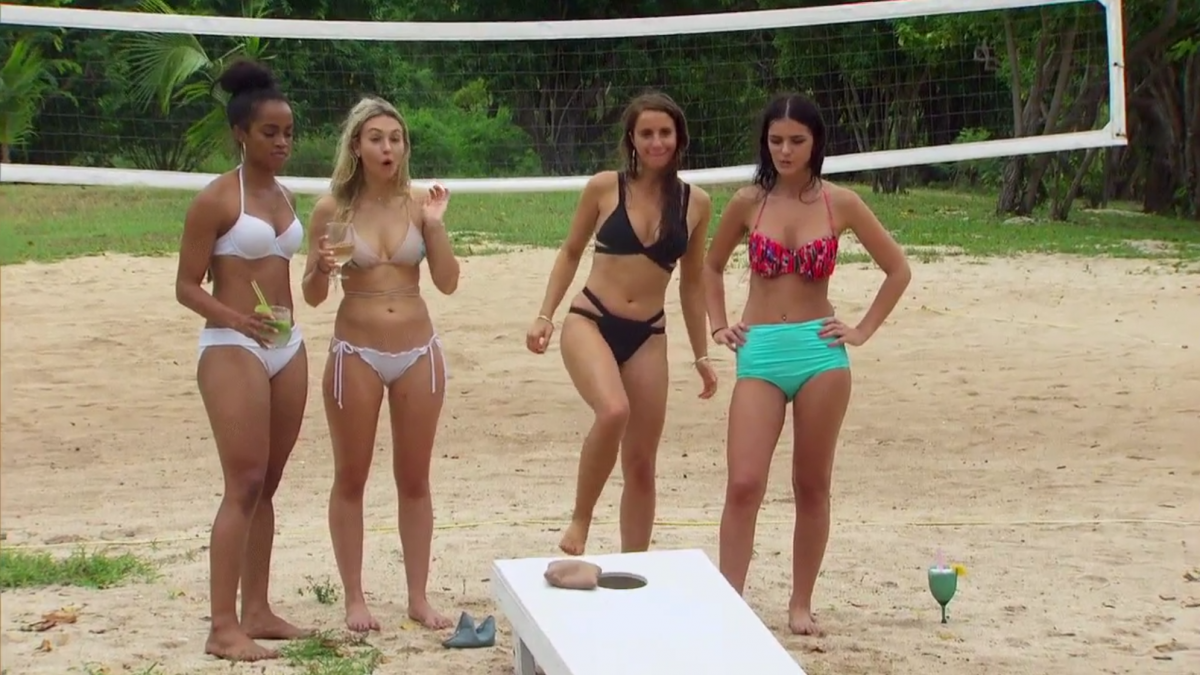 Raven decided to impress Nick on this date by wearing a blue diaper.
This is Jasmine on this group date: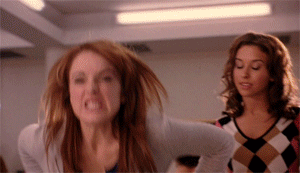 This is everyone else on this group date:

Jasmine: I've already been to St. Thomas. I don't need to be here.
Nick: I don't want you to be here if you don't want to be here — Stop trying to get her to break up with herself, Nick.
Jasmine: I want to choke you so bad. GIVE ME A ROSE. GIVE IT TO ME! GIVE IT TO ME NOW! LET'S FUCK!
Nick: After listening to your pour your heart out, I've decided you need to leave now.

Who actually uses the word chokey other than Ms. Trunchbull?
"Fuck you guys, I'm going home" — Eric Cartman / Jasmine
Whitney And Danielle L's Date
Nick tells Whitney she is a calming presence because she's the only one who acts chill and isn't thirsty AF for a rose. She's here for the tan.
Whitney: I'm just nervous because this is a two-on-one and I might have to actually speak.
Nick to Whitney: You're pretty and you're quiet. You'll make the perfect wife.
Since when is Danielle's nickname DLo? House inside joke?
Whitney: Do you think Danielle L is ready for a relationship?
Nick: I think Danielle L is ready to have a conversation with more than two words.
Can you stop calling her Danielle L, Danielle M isn't even here.
I love Whitney giving him the silent treatment through the breakup, hoping that if she waits long enough he might say something really embarrassing.
Nick: What kind of non-generic qualities do you want in a relationship?
Danielle: Love, trust. — those are generic qualities, D

Nick: I'm sorry. I hope I'm not screwing this all up and I'll walk you out.
Danielle: Can I not finish my dessert first?
Then Nick comes in hysterically crying to the girls and you can tell Corinne's thinking like "woah you're like, really taking this show seriously aren't you?"
Nick obviously wants one of them to chase after him and console him, like when I pretended to run away from home when I was 8, but really just hid in the bushes in the front yard until I realized no one was coming.
Nick: I want this thing to work out and I want it to be real and I want it to be right. — Really Nick? Then why is Corinne still here?