Spring is officially here which means it's officially all about you season. Cold weather forces you to think about other people, namely, which of these other people can I convince to stay inside and watch Netflix with me all season. But cuffing season is officially over so the only thing you have to be codependent with right now is yourself. You deserve the best, so in honor of you, here's several ways to treat yourself this season. You're such a good girlfriend. To yourself, that is.
1. Hit Up A Korean Day Spa
If Soko Glam has taught us anything, it's that Korean people know how to pamper your skin. You might have to take an Uber into Queens but a Korean daiye day spa is worth the trek. You can spend the day in hot springs style pools, chillin' in a sauna, getting a massage, or updating your #skinnygoals by watching the obscenely thin Kpop girls in the music videos they play in the lounge. Just make sure there isn't a dead guy in the hot tub.

2. Go To A Rooftop Pool And Make Your Backburner Bro Take Pics Of You
Rooftop pools are a perfect combo of being down to earth and also above everyone else. The pool party reminds everyone that you're super chill and would be a great person to take on vacation while the rooftop part reminds everyone that you are still looking down on them. If your backburner bro is well behaved, you can bring him with you and make him take photos of you until you find a new pic worthy of your Instagram.
3. Buy Last-Minute Tickets To A Concert Tonight And Get Dressed Up With A Friend
Get super dressed up with a friend just to go to a concert you two had no idea you were going to until today. Treat it like something you've been looking forward to and see if you can out-fan the actual fans there. If you can get into a football team just because the guy you're dating is into them, you can get into a band just because you got last-minute tickets to see them.

4. Do A Wine Tasting Tour In Your City
Most wine shops have tasting times, and if you live in an urban city then chances are you're surrounded by wine shops. Go for a mini tour by going to free tastings in all the wine shops in a neighborhood. You can stop at a deli for cheese and crackers in between. Plus you might actually learn a little more about wine, so basically you could call it auditing class. You're so resourceful.
5. Take A Beyoncé Dance Class
Sometimes you just want to feel like queen, more than you already are. Take a dance class where you can rock out to Beyoncé songs with sexy choreography. Perfect pregame to drunk brunch, since you'll already be feeling ready to party. Make sure you get a good boomerang for your Instagram story.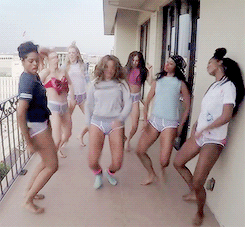 6. Buy Our Shop Betches Robes
Are you still wearing a towel around yourself like a poor college student? Get these Shop Betches robes and feel classy AF walking around in your house. These robes are the ultimate treat for yourself because they're comfortable, sexy, and they have a personality—kinda like you. The robes come with various funny sayings for different occasions—like brunch or Champagne time, two totally separate things—and there's even a custom text option if you're feeling witty. So you agree, you think you're more clever than us? Go ahead, create your own robe and send us a pic and we might share it. You can buy one, or one hundred, right here.

Shop the entire Shop Betches loungewear here!