Hockey Analyst Jeremy Roenick Is Suing NBC For Discriminating Against Him As A Straight Man
When it comes to workplace sexual harassment, no one should seek to be a harasshole. But there is something harassholes often do that betches should make a practice—that is, documenting all workplace sexual harassment and how your employer handles it.
Harassholes keep score on who gets passes for inappropriate behavior because the information may give them leverage when an employer tries to hold them accountable for sexual harassment while allowing other harassholes to run amuck.  
Case in point: the audacious lawsuit hockey analyst Jeremy Roenick filed in New York on Friday against his former employer, NBC.
Here's the gist: Way back in December 2019, before COVID terrorized us all, Roenick went on a "cheeky" Barstool Sports podcast as a guest. While on the podcast, the 50-year-old offered off-color commentary on his NBC co-host's "ass and boobs" before explaining how he led strangers to believe he was having a threesome with his wife and co-host. Real professional, right? 
After suspending Roenick for a few months, NBC fired him in February 2020. Now the hockey star is suing the network, claiming NBC discriminated against him as a heterosexual man. 
Seriously.
According to Roenick, NBC didn't punish a gay figure-skating analyst who made sexualized—albeit scripted—comments about his co-host while the two were acting together in a parody promotional video. Roenick says, when he brought the matter to an NBC exec, he was told that the analyst "is gay and can say whatever."
Yes, there's a lot to unpack there, but don't get distracted. Roenick's basically saying NBC should have given him a pass on his filthy remarks about his co-host because the network gave another man a pass.
When you're done rolling your eyes at Roenick's audacity, let's discuss the ever-so important takeaway from his case: when it comes to workplace sexual harassment, betches need to document, document, document.
Documenting sexual harassment you and your colleagues experience, and your employer's response to the harassment, is among the most effective ways you can maintain the upper hand should things go south and you need to fight your employer for failing to enforce the rules.
Let me explain.
Employers say they're anti-discrimination, claiming they consistently enforce the rules by punishing harassholes, their popularity or your unpopularity notwithstanding. In reality, employers also give passes to people they like, creating a host of problems for everyone. The unfairness of it all gives rise to discrimination lawsuits—that is, if there's documentation showing the employer is not enforcing its rules.
By "documentation" I mean "What is written down, printed, recorded, photocopied, saved? What do you have to support your account about your experiences?"
Sure, you may remember details well and never lose your car keys. But when it comes to workplace sexual harassment, it's still best to have documentation because memories fade and documents are harder to manipulate. Also, while your word may be good enough for your mom, the patriarchy makes a woman's word a hard sell more than half the time.
That's why you document your version of the events with notes about encounters, dated-diary entries about conversations, text message chains and photos saved to the clou,; PDF copies of emails, papers, and websites, and so on. You hold onto anything that provides enough detail to refresh your recollection of the events should things go off the rails down the line and you need to back up your word should it be put to the test.
Harassholes and shady employers unapologetically lie and suddenly lose documents. You must be prepared.
…much like Roenick, whose ten-year tenure at NBC is over, to his complete and utter surprise. That's right—the former hockey gawd never saw it coming, as he insists his firing is one of the "biggest raw deals of all time." (Who knew you could lose your job for gratuitously sexualizing your co-worker's anatomy on a popular podcast and bragging about misleading others into thinking you're intimately throupled with her and your spouse?) 
Despite the supposed blindsiding, Roenick had the wherewithal to document how his employer treated him and others who acted up, giving him fodder for a lawsuit that may or may not end with Roenick taking home a settlement check.
You, too, should be boldly protecting your professional interests should your employer act up or let harassholes run amok, as documentation can make or break your future.
Adrienne Lawrence is an on-air legal analyst and the author of Staying in the Game: The Playbook for Beating Workplace Sexual Harassment (TarcherPerigee, 2020). Lawrence has contributed her insight on workplace sexual harassment for outlets such as the Harvard Business Review and NPR. Follow her on Twitter @AdrienneLaw and IG @AdrienneLawrence. 
Images: Fred Kfoury III/Icon Sportswire via Getty Images
An Expert's Top 3 Tips For Dealing With Workplace Sexual Harassment
The past few months have been big for change. Companies have been called out for systemic racism. The Supreme Court gave LGBTQ workers federal civil rights. Sexual predators are having a renewed #MeToo moment. Powers-that-be are being held to account. That's phenomenal for social progress. It's also horrible for workplace sexual harassment.
Sorry to be the bearer of bad news (amidst an already heinous 2020), but you'll want to beware of increased sexual harassment when you're on the job, as harassholes hate this new world.
Here's the skinny: Workplace sexual harassment is a power play. Basically, harassers are insecure people who want to make you feel small because they find you threatening and/or seek a power boost.
Don't get it twisted, though: Sexual harassment doesn't have to be sexual. What matters is that you're being targeted because of your gender or sexual identity.
Harassholes may try to "put you in your place" by using typical sexualized come-ons, like ogling your goodies in the office, jumping in your DMs to ask you out for the umpteenth time, or promising you a promotion in exchange for a Netflix and chill. Or, harassholes may leverage hostile put-downs that humiliate you, like calling you crude names on conference calls, cutting you out of morning meetings, berating you for not dressing the way a woman "should" dress. The displays of disrespect are limitless.
Now that our new world is pushing for greater respect for marginalized persons, women included, harassholes see our world as a less hospitable place for their antics. They're frustrated about not being able to mistreat you and others with impunity, and they'll try to reclaim their sense of power by stepping up their harassment game. Protect your purse and your mental health by being prepared.
Here are three quick tips to help you beat workplace sexual harassment:
Identify The Harassholes
You may be a butterfly, but harassholes aren't very unique. They tend to have shared traits, among them being gender. Men make up some 90% of harassholes. In addition to that, they're more likely to embrace these characteristics:
⭐︎ Support traditional gender roles
⭐︎ Maintain a strong male identity
⭐︎ Think men are superior to women
⭐︎ Believe men and women should be segregated
⭐︎ Sexualize women, girls, and LGBTQ people
⭐︎ Trivialize victimization or engage in victim-blaming
⭐︎ Lack egalitarian attitudes toward gender and/or race
You can spot these traits by listening to what a harasshole says about gender and sexual identity. For instance, harassholes often think men are better suited for traditionally male jobs and leadership positions whereas women should be in "pink careers," stay-at-home moms, or in supporting roles. Harassholes use activities and terms typically associated with women to demean other men, such as calling a man a "pussy" or promising to wear a dress in public as part of a bet. These are the dudes who use stereotypes about women as punch lines. 
The thing is, there's nothing funny about harassholes. Keep an eye out for them and remember—just because someone isn't a harasshole to you, doesn't mean they're not harassing another colleague. Harassholes are shady shapeshifters.
Document, Document, Document
Your records of what happened are essential to beating workplace sexual harassment. Why? Memories fade. Plus, there's a 99% chance that the harasshole (and your employer) will lie. Avoid the he said, she said situation by documenting what went down. On your personal computer or encrypted email, maintain a log of the who, what, when, where, and how of the experience like you're writing a bland yet detailed screenplay. Also, attach supporting documents such as text messages, emails, DMs, and notes. 
You'll want to have it all, especially if you ever need to speak out or if you suffer retaliation. Documentation can make the difference between getting the heave-ho with nothing and getting out of a company on your own terms with solid references and a strong severance.
Always Trust Your Instincts
Pay attention to that still small voice that echoes within when you're uncomfortable. Never try to override your instincts with rationalization. You know what you're sensing, what you experienced, and what you need not tolerate. Don't ignore it.
Do ignore gaslighting and shade-throwing coworkers. As much as I hate to say it, research shows that some coworkers will try to discourage you from speaking out about sexual harassment and many will distance themselves from you for fear of being mistreated by your employer too. That's a bummer. But it doesn't mean you should "take one for the team" by keeping quiet. Real friends won't insist you be disrespected and won't try to deny your reality.
Stick close to your instincts, demand to be treated with respect, and do you. You may not be The Boss, but you are a boss and you deserve to work in a harassment-free workplace.
Adrienne Lawrence is an on-air legal analyst and the author of Staying in the Game: The Playbook for Beating Workplace Sexual Harassment (TarcherPerigee, 2020). Lawrence has contributed her insight on workplace sexual harassment for outlets such as the Harvard Business Review and NPR. Follow her on Twitter @AdrienneLaw and IG @AdrienneLawrence
Images: Song_about_summer/ Shutterstock.com
This Firefighter Got Fired For Her IG Pics—Even Though She Did Nothing Wrong
Another day, another story about an employer treating women badly. Sadly these stories are all too common—just in the last week, there's been a sexual harassment lawsuit at Lisa Vanderpump's foundation, an explosive New York Times report about sexual misconduct at Victoria's Secret, and now, we have a story about a Montana woman who was fired from her job for her Instagram posts. Can we please just let women live?
The latest story in women's unequal treatment in the workplaces comes from Presley Pritchard, who was employed as a part-time firefighter paramedic in Kalispell, Montana for nearly three years, until she was fired last August. In December, Pritchard filed a wrongful termination complaint with the fire department, and in an interview with VICE last week, she shared the details of the misogynistic attitudes that led to her firing.
For the first two years she worked at the fire department, Pritchard says she never had any issues, until July 2018. At that time, a department board member claimed a "concerned citizen" contacted him about Pritchard's social media. I feel like real citizens should have other things to be concerned about, but ok. From then on, VICE says "she estimates she was reprimanded around 20 times for her social media content," including what she wore to the gym and how she looked in her ACTUAL WORK UNIFORM. Apparently, someone complained that her standard-issue women's firefighter pants (pictured below) were "too provocative," so their solution was to have her wear men's pants instead. To quote Pritchard: "Am I supposed to leave my butt at home?"
In addition to her former work as a firefighter, Pritchard is also a fitness influencer, and she has over 100,000 followers on Instagram.   As you would expect, her content on Insta is a mix of informational workout posts, sponsored posts for products like protein shakes and organic snacks, and posts about her personal life. During her time as a firefighter, she posted lots of pictures in uniform or at work, but those were never sponsored posts, or even particularly racy. But after the initial complaint, she says she began to get reprimanded for posting photos in her uniform at all.
If your employer doesn't want you posting about your job on social media, fine. But the problem with this specific case? Her male colleagues were posting uniform pics all the time! And, surprise surprise, they were shirtless in a lot of them—definitely more provocative than the work pics that Presley was posting. Along with screenshots of these posts, Pritchard also told VICE that a male coworker wasn't reprimanded for claiming on Instagram that the Sandy Hook shooting was fake, so like, this place had inconsistent standards for what their employees should or shouldn't post on social media.
But could anything make this situation worse? Yup! Pritchard claims that she actually got advance permission to post most of her pictures in uniform, but then the higher-ups at the department still used those pictures against her. Wow, these people are terrible. When she was ultimately fired in August 2019, the official reason given was that she failed to take down Instagram posts showing her in uniform—the same posts she says she got approved by the department. The department had given her five days to remove the posts, but per the advice of a lawyer, she chose to leave them up, because the department lacked "a standard social media policy."
Aaaaand to further confirm that the people who fired Pritchard are trash, they tried to lie to stop her from receiving unemployment benefits. They claimed that she was using her job at the fire department to make money on Instagram, even though this literally isn't true. According to Pritchard, she was careful to only agree to sponsored posts that were separate from her firefighter job, and said, "I'd be freaking rich if I made money from every post… They probably should have looked into how social media works before they say that, because it just makes them look really, really, really stupid." Yeah, I have a feeling they're going to look pretty dumb in court if all of this is true.
At the end of the day, Presley Pritchard was f*cked over by the same sexist attitudes and double standards that affect so many women in the workplace. And, like many toxic industries, firefighting appears to be a boys' club. A recent study by the National Fire Protection Association showed that only 7% of firefighters in the US are women, and that number drops to 4% when you don't include volunteers. With numbers like that, it's no surprise that this fire department was not exactly a supportive environment for women.
This isn't the first time we've seen a woman be mistreated by an employer, or potential employer, for social media posts, and sadly, it probably won't be the last. Certainly, the relationship between social media and the workplace can cause valid issues, but in this instance, it really doesn't seem like Presley Pritchard did anything to warrant such a harsh reaction, or any negative reaction at all. On the contrary, she worked hard to establish her Instagram presence as a way to make some extra income, and it appears that she was extra careful to make sure this didn't interfere with her work as a firefighter. She told VICE that, in almost three years, she had "never, ever once been talked to about actual job," and it sounds like the men in charge were just looking for an issue with her. Hopefully, Pritchard's lawsuit will expose what happened, and make another step toward ending this type of gender-based discrimination in the workplace and in our society in general.
Images: presleykp.fit / Instagram
'Leadership Training' Tells Women They Are Dumb, Slutty, And Shouldn't Face Men Directly
Sexism is alive and well in the year of our Lord 2019. This we know to be true. But sometimes we stumble upon some sexism that is so on the nose it almost feels like a joke. And this week we have found something that made me feel like I was either reading satire or taking crazy pills. But in reality I was just reading some straight up, unoriginal, by-the-book sexism. Cute!
HuffPost reporter Emily Peck obtained truly shocking  information about a training seminar offered to some women at the accounting firm Ernst & Young (EY), which employs 270,000 people globally. A woman who has since left the company was appalled by what the seminar was prescribing (as she should have been) and decided to share details with the outlet in hopes that the company will change. The seminar was taught as early as June 2018, AKA the height of the #MeToo movement, but EY told HuffPost it "is no longer offered in its current form." The firm told HuffPost after publication that the training included "offensive content."
The training was called Power-Presence-Purpose or PPP, and focuses on how women need to fix themselves in order to acclimate to a male-dominated world (baaaaaaaarf) and attempting to educate women on how to navigate men's flawed temperaments while demanding they adopt it themselves. We picked out the most absurd and infuriating parts to share here, but encourage you to read HuffPost's full report. You're welcome!
Women's brains are smaller and dumber than men's.
You ready for this one? The presentations said that women's brains absorb information like pancakes and soak up syrup so it's hard for them to focus, according to the attendee. And men's brains are like waffles because they are more able to focus because the information collects in each little waffle square. L-M-A-O. We got pancakes for brains, ladies!!! This is so beyond offensive and ridiculous, I refuse to even explain how wrong and misguided it is because that is beneath me.  Also pancakes are better than waffles, don't @ me.
"Don't flaunt your body ― sexuality scrambles the mind (for men and women)."
Lmaooooo. Okay, so look good but not too good, ya sluts! The presentation tells women not to show skin because that will distract people, and by people they obviously mean men. (The document makes no reference to queer women or any gender identity beyond cis het woman.)
I love how it's implied that men are the smarter, more professional people, but ALSO they cannot be expected to focus or do work if they see a woman's clavicle. Which is it, boys?! Are you geniuses or horny lil' toads?! 'Cause it's looking like the latter…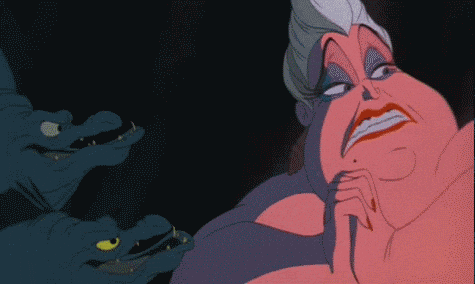 Women aren't as good at speaking as men.
The seminar includes an entire section of "invisible rules" that appears to just be a list of false stereotypes about the differences between men and women in the workplace. It says that women "speak briefly" and "often ramble and miss the point" in meetings. (Again, which is it?!) On the other hand, men "speak at length ― because he really believes in his idea." It also states that women don't interrupt effectively like men but instead "wait their turn (that never comes) and raise their hands." So, this is just a summary of how women are pushed out by arrogant, sexist men in the workplace, but instead of suggesting that women work on deconstructing this kind of toxic environment, it says that they should learn to fit within it. Because if we don't the men might get uncomfortable which is illegal???
"Don't talk to men face-to-face."
As much as I enjoy not talking to men, unfortunately, sometimes it is required at work. However, this seminar told women that if they must speak to men, they shouldn't do it directly. They should ask to meet before or after the meeting, and not interrupt during. And once they do meet, they should cross their legs and sit at an angle so they are not directly facing them because speaking to them face-to-face is something men see as "threatening." But again, men are big strong leaders…who can't handle looking a woman directly in the eyes lololol.
Women aren't natural leaders, but men are.
Oh cool, some more bullsh*t! The workshop provided women with a "Masculine/Feminine Score Sheet, which had them rate their adherence to stereotypical masculine and feminine characteristics. The "masculine" traits included "Acts as a Leader," "Aggressive," "Ambitious," "Analytical," "Has Leadership Abilities," "Strong Personality" and "Willing to Take a Stand." The  "feminine" traits included "Affectionate," "Cheerful," "Childlike," "Compassionate," "Gullible," "Loves Children" and "Yielding." Are we living on the set of The Stepford Wives?!? What is happening? Like, this has to be a joke.

Be "polished," have a "good haircut, manicured nails, well-cut attire that complements your body type."
Who are you, my mother? And WTF is a "good haircut"? I can only assume the well-cut attire that complements our bodies is the red handmaid gown from The Handmaids Tale. The presentation also tells women that the most important thing to do at work is to "signal fitness and wellness." I thought this was an accounting firm not a spin class?!
Well, now that we all know how to adhere to the patriarchy, let's go burn it to the ground.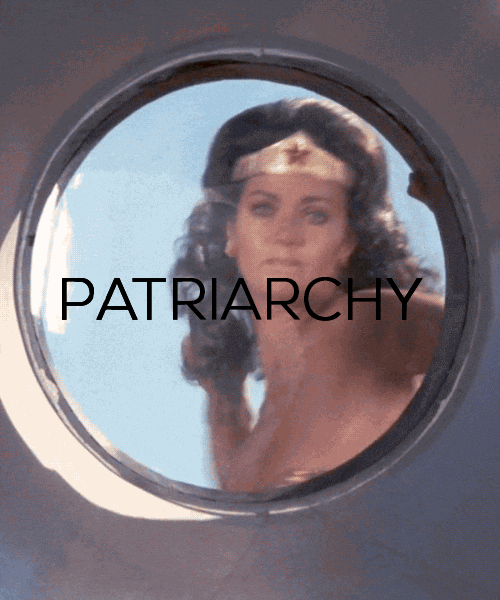 Looking for a way to stay informed while laughing (instead of crying) about the news? Subscribe to the Sup newsletter, a daily rundown and analysis all the news you need, and none you don't.
Images: Giphy (3)
Across The Country, Tampons Are Taxed As A Luxury. Here's How To Fix It.
October 19th is National Period Day, which aims to bring awareness to the issue of period poverty (meaning, lack of access to hygiene products because of financial constraints) and make period products more affordable for people who menstruate everywhere. One main way we're trying to do that is by ending the Tampon Tax—a sales tax placed on hygiene products like pads and tampons, that other items, like Viagra, do not have. We tapped Nadya Okamoto, the founder of PERIOD, to tell her story on how she found out about period poverty, why she's so passionate to end it, and what we can all do to help.
It's 2019. People have been menstruating since the beginning of humankind. Periods make human life possible. And yet, still today, 34 states have a sales tax on period products, basically considering them luxury items. WTF?
When I was 16-years-old, I discovered an unaddressed natural need I'd never thought about before: periods. At the time, my own family was living without a home of our own, and I was facing a two-hour commute to school on public transportation. I became friendly with homeless women who I saw at my bus stop every day. In asking them, "what do you find most challenging about your living situation?" I collected an accidental anthology of women using toilet paper, socks, brown paper grocery bags, and even cardboard to take care of their periods. I distinctly remember one woman showing me how she would take a small piece of cardboard, rip off the outer layer from each side, and then rub the middle section in between her hands to make it a more flexible homemade version of a pad. 
Privilege check: Even when my family was experiencing housing instability, I always had access to menstrual products, and had never even thought about using trash to take care of my period. In fact, I had never even thought about what it would be like to menstruate without access to period products. Hearing these first-hand stories of period poverty ignited anger and curiosity within me. I kept thinking: How is it that menstruation makes human life possible and we haven't figured out a solution for all people to have period products?! While simultaneously wondering, how far does the issue go? Who else can't afford access to period products? 
So naturally, I took my questions to Google. In my free time, I would search keywords about menstruation, poverty, and different geographical regions, just trying to learn more.
Through my research, I learned that periods are the number one reason why girls miss school in developing countries, and often times a girl's first period is the single event that leads to her dropping out of school, getting married early, or undergoing female genital mutilation or social isolation. It was actually easier to find information about period poverty in other countries than it was about the United States. I learned that at the time, in 2014, 40 states in the US had a sales tax on period products, considering them "non-essential goods"—so, basically luxury items. 
Meanwhile, products like Rogaine and Viagra were considered essential and didn't have this tax. I remember reading this and refreshing the page a few times to make sure I was reading it correctly before thinking: Are you f*cking kidding me?! Old man hair growth and erections are considered more of a necessity than over half of our population feeling clean, confident, and capable 100 percent of the time, regardless of something so natural like a period? What?! 
These exact thoughts and emotions have not left my mind since I discovered the "tampon tax," the term used to describe the taxation of menstrual hygiene products. 
Since 2014, when I started my activism in the #MenstrualMovement, we've seen incredible progress: countries like India and Australia have nationally axed their tampon tax, the UK has repurposed the revenue from their version of the tax to directly provide period products to girls in secondary schools, and the US is down to 34 states (still an overwhelming majority) that still have the tampon tax. 
Eliminating the tampon tax is not going to be a blanket solution to period poverty—I mean, realistically, the tax is not impacting the menstruators who have the least access to tampons. It's affecting the people who are already purchasing the product, making the cost a burden for primarily low-income consumers. That being said, the reason period poverty persists is because menstrual hygiene is not treated like a right, it's treated as a privilege.
Here's an example: Just earlier this year, a GOP Representative in Maine voted against a bill to make period products accessible in prisons, saying that "the jail system and the correctional system was never meant to be a country club." As if we can opt out of periods like they're a Netflix subscription.
The #tampontax frames menstrual hygiene as a LUXURY—an inaccurate assumption we need to deconstruct once in for all in the movement against period poverty. At the end of the day, this fight isn't just about periods, this is about the fundamental human right to be able to discover and reach one's full potential regardless of a natural need. And what could be more natural than menstruation? 
Join us this Saturday for the first-ever National Period Day. On October 19, my organization PERIOD will be mobilizing rallies in all 50 states and major cities, demanding action and an end to the #tampontax. Join us at one of our rallies in-person, or share why you're joining the #menstrualmovement on social media by using #nationalperiodday and tagging @periodmovement. There are so many ways to get involved both nationally and statewide—check out Utah's legislative campaign and help us keep putting pressure on Ohio lawmakers to end their "pink tax"! I truly believe that if we unite and we refuse to shut up about periods, we can take down the tampon tax in the new few years. Just 34 more states to go. 
Let's do this.
Image: Noah Shaub
Why Being A Slut Is An Important Part Of My Identity
The first time someone called me a slut (that I know of) was at a bonfire party in high school, and she said it right to my face. Rude, but go off, Elizabeth (I never forget a name). I had just hooked up with two guys in one night (damn, I'm good), so technically she was right, but only in the way that I think the word to mean now. When she walked up to me and sneered, "slut," it was clearly meant as an insult. And when I stood there and let the word slap me across the face, I did what I would do every time I got slut shamed for the next decade or so: pretended to brush it off, but deep down feel the sharp sting of being called something "dirty." For years, I fought in vain to not feel hurt when I got labeled as a slut, but I spent so much time focusing on what this categorization of me meant to other people, and not what it meant to me. Once I realized that being a slut was something I could do for me, not for other people, the power these slut-shamers had over me fell from their hands and into my own. Being a whore is a journey, and I'd like to take you on mine.
I attended high school from 2006 to 2010, so slut shaming was still very much alive and well—dare I say, thriving. Those are the years I began my slut-journey, as I hooked up with randos left and right, and soon became labeled as the kind of girl you "hit it and quit it" with, but not the girl you ask to the homecoming dance and then date on and off until graduation.
On the one hand, it's great that I felt I had the right to bone whoever I wanted, and on the other hand it f*cking sucks that doing so made people think of me as some sort of sexual object that didn't deserve love and affection. I knew what people thought of me, and I took the pain it caused me, shoved it deep, deep down, and then pretended like I had replaced it with pride and a fun 'n flirty "I don't give a f*ck" attitude. Guys didn't want to date me? Good! Boys are gross pigs. I'll beat them at their own game and just use them for sex too.
But here's the problem with that: I was the one being called a stupid whore for sleeping around, not the boys I was doing it with. They got to walk around like kings, confirming my reputation over high-fives and then deciding who was worthy of dating them. Meanwhile, I fought internal battles over whether or not I deserved love because I couldn't seem to keep my legs closed.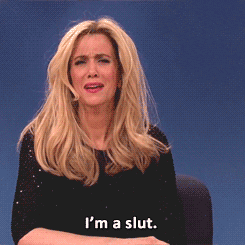 So, why did I keep sleeping around if it led to me feeling hurt and belittled? Lots to unpack there, babe, but I'll give the short version. For one, I was aware of how unfair the double standard was when it came to me being labeled a slut for doing things guys got popularity points for. And that made me angry, so I reacted by defying my role as a girl who cares about the labels that were being unfairly assigned. But it was complicated, because in the end these boys did hold a power over me. They were the gatekeepers after all, and as much as I hated to admit it, I wanted them to like me. And the only worth I had been told I had was my sexuality. So I gave it to them, often hoping that would appreciate my "cool, fun chick who doesn't care" persona and deem me "not like the other girls."
In short, I wanted to show that I could play the game too, but was in denial of the fact that I was simply playing by the boys' rules and feeling helpless/useless because I was never the one that got to call the shots. This all led to years of me acting as a slut for other people, mainly men. Being proud of my sluttiness became a defense mechanism I presented to other people, not something to hold onto for myself. But once I realized being a slut for me was an option, things began to change.
As I grew older, I discovered that my pleasure mattered. It seems obvious, but for me—and I think a lot of women—this concept takes a while to really sink in. It also helped that I started having actual good sex, masturbating more, and stopped putting up with men's bullsh*t. Did you know if a guy is being a f*ckboy you can just walk away? Incredible. And all of these things brought me pleasure, whether it was sexual, emotional, mental, etc. I began to focus on other things that made me feel good: dressing up and feeling sexy, exploring my sexuality, forming my own opinions and saying them loud and proud, and not backing down when people tried to silence me. Slowly but surely, the word slut stopped being something I let people apply to me so I could act accordingly, and became something I decided for myself.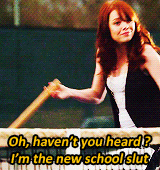 The last time someone called me a slut to my face was when a man I had previously been involved with asked me to go home with him. I said no, I didn't want to, and he responded by calling me a slut. This was a turning point for me. His "accusation" made no sense. I was being called a slut for not sleeping with him, when supposedly this word was given to someone who sleeps around. But here's the thing: he was using this word because he was angry that I wasn't doing what he wanted me to do with my sexuality. That's what a slut really is: a woman in control of herself. He proved that the term is meaningless when applied to me negatively by someone else, because this thing that he was mad at—me doing what I want, not what some man wants me to—was something I could actually be proud of. Hell yeah I'm a slut, but not in the way he wanted me to feel like one.
I love being a slut. I love putting on my freakum dress and feeling my strength. I love having good sex, watching porn, sending fire nudes, masturbating, speaking my mind, fighting trolls on the internet, staying in and taking care of myself when I'm drained, popping my pussy at the club, voting, fighting stigma, taking up space, opening my mind, and so much more. I'm working on loving myself, and doing so proves that I am deserving of love, not because I'm no longer a slut like everyone told me, but because I am a slut, as I have decided, and I f*cking love that for me.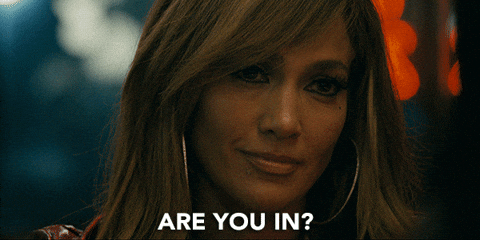 Being a slut means embracing your power and doing what brings you pleasure, even when people tell you you don't have the right. Viva la slut!
Images: Giphy (3)
Swarthmore College Fraternities Suspended Amid Horrifying Allegations
Two fraternities at Swarthmore College — the only two frats on campus — have been disbanded following intense student protests and allegations of racism, homophobia, misogyny, and sexual violence. The accusations are supported by documents brought to light by two of the school's publications, The Phoenix and Voices, which include damning leaked "meeting minutes" from the Phi Psi fraternity that span over six years and also reference activities of Delta Upsilon.
The contents of 116-page documents were redacted, as is the trend these days. But, the phrases "rape tunnel" and "rape attic" were mentioned with regard to Delta Upsilon, the idea of which is equal parts disgusting and horrifying. Moreover, there were multiple instances in which Phi Psi made derogatory statements — which they appear to deliver as humor — about minorities, members of the LGBTQ+ community, and women. Frats: Can you all just stop making everyone's lives a living hell hole and just stick to chugging Coors Light while listening to Post Malone?
Phi Psi and Delta Upsilon met this well-earned fate thanks to Swarthmore students in a group called the Coalition to End Fraternity Violence. The organization planned sit-ins and demonstrations that lasted over four days and garnered national attention. As a result of their efforts, it seems school administrators finally realized: wait, maybe we should listen to people when they say they're being marginalized and sexually assaulted and take the existence of "rape attics" more seriously. What a novel approach!
Valerie Smith, the university's president, announced the suspension on Tuesday. "I absolutely condemn the language and actions described in the documents from 2013-16. What is contained within those pages is vulgar and deeply offensive to all of us," she wrote in a statement. "The racism, misogyny, and homophobia described within them is antithetical to the values of the College and violates the student code of conduct as well as basic decency."
The suspension also comes after an ex-member of Phi Psi published an op-ed in the school newspaper supporting these claims of abuse and insisting the school rid itself of the two fraternities.
The official statements from both of these fraternities are below, and now maybe these guys can use all their new free time to learn how to respect people or you know, be held accountable for their actions.
Will 'Growing' Change Your Mind About Amy Schumer?
If you're on this website, you likely have a well-formed opinion on Amy Schumer. Over the past five years, Schumer has swung wildly in the court of public opinion. We loved Trainwreck—then we remembered some of her early jokes about Hispanics. We love how real she is on Instagram—but find her Twitter presence problematic. We love Amy Schumer the feminist, but as a white feminist, we're still eager to see her overcome past blind spots.
Schumer's new comedy special, Growing, doesn't quite feature a woman reborn, or cleansed of past imperfections. But it does, aptly, feature a Schumer who's well on her way to growing up. The Schumer in this special—now both married and heavily pregnant—retains a lot of her classic irreverent attitude toward sex, drinking, and bodily functions. But whether it's due to past criticisms or personal growth, that attitude is underpinned with a genuine desire to do these topics justice. (Well, maybe not the drinking so much.) Obviously, the best way to decide how you feel about Schumer is to go watch the damn thing (or at least, like, turn it on and scroll through Instagram while it plays in the background). But short of that, here's a highlight reel of sensitive subjects Schumer covers in Growing—and notably, what she chooses not to touch.
On Race
If the lesson we wanted Amy Schumer to learn was to stop making jokes based on racist stereotypes, and also to make her brand of feminism a hair more inclusive, I'd say she succeeded. The first mention of race in this special is an off-hand comment about women asking for tampons "leaning in as though they're about to say something racist." She follows with the punchline: "and whatever race you thought I meant, that's your problem." To me, this seems like a perfect level of engagement with race for Schumer: it acknowledges that racism is alive and well (likely, within her audience), mocks the specific physicality that accompanies racist remarks made in social settings, and stops just short of actually sharing the content of a racist comment or stereotype on stage. I will happily call that progress.
The second comment on race comes in citing sexual assault statistics for women. She notes that one in three women will be sexually assaulted in their lifetime, then adds that for women of color and trans women, that statistic looks even worse. Yes, it's a footnote on a joke, not a full-throated roar on the importance of intersectional feminism. But the fact that it's included tells me Schumer is listening, and learning—and even if she's not, I'm just glad it was included.
Also, loving the continued activism on her page:
On Politics
Among the criticisms I listed earlier, Schumer also got in slight trouble back in 2016 for making jokes about Trump. Apparently, a group of fans left her show in Tampa after she dared to call POTUS a "monster." (I mean…where is the lie?) Obviously, this is not an aspect to Schumer that I take issue with—and in fact, I was curious to see if she'd go in even harder. While she mostly leaves politics out of it, the comments she did make affirmed that she is still, to use the technical term, hella liberal. Here were a few of my favorite comments.
On Colin Kaepernick: "I think there are only two reasons you should get down on one knee, if you're a guy. If you're a player in the NFL, and to eat my pussy."
On Brett Kavanaugh:* "People criticized me . They were like, 'that was irresponsible, you're pregnant.' And I was like, 'well that's why I went down there', you know? I want to be able to tell this kid I did everything I could, you know? And D.C., I heard, has the best cocaine." 
*ICYMI, Amy Schumer and Emily Ratajkowski went to D.C. to oppose Brett Kavanaugh's appointment to the Supreme Court and both were arrested.
On #MeToo: "I don't know what I'm having. I hope it's a girl. But really just because it's such a scary time for men."
Also, this:
On Her Husband
This may seem odd to include on a list of "touchy" topics, given that, unlike race or politics, Schumer's never been in hot water for her choice of husband. But my favorite moment of the special—and the one that, for me, marked the most personal growth for Schumer—comes about 20 minutes in, on the subject of her husband, Chris Fischer. "I knew from the beginning that my husband's brain was a little different from mine," she begins. "And about—" she stops, and shakes her head. "I have to start this over," she continues, "because I really want to get this right. Because I love him very much."
Her husband, she reveals, has been diagnosed with autism spectrum disorder (ASD). Schumer talks about their courtship, sharing early moments when she recognized his mind worked differently, before he'd received the diagnosis. These were not, in any way, moments that created doubt for her, or somehow lessened his ability to be a good partner. In fact, she says the same characteristics that "make it clear that he's on the spectrum" were the ones that made her fall "madly in love" with him.
Personally, I love the fact that she explicitly discusses his diagnosis, and love even more that she doesn't shy away from describing that he is, in fact, different. And that that difference is precisely why she loves him. The moment where she pauses, and starts over, felt to me like seeing personal growth happen in real time. She had a moment where she recognized she was entering a sensitive topic, that this topic concerned a group of people she was not herself a part of but very much wanted to show the appropriate respect to, and that, in order to discuss it at all, she would have to do it exactly right. If Schumer applies this same care to all of her comedy going forward, I think she'll fare better with her critics, and frankly, make more inspiring comedy.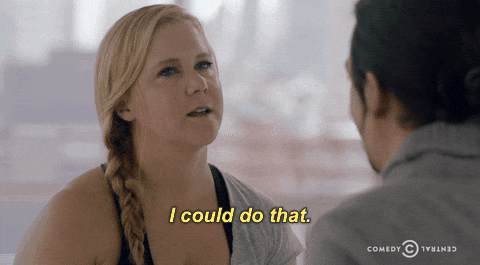 As an hour-long comedy experience, I loved Growing: I laughed a lot, gagged only a little (pregnancy is real sh*t, people!), and came out feeling a personal connection to Schumer that I hadn't before. As a referendum on Schumer's character, I'll say this. If you've been disappointed by Schumer's missteps, and wanted to see evidence that she's becoming more self-aware in her comedy, you'll find it in Growing. If you wanted an apology tour and a public renunciation of her entire comedy career, not so much. Beyond the content I highlight above, she talks about her difficult pregnancy, the joys of new period technology, and why she's glad she waited to get married. It's honest, a little gross, and felt like the comedy of someone halfway between where I am now and where I'd like to be in 10 years. In other words, someone growing, if not quite grown up.
Images: Instagram (2); Giphy