In Which A Girl Who Hasn't Changed Out Of Sweatpants In 13 Months Judges Celebrities' Oscars Outfits
Last night, awards season 2021 came to a close (unless you count the Met Gala, which is really just a red carpet) with the 93rd annual Academy Awards. And while usually the Oscars are a big production that's only mildly painful, last night the Academy had a pared-down ceremony held at Los Angeles's Union Station. A handful of celebrities were in attendance, and they were not allowed to dress casually (a rule I'm 90% certain was put into place solely because of Jason Sudeikis at the Golden Globes). This year really separated the movie fans from the people who are forced to watch for work (hi), as it was fairly subdued compared to years past. That said, there were some standout moments. Daniel Kaluuya won Best Supporting Actor for his role in Judas & The Black Messiah and in his acceptance speech, thanked his parents for having sex. While his mom was in the audience. Chloé Zhao made history when she won Best Director for Nomadland, making her the first woman of color, and only the second woman, to do so. Yuh-jung Youn became the first Korean actress to win an Academy Award, and low-key shaded Brad Pitt in her acceptance speech. And because it wouldn't be the Oscars without a colossal blunder at the very last minute, after mysteriously moving the award for Best Actor after Best Picture and spending all night alluding to Chadwick Boseman potentially winning the award posthumously, Best Actor went to… Anthony Hopkins.
But the real shame was the red carpet this year. Not because there were a lot of bad looks—in fact, because there were really no bad looks. As a professional hater, this took a real toll on me. I've been stuck inside for a year and forgotten how to clasp a bra; these celebrities can still serve looks more than a year into the pandemic?! They really are not just like us. That said, I know you all come for the outfit roasts, so I dug deep for this. Here I am, a person who has not changed out of athleisure (if sweatpants count as athleisure) for a full year, to make fun of couture designs about which I know nothing.
Laura Dern

Serving both Moira Rose energy and the feather duster from Beauty and the Beast, Laura Dern's Oscar de la Renta gown is the definition of business on top, party on the bottom. Which, incidentally, is what I put in my Hinge profile.
Olivia Colman

I know Trump is no longer in office, but I still do not want to see Handmaid outfits—not on Halloween and especially not on the red carpet. Last time I checked, Amy Coney Barrett was still on the Supreme Court. I know season 4 is coming out and we're all hyped, but please, it's too soon.
Viola Davis

There's always one bride on Say Yes to the Dress with a conservative family who goes for a Pnina Tornai gown that looks exactly like this, and it costs like, $15,000 over budget. *Adds to wedding Pinterest board*
Sacha Baron Cohen

Maybe it's the brown jacket and the off-white pants with a white shirt—okay, yes, it's definitely that combination of elements—but I feel like he's about to walk right off the red carpet and try to either sell me some paper, or bust into an a cappella routine. Only thing that's missing is the hat.
Reese Witherspoon

You know the 2000s are coming back when people are just randomly throwing belts on garments that absolutely do not need belts. I did this in middle school with tops from Rainbow; Reese is doing it with a Christian Dior gown. At least I only ruined a $3 shirt, just saying!
Andra Day

Her glam looks amazing; there is absolutely no denying that. Hot take, though: this dress to me looks like something that's gotten a designer sent home on Project Runway. I'm pretty sure I wore this to one theme party or another in college. The theme was, ironically, the Oscars, and I went as a sexy statue. 
Glenn Close

I am still triggered from my high school years when wearing skirts over jeans was cool. I love the dress—just not sure why she had to add the gloves, or the pajama pants underneath. Maybe it makes things comfier, but at what cost?
Halle Berry

My brain: Don't say it looks like a vagina, don't say it looks like a vagina, don't say it looks like a vagina… Is this or is this not the diagram you're shown in 6th grade health class to illustrate the menstruation process?
Diane Warren

Didn't realize they let Ghislaine Maxwell out of prison for this. Did nobody tell her?
Chris Pizzello-Pool/Getty Images (5); Alberto Pezzali-Pool/Getty Images; Rick Rycroft-Pool/Getty Images; Matt Petit/A.M.P.A.S. via Getty Images (2)
10 Books To Read If You Can't Get Enough Of 'Little Fires Everywhere'
The obsession with Little Fires Everywhere started in 2017 with the release of the novel by Celeste Ng—a book that just about every book club had at the top of their reading list. Filled with drama, strong leading ladies and small-town suburban drama, it was no surprise that it quickly became one of the biggest books of the decade. Now, the queens Reese Witherspoon and Kerry Washington are bringing it to life with their new Hulu series based on the book. If you can't get enough of this enticing storyline, and need something to read while you're stuck at home for the foreseeable future, you'll live for these 10 unforgettable novels.
Out April 14, 2020

Picture this: your husband goes missing on a fishing trip, is presumed dead, and then you find out he was having an affair. Tragic. For the main character in The New Husband, Nina Garrity, this is her reality and she's doing her best to move on a year and a half after the strange disappearance that left her a widow. Trying to move on with a new man, Simon Fitch, everything seems like smooth sailing. But when her daughter raises concerns about him, Nina begins an investigation into Simon that will send her reeling—we're talking Dirty John level secrets.
Released January 14, 2020

No matter how close sisters Althea, Violet and Lillian are, they never imagined that one of them would be arrested and put on trial for stealing money from a charity (who does that?!). Now left to care for Althea's twin daughters and wrestling with the idea that the woman who raised them is a criminal, the family begins to fall apart, member by member. With plenty of family drama, a fire, and difficult mother-daughter relationships, this book gives us serious Little Fires Everywhere vibes.
Released February 18, 2020

Mallie Williams was feeling on top of the world until a terrible assault left her in a coma. The worst part? Her attacker got her pregnant. By the time she regains her strength and comes out of the coma, her family will have made a decision that will change her life forever. Filled with hopeful messages about life and the decisions that alter the way we look at the world, Mallie Williams proves to be the ultimate badass in Alison McGhee's latest novel The Opposite of Fate.
Released December 31, 2019

Alix Chamberlain is a certified boss, living a life full of success and confidence (So… can we all be Alix?). Living a predominantly great life, she's completely caught off guard when her babysitter, a young black woman named Emira, is accused of kidnapping her child at their high-end grocery store. When a video is released of the horrific incident, Alix knows she has to do something to make the situation right. But the video brings someone from Alix's past back into her life, forcing all of her plans out the window and putting her completely out of control for the first time in a long time.
Out April 7, 2020

When college professor Elizabeth innocently poses for nude photos, the only thought in her mind is how these photos will bring her one step closer to her hero Georgia O'Keeffe. Instead, the seriously creepy photographer who took the photos exploits Elizabeth, publishing them for the world to see. Unable to persuade him to take the photos down, Elizabeth does her best to embrace the situation and help others understand why she did it in the first place. If you're trying to get in touch with your inner feminist spirit this spring, you'll love Elizabeth and Queen of the Owls.
Released July 2, 2019

Said to be the book "that predicted the college-admissions scandal," (The Wall Street Journal) you better believe The Gifted School is full of juicy private school drama. Four families have known each other for over a decade, raising their children together and happily living side-by-side in their quaint community. But then an exclusive new school for gifted children opens up and suddenly, the parents of these four families turn against one another, doing whatever it takes to get their children into the most prestigious school in town—and setting a horrible example for their kids in the process.
Out April 21, 2020

College sweethearts Marin and Derek were living the dream before their son Sebastian was taken. Over a year later, the police no longer have any leads in the case, leaving Marin to hire a private investigator to continue digging. But unfortunately for Marin the plan backfires as the PI learns Derek is having an affair with a woman… a much younger woman. Like any reasonable woman who's been betrayed, Marin begins to contemplate what it would take to break them up for good and it isn't long before she begins to explore ways of getting her out of Derek's life permanently. Yikes!  
Released February 4, 2020

Isobel Johnson has never claimed to be a perfect teacher and tries her best to fly under the radar, avoiding the sometimes-crazy class parents. But all of that hits the fan when she introduces a fairly liberal lesson to her class and she begins getting threatening calls from her students' parents. Simultaneously, helicopter mom Julia has just been trashed by her fellow moms for making an error while casting the school's winter musical. Banding together, Isobel and Julia quickly find out just how toxic privileged schools like Liston Heights High can really be.
Out April 7, 2020

Ever wonder what Little Fires Everywhere would look like as a historical fiction novel? We've got you covered! Moving to Vietnam with her husband in 1933, American Jessie Lesage has absolutely no idea what to expect. With scandal surrounding her husband and his connection to the Michelin rubber fortune, she knows she needs to keep up the visage of the perfect wife. Determined to make a real life for herself in Vietnam, she befriends local woman Marcelle de Fabry. What Jessie doesn't know is that Marcelle is in support of giving the Michelin plantations back to their rightful owners, a secret that will severely threaten Jessie, her husband, and their success.
Released March 10,2020

Good neighbors can be hard to come by, and no one knows this better than single mother Valerie Alston-Holt in A Good Neighborhood. A professor of forestry and ecology, Valerie has everything she could ever want: a bright son headed to college soon, a tight-knit community, and a beautiful home. Things are obviously too good to be true for Valerie (or else this wouldn't be a novel) and soon, the Whitman family moves in next door and immediately starts to disrupt her life. First, the family completely demolishes the house they bought, building a monstrosity, then they find themselves arguing over a historic tree in Valerie's yard. But worst of all, Valerie's son has fallen for the Whitman's daughter, causing all Hell to break loose. If you think you have bad neighbors, this book will reassure you of how good you have it!   
Images: Courtesy of Hulu; Amazon (10)
The 77th Annual Golden Globes Recap: It's The Last Time, Who Cares
Welcome to the 2020 Golden Globes! While us normos are actively avoiding any human interaction after three weeks of non-stop partying and soul-crushing fights with our family members, Hollywood is getting together for yet another rager. Well, technically it's an award show, but what would you call a night filled with 1,500 bottles of champagne, rambling monologues, awkward run-ins with exes, that all ends with a trip to a fast food joint? That's what I thought. 
This year, the Golden Globes were hosted by Ricky Gervais, marking the fifth time he's held the honor, and his first time hosting since 2016. Now, I'm a fan of Ricky because at his best he is scathing, and at his worst he makes everyone so uncomfortable you can actually physically feel the hatred emanating off of them, and that's a reaction I'm very used to. What can I say, you like what you know.  But I can understand if he's not your cup of tea. Well, I can't, but one of my New Year's resolutions was to be more understanding and it's only January 6th, so I'm being magnanimous. You're welcome. Anyway, this year he was better than I could have even imagined. Ricky immediately came for the people who hired him, called everyone in the room dumb perverts, and made a "Jeffrey Epstein didn't kill himself" joke. If that wasn't 90% of you after three cocktails at your office holiday party, then you're lying. 
Ricky Gervais 🔥🔥🔥🔥🔥🔥🔥🔥🔥🔥🔥🔥🔥🔥🔥🔥🔥 pic.twitter.com/z4LxMWj9ev

— Jack McGuire (@JackMacCFB) January 6, 2020
Ricky started the show off super strong, and it only got more preachy bonkers from there. So instead of a full recap, which none of us have time for unless you were fired after said office holiday party, I've broken the show into highs and lows. Let's get to it! 
HIGHS
☆ I know I already talked about the monologue, but bear with me while I just say that Ricky throwing out the line, "It's the last time, who cares" after every insult he slung at the HFPA is a level of who gives a sh*t that we should all aspire to. (Also, special shout-out to Ricky for calling out Leo DiCaprio's refusal to date age-appropriate women.)
☆ In toasting the three nominations for Knives Out, Ricky Gervais took an easy shot at Cats, everyone's least favorite movie of the year: "See what happens when you don't dress people up as cats?" Boom. Roasted. Honestly, that's gonna be my philosophy whenever I accomplish anything from now on.
☆ Ramy Youssef admitting during his acceptance speech for "Best Performance by an Actor – Comedy or Musical," that no one knows who he is. Fine, I'm mostly including this because he's from Jersey, HOW DO YOU ALL SEE THROUGH ME? Hooray, New Jersey! We will take over the world like we've been secretly plotting! Soon everyone will be referring to their hometown by their exit on the parkway mwahahaahahahhahah!
☆ Celebrities raising awareness for the bush fires in Australia. I legit think that's the only reason they gave Russell Crowe an award, because no one I know even saw The Loudest Voice. If they wanted to watch Roger Ailes prey on women they just waited to see Charlize Theron in Megyn Kelly cosplay in Bombshell. But really, those fires are BAD. Please help if you can! 
☆ Bill Hader and Rachel Bilson showing up on the red carpet together for the first time. If you're not watching Barry, you're missing out on one of the best dark comedies on TV, plus you've yet to realize that Bill Hader is stealthily hot. And Summer Roberts deserves her happy ending. I stan. 
☆ Just like at the Emmys, Fleabag won the Best Comedy Series, and Phoebe Waller-Bridge won Best Actress for her performance. These were some of the least surprising wins of the night, but sometimes the best show wins for a reason. Now that Fleabag is over, I can't wait to see what Phoebe does next, because the world is truly her oyster. When will the world be my oyster?
☆ Succession wins! Succession won best drama and Brian Cox aka Logan Roy aka possibly the most mentally abusive father in America won Best Actor. Damn, that show is good. I actually screamed at the end of the second season when something insane happens that I won't mention here, because I don't want to get lit up in the comments over spoiling something that ended months ago. So I won't spoil it, but WATCH IT ALREADY. And we were BLESSED that Brian Cox won because it allowed us the absolute best moment of the night, a Jason Momoa in a tank top sighting. It's like someone knew we needed to start 2020 out that way. 
My sexual orientation is Jason Momoa in a tank top at the Golden Globes pic.twitter.com/h0wwCl47Oa

— Sam Stryker (@sbstryker) January 6, 2020
☆ Kate McKinnon presenting the Carol Burnett award to Ellen. It was heartfelt, inspiring, and also funny. However, I was confused when Ellen said that people tell her that her show inspires them to go out every day and help people, and that's what TV should do. The TV I watch inspires me to go out there and mercilessly mock Florida. Am I watching the wrong things? 
☆ Brad Pitt's face. Whoever is keeping Brad looking this refreshed is doing a fantastic job. It looks natural even though I know it's not, and he could get it over Leo ANY. DAY. Fight me.

☆ While introducing Jojo Rabbit, Sacha Baron Cohen joked that Mark Zuckerberg is a "naive, misguided child who spreads Nazi propaganda." LMAO. Where is the lie? Why do I feel like Sacha wrote that one himself? This definitely made some people in the room uncomfortable, but none of the other presenters had material that good.
Sacha Baron Cohen just roasted Mark Zuckerberg. #GoldenGlobes pic.twitter.com/lc4m9WiTgc

— Lights, Camera, Pod (@LightsCameraPod) January 6, 2020
☆ Tom Hanks. Man, has that guy been in a lot of great movies. And THE EMOTION. Over his family. And he has a kid who is a white rapper and goes by the name Chet Haze! And he still loves them! For that alone he deserves an award.
☆ The cameraman who was smart enough to cutaway to Jennifer Aniston during Brad Pitt's acceptance speech. I know some of you might be over this love triangle, but I didn't invent it, and the media has made me invested in it for over half my life, so thank you, sir, for rewarding all the time and dedication I have put into this relationship. Now, if only her reaction had been more scandalous. We'll have to work on that for next year, Jen. 

☆ Also, Brad Pitt for acknowledging what we all know to be true, Leo COULD HAVE FIT ON THE DOOR and that Kate Winslet is a cold-blooded murderer. I also liked what he said about being kind to someone tomorrow. And I will, tomorrow! Today I have to write this recap. 
☆ Awkwafina won Best Actress for her heartbreaking performance in The Farewell, and her acceptance speech was as funny as you'd expect. When she said "I told you I'd get a job, dad," I really felt that. Way to stick it to dads everywhere that begged us to just be accountants.

☆ So I was about to put Joaquin Phoenix's win on the "lows" list because I find him exhausting, pompous, and a little crazy behind the eyes, but then he called out everyone in the room for being hypocrites and I shrieked. Stop preaching about climate change and then hopping on your private jets, assholes! I loved it. Good luck at the after parties, Joaquin. Leo is not going to be happy. 
Joaquin Phoenix did seem quite drunk BUT telling a room full of famous people to stop taking private jets to Palm Springs….you DO love to see it #GoldenGlobes

— Tyler McCall (@eiffeltyler) January 6, 2020
☆ Michelle Williams won for her performance in Fosse/Verdon, and she used her speech as an opportunity to speak out on the importance of women's rights, especially when it comes to abortion. She's known for keeping her personal life very private, so to hear her speak so passionately was truly a special moment.
LOWS
☆ WHERE WAS LITTLE WOMEN?!! This movie was beautiful. I laughed, I cried, I remembered how much this story meant to someone like me, who fancies herself a writer. And the HFPA couldn't give a sh*t about this movie. Couldn't fathom how it would be important. Barely nominated it. It makes me believe everything Ricky Gervais said about them. Oscars, your move. Are you going to make me call you sexist trash bags, too?
☆ WTF was J.Lo wearing? Girl, we already know you're a gift, you didn't have to dress like the Christmas wrapping paper my mom bought at Paper Source on January 1st  for 60% off. 
☆ Laura Dern's acceptance speech. I mean, she was funny, and charming, and she looked gorgeous, but the whole thing was hijacked by Gwyneth Paltrow's ass. Come on, cameraman. We know she looked hot, but this is about Laura! Maybe film the winner's acceptance speech from the front next time, and Google pictures of Gwyneth's body at home later on your free time. This is your job, cameraman! 
☆ Pairing Amy Poehler and Taylor Swift as presenters was BRILLIANT, because as you will remember, one of the years that Tina and Amy hosted the show they made a joke about Taylor Swift dating younger guys, and she responded later saying "there's a special place in hell for women who don't support other women." Which is something I still laugh about to this day because it was such an overreaction. But this presentation was a missed opportunity. They didn't even address it! I couldn't even tell you what they presented, that was how boring it was. The fact that they didn't take advantage of this pairing just made it pointless. I know you had something to say Amy, YOU SHOULD HAVE. 
☆ Jason Momoa put his jacket back on to present. 
☆ I find it unbelievable that Unbelievable didn't win anything. As a true crime junkie, I can honestly say that that series was a cut above the rest of the genre, and Kaitlyn, Merritt, and Toni each gave heart-wrenching performances. And seriously, WHO IS WATCHING CHERNOBYL?! 
☆ Another year where the best actor in a musical/comedy was from a musical biopic. I love Taron Egerton, but if he was going to win for anything it obviously should have been Kingsman. It takes great talent to play a character named Eggsy without laughing. 
☆ The presenters. As I mentioned earlier, they were all kind of nothing-burgers. Was Tom Hanks passing around his cold medicine at the pre-show?
Once Upon a Time in Hollywood winning multiple awards, proving once again that Hollywood loves nothing more than to jerk itself off.
That Pierce Brosnan's sons, this year's Golden Globe Ambassadors, were nowhere near as hot as Pierce Brosnan. 

The length. Over 3 hours?!?! Did I spend 11 hours binging the entire season of Spinning Out just yesterday? Yes, but what's your point?
At that's all folks! Have a good day! As Ricky says, get drunk, take your drugs! Happy New Year!
Images: Jackmacdfb ,sbstryker, lightscamerapod, eiffeltyler/Twitter; enews, betches/Instagram; Giphy
Photoshop Fail Of The Week: Many, Many Limbs
There are so many different kinds of Photoshop abuse. We show you a lot of celebrities' toxic relationship with Facetune, photoshoots gone wrong, and occasionally missing/messed up body parts. But the one I'm gonna show you today you'll probably remember because it was so hilariously bad. I mean, it wasn't just a run-of-the-mill nose amputation that we usually see. This photo retoucher failed spectacularly. Which also makes me angry because this is a huge magazine, and how did you possibly get this job if you're so lazy you can't even do this correctly? How much did they pay you for this, sir? However, this image is an example of what magazines do all the time, they just usually remember to fix it first so you can't tell. I'm speaking, of course, about the time Vanity Fair decided Reese Witherspoon and Oprah didn't pose well enough for the probably 1000 photos they shot. So they fixed it. And made it a lot worse.
Here is the cover:

Come on children! What's wrong with this picture? Whoever edited these photos seems to use the same ~*dangerous*~ editing method over and over: do whatever first and clean up later. And if you don't pay attention to detail, it's risky. Because:


So, I consider myself an expert on Reese's work, mostly because I've seen Legally Blonde probably 50 times. And guys, I have to tell you, I always thought she had two legs? Vanity Fair then attempted to defend themselves, saying that what we're seeing is actually just the lining of Reese's dress.
While we would have loved the exclusive on @RWitherspoon's three legs, unfortunately it's just the lining of her dress. https://t.co/HJjvbc037S

— VANITY FAIR (@VanityFair) January 25, 2018
However, you can clearly see the top of Reese's thigh, and the straight leg match perfectly. The dress lining even has what looks like a knee and a calf? It doesn't look anything like dress lining!

Like no sorry, you done f*cked up. But here's where it gets really good. Although VF tried to play off that the cover was not a mistake, they obviously used the same retoucher for all the other photos. Why you ask? Because this candid gem was later in the issue: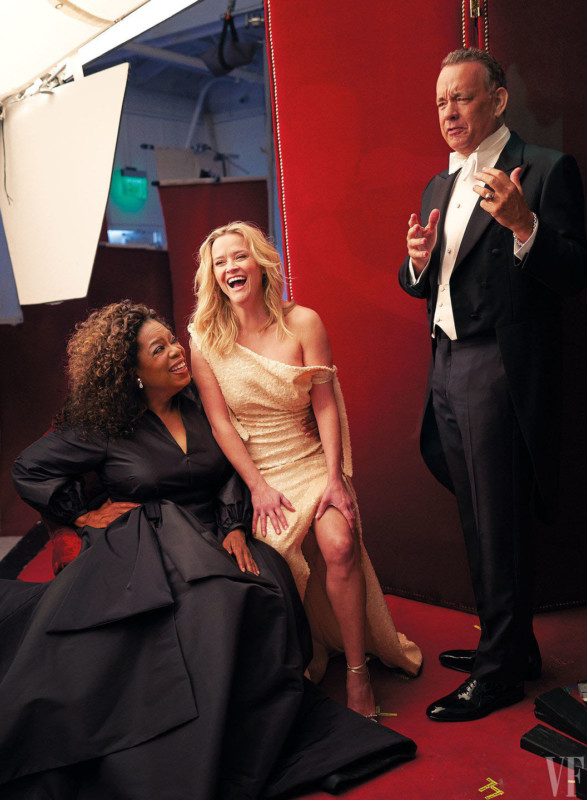 Again I ask you, what's wrong with this picture?

So you're telling me that while this retoucher did not give Reese three legs (although the inseam has its own knee, so sure Jan), he definitely gave Oprah three f*cking hands. It seems like his editing technique just sucks. Vanity Fair at least copped to this one:
As for @Oprah, how can we expect her to juggle it all with just two hands?
¯_(ツ)_/¯_/¯ (We are correcting this error​ online​.) https://t.co/QNd74YtSTz

— VANITY FAIR (@VanityFair) January 25, 2018
The retoucher obviously just really enjoys giving everyone extra body parts. But in actuality, this happens very frequently in photo editing, it's just normally cleaned up so you can't tell. I mean, that's like, what a professional does. And YES OFFENSE, Retoucher, because you probably made an insane amount of money for this catastrophic cover.  So basically, here's what happens. A photographer takes a ton of photos all in different poses. Especially with a big group, it's hard to get everyone to look their best. So then they splice up each person for their most flattering pose between all of the images. I don't even mind that they do this to some extent—like, if Reese is blinking in Oprah's best shot, for example, swap Reese's best face shot with the blinking one, and now it's the best picture of both of them. That doesn't even bother me, because it's still her real face.
But what happened here is the retoucher seems to have this strange work flow where he piles on every option of arm, leg, etc, on different layers, and then chooses what one looks best. However, he forgot more than once to recheck his work, which is how he ended up making Reese a tri-ped and Oprah into an octopus.  Check *clap* your *clap* work *clap*.
Also? What is Nicole Kidman leaning on? Does this not look super weird to you?

This practice, while super common, is also one of the many ways retouchers and magazines try to f*ck with us about what reality looks like. They rearrange everyone's anatomy to make it look like perfect proportions, perfect angles, and perfect pose. The second photo, with Oprah's three hands, looks like it's supposed to be candid, and yet was edited so much so that they couldn't even casually sit together without being dissected. It's a room full of some of the most beautiful, strong, influential people in the world—why can't they just take a photo with perfect lighting, perfect makeup, perfect staging, perfect outfits, and leave it as is? It still needs to be ripped apart limb by limb to be acceptable to us?
Are triple limbs now the unattainable beauty standard? What do you think of this practice? Why do magazines in particular edit already-beautiful people so hard? Who was this retoucher and how did they get this job? Did you know magazines edited their subjects so severely? LMK!
And guys, pleaseeeee send me your Photoshop Fails. See you next week!
Images: Vanity Fair; vanityfair (2) / Twitter
Is Apple TV+ Worth It? Our No Bullsh*t Review
You've probably heard a lot in the last few weeks and months about the escalating streaming wars, and it's a lot to keep up with. In addition to the existing major players (Netflix, Hulu, and Amazon), other big companies are jumping into the streaming service game. HBO will launch its expanded HBO Max service next May, Disney+ arrives next week, and NBC also has its own service in the works. And last week, Apple jumped into the original content game with their new streaming service, Apple TV+.
It's been a week since Apple TV+ launched, and I've had time to figure out how it works and what it has to offer, so let's talk. I've gotten a lot of questions about what it is, how it works, and whether it's any good. Keep reading for everything you need to know about Apple TV+.
How Does It Work?
First, let me address the biggest point of confusion here: Apple TV+ has nothing to do with the little Apple TV box that you hook up to your television. If you have one of those, great, but you can still subscribe to the new service without it. You can watch Apple TV+ on your computer, phone, Roku—whatever you've got, you can probably watch Apple TV+.
A membership will set you back $4.99 a month, so like, one coffee. You get one-week free trial, but don't expect to just binge The Morning Show and cancel without ever getting charged. Most of the shows are being released one episode at a time, so you'll have to pay for at least two months to get through a whole ten-episode season. Damn it. This is clever on Apple's part, because they know that people will probably try to cancel this sh*t as soon as possible once they've seen the show they bought Apple TV+ to watch. Oh, and if you buy a new Apple device (including an iPhone), you get a year free, so like, score.
What Do You Get?
Before we talk about any of the original shows, there's one major thing you need to know. Unlike the other major streaming services, Apple TV+ has no library of existing content, for now at least. So like, imagine Netflix, but without Friends, or The Good Place, or any of the existing shows and movies that you binge when you're hibernating for the winter—it would be like if you paid for Netflix and only got the originals. Apple has invested hundreds of millions of dollars into producing original content, but because they're not rolling out everything at once, this means that right now there are only a handful of shows on Apple TV+.

There's no question that the marquee show on Apple's new service is The Morning Show. Starring Jennifer Aniston, Reese Witherspoon, and Steve Carell, this is like the Big Little Lies of Apple TV+, and they've thrown a lot of advertising behind it. Aside from that, there's See, starring Jason Momoa, Dickinson, starring Hailee Steinfeld as a young Emily Dickinson, and For All Mankind, a period drama that imagines how the world would be different if the Soviet Union had landed on the moon first. There's also an Oprah's Book Club talk show, a documentary about an elephant, and a few shows for kids.
Are The Shows Good?
Okay, so I guess this is the big question. After all this hype, does the content deliver? And really, it's kind of a mixed bag for now. I haven't watched everything, but a week has given me enough time to get a feel for what Apple TV+ has to offer.

First, The Morning Show. After seeing the insane cast and the insane level of hype, I've gotta be honest, it's a little bit of a letdown. The show isn't bad by any means, but based on the cast and the production value, it's not nearly as good as it should be. The main characters all give lots of spirited monologues about justice, and consequences, and power, but they tend to fall flat. Jennifer Aniston is great in a more dramatic role, but Reese Witherspoon's tragic brunette wig and southern accent feel a little forced. The show is offering a commentary on the #MeToo movement, but after three episodes, I'm still not sure what it's trying to say. The second and third episodes are better than the first one, so we'll see if the season keeps improving.
Moving on, let me just say that I f*cking love Dickinson. It's a historical comedy centered on Hailee Steinfeld as an angsty Emily Dickinson, whose parents don't want her to be a poet. With modern dialogue, music, and humor, the tone of the show is fresh and hilarious, and I'm very into it. If you need some hints about the vibe, Wiz Khalifa makes a cameo in the first episode, and there's a Lizzo song in episode two. Yeah, it's fun.

I haven't had a chance to check out Jason Momoa's See yet, but with a 39% on Rotten Tomatoes, my expectations are staying low. I have, however, started watching For All Mankind, and the historical twist on the Space Race is an interesting concept that critics have really been liking. I've only seen one episode, but I'm definitely going to keep watching to see what happens in this alternate timeline.
Is It Worth It?
Look, Apple TV+ is brand new, and it's definitely still a work in progress. Right now, the content offerings are pretty limited, and depending on what you're into, you might not love any of these shows. But Apple knows this, and in addition to two more shows debuting in the next few weeks, they have over 20 titles currently in development. Building a network of content from the ground up is an ambitious project, so Apple is off to a pretty solid start.
To me, the biggest selling point of Apple TV+ is the low price point. Without the benefit of a large content library, Apple knows they can't charge the same price as Hulu or Netflix, so they were smart to slide in just under $5 a month. I'm not going to pretend I'm great with money, and there's approximately zero chance that I'll notice this money coming out of my bank account every month. I should note that your account is automatically tied to your Apple ID, so it's not really practical to share a membership with your roommates/ex/friend's mom's sister. Tragic, but at least it's cheap.
I'm not going to say that Apple TV+ is perfect, but it's really not bad, either. Even Netflix's original offerings vary wildly in quality, so it's not really fair to expect perfection from Apple. For the price, it's probably worth signing up for, even if you only really want to watch The Morning Show. You can cancel any time if you're not feeling it, and like I said, you probably won't even notice that you're paying for it. Personally, I'm going to keep my subscription, because let's be honest, I don't want to miss out on anything.
Images: Shutterstock.com; Giphy (3)
The Best Shows And Movies Coming To Netflix In October
October used to remind everyone that there are other climates aside from violently hot, but we are already two days in and it is 88 motherf*cking degrees outside. Not to worry, though, Global Warming is totally some really elaborate and well-executed prank by China, everyone! Anyway, hopefully October will stop feeling like the inside of an oven sometime soon, because Netflix just added a plethora of amazing new content and I want to be able to binge without feeling guilty about never going outside. When it's hot out, I feel like I should be tanning at the beach, swimming in a lake or drinking on a rooftop. You know, just enjoying the great outdoors. When it starts getting chilly, as it is supposed to do in October, I am pretty content laying in bed with some SkinnyPop and a solid queue on deck. If this sounds like a great way to spend every night of the week, keep reading for our top new Netflix picks for October.
'Charlie's Angels'

Because I always arrive exceedingly early to movies, I was able to see the trailer for the new Charlie's Angels starring the most random cast ever Kristen Stewart, Naomi Scott and Ella Balinska, and I have to admit, I'm not impressed. Am I wrong for being loyal to the OG girl gang? Even though the jokes were corny af and the special effects were the definition of amateur hour, Charlie's Angels was and will always a masterpiece that should have stayed in the early 2000s. If you need reminding, the original and Full Throttle will both be gracing Netflix in October, so do yourself a favor and give it a watch. 
'Ocean's 13'

I'm getting aggressive nostalgia vibes with Netflix's new lineup, because Ocean's 13 is finally here. Matt Damon, George Clooney, and Brad Pitt? I wasn't old enough to appreciate these smokeshows when the movie came out in 2007 because I was too busy obsessing over Jesse McCartney, but now, as a 26-year-old woman with taste, I am all for this trio in Hollywood's most epic fictional heist. If you were also too young to understand the plot when it premiered during the simpler time that was 2007, watch it now because it's the kind of amazing that only these three foxes could serve. It's also the third and final movie in the Ocean's trilogy, so even though it marks the end of an era, there's always the female reboot of Ocean's 8, which came out last year. Obv not as good because it's not the same without Clooney, but I'm all for a cast of badass bosses making Anne Hathaway look like a f*cking idiot.
'Peaky Blinders' Series 5

On a very long train ride, I stumbled upon the show's Instagram account and, I have to say, Cillian Murphy looked damn good. So I spent the remainder of the train ride  watching the entire first season, and I'm not mad about it. The British show follows the exploits of the crime-ridden Shelby family in a post-World War I England. The family is actually based on a real gang who called themselves, you guessed it, Peaky Blinders, which has got to be the cutest gang name I've ever heard. The show is really good and feels like a cross between Downton Abbey and The Sopranos. If that didn't pique your interest, I don't know what to say to you. 
'Schitt's Creek' Season 5

I am very behind on this show, so I wish I could be as pumped about the fifth season as some of my coworkers are. Even with my limited exposure (I'm on season 2), I can tell it's amazing. It's the kind of show you can quote endlessly. I put this on when I need to chase a scary movie with some witty banter, or when I'm painting my nails and want some background noise. Also, if you've ever seen Best In Show, the couple who owned the terrier is in Schitt's Creek! They're also essentially playing the same characters minus the dog, so, there's that. Highly recommend this show if you need a laugh or are in the mood for something made in 2019 that isn't a sh*tty remake. 
'Blow'

The only word to describe Penelope Cruz in Blow is "goals." Like Peaky Blinders, Blow is based on a real gang and a real event, but that's about the only thing these two productions have in common. Blow, as the name indicates, zeroes in on American cocaine smuggler George Jung, and his time spent doing business with the Medellin cartel. As you can imagine, things didn't go well for our boy George (played by Johnny Depp). Penelope's character ends up marrying George, but the two do not live happily ever after. For those mad about spoilers, you've had 18 years to watch it, so sorry, I'm not sorry. This movie reminds me of a more romantic Sicario, so do with that observation as you will. 
'The Time Traveler's Wife'

Not to be that person, but the book is significantly better than the movie. The Time Traveler's Wife is f*cking sad, so if you're in the mood to drown in a pool of your own tears, put this sobfest on. I feel like the title says it all, but if you're unfamiliar with the plot, here it is in one sentence. Regina George meets her future husband when she is a child and he is a full-grown adult, but their marriage problems are a little worse than most because he travels through time unexpectedly. Even though it sounds painfully cheesy, it's actually great and Rachel McAdams' performance is reminiscent of a slightly older Allie Hamilton, but with her sh*t together. 
'Haunted' Season 2

Truth be told, I do not watch this show because I have the fear management of an infant, but if you're into scary sh*t, you'll like this show. Netflix says, "This reality series, which comes from the producers of The Purge and Lore, provides viewers with a chilling glimpse into first-person accounts of supernatural events." Yep, I will not be watching this since I couldn't even make it through the preview of The Purge. 
'No Reservations'

I saw this movie by myself in a theater because the girl I was supposed to see it with got into her first fight with her boyfriend as we were standing in line to purchase our tickets. Unfortunate circumstances aside, I still loved this movie because Catherine Zeta-Jones and Aaron Eckhart have some seriously steamy chemistry. The movie is a classic rom-com with a tiny sprinkle of untimely death, so you will laugh and you will cry. Head chef at a swanky New York restaurant, Catherine Zeta-Jones is your typical no bullsh*t perfectionist whose world gets turned upside down when her sister dies and her niece becomes Catherine's responsibility. Great movie that I highly recommend for a night in with Pinot. 
'Shine On with Reese' Season 1

Horrible name, but our favorite mini human Reese Witherspoon gave into the public's demand and started her own talk show! She only interviews women, which I am definitely down for, and she does a fantastic job. Her guests are also super varied, so get ready to hear from people like country music icon Dolly Parton and Spanx founder Sara Blakely and everyone in between. Why didn't she start doing this decades ago? I would have definitely watched an early 2000s Reese interview America's fiercest female leaders. 
'Living with Yourself'

The only allure of this show is the fact that Paul Rudd is in it. It hasn't come out yet, but the trailer looks a little suspicious to me. According to Wikipedia, LWY "follows the story of a man who, after undergoing a mysterious treatment that promises him the allure of a better life, later discovers that he has been replaced by a doppelgänger." I mean, minus the doppelgänger part, this sounds exactly like the plot of Deadpool. Tell me I'm wrong. 
A few goodies saying goodbye in October include,  Julie & Julia, Charlie and the Chocolate Factory, The Sisterhood of the Traveling Pants, Pineapple Express and The Carrie Diaries: Seasons 1-2, which honestly doesn't sound like a huge loss to me. we'll be busy enough with the new shows and movies to cry over Pineapple Express leaving.
Images: Thibault Penin / Unsplash; Giphy (10)
The 9 Realest Female Celebs To Follow On Instagram
In this world of Photoshop, Facetune, scary stilt legs, and eyes that take up half of the face, Instagram is a scary place to be. We thought it was bad when women were all expected to be a size zero, but now, you're not even allowed to have essential organs to be beautiful. Celebrities and influencers get to take the guilt for the ridiculous social media standard we've come to—they determine what we look up to and should look like. They suck at their huge responsibility. However, there are a few celebs that I follow that consistently show they are real people, not cyborgs. In fact, I actually had trouble limiting this list down, which was a nice surprise.
This is not to say the celebs on this list don't edit their photos—I'm sure they do. But they at least do it in a more normal way—and not by removing huge chunks of their body or airbrushing their nose into oblivion. If following these accounts doesn't make you feel better, I highly recommend doing what I do: mostly follow puppies and art. It's way better.
1. Kristen Bell
Is there anyone more adorable and pure than Kristen Bell? She's had a stellar reputation for all her years in Hollywood, and that is saying a lot. Her Instagram is very much that of a real person and working mom. She often posts herself without glam or makeup, photos of her kids and pets, and inspiring quotes or causes she's involved in. She even puts up parenting mishaps to show it happens to everyone. She always has all her body parts and her eyes are a normal size in every single photo, too.
2. Rachel Bloom
If you don't know who Rachel Bloom is, she's the creator of Crazy Ex-Girlfriend (RIP), and a genius renaissance women. She can write, sing, act, she's funny AF, AND she's a huge advocate for mental health. She also is super real, both on social media and her show. I mean, the show had songs about the nightmare it is for women to get ready (f*ck Spanx) and the inconvenience of having boobs. There was even one about UTIs. She posts about all aspects of her life, like this super real plane selfie. Seriously, why are celebs always leaving planes in full makeup and stilettos? I also once accosted Rachel at Sugarfish in the height of my Crazy Ex-Girlfriend obsession and she was super nice about it. Still so sorry about that, Rachel!
3. Sophie Turner
Sophie is basically the queen of young Hollywood right now, with her hit TV show ending, marrying a Jonas brother, and just being super chic and fabulous. I really like her, though, because she also posts sh*t like this, where she's sleeping on the Game of Thrones set. She also frequently posts stories and photos without makeup, and funny things going on in her life. She does have a lot of photos in full glam, but that's what happens when you're young, rich, famous, and going out all the time. Even still, if she ever edits her photos, it's never scary levels. Also, not sure why she'd need to.
4. Zoë Kravitz
Zoë Kravitz is another fabulous young Hollywood queen and OMG, she is crazy beautiful. Her Instagram is full of both glammed-up cover photos, and casual, relaxed no-makeup pics in her real life. She never seems to edit her photos. She also posts funny memes, has very normal friends and family pics, and discusses important issues. She's also obsessed with Reese Witherspoon (but like, who isn't?). What's it like to be so perfect, Zoë?
5. Georgia Hardstark
Georgia Hardstark is 1/2 of the hit podcast My Favorite Murder. It's a true crime podcast, and it's hilarious, even though it sounds like it shouldn't be. Both Georgia and her cohost Karen Kilgariff are super real people. They speak openly about mental health, and they don't bullsh*t. Georgia's Instagram features mostly pets and murder, two of my favorite things. She also is really cute and never edits her photos. She's the perfect person to follow to remind you that real people still exist and we don't all need (or want) to look like Kardashians. Also, I'm currently reading her and Karen's new book, Stay Sexy And Don't Get Murdered, and it's fabulous.
6. Chrissy Teigen
You don't know how to use social media if you're not already following Chrissy Teigen. I didn't even know who she was prior to her absolutely genius Twitter game. I also really enjoy her Instagram, where she posts a ton of no-makeup selfies, her real body (which is super fit and definitely #goals but still has all organs/ribs), and her cute family (including bulldog!). Also, I hate kids so this doesn't apply much to me, but she posts a ton of relatable parenting stuff about how much they can suck.
7. Mindy Kaling
Mindy Kaling is a household name in terms of body positivity, women coming up, and being real af. I adore her. She's another super positive role model on social media (and just in life) with her (mostly) unedited content and curvy figure. I say mostly, because she obvs uses filters and small edits, but no crazy body shaping or other extremes. She's also a fashion icon. Follow her and try to live with "the entitlement of a tall, blond, white man" just as she does.
8. Reese Witherspoon
As previously mentioned, we all are obsessed with Reese. I've been obsessed since Legally Blonde, and often aspire to "What, like it's hard?" energy. She basically hasn't aged since, but I really appreciate that she posts real photos of her face without airbrushing, her normal proportions, no crazy body mods, and always a chic outfit. She also shades her kids on IG which is very funny. And she started Reese's Book Club that supports female authors, which you should also follow. Reese is a true gem. She also posts dog pics, which to me is v v important.
9. Selma Blair
Last but certainly not least, I legit went back and updated this list upon realizing I inadvertently left out a social media icon. Since revealing her MS diagnosis in October 2018, Selma has taken to Instagram to talk about the scary, less-than-glamorous aspects of the disease and regularly discusses her hair loss, insomnia, pain, and other side effects. But also? She manages to have a sense of humor. Like this pic where she compared herself to Pit Bull. And another one where she makes fun of her own contouring skills. In a society where we all act like we have everything together and things are perfect at all times, especially on social media, it's so refreshing to see Selma being honest about something so difficult.
What other body positive/Instagram positive celebrities do you follow? Let me know in the comments!
Images: Instagram (@kristenanniebell, @racheldoesstuff, @sophiet, @zoeisabellakravitz, @hardstark, @chrissyteigen, @mindykaling, @reesewitherspoon)
'Big Little Lies' Season 2 Finale Recap: Big Little Blue Balls
Sponsored by SkinnyPop
Well, we made it. It's the series finale of Big Little Lies and I just woke up from a frosé- and heat stroke-incuded nap to watch how all of the insanity of this season plays out. Is Renata going to leave her piece of sh*t husband? Will Celeste go full Ted Bundy in court? WTF is happening to Bonnie? By the end of this recap, we'll hopefully know all. Some of us have hated this season, but we can all come together and agree that we want Reese Witherspoon to adopt us and my skin will just never be clear, cleared up. Whatever, follow me on Instagram (@kashmeredanny) and let's get into it. 
I'm sorry, WHO was this season for? I feel like the majority of the actual fans were happy with it being a perfect and wrapped up mini series. We had ribbons on everything, justice was served, and everyone still had their gorgeous houses. It swept its limited series categories, our favorite gals got some Emmys to add to their mantles, and Reese had HBO wrapped around her fingers to produce hundreds more novels by female writers. Honey, that's the dream! Well, if that was a dream, then season two, and this finale, was a nightmare. 

Usually, when a show or movie gets a continuation it's because there's unfinished business or a great new story to tell. Welp, we truly had the opposite of unfinished business. There was no business to talk about. Other times, it's because fans were BEGGING (Veronica Mars style), but nah, we were good. Maybe it's because the stars were a little greedy and wanted more spotlight? None of these women needed Big Little Lies to pay for their SUGARFISH bills. So we ask why, and let me just tell you: much like this finale, you won't get an answer as to why. What you will get? #BigLittleBlueBalls. 
I'm watching this one with my mom, who hasn't watched a single episode of the new season, which should be fun for me, and she asked: "I think you put on the first episode—they're showing the murder scene and playing Janis Joplin" and I had to tell her no, that's just kind of how every episode starts. Celeste is shocked at an iPad and Ed is trying to get ready for his workout class at Rumble, great. 
Ziggy, adorable as ever, is basically being the muses to Jane's Meg in Hercules. She won't say she's in love, but she should! This is about the time that, in hindsight, I should have just started watching that YouTube video. Mistakes were made. 
Is this STARBUCKS PROMO? The actress that plays Chloe better get a cut of this ad money. Shout-out to Americanos. Also, when they went into this scene Meryl was 100% like, "Starbucks? Oh, it's like a La Colombe?"
Oh, now Ms. Madewell Jacket is worried about her client. Katie, where was this strength two episodes ago? My mom also just said: "I completely forgot Celeste was a lawyer," which we all did until this trial. 
It's showtime. I think I'm going to start shading people by just saying it's my observation. THE JURIS DOCTOR IS JUMPING OUT WITH CELESTE. Oh, she got her with a K.O. and the car flashback of Mary Louise and Perry with her dead son is crazy. What's crazier? How THIS WAS JUST BROUGHT UP NOW WHEN THIS COURT SESSION HAS BEEN GOING ON FOR WHAT FEELS LIKE DECADES. Literally, do lawyers know how to lawyer?
What's even more insane? Celeste had video proof of Perry not only abusing her, but that her kids had knowledge of it. Girl, these are things that should have been brought up, I don't know, any time earlier than 30 minutes before the show ends?
We all know a Madeline in the world who will take your trial and saying, "OMG I should have known!" Glad she was able to make the conversation about her for at least .8 seconds. Okay, I really can't go from that intense court scene to the f*cking Fault In Our Aquarium. Jane's bangs are splitting at the equator and her 19-year-old boyfriend has bags under his eyes, probably because he has an Intro to Communication final today that he's been studying for all night. Glad they got to hug, though. 
Mary Louise is now snooping around, but Celeste had the best come back of all time: you lost your boys, you don't get to take mine. While it's not a Renata flip-off, wow that stung. 
Is it just me, or is it really hard to pay attention to any storyline besides Celeste's? Followed by Renata's. Bonnie's storyline went from her jogging, to her doing yoga, to now her trying to kill her mom for the past three episodes? What kind of half-off pillow is she using? Meanwhile, Madeline's storyline went back to feeling guilt about starting the lie, because even she lost interest in trying to see where she and Ed were going to go to brunch to talk over feelings. Also, glad we didn't really wrap up Tori and Ed's storyline. Everyone got mad at me because I didn't remember her name, WELL THIS IS WHY. CAUSE MY SOUL KNEW BIG LITTLE LIES WAS GONNA DRIVE OFF THE PACIFIC COAST HIGHWAY.

Okay, we now know where Jane gets her bang goals from: Max and Josh. Hair is everything, Anthony. (If you don't get that reference, watch Fleabag immediately. Talk about a satisfying finale). Oh, that was a quick blip because Ed is now trying to get his Barry's on. Shocked Ed didn't start singing "We Are Never Getting Back Together," since they love to end these seasons with him doing karaoke. JK, he wants to renew their vows? I will never understand rich people. A shot at a new beginning, The Hills: New Beginnings. Basically, Ed and Madeline are going to LA and helping Mischa Barton run lines. 

While court starts, Bonnie has an issue of her own: her mom suffered another stroke. Honestly, this season (and maybe series in general) doesn't know what to do with Bonnie. They just have her walk through Lululemon depressed. Justice for Zoë Kravitz. 
Is this how courts work? Why do I feel like this is now becoming a spoken word battle, when in reality it should just be closing statements and a decision. CELESTE HAS THE KIDS. I literally started to cry? This is why you don't drink frosé at 2pm.
Cut to the hospital again, and Bonnie's mom passed away, and now B is wasting no time in bringing in the realness. Finally, Zoë gets a monologue that shows off her talent. Damn, justice is served in a sense for Madeline: she gets vow renewals, he gets hospital coffee and divorce papers. 
Renata being told to calm down is probably the last thing she should ever be told. THIS MONTAGE IS WHAT WE NEED FOR HER. LET THE RAGE OUT. This episode really could have just been this scene and I would have been satisfied. Oh God, I really thought she killed him and that the series finale of this show would just be them doing "Cell Block Tango". 

This wedding is secret Pinterest sponcon and I won't be told otherwise. And here is where the wheels really fall off. Mary Louise is going back home, like Swiper after Dora tells him to now swipe? Okay, drive safe. Jane is slow dancing again. Wow, I could not be more over a character in my entire life. Happy she can finally have sex with her secret life of an American Teenager boyfriend. 
HIM SHIRTLESS DOESN'T MATTER because we have Bonnie's final showcase, or WHAT WE THOUGHT was going to be her final showcase. She goes to the police department to confess, only for the Fab Five to arrive by her side. Honestly with the way this episode went, I'm f*cking shocked JVN didn't just appear to glam them all up before confessing. Poor teenager got blue balls, prob. Wow this last scene is pretty gorgeous…until I REALIZED THAT WAS THE DAMN ENDING. No wonder this song is playing at the end because TAKE ANOTHER LITTLE PIECE OF MY HEART AND SEVEN MORE HOURS OF MY LIFE, BIG LITTLE LIES. WE DON'T EVEN GET TO SEE THEM ENTER THE DOOR? 

In the words of Ally Maine: why did you do that, do that, do that, do that, do that to me? Is anyone satisfied with this ending? Or are you like me and Jane's middle school boyfriend and suffering from major Big Little Blue Balls over that ending. Damn. Do we do a third season to find out what happened, or just blast thank u, next while obsessing over Euphoria? 
Images: HBO; Giphy (5)