Is Your State Voting To Legalize Weed?
The 2020 election is approaching quicker than I feel comfortable with, and if you're living in one of a handful of states, one of the many issues on the ballot may be if you can light up legally. Weed, I'm talking about weed. Already, 33 states and the District of Columbia allow marijuana for medicinal use, and 11 of these states (including D.C.) have also legalized marijuana for recreational use. Coming up on November 3rd, five more states will vote on whether not to legalize recreational cannabis and to allow it for medicinal use. As of now, the polls indicate that this measure will pass in these five states below, but here's everything you need to know about which states are voting to legalize weed this cycle.
Arizona
Since 2011, medicinal cannabis has been legalized in Arizona, but now they are looking to see if it will be legalized recreationally. I mean, nine years later you would think this would get passed by now! If this goes through, The Smart and Safe Arizona Act will legalize the use of cannabis for adults, and residents will be allowed to have up to one ounce of cannabis and five grams of THC concentrate, AND grow up to six cannabis plants in their household. Back in 2016, the polls were 51-48, and recently 62% of Arizonians support legalization. If you ask us, the polls are looking pretty good!
Mississippi
Being one of the most conservative states in the country, Mississippi is looking to legalize medicinal use. This seems like a long shot, but it looks like the polls are doing well. According to the state, Initiative 65 will allow cannabis to be prescribed to treat many medical conditions. The polls now show that 81% of residents are supporting this, so we're thinking it's going to pass. This support is probably bolstered by the fact that not only are there medical benefits, but apparently there are also economic benefits!
Montana
Montana voters accepted medicinal cannabis back in 2004, but now we are going to see if it will be approved for recreational use. The deets on this, according to Montana I-190, would be to permit selling and possessing for adult use. Residents would be allowed to have up to four cannabis plants and up to four seedlings in their homes. While some of the polls are pointing to a yes vote, a recent poll from Montana State University found that only 49% of voters support the recreational legalization—only time will tell.
New Jersey
New Jersey will be looking into recreational use, as it has already been approved for medicinal use since 2010. If it's approved, the New Jersey Public Question 1 will legalize the sale and possession of cannabis for adults (21 and over). Even though this measure failed to pass in 2018, it's looking like it'll pass this time around since recent polling has found that 65% of voters are in favor, while just 29% are opposed. Second time's the charm..?
South Dakota
This state in particular is looking to approve cannabis for both medicinal and recreational purposes. According to a poll released back in September, a majority of voters support both measures. The ballot will have two legalization measures: the South Dakota Initiated Measure 26 will allow doctors to prescribe cannabis to patients for many conditions and will also allow recreational use for adults. It'll be interesting to see how this one unfolds!
As more people continue to vote in the coming days, we will see which of these states will pass on legalizing weed. So on November 3rd, we will be finding out which states will be weed-free AND who our president will be for the next four years…yikes!
Images: ImagePixel / Shutterstock.com
House Members Just Approved A Marijuana Decriminalization Bill
I have some good news and some bad news. What, did you think you were going to get solely good news in the year of our Lord 2019?! Think again. The good news is that the House Judiciary Committee just approved a bill that could lead to the decriminalization of marijuana. The bad news is it still has a long road ahead in order to become law. The worse news is the fact that there are still narcs who think weed should be illegal.
On Wednesday the House Judiciary Committee voted 24-10 to approve Marijuana Opportunity Reinvestment and Expungement Act, or MORE, which would remove marijuana from the federal list of controlled substances. The bill would also require federal courts to expunge convictions for marijuana offenses and authorize a 5 percent tax on marijuana sales. Not to be dramatic, but this is one of the sexiest bills I have ever heard of.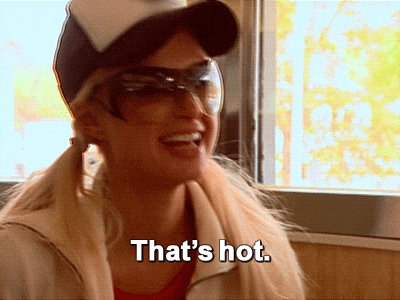 This rules, but as I said before, there is still a long road ahead. The House Judiciary Committee is the only committee that has even voted on the bill, and it's not even a guarantee that the House would vote to pass it. Democrats are pretty divided on how to go about the decriminalization of marijuana, and some aren't even for it.
Just to regroup here, the decriminalization of marijuana would have many benefits. First of all, the epidemic of mass incarceration is strongly supported by locking people — mainly black men — up for non-violent drug offense such as possession of marijuana. There are people in prison for having weed on them — an offense I, and probably you, have made countless times and gotten off scot-free. This has to stop. Also, marijuana has health benefits AND is good for the economy. The list goes on and on.
Legalize weed

— Alise Morales (@AliseNavidad) November 15, 2019
Here's to hoping lawmakers wake the f*ck up and pass the bill. In the meantime, read up about the argument for decriminalization/legalization of all drugs in a piece we wrote here.
Images: Giphy (1), Twitter (1)
3 Ways Weed Has Improved My Sex Life
Here's a very millennial humble-brag you probably haven't heard before. While the idea of having sex without alcohol was once unthinkable, I now don't like drunk sex much at all—but think high sex is completely incredible. In college (and I know I'm not alone in this), sober sex just never really happened. Being drunk nearly constantly didn't help, but sex seemed like something you could only unlock after getting drunk and brave enough to meet up with someone. It was a way to pull back from the experience and be less aware of what was going on. I know this all sounds a little tragic, but hey—not all of us had fairytale romance in college. I had fun, I'm fine, and I currently have a very different approach to sex.
Weed, for me, works in the exact opposite way from alcohol. It makes me more present, and more aware of my body and my partner (such a hippie, I know). You don't necessarily want to get super baked, but a decent THC buzz could take your next sexual experience from meh to lying in bed for hours thinking about how good it was (while furiously ordering Postmates, le duh). Note that I'm only speaking from experience here. If you want a more scientific rundown of how THC and CBD can affect your body, try this one from Allure. Here are some ways I've (personally) found that weed can improve sex.
Me telling my boyfriend I want sex: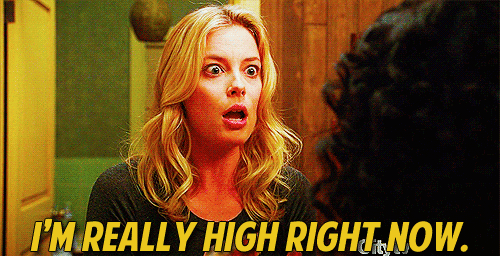 Disclaimer: If you know you don't like weed, this article is not a suggestion that you try it anyway. In fact, if you don't like weed, then I actively recommend that you avoid it—especially in a sexual situation. This should be a mandatory inclusion with every piece of internet advice, but it's way too rarely said: Just because something works for me doesn't mean it will work for you.
Weed Tames Anxiety
Once again for the people in the back: if you know that weed, in fact, heightens your anxiety, get out of this article. Just go. Now, allow me to paint a picture for my remaining stoner friends. You know the feeling that sets in when you take a couple hits after a stressful day? How all the sh*t stressing you out a minute ago now seems way more manageable? Yeah, whatever strain of weed gives you that blissful, chilled-out head high, that's what you'll want to smoke before sex. And that's doubly true if you struggle with anxiety.
Now that I'm in my 20s, I feel stressed out for 95% of every day. The possibilities for anxiety are endless: if it's not a work problem, then something at my apartment is falling apart or I haven't done laundry in three weeks or my diet is a disaster—you get it. It can be really hard to get that running list out of my head when I'm trying to relax and enjoy some much-needed stress relief (my euphemism for sex). I've literally called off sex mid-session because I couldn't stop thinking about whether I'd paid my credit card bill. When I get a little high before sex, I don't have that problem.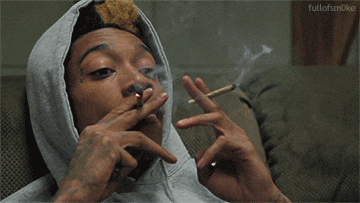 So carefree.
Weed Heightens Your Senses
This goes back to what I was saying about weed making me more aware of my body. The only time I get a comparable bodily feeling is when I'm doing yoga—and like, actually focusing on the breath and my body the way I'm meant to, not just zoning out and copying the people around me. Weed makes me realize how little I typically focus on the moment, and reminds me to appreciate how f*cking fun touching each other can and should be.
I also find that the heightened sensation makes me clearer on what exactly I'm in the mood for, and how I want to be touched in that moment. It's always a great sign when the person you're having sex with checks in to make sure they're getting you off, but sometimes I totally choke up when faced with a "is this ok?" or "do you like this?" I've squeaked out "yeah, fine" a few times before I'd even really thought about it. When I'm high, I know exactly how much I like the way I'm being touched, and find myself asking for it if I want something different.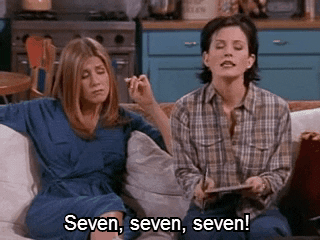 Look at Monica. She knows exactly what she wants.
Weed Makes You More Confident
Again, I speak only for myself. I know many people who enjoy the physical effects of weed, but become decidedly more timid after smoking. For me, (some) weed works a tiny bit in the way I used to use alcohol. It's a way of lowering inhibitions, and making me feel more free to speak my mind. This is definitely linked to the reduced anxiety, but it's more than that—I like the way my brain works when I'm high, and feel less insecure that something I want to say is stupid or boring. I'm less judgmental, and I don't expect the worst from other people. All of this makes it way easier to interact, open up, and enjoy the moment.
How does this translate to sex, you might ask? Well, it makes me feel hotter, for one (doesn't confidence always?), and it makes me feel more adventurous. Both are solid qualities to have during sex. And while being more aware of my body isn't always a good thing for me (like when I'm obsessing over what I look like from certain angles), it is a good thing if I'm also Lizzo-level confident in my mind while experiencing that awareness. Lowered anxiety + heightened sensation + extreme confidence = ideal sex combo. Thank you, weed!
Me, high and ready to go: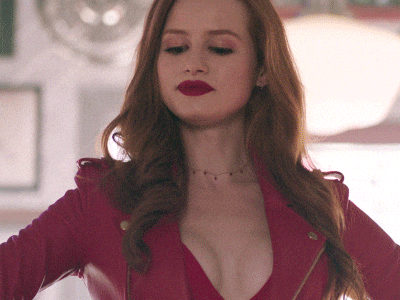 Now, go forth and toke up, my good readers. Now that it's summer, I suggest taking bong rips in an ice cold air-conditioned bedroom, or (for the adventurous, and non-city dwellers) bringing a blanket and a joint to a secluded patch of nature. And if you need something to carry your weed in, we got you.
Images: Giphy(4)
5 Reasons We Should Just Legalize Weed Already
It's the most wonderful time of the year! On this holy day – the twentieth of April – we honor the sacred act of getting blazed. And while 4/20 is meant for smoking/dabbing/blazing/etc, we should also take the time to think about marijuana in a political sense. Sorry boo, it's 2019 and everything is political now. That's just the world we live in! As of now, 33 states have legalized medical marijuana and 10 states plus D.C. have legalized recreational marijuana. Clearly, we are inching towards legalization, and in our humble opinion, we should start sprinting towards it and just like, make this sh*t happen. All the cool kids are doing it! But in all seriousness, legalizing weed has many benefits, and I've taken the time to lay out several for you here. You're welcome and blaze on!
1. It Could Help End Mass Incarceration
Idk if you've heard, but we incarcerate sh*t ton of people in America and it's f*cked up. And a lot of people are locked up because of marijuana charges, aka possession. Police arrest millions of people for simply having weed on them every year.  And would you be shocked if I were to tell you that many of these arrests are racially biased? If so, wake up sweetie, we have a race problem to deal with. Despite the fact that usage rates are equal between the two demographics, black people are almost four times mores likely to be arrested for marijuana related "crimes." The United States imprisons more people than any other nation, and a vast majority of people in prison are there because of (most often non-violent) drug arrests. In 2016, 1.5 million drug arrests were made in America, and 80% of those arrests were for possession alone. And the majority of those arrested were Black and Latinx. And guess who's paying for all of this? You and your tax dollars, babe. It's not only unjust, it's a waste of your money. All to stop people from *checks notes*  getting baked and watching Netflix documentaries?
2. Weed Has Multiple Health Benefits
Despite what your D.A.R.E. teacher told you, weed can be good for you. It's used to treat certain ailments, such as cancer, chronic pain, and anxiety, just to name a few. It's all about knowing how to use it, and seeing if it's something that works for you. Like, you can't just take a bunch of hits off your bong and assume that will cure you of your anxiety. That will most likely have the opposite effect. But legalizing weed would allow health professionals more access to knowledge about medical marijuana and would give them the liberty to relay this information to their parents. It would also simply open up the conversation about the benefits of marijuana, so we could all stop pretending smoking weed will kill you, and start getting the real facts about how to use marijuana in a beneficial way.
3. Weed is Good for the Economy
As it turns out, weed is good for biz. A report from cannabis analytics company suggested that if weed was legalized federally, it could generate  $131.8 billion in federal tax revenue by 2025. It's a booming business, as you have probably learned from your cousin who lives in Colorado and survives off of his dank weed pie business. However, an important thing to note here is how legalization as we know it is still racially biased. In order to get into the marijuana business, you need certain permits. The catch? You can't obtain these permits if you have been convicted of a crime. So, let's say a person is arrested for having weed on them (something most of us have been "guilty" of at least once), they serve their time, and now they are out of prison and living in a world where the thing they were arrested for is no longer illegal. Even if they wanted to, they could not get into the business of selling marijuana legally. And as we have covered, most people arrested for weed related crimes are Black and Latino men. So now we have a business where white men, yet again, are profiting, and minorities aren't able to access as easily. So when we say "legalize weed," what we really mean is "legalize weed in a way that also allows people with weed convictions to enter the business legally." But that's kind of hard to fit on a poster.
4. Everyone Smokes Weed Anyway
Not to keep bringing up your D.A.R.E. teacher, but as hard as they try, they aren't going to get kids to stop smoking weed. Smoking weed is fun and people enjoy it and are going to do it. Polls actually show that a majority of Americans have tried marijuana in their lifetime (and about half those stop in their late 20s because it starts making them anxious for no reason). Clearly, marijuana prohibition has been about as effective as alcohol prohibition back in the day. Legalizing marijuana would mean there would be a legal, regulated market, which would be a safer market than the illegal one we have now. Regulations means your weed can't be cut with anything without you knowing about it, and it also means drug kingpins go out of business. That could drastically decrease the violence that takes place in the drug world. Sounds pretty chill, no?
5. Weed is Famously Tight
At the end of the day, you gotta give the people what they want. And the people want legal weed. It's as simple as that.
Legalize weed

— Alise Morales (@AliseNavidad) April 18, 2019
Heads up, you need to keep up with the news. It's not cute anymore. That's why we've created a 5x weekly newsletter called The 'Sup that will explain all the news of the week in a hilarious af way. Because if we weren't laughing, we'd be crying. Sign up for The 'Sup now!
Weed Helped Save My Mental Health, So Why Is There Such A Stigma?
Okay, story time: I used to work as a front desk girl for a popular "boutique" spinning studio. Not gonna name names because you've clearly figured it out already, and I lasted a month there. The place prided itself on being super open-minded and all about getting in touch with yourself, overcoming challenges, and following your soul.  Once, we played an icebreaker game where we went around the room, said our name, the studio we worked at, and something we do to relax. Every. Single. Person. said alcohol is their way to unwind, along with watching a TV show or, of course, working out. I was last, and I said, "taking an edible and tanning." The CPR woman looked like she was in shock, and was all, "Okaaaayyyy, moving on." So much for being a liberal as your brand markets itself being, huh? Remind me why weed is worse than alcohol again?
Marijuana is the fastest growing industry both nationally and internationally. There's luxury marijuana getaways, weed treats, marijuana spas and bath bombs, people are literally putting it in their green juice. And don't get anyone started on the benefits of CBD because, honestly, I don't wanna endure listening to them pontificate about its benefits as if I don't know them already.
But that doesn't mean there still isn't negative connotations around marijuana use.
Yes I smoke weed everyday. No I'm not lazy. I'm literally almost a straight A student in college rn. I'm living my life and getting the shit I need done,yes I have slip ups and that's human. Weed has helped me in so many ways that I'm forever going to defend it and its stigma.

— Bambi (@suckmypoptarts) April 13, 2019
When I was 14 years old, I got diagnosed with the most severe case of ADHD possible—I was in the 99th percentile. I was prescribed a dosage of meds that they would give someone the size of Lebron James, literally the maximum dosage. What it did to my brain is an entirely different story. I was made fun of in high school and college for how erratic my meds made me. I believed the pills would make me feel like a normal person, which I thought was someone who didn't experience anxiety or depression. But I didn't feel normal. Whenever I told my doctors that I was having trouble sleeping or that I was anxious, they'd just prescribe new pill after new pill or increase my dosage. I was treated like my brain was the problem, and I needed to take anything I could to be like everyone else. But deep down, I knew something was wrong, and because of that, I was indoctrinated to believe I'd never be normal.
So my conception of the self-help industry was: you're the problem, so take a pill to make yourself just like everyone else. I was brainwashed to believe that my ADHD was a bad thing. Did you know that it was seen as an evolutionary advantage? Even during the Industrial Revolution, many inventors actually met the criteria for ADHD. I feel like that's not talked about enough. The system did nothing to help me embrace that I think differently than others. I wasn't using therapy or pills in a way that gave me the opportunity to evolve or to have healthy coping mechanisms at all. 
Eventually, I got sober. I had to time off from college (where I was partying way too much—weed, alcohol, mixed with the prescription pills was a recipe for disaster) and learned how to cope with my ADHD, anxiety, and depression without controlled substances. I didn't smoke weed or really drink for about a year. I learned how to look internally in order to reacclimate to society without the use of controlled substances, to get back in touch with myself, and to learn how to cope with reality. Between meditation, yoga, and extensive therapy, I began to come into my own. Why weren't these resources suggested to me before shoving copious amounts of legal meth down my throat?
6. Whenever someone brings up ADHD. It makes it seem like it's is just an issue of distraction. Wrong! For example, I read 2-3 books a week! I don't know many people with ADHD can do that. But for me taking clothes out of the dryer & folding them, that's like climbing Mt. Everest

— Yashar Ali ? (@yashar) February 26, 2019

As time went on, my doctors and I decided that it was okay for me to start indulging in mind altering substances like alcohol and weed again. Last year, my doctor gave me a prescription for Benzos that I use sparingly because I would never want to become dependent on them or go through the brutal withdrawals ever again. I check everything I do over with my doctors. No, seriously, a good rule of thumb is to ask yourself, "How stupid am I going to sound to my shrink once I tell them I did *insert reckless action here*?" So I started using mind altering substances again at my discretion because through the extensive work I've done, I now know how to indulge in it without making it a crutch to completely detach from reality.
Without going into the gory details, I went through one of the most difficult times of my life last year. I endured a lot of trauma and I wouldn't wish that on anyone. Waking up in the morning and instantly crying is the worst possible feeling, feeling lonely and utterly helpless is heartbreaking, and not feeling safe in your own city and apartment is horrific. I unfortunately turned to alcohol for a month or two because, even though it wasn't the answer, I thought it was the easy way out. I learned over time that it just made things worse, and I'm glad it didn't develop into something far more serious.
Over time, I turned to weed instead, and it was actually my saving grace in a lot of ways. Journaling, therapy, yoga, meditation—all that New Age sh*t—works wonders. But if you're in a position where you need a quick fix or you simply want to expand your consciousness and see things more lightheartedly, weed is incredible.
I first was open with my shrink about how I wanted to switch from Benzos to medicinal weed and he was all for it. I got prescribed with Benzos to take sparingly in the event that I needed a quick fix to calm the f*ck down. I came to find that being in a Klonopin Cloud wasn't as comfortable as it used to be, and in retrospect, I don't think it ever was a comfort zone. It was just a way to detach from reality completely and a chemical way to become apathetic. Weed, on the other hand, loosened the vice grip I have on my issues and helped me see things through a more panoramic lens. While I'm still cognizant of my problems, I definitely don't feel like a zombie like I  did with Xanax or Klonopin. My shrink and I are working towards getting me a prescription for weed right now, thank God.
I recently went to L.A., and I was totally shocked by how normalized it was out there. Like, of course I knew it was legal and all that. But when I walked into MedMen, which is one of the most notable dispensary chains, I was totally taken aback by how open they were about the benefits of weed. I was awfully tightly wound about the whole thing because I was in such shock that they were all so open-minded, and it was then when I realized that I had internalized the negative stigma against weed too. The intention behind MedMen, one of the employees said, was to show people that weed use and dispensaries shouldn't be this clandestine and sketchy thing. It should be the embraced. The place looked like an Apple store, I swear! When I mentioned that to the employee, they said it's because they want people to know that they embrace the industry and they don't want them to feel like buying weed should be this uncomfortable, shameful process that you need to be so secretive about by going to one of those shady looking dispensaries with, like, no windows.
I ended up purchasing products from them and it was one of the best decisions I've ever made in terms of my psychiatric journey. The products they sold me were way more regulated than the bud I buy from NYU grad students. It was like taking an anti-anxiety medication that helped me take a step back and live more light-heartedly when need be. It was also a form of embracing my ADHD and thinking differently without being hyperaware of conforming to norms or pacing around because I couldn't sit still to do my work. A lot of people think that weed makes you flighty, loopy, and totally out of it. That can totally be true, but it's not always the case. For my ADHD, I use it to stop pacing around, keep my anxiety at bay, to calm down, and embrace that I think creatively.
Even before MedMen, I've always maintained that weed helped me on a philosophical level, helped expand my consciousness, and look at my life and myself without harsh judgment. A lot of people scoffed at that and saw it as a BS excuse to get high and watch Workaholics. Full disclosure: smoking weed while watching Workaholics is dope, but it's not the primary way I use it. Now, I definitely believe that it is a form of medicine for me. I did have my struggles in the past with mind altering substances that obviously did more damage than good and I wasn't instructed on how to use them properly in the first place. But I'm in a place in my life where I can drop a tincture of THC mixed with CBD under my tongue the same way someone can take an Adderall. For the record, I do believe that Adderall can work for some. However, 2 in 3 adults outgrow ADHD, and my doctors told me that I would never be a part of that group.
But it absolutely sucks that people still side-eye something that my doctor and I see as my medication. Although Adderall was horrible for me, you don't see me judging people for taking it if that's what their doctors think is best for them. It's difficult enough that people assume anxiety is just being nervous and that you need to "suck it up," or that ADHD is just immaturity because I have trouble focusing and staying organized. It's not like I sit in a corner and cry because things don't go my way or because I'm nervous. It's not like I'm all, "Oooooh, look at a shiny red ball!" when I'm writing an essay. It's not like I'm a lazy, careless bum because it's a struggle to keep my apartment clean. Those things are tough for me, and it completely worsens my struggles when someone tells me that my afflictions don't matter and that the way I believe is the healthier route is just an excuse to be lazy and indulge in munchies.
5. People who don't have ADHD often oversimplify what it means to have ADHD. I don't blame them, they're not living with ADHD. But that's one of the reasons ADHD is so misunderstood because it's anything but simple. That's why it's so hurtful when people jokingly say "squirrel"

— Yashar Ali ? (@yashar) February 26, 2019
I think for the sake of society, we really need to start listening to each other and not only support each others' differences, but also endeavor to encourage these differences so people can be more open. So the question is: why is society so myopic when it comes to these differences? Why is the immediate answer in the form of a capsule in order to "normalize" them? And if that capsule doesn't work, why the next best option is another capsule, and another?
Not everyone should function the same way and fit into this mold that society created. A New Age approach helped me embrace my differences instead of stifling them, and marijuana absolutely changed my life for the better too. If it's not for you, that's cool. But if it could help someone, but the stigma of being associated with weed use is making them afraid to seek out that option, that's a problem.
Breaking Down The 5 Most Common CBD Myths
Lately, it seems like people can't stop talking about CBD. There has been a huge surge in all things CBD, from beauty products to dietary supplements—some companies even sell CBD-infused lubricant.  When it isn't already integrated into a product, CBD often comes in the form of an oil. The compound supposedly helps to alleviate a variety of conditions, including pain, anxiety, and inflammation. While cannabidiol (CBD) is safe and beneficial for treating these conditions and more, there are still a lot of misconceptions surrounding this versatile compound. Increased interest in CBD has led to a surplus of CBD-related products hitting the market—which also means a surplus of misinformation. Let's take a look at some of the most common CBD myths:
1. CBD Is "Non-Psychoactive"

When someone says CBD is non-psychoactive, they're referring to the fact that CBD does not get users intoxicated, or high, like THC from the same cannabis plant does.
But to call CBD non-psychoactive is incorrect, since a psychoactive substance is simply one that affects the brain—not necessarily one that causes intoxication. A psychoactive substance can affect mood, cognition, and behavior. CBD has been shown to have antidepressant and anti-anxiety effects, so it is psychoactive because it affects mood and mental processes.
2. CBD Is Used For Medicine And THC Is Used for Recreation

The human body has an endocannabinoid system, meaning it produces its own cannabinoids. External cannabinoids from plants (called phytocannabinoids) can also influence the endocannabinoid system, where pain, inflammation, and other processes are regulated.
THC and CBD both work on the endocannabinoid system, THC directly and CBD indirectly, to unleash their effects. Both compounds are medically recognized to alleviate a number of conditions.
To call CBD the medicinal part of the plant and THC the fun part of the plant is far from the truth. Anecdotal and scientific evidence has long suggested that CBD works better with some THC present. Many medical marijuana patients use THC on a regular basis for conditions like chronic pain, glaucoma, nausea, and more. To ignore the years of medically verified uses for THC while embracing CBD would be ill-informed.
CBD has gained popularity because it has therapeutic effects without intoxicating the user, which appeals to many people hesitant to use cannabis. That doesn't mean CBD is the only medicinal compound in the plant.
3. CBD Works Best When Isolated

The bulk of the CBD market is made up of either isolates or whole-plant extracts. Many mistakenly believe that isolating cannabidiol from the rest of the plant is the best way to get therapeutic effects, but evidence suggests that the opposite is true.
When using whole-plant extracts, all compounds of the plant are able to work synergistically with one another to boost their effects. Terpenes, the organic compounds that make up the taste and smell of cannabis, create a symbiosis with CBD and other cannabinoids in the plant, resulting in a stronger therapeutic effect.
CBD in its isolated form can still provide relief, but using full-plant CBD is more effective. This was shown in a 2015 study that stated, "Other components in the extract synergize with CBD to achieve the desired anti-inflammatory action." The study also found that isolated CBD only worked in limited dosage ranges.
4. CBD Is A sedative

This is a confusing one, because a lot of people claim to use CBD to help them sleep. It can help with insomnia, as CBD relaxes the body, which can help you fall asleep faster. One study has even shown that CBD increases overall sleep time.
This does not make it a sedative, however. In fact, it's been found to promote wakefulness, and many people consider their CBD dose to be energizing.
Those experiencing sedative effects from CBD may be able to attribute it to myrcene, a terpene found in high concentrations in many CBD strains. Myrcene is known for its sedation-inducing effects.
5. CBD Is Legal Everywhere In The United States

With CBD's mainstream uprising, you might think that it must be legal everywhere. But the compound is still in a gray area when it comes to the law. Since the passing of the 2018 Farm Bill, hemp is recognized as an agricultural tool and is no longer considered a Schedule 1 controlled substance. CBD derived from hemp is now legally in the clear anywhere in the country. However, marijuana-derived CBD's legality depends on the state where it is being sold, and that state's own cannabis laws.
To sum up, CBD extracted from cannabis (rather than hemp) is federally illegal, but may be legal at the state level. Hemp-derived CBD is legal everywhere in the United States.
This murky legality hasn't had much effect on availability. CBD can be found just about anywhere these days, and it's only growing in popularity. That makes it all the more important that you know fact from fiction when it comes to common CBD myths.
Images: Caleb Simpson / Unsplash; Giphy (5)
All The Drugs The 'Vanderpump Rules' Cast Has Admitted To Using
It's no secret that sobriety plays a small role in Vanderpump Rules. But while the Vanderpump Rules cast is open about their drinking, we've never seen so much as a bong on camera. (We know they're smoking weed. They've all admitted to smoking weed.) This isn't exactly surprising. But it was a pretty refreshing change when the Vanderpump Rules cast finally opened up a little bit about their use of drugs this season. Too many impressionable youths are watching this show for the cast not to disclose that their 72-hour benders, impossibly tiny figures, and frequent meltdowns are fueled by a little something extra. They're open about the damage alcohol has caused—I'm glad they're being open about this too. Here are all the drugs the Vanderpump Rules cast has admitted to taking, not counting drugs they are prescribed, because I don't want to get my ass in trouble with HIPAA.
Kristen Doute/Stassi Schroeder
Drugs: Adderall, Xanax, marijuana
Kristen and Stassi both made this pretty easy for me. They've openly discussed their Adderall and Xanax use—Stassi on camera as well as off. Quick highlight reel of Stassi's on-screen season 6 drug references: blackout on tequila and Adderall at her birthday party, Xanax and alcohol during the finale. For Kristen, we have her "Xanax and edibles" refrain about her travel anxiety in Mexico, plus some pretty explicit IG stories of late including her smoking a bowl and a collection of her beside prescription bottles. Side note: The Xanax may very well be prescribed. But mixing it with alcohol/other sedatives means they're def not taking it AS prescribed.
We've discussed Stassi's super scary mixing of alcohol and Xanax at some length. But in case you need a refresher: Side effects of mixing Xanax and alcohol may include: siding with your douchehat boyfriend, inappropriate smiling because you don't know WTF is going on, and literally dying. Do not do this.
As for the Adderall use, Stassi admits to abusing it to get through long shooting days, keep her weight down, and drink the required amount of alcohol for a reality star without passing out. Ugh. Bravo, take better care of your people.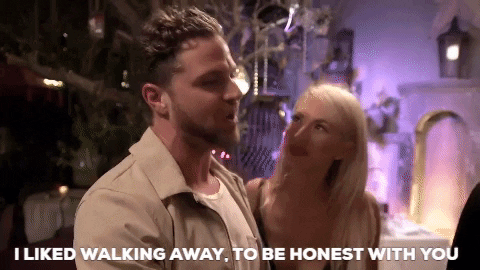 Scheana Marie
Drug: Marijuana
We all knew that Scheana was a "craaazy pothead", hence repeating herself every single episode of this season. What I didn't know is that Scheana was actually sued in 2016 for pot smoke pouring out of her apartment. Yikes. So ya girl does, in fact, smoke. But just in case we weren't clear enough at this point, she's also been IG storying what seems to be a weed tour through Hawaii. I guess once the entire internet roasted the use of weed as her excuse for her Robsession, she decided she needed to develop some receipts in a hurry. Which, yeah, if you're going to claim weed gave you the level of foresight and mental acuity of the cast of Pineapple Express, I'm gonna demand you back that up.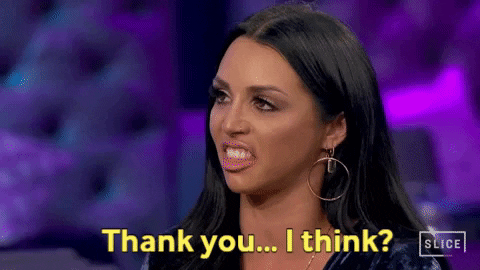 Lala Kent
Drug: Marijuana
Like Scheana, Lala too has referenced her own weed smoking at some length. Less than you'd expect for someone who claims that Tupac's "spirit lives inside her," but some. (I love a good stoner girl, but I can't help calling Scheana and Lala out here. They've always been in that weird guy's-girl, wannabe-hood zone that aligns itself with exclusively taking two hits for the 'Gram.) On her horrifying episode of Juicy Scoop with Heather McDonald, Lala says she's quit smoking, and switched to natural remedies. You know, like sucking on a "baba," or on a dick. Starting to think we disagree on what "natural remedy" means.
Lala, after one hit off a blunt:

Everyone Else
Drug: Marijuana
Katie and Tom both seem like they've been hitting the edibles fairly heavily this season, which Katie admitted to taking before her wedding. Katie specifically mentions going to dispensaries because "they have lots of candies and chocolates and I like to eat the edibles." And while Schwartz never admits to indulging himself, can we at least agree that he really, really seems like a die-hard stoner? (See: always wearing sandals, no real ambition to speak of, etc.)
Here's one of my fave Schwartz-HAS-to-be-stoned-here GIFs: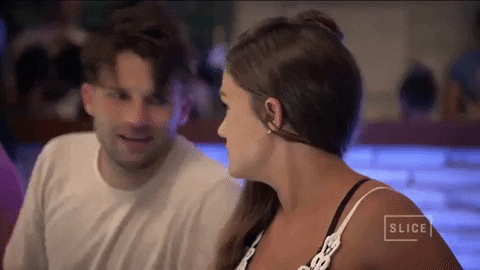 As for the rest of them, James Kennedy talks about having been "first in line" at "all the clubs and clinics" since they let you in when you're 18. (We get it James, you're young.)  Jax and Brittany have video evidence of them lighting up in an airport bathroom, and Jax mentions that he picked the habit up from Brittany's parents. Possibly the cutest fact about this couple. We know Ariana smokes as well from the time she referenced "hiding the bong" from Sandoval's mother. (God, I pay way too much attention to this show.) I don't have specific evidence for anyone else, but I'd assume Raquel at least needs some kind of memory-reducing drug to have not yet dumped James.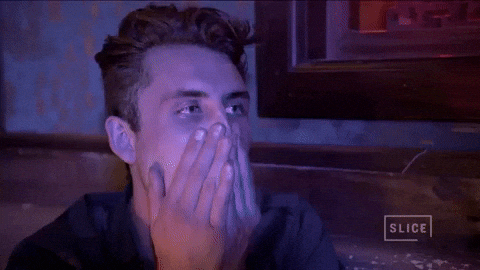 As for the burning question I'm sure you all had: We have no concrete evidence that anyone is doing coke. Plenty of people (Sandoval included) have suggested that Jax has a serious coke problem, but we don't have any evidence other than his six nose jobs and everything he says and does on camera. All around, it seems like we're dealing with a group of semi-stoners, a lot of anxiety disorders (don't act like you wouldn't develop one too), and a hopefully waning Adderall problem from the early years. Basically, your sorority pledge class. Celebs, they're just like us!
Images: Giphy (5)
These Are The Politicians Who Are Down With 4/20
Anyone who hasn't been living under a stupid rock knows that 4/20 is national marijuana day, aka weed/pot/cannabis/ganga…or whatever the youths are calling it these days. Immediately the image of a group of stoners sitting around a lunch table at the high school comes to mind, and guess what, one of those stoner friend groups is responsible for creating this wonderful unofficial national holiday. Who knows if these guys ever thought that weed would be legal in the U.S. but times are a changing and now a bunch of mainstream politicians think hay ayy ayy ayy, smoke weed everyday. So roll up a fat one and get ready to have your mind blown.

Who TF Supports Cannabis in Congress?
Turns out you don't need to still be in high school to start a club about weed, because there is a bipartisan group that started the Congressional Cannabis Club Caucus. Now, idk if they all go to someone's office after hours, put their chairs in a circle and light up like they are in an episode of That 70's Show, but that's what I like to think happens. Which, by the way, would be totally legal in DC, so maybe they'll make it an open invite next time. The founders of this chill AF caucus are Republicans Dana Rohrabacher (CA) and Don Young (AK) with Democrats Earl Blumenauer (OR) and Jared Polis (CO). Their states already have legalized medical and recreational marijuana, but their goal is to have it passed at a federal level so that we can all get high. Dope.

Throwback to the 2016 Presidential Election
As the progressive presidential candidate Bernie was very open about his support of legalizing marijuana. He also "did" weed twice, and it made him cough a lot. So now we know what "feel the Bern" really means. He wasn't the only candidate in the 2016 election who admitted to having tried cannabis at a young age. Shocker. The best was Jeb Bush who admitted to it during a debate and then tweeted out, "sorry mom." In case you weren't already aware, politicians are people and had lives before congress. TBH I wouldn't trust a candidate who never even considered smoking weed in college. Also, these politicians we're talking about are white, so they can totes get away with admitting to doing drugs. Just something to remember, betches.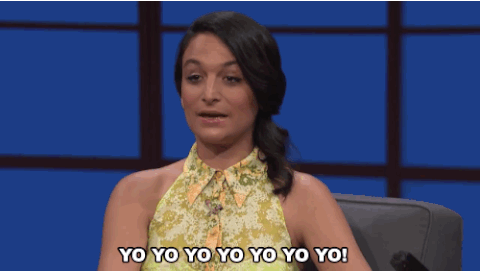 Keep Going I Want to Hear More
Sen. Kirsten Gillibrand (D-NY), Sen. Cory Booker (D-NJ), Sen. Rand Paul (R-KY), and Sen. Elizabeth Warren (D-MA) are all happy to welcome their old friend John Boehner to the dark side. Boehner is the most recent politician to come out in favor of legalization when he announced he is joining the board of Acreage Holdings, who distributes weed across 11 states. He was a real buzzkill back in the day and voted against legalization back in 1999. Boehner's position is meant to help Acreage lobby with the former Speakers powerful friends in Congress. With so many influential members supporting medical and recreational use of marijuana, it should be no time before it is legalized in most states. Tiiiiiiiight.

Who TF does this Piss Off?
Of course there has to be a fucking narc and who would it be besides Jeff Sessions. He has launched a war of his own on marijuana and claims, "Good people don't smoke marijuana." I'm a f***ing good person, Jeff. Basically he wants to infringe on the states' rights to determine their own marijuana laws… not very Republican of you, Seshie Boi. But have no fear, like so many other things Jeff has done, it will probably backfire. It turns out that he's pissing off the 64% of Americans who support legalization, and they are going to go out and vote for Dems who will pass legislation they favor. Tsk Tsk. He should've realized that an election can actually still be about the issues, especially when you want to take away weed from pot heads and lessen mass incarceration. Who knows, maybe Jeff has smoked before but he just can't recall.
Heads up, you need to keep up with the news. It's not cute anymore. That's why we've created a 5x weekly newsletter called The 'Sup that will explain all the news of the week in a hilarious af way. Because if we weren't laughing, we'd be crying. Sign up for The 'Sup now!