The Toxic TV Relationships That Will Make You Glad You're Single
It's easy to get bummed about being single when you're watching most classic sitcoms and popular dramadies. These shows are supposed to be about doctors, or twentysomethings figuring it out, or rich people in New York City. And yet, the central theme to most television is love, love, love! Preferably a love triangle that can keep viewers hooked for at least five seasons or until they hit syndication. The will-they-won't-they dynamic is great for moving the narrative, but it's given us all some warped ideas about relationships or longing eternally for someone you can't quite have. Because we need a good season finale cliffhanger.
It's time to take a step back and see these TV couples for what they are: toxic as hell. Don't let NBC or anyone convince you that being single is worse than being in one of these horrible pairings. Instead, sit back, enjoy having a glass of wine alone,  and the freedom to binge watch your favorite show without anyone trying to take the remote. Here are some of the most toxic TV relationships to remind single people they're living the sweet life.
Emily and Gabriel


My favorite hate-watch, Emily In Paris, wants the audience to root for Emily and French chef Gabriel so badly. Sorry, no. Cheating is bad. The girl code exists for a reason. Do not give a girl a nice pan if you're cooking in someone else's kitchen. Even if Camille miraculously gives these two her blessing in some future season, it's pretty hard to build a healthy relationship when you know your boyfriend is the type to sneak around seasoning other people's iron.
Big and Carrie

This one is maybe too obvious. Carrie and Big eventually came together on a bridge in Paris, got married, and lived a few decades together before "John" got the ax in And Just Like That…, but c'mon. That ending was fan service. The real pinnacle of their relationship was the day Carrie threw a Big Mac at her horrible boyfriend's head and realized he was never going to change. Because, honey, in real life they never do.
Eve and Villanelle

A serial murderer and a detective make a passionate pairing, especially with actors as compelling as Sandra Oh and Jodie Comer. Fans of Killing Eve love watching these two dance around each other, ratcheting up the danger and desire with every episode. Personally, I don't know if the juice is worth the squeeze here. It's exciting to be obsessed with someone, but would you want to be worried about them jumping out of your closet with a knife after a long day at the office?
Issa and Nathan

Issa ends up with Lawrence, the man she began Insecure with. There is plenty of debate amongst fans about whether or not this was the right choice, but at least they both showed some growth and character development that would justify their reunification over the series. Part of Issa's journey included her time with Nathan, the elusive barber who was also a big fav with viewers. Yes, he was hot as hell, and sure, people make mistakes—but if someone ghosts you for months, please know it's not romance. It's a cry for help.
Catherine and Peter

This is the rare dysfunctional relationship on TV where the people in it know it's dysfunctional. Catherine the Great and her husband Peter are often trying to kill one another. Isn't it nice to not be in an arranged marriage with a deranged king? I'd choose going stag to a holiday party over that anytime.
Kimberly and Nico

The Sex Lives of College Girls is a parade of relationship dysfunction, probably because that is the college experience for most people. But the lies Nico tells Kimberly to make sweet love to her over and over will really make you appreciate the fact that you will never be invited to a frat party again.
Joe and Pretty Much Anybody

If there's a show out there that will convince you never to date again, it's You. Sickeningly, Penn Badgley is devastatingly attractive and it's easy to see how these women get charmed by him… at first. Before long, they're ignoring their instincts that something is not quite right with old Joe Goldberg, and by then it's too late. Even if the person you're dating isn't a psychopath, we've all experienced the ole bait and switch. Never again! Until next season!
Sookie and Bill

True Blood was the classic two-men-love-one-woman show, except the two men were undead. While no one is giving Eric Northman any awards for sanity, Sookie's first love, Vampire Bill, ends the series on the most deranged note possible, coercing his former girlfriend to put a stake through his heart inside the grave he digs for himself. Is this the ultimate expression of love? Or only something a controlling weirdo would do?
Daphne and Simon

Okay, I know Regé-Jean Page is unbelievably dreamy and that Phoebe Dynevor dated Pete Davidson, so there's a lot of loyalty to these Bridgerton characters and their (eventual) happy ending. But if you are in a relationship that involves stealing someone's sperm, it's not a healthy situation. I don't care if it's the imaginary 1800s. Communication comes before cum thievery. 
Nate and Maddy and Cassie

Pretty much all of season 2 of Euphoria is about these three having sex, not having sex, finding out about sex, screaming and crying and driving while under the influence. While I would like to kiss all their beautiful faces, you couldn't pay me enough money to be in a relationship with any one of them. Growing up and getting over histrionic drama totally rocks.
Images: Eddy Chen/HBO; Giphy (10)
And Just Like That… I Might Finally Need A Peloton Bike
Let me make one thing very clear: I fucking love to hop on a bandwagon. I spent 2020 making banana bread and posting purposely grainy-filtered photos of it. I rub Glossier products all over my face even though I know the difference of no-makeup makeup is undetectable to the naked eye. Vodka is my nemesis and I have a stomach as weak as Notes App apology, but I will order an espresso martini anytime there is one on the menu. But, there's one trend I've successfully steered clear of, and that's blowing a minimum of $1,500 on a Peloton bike. 
It hasn't been easy. At any given moment, there is Peloton propaganda clouding my peripherals. Although I'm almost certain I've never intentionally liked a meme that would joke about being "torn between looking like a snack or eating one," Peloton memes sneak their way onto my explore tab at least once every 72 hours. My friends' shaky clips depicting the motivational things Peloton instructors shout at them over Spice Girls music have officially knocked concert video Instagram Stories off of their throne. I don't remember the last time I visited a friend's apartment and didn't see a Peloton bike lurking in the shadows like the ghost of a small Victorian child haunting a hotel in a horror movie. Peer pressure has not marketed anything so successfully since Apple rolled out blue bubbles for iMessages and green ones for texts, but still, I remain a Peloton-less individual. 
For a brief moment last week, it appeared that the Peloton bubble had finally burst. (Warning: I'm about to drop a serious And Just Like That… spoiler, but I'm sure you've already seen it because as we've discussed, the Peloton girlies simply cannot keep quiet on social media.) In the first episode of the latest iteration of Sex and the City, Carrie Bradshaw lost her dear husband Mr. Big after he suffered a fatal heart attack following a ride on a Peloton bike. Had Big perished at the hands of a more inconspicuous fitness regimen, such as the P.Volve P.3 Trainer or the Mirror Home Workout System, the internet would be much more focused on the true issue at hand: trying to figure out why the hell Carrie didn't call 911 as soon as she realized Big was dying. Instead, HBO Max handed Peloton users yet another reason to talk about their bikes. 
Luckily, Peloton has a genius marketing and PR team who have been training for this kind of a crisis ever since their Criminal Minds episode of a 2019 holiday commercial. According to a statement a Peloton spokesperson made to the Los Angeles Times, it took the company only 48 hours to pull together a clapback commercial featuring Chris Noth (the actor who plays Big), Jess King (the Peloton instructor who made a cameo in the show), and Ryan Reynolds (who famously roasted Peloton for their festive snafu two years ago). The video features Jess and a shockingly-still-alive Big chilling by the fire with a disclaimer that no, riding a Peloton will not kill you (might want to get a pulse check on your bank account and your living room's feng shui, though). 
View this post on Instagram
At the time of publication of this article, Peloton's video has been up for two days and already has 2.5 million views. The internet went absolutely bonkers over it. Like, I have truly not seen people harmoniously agree on something so quickly and so passionately since we all ripped Gal Gadot a new asshole for getting her famous friends to sing "Imagine" a mere seven days after the World Health Organization declared Covid-19 a global pandemic. There's no denying that Peloton's response was impeccable, but the whole ordeal has me feeling a little cynical. On one hand, it smells like a cult when hundreds of thousands of people are sharing an advertisement to their personal social media accounts (for legal reasons, that's a joke), but on the other hand… there's never been a lonelier time to be a girl without a Peloton. I haven't felt this left out since all my friends were getting sleek little Motorola Razrs and I had to stick with a clunky off-brand Sidekick because I had Virgin Mobile. As I clicked through at least a dozen Stories of people reposting the video with "genius" and "well played" captions, I couldn't help but wonder: if life really is about the journey and not the destination… would I be happier if I spent all day riding a little bike to nowhere in my own living room? 
Images: HBO Max; onepeloton / Instagram
What's 'Sex And The City' Without The Woman Who Brought All The Sex?
And just like that, another TV show reboot that we probably don't need is announced. On Sunday, Sarah Jessica Parker, Cynthia Nixon, and Kristin Davis graced our Instagram feeds with a short trailer alluding to the fact that the iconic 1998 show, Sex and the City, was coming back to life. I was fully prepared to leave this franchise behind me after their failed attempt at a third movie, but this revival has left me quite intrigued. As I watched the And Just Like That teaser three different times on each of the stars' accounts, I (say it with me now) couldn't help but wonder, where was Kim Cattrall? Surely, we couldn't have Sex and the City without the woman who brought all the sex?!
As bummed as I am, it shouldn't be a surprise that Samantha Jones would not return in a SATC reboot. Kim Cattrall mentioned in several interviews that she would not partake in another iteration of the iconic show. I mean, who can blame her? The off-screen drama with SJP and other members of the cast was even more dramatic than the scripted fights they got into. (In 2018, following the passing of Cattrall's brother, she dragged SJP on Instagram, writing, "You are not my family. You are not my friend. So I'm writing to tell you one last time to stop exploiting our tragedy in order to restore your 'nice girl' persona.") Kim perfectly put it when she said, I don't want to be in a situation for even an hour where I'm not enjoying myself."
Since we won't get an appearance from Samantha Jones, I'm having trouble figuring out who is going to bring all the entertainment, iconic one-liners, and even an ounce of flavor that this show lacked from its cis, hetero, all-white cast. (Though perhaps HBO will take this moment to shake up said cis, hetero, all-white cast.) Who will be the voice of reason when Carrie is full of sh*t? Who's going to remind Charlotte that she shouldn't be so uptight and stuck in her ways? Is there going to be a fourth character who is equally as successful and ambitious as Miranda, but not an absolute buzzkill? 
If the show "must go on", then I suppose all we have left is to reminisce on the hilarious and completely out-of-pocket moments that Samantha Jones brought to our televisions for six seasons and two feature films. Join me as I pour one out for the unapologetic, pleasure-chasing publicist, and look back at some of her best moments.
Season 1, Episode 1 "Sex and the City"

From the very first episode, Samantha was serving realness to her delusional dater friends. I actually love that the pilot is basically about Carrie deciding to live the way Samantha has always been living and turning this into a revelation all about herself. Kind of telling, if you ask me…
Season 1, Episode 10 "The Baby Shower"

Another moment where Samantha was anything but subtle! While there is absolutely no shame in those who choose to be mothers, it was hilarious (and empowering) to see her not fall to the pressures of society and live exactly the way she wanted. Tbh, I might throw an "I don't have a baby" shower for the gifts — and the Instagrams.
Season 2, Episode 6 "The Cheating Curve"

Okay so this was definitely one of the more problematic episodes. When Charlotte decides to hang out with lesbians because she got cheated on, Carrie gets back with Big, and the whole gang debates the definition of cheating. Even with her dumb views about what constitutes infidelity, Samantha manages to give this nugget of, dare I say, good advice, that is eerily reminiscent of what my therapist has been trying to tell me for years. Who knew I could have just watched Sex and the City and saved myself the copay.
Season 2, Episode 7 "Chicken Dance"

In this episode, Samantha realizes the guy she just slept with, she'd actually already slept with 15 years prior, and it feels like a bleak look into my future. Also, they all attend a wedding where Carrie is reading a poem, which is where Samantha delivers this one-liner that my mid-20s self can relate to all too well. Ok, who am I kidding, this quote is timeless regardless of my age.
Season 4, Episode 10 "Belles of the Balls"


I'm sorry, but does she or does she not spit the absolute truth? One thing about Samantha was that she played like a man living in a man's world (again, as discussed vis-à-vis the pilot episode and overall premise of the show), and did it well.
Season 5, Episode 4 "Cover Girl"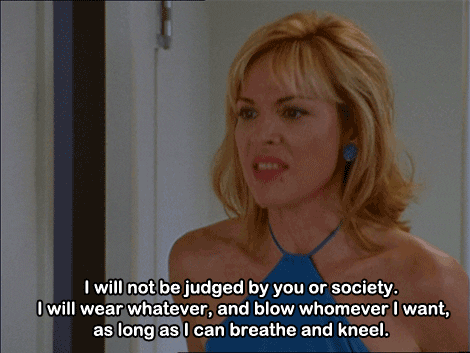 And just like that, we go from profound commentary on sexist double standards to a sexually explicit quote. Gotta love the woman's range. Even from her own best friends, Samantha had to defend herself from being slut-shamed, much like in this episode when Carrie judged her hooking up with a delivery guy. First of all, I would love to see that high-and-mighty attitude amidst the pandemic, when the delivery guy is the only person of the opposite sex with whom I regularly interact. Tbh if any of my friends did this, I'd be applauding them for (hopefully) getting a friends and family discount on Seamless.
Season 5, Episode 6 "Critical Condition"

Kind of conceited to think that any given person in New York City knows who you are, but I'll give her this one. I'll surely miss how unapologetic Samantha is, and how she does and says whatever she wants without worrying about how others will react.
Season 6, Episode 2 "Great Sexpectations"


Where would we be without that one friend who gives top-tier sex advice? Definitely not having as much sex as Samantha was, that's for sure. Thank God Carrie, Miranda and Charlotte had Samantha to remind them to not just have more sex, but good sex. Not sure they ever truly took her advice, anyway.
Images: HBO; Giphy
Recap Of The 'Sex And The City' Pilot From Someone Who's Never Seen It
Yes, what you just read is true. I, a living, breathing woman between the ages of 25-35, have never seen Sex and the City before. Why, you may ask? The answer is simple, honestly: my parents would have rather chopped off their own feet and cooked it up for dinner than let me watch a show that had "sex" in the title as a kid. (When girls in my grade made their bat mitzvah themes things like "Lex and the City", my mother was positively scandalized.) And yet in my house, we grew up watching Law & Order: Criminal Intent as a family, so what does that say about me? 
Anyway! Once I got older I really had no interest in watching Sex and the City, an opinion that has been reaffirmed by the countless articles pointing out just how cringeworthy and problematic it was. I thought that, coming upon my third decade of life, my complete ignorance of this cultural phenomenon would become irrelevant, much like the show's fashions. But now that a reunion has been confirmed, I feel the need to finally try to understand what everyone was talking about 20 years ago. I think I know the gist: Carrie is the annoying one, Samantha is the slutty one, Charlotte is the prude one, and Miranda is just kind of there. At least, that's what the memes tell me. We all are sooo one of these characters. We all want to be the Carrie (for reasons that elude me) and yet are probably all the Miranda. 
So, in an effort to finally be able to relate to people and not have to pretend-laugh at Sex and the City references, I decided to fire up my friend's HBO Max account and see what the fuss was all about. Here's my honest recap of the Sex and the City pilot.
The eponymous pilot opens with our narrator Carrie typing, "Once upon a time, an English journalist came to New York. Elizabeth was attractive and bright, and right away she hooked up with one of the city's typical eligible bachelors." I'm not going to retype this whole monologue, but the gist is, Elizabeth made the classic New York mistake of hooking up with a finance bro. And just in case you aren't from the city, Carrie makes sure to hit you over the head with how "quintessentially" New York the whole encounter is, by saying "in typical New York fashion" at least six times throughout this whole love story. If you don't live in New York, let me just say, that yes, it is in typical New York fashion to have a guy blow smoke up your ass and then completely stop speaking to you after he stands you up for plans that he proposed in the first place!! Sorry, I'm fine. It's fine.
Elizabeth's love story is much like my own, in that Elizabeth and our finance bro "dated" for two weeks until he ghosted her. The only difference is that at least Elizabeth got dinner out of it, when all I get are drinks and a vague promise to order a pizza if I were to come over to "watch Netflix". Or, at my lowest point, one 99-cent can of Arizona iced tea. So, I know this show premiered in 1998, but to me, the fact that this is a story worthy of an investigative-type piece in a literal newspaper is alarming. I wonder if I could get a job at the NY Post using my diary entries as writing samples at this rate?
Further underscoring my point that Carrie should not be a professional writer is this little gem of hers: "Cupid has flown the co-op," she says, with a self-satisfied smile. I hate it with every fiber of my being, and it's kind of sad to me that straight women in the late 90s apparently were getting treated like sh*t by men in the same way that we are now, but apparently nobody was talking about it? The only thing worse than getting ghosted left and right is thinking you're the only one who is getting ghosted left and right. I suppose if we can't get better treatment, at least we have the memes.
Cut to a montage that feels reminiscent of Hitch (don't come for me, I'm very aware of who must have inspired whom in this scenario) of random dudebros giving their takes on why so many amazing women are single. Oh boy, I feel a rage blackout coming on. One guy, in between chest presses at the gym, says that it's because in their 20s, guys are controlled in relationships by women. By their 30s, they're "devoured by women". He says that like it's a bad thing, but I feel like any straight man would be thrilled to be devoured by women. What do you all want!

Another dudebro doing bicep curls says, "you don't want to do it with someone over 35, because you have to have kids right away." He advises women over 35, "forget about marriage and just focus on having a good time". I almost shut the show off at this point, but decided to persevere at the expense of my blood pressure and general well-being.
Cue more sexist and ageist nonsense: older women don't want to settle, what women really want is Alec Baldwin (no thanks, if I wanted to get screamed at for no reason, I'd do more SoulCycle classes); women are too picky and turn down guys left and right for being too short, fat, or poor. Enter: Miranda with some sanity, to say that even the short, fat, and "poor" guys are still assholes. (It's almost as if you can't tell if someone's a good person by their height, weight, or bank account.) Gotta be honest — I did not come here to affirm how timeless this show is, but the degree to which I feel attacked is proving otherwise. 
At Miranda's 30-something birthday dinner — that was not me being lazy, they only specify it's a birthday in her 30s because, you know, women aren't allowed to age — Samantha comes prepared with some wisdom. She says, you can either bang your head against the wall and try and find a relationship or you can say "screw it" and just go out and have sex like a man. 
Charlotte: You mean, with dildos?
I mean, she's not wrong.
Miranda says that guys in New York don't want to be in a relationship with you, but they also don't like it when you only want them for sex. "All of a sudden, they can't perform the way they're supposed to," she says. I know this is not ~the point~ but Miranda saying that a man's only purpose is to provide sexual pleasure is kind of iconic. Am I too jaded to properly critique this show?
Carrie: Oh come on ladies, are we really that cynical?
Speaking for every single woman in New York:

I've decided that I'm definitely a Miranda because of this part where she's like, "this guy took me to dinner and read me a poem. What a serial killer, can you imagine?" *Scrolls up to earlier musing about how I don't even get taken to dinner* Interesting.
Carrie's like, "So you really think it's possible for women to pull off the whole 'having sex like men' thing?"
I will say that I do kind of resent that the premise of the entire show is built on this toxic double-standard where only men can have unattached sex. Do the women really have to be having sex "like men" or could they simply be having casual sex? The whole thesis is basically, "Women be catchin' feelings, am I right?" And look, I know this was 1998 and maybe that's the only lexicon they had at the time, but now it feels incredibly lame to have a writer's room that's like, "what if we have women… who date… now hear me out…. like men! Enjoying sex and everything! Genius, isn't it!!"
And just when I thought SATC might be somewhat timeless in its accurate portrayal of dating in New York, while at lunch with Carrie, Stanford hits us with this dumbass quote: it's straight love that has become closeted. Right, because I'm afraid to walk down the streets of New York holding the hand of my boyfriend for fear of vitriol or attacks. I bet the writer who came up with that one was real proud of themselves.
But they're back to realistic portrayals by giving Carrie a "loathe of my life" named Kurt Harrington (tracks) with whom Carrie kept hooking up throughout her 20s despite Kurt being a walking piece of trash (tracks again). I feel… reluctantly seen. However, Kurt was good in bed, and Carrie decides he'll be her guinea pig in the experiment of "can women indeed have sex without getting attached?" 
Carrie's big pickup line? "So, how's life?" Genius. I can see why they gave her a writing column. These two are practically gyrating against each other in what appears to be a crowded restaurant in the middle of the day. 
Me watching this: 

They make a booty call for 3 O'CLOCK IN THE MIDDLE OF THE AFTERNOON. Ok whatever, spoken as if I haven't done that exact thing after brunch. Ok, you're right, during brunch. 
So they bang at 3pm as indicated — or, actually, context clues lead me to believe Kurt just went down on Carrie, which is hilarious because you know Kurt is the type of guy whose face has never gone near a set of labia because he "doesn't like the smell" (you can tell by his teeth). When Kurt asks Carrie to return the favor, she says, "oh sorry I have to go back to work." Ma'am? I understand that you write a sex column, but I am pretty sure the newspaper would not count this as "necessary research" that needs to be conducted on company time.
After bouncing, Carrie is like, "I did it. I had sex like a man. I felt powerful, potent, and incredibly alive." And look, I'm all for being sex positive, but Carrie, the reason you feel powerful isn't because you had sex without immediately catching feelings (which take a minute to develop anyway—they're like Polaroids in that way). It's because you left a guy hanging. And truly, there is no feeling more powerful than that, and I support you, but let's not get ahead of ourselves. 
And it is while she's riding this high when Carrie literally bumps into the character who will be known as Mr. Big (it's amazing how much info you can glean from memes these days — maybe this is why people are so stupid). 
And there it is, the insensitivity I've been hearing so much about: When Skipper is complaining about how he hasn't gotten laid in a year because he… pause for collective gasp… respects women… Carrie says, "are you sure you're not gay?" I don't have the time or energy to explain all the ways in which this is wrong, and not a thing one person should ever say to another person. So let's just flag that and add it to the tab.
All the girls are spending the night at a club called Chaos (minus Charlotte, who's on a date with some rich guy and determined not to put out). I stopped going to clubs pretty much the second I stepped foot in Marquee, but I'm supposed to believe these 30-something-year-olds are willingly clubbing on a work night? No. 
Carrie is trying to set Miranda up with Skipper, but the problem is that Miranda will think Skipper is mocking her when he's actually just being sweet and direct. Me again. 
And I can see why Miranda is single, because she just used the phrase "ipso facto" in actual conversation. None of my lawyer friends have ever spoken this way, and neither has any real human. 
Who else happens to be at the club? None other than Mr. Big. Samantha spots him, and here comes the unintentional best line in the entire episode.
Samantha: You see that guy? He's like the next Donald Trump, only younger and much better looking. 
That line, and I sh*t you not, is followed by Carrie saying of Samantha: Samantha had the kind of deluded self-confidence that caused men like Ross Perot to run for President.
Or men like… Donald Trump. Wow, maybe we do need a reboot of this show.
Meanwhile, after Charlotte's date that apparently was at the f*cking Met Gala because she and Capote (who tf is named Capote) emerge wearing a tux and a ballgown, Char falls for the classic ruse of "want to come back to my place to check out my painting?" Except in my case, it's usually more like, "want to come up and see my roof?" when his roof is just his window and his window looks out over an air shaft.
Oh, Charlotte. Charlotte, Charlotte, Charlotte. You have fallen for the oldest trick in the book and still think you have the upper hand. The way this bitch is sighing and smiling to herself, she thinks she's some master pickup artist when she's clearly about to get ghosted.
I lied, it's even worse: Capote gets in the cab with her to go to the club! Lmaoooo is this how men acted before dating apps? Maybe millennials didn't kill dating after all. 
Speaking of the club, Samantha is over in the corner trying to fellate a cigar, and I am so uncomfortable I want to jump out of my skin. She shoots her shot, which I completely respect, although her methods are a little aggressive for my taste: inviting Mr. Big to the room downstairs. He doesn't take the bait, because we are supposed to believe he is ~evolved~ and ~sensitive~ when in reality he probably just likes being the pursuer and is turned off by a woman with confidence. Yeah, I'll say it!
In the end, Miranda and Skipper hook up and Capote takes Samantha home. And this is what we in the biz call a pretty successful night, we've got half the girls getting it in. Not bad for a club called Chaos, because if this stayed true to the name, there would have been a lot more vomit at the end of the night.
Carrie starts to walk home and then sees Mr. Big and just… gets in his car?? Is this the 1990s or the 1970s? This could easily be the intro to a Criminal Minds episode.
Carrie's bullsh*tting ability is somewhat respectable, though. When Mr. Big asks what she does for work, she calls herself a "sexual anthropologist" and says, "right now I'm researching this article on women who have sex like men." Like, you have a freelance writing assignment and you are talking to your friends about their dating lives. I do that all the time, should I be updating my resume?
Big: But you're not like that.
Carrie: Well, aren't you?
Big: Not a drop. Not even half a drop.
You can all but see the puddle that's forming in Carrie's underwear at this admission BLATANT LIE. Yeah, I'm beginning to see why people hate Carrie (aside from the terrible "cupid flew the co-op" puns). From what I've gathered (again, from the memes and a few headlines), Carrie will spend the next six seasons of this show on and off — and possibly a movie or two — doing Olympic-level mental gymnastics to justify this one statement made by Big in the back of a cab when almost everything else he does proves the exact opposite. And this is why you don't let the resident delusional dater give dating advice to the masses of New York City! Who knows how many generations of women she's led astray with her misguided musings? Okay, none, because this is a fictional show, BUT STILL. 
Carrie asks Big if he's ever been in love and he says "abso-f*cking-lutely". And that's supposed to be some groundbreaking admission? Lol, even the most twisted f*ckboys I know would admit they've been in love, but that's usually the problem: "one girl mildly hurt my feelings 16 years ago and that's why I will only lead people on from here on out." The 90s were whack. I think I've said all I needed to say on this pilot. They got the cynicism and general sense of uselessness with dating right; the rest was a lot of cringe. Samantha and Miranda are the only redeeming characters thus far. We didn't really need this reboot, and we definitely don't need it without Samantha or some sort of Samantha stand-in. 
Images: HBO; Giphy (3)
5 Episodes Of 'Sex And The City' That Are Now Cringeworthy
We all love Sex and the City, or at the very least, love to hate Sex and the City. I mean, the better half of the twenty- and thirty-somethings in New York moved here because of the inspiration Carrie Bradshaw and her crew of Manolo Blahnik-clad misfits gave us. We've all sat around with our gals and gays deciding who's the Samantha (always the slutty one that has two glasses of Prosecco and starts announcing "I'm such a Samantha!") the Miranda (the smart one) the Carrie (me… I'm the Carrie, always) and finally the poor, sad soul that gets labeled the Charlotte. If you've ever worked serving tables and had someone order a hot water with lemon, you can blame Sex and the City. I always did. 

Here's the thing about shows from the past: they rarely stand up to today's standards of quality, comedy, and most importantly, political correctness or even personal morals. Sex and the City is no exception. Even when I watched the show in its entirety seven years ago, there were moments that made me wonder how they got away with some of the sh*t they did at the time. The show ran from 1998-2004, arguably a great time for television, but also a time before it was customary for us to question the things on TV that made us uncomfortable, offended, or simply confused. While there are many a "joke" that would now be considered to be um…in poor taste…these are five episodes that made me say "Uh…oh no, no, you can't say stuff like that anymore!"
5. Season 2, Episode 12 "La Douleur Exquise" – Stanford's Big Moment
It's supposed to be New York in the late 90s/early 2000s, and the LGBTQ+ representation is lacking. Carrie's gay BFF Stanford is the most visible gay character on the show, with a whopping 27 episodes out of the 94 that make up the series. 27 episodes sounds pretty good, until you watch them all and realize that most of the time Stanford is just dropping by to make a little quip, call himself a queeny bitch, and then sashay offscreen like me leaving a party the second the open bar ends.

In this particular episode, Big is out of town so Carrie has time to kill, so we're granted a little glimpse into Stanford's dating life. The scene is set: Carrie and Stanford chain-smoking cigarettes inside the apartment, tossing back pink cocktails and trading tea back and forth. (If you don't know what Tea is, it's like gossip—catch an episode of Rupaul's Drag Race every now and then.) Stanford takes a sip of his cosmo and reveals to Carrie that he's been dating—cyber dating, he says wearily. "I have cyber sex on the internet. My name is Rick9Plus. Rick9Plus, how sad is that. So, I've been chatting with this guy and now he wants to meet and I don't know if I should." Carrie, as any good friend should, asks what Stanford knows about him. "His name's BigTool4you. He seems hot, it's exciting, and I haven't good sex since before Cats was on Broadway." Well he seems hot and says he has a big dick, and in gay world that's like scoring a doctor who also has his law degree, an apartment in Paris, and family money out the ass! Only like…gay guys also want to score a doctor who has his law degree, an apartment in Paris, and family money out the ass, you know? Big dicks don't pay the college loans and credit card debt!

Now, do a lot of gay guys have anonymous sex on the internet? Yes. Of course they do. More than most straight people I know, my gay friends have sex a lot. I mean, I don't, because I'm riddled with anxiety and self-doubt, but my friends who are blessed with anxiety-free brains, or a good Xanax prescription, do. Here's the thing though, they don't only have anonymous sex. Growing up I didn't really know any gay people, like, at all, so the only gay men I was exposed to were the ones on TV having wild sex in dungeons, insulting everyone around them, generally being rude to each other, and never really having any kind of traditional life. Maybe Sex and the City should've reconstructed the way gay men were seen on screen, instead of reinforcing those pre-existing stereotypes. But maybe I'm just being a hysterical homo! You know us! Drama, drama, drama!
Stanford does end up meeting with "BigTool4U," very romantically at an underwear party at an after-hours club in Chelsea, and they share a very special moment where he touches the waistband on Stanford's tighty-whities. Ah, just like a modern day Gone With The Wind.  We never hear from "BigTool4U" again in any other episodes, and Stanford never mentions how their torrid love affair ended, but hey, they were only the most popular and talked-about TV show on HBO at the time, they must've just not had the budget to further invest in gay representation!

4. Season 3, Episode 5 "No Ifs, Ands Or Butts" – Samantha Tackles Racism (Not)
It's no secret that Sex and the City was completely lacking in diversity. Lacking in the sense that it didn't exist like, at all. Almost every single episode, one of the girls is dating or having sex with a guest star or two who's only there for one episode. During the entire series, the girls date three people of color. Maria, from the episode where Samantha "tries out" being a lesbian (lol), Dr. Robert Leeds, played by Blair Underwood, who is the go-to defense answer when someone comments on the lack of representation on the show, and then there's Chivon.

We're introduced to Chivon through his sister, Adeena, a restaurateur acquaintance of Samantha's who also happens to be a woman of color. Chivon and Samantha immediately click, and after a few jokes about how smooth and hot he is, sprinkled in with a couple of nuggets of information about how successful he is from Adeena, the girls start potentially the first dialogue about race on the show…and it's all bad. After Samantha insists she's not using "black talk," she's using "sex talk," Charlotte corrects her, "it's African-American talk," Samantha fires back with, "I don't see color, I see conquests," to which Carrie replies, "talk about affirmative action!" I mean… holy sh*t, what? At this point we're only five minutes into the episode. Buckle in kids, it's gonna be a real f*cked-up ride!

As the episode goes on, Samantha ends up dating Chivon, and here is where it gets interesting. When Adeena realizes that her friend Samantha is dating her brother, not only f*cking him, she is very unhappy. "I don't like you seeing my brother, I don't approve. I'm sure you're a very nice person but you're white, and I have a problem with my brother getting serious with a white woman. I'm never going to approve and my approval means a lot to my brother." Samantha is aghast at Adeena's response and immediately takes it to the girls, who begin discussing "his big black cock." Miranda slyly comments, "don't you mean big African-American cock?" SO MUCH IS HAPPENING HERE AND IT'S SO BAD. The first and only time we're going to discuss racism in the show is racism AGAINST Samantha!? No, God, please no.

When Samantha refuses to break up with Chivon and shows up to a club with him they bump into Adeena, where sh*t really hits the fan. She yells at Samantha that no matter how many "Jennifer Lopez dresses" she owns she'll never be with her brother. Samantha makes some comments that made me shrink into my couch, before she struts off, only to get her hair grabbed by Adeena, leading them into fist fighting in the club.

Again, this is one of the only woman of color to ever be on the show, certainly the only one with an actual story line, and she's portrayed as violent, closed-minded, and is literally called a loud-mouthed bitch by Carrie in the narration??? NO. NO, Sex and the City, just….no.
3. Season 4, Episode 11 "Coulda, Woulda, Shoulda" – Roosters & Transgendered People??
When this episode opened with crowing roosters waking up Carrie, I connected. I've literally lived in apartments in New York where my rich neighbors with too much money to burn owned chickens and roosters and kept them on their veranda. It's New York, people are insane. Just this week I saw a man walking down 6th Avenue with a snake wrapped around his neck and an old woman with a parrot on her shoulder shopping at Trader Joe's. Only Carrie doesn't just rant about how annoying the roosters are, but also how annoying a group of transgender sex workers that are supposed to work the street outside Samantha's meatpacking district apartment are! Oh, but also they're not described as transgender sex workers, we're introduced to them through Carrie's narration as follows: "There they were, Samantha's friendly neighborhood pre-op, transsexual hookers. Half-man, half-woman, totally annoying." Tasteful, Carr!

There's so much wrong with this. Imagine Zendaya on Euphoria referring to a group of people as transsexual hookers and it not immediately trending on Twitter. Remember, this is the level SATC was at at the time. The episode goes on with Samantha meeting the girls for breakfast the next morning, where she just digs her ignorant grave deeper. "I'm paying a fortune to live in a neighborhood that's trendy by day and tranny by night." Poor, sweet, dumb Charlotte is confused. "Tranny?" She asks. "Transsexuals. Chicks with dicks! Boobs on top, balls down below!?" Samantha answers. "I don't get the appeal there," Miranda comments before Samantha babbles some bulls*t about pseudo-straight guys from New Jersey and then they all laugh maniacally like Regina George bullying Katy Heron.

Transgender is defined as someone who identifies differently than their biological gender, while transsexual is someone who physically transitions from one gender to another. You know what they have in common? They don't like to be called f*cking trannies! Maybe if we weren't all growing up watching women who inspired a cosmo-and-scooped-out-bagel movement talk so negatively about a vulnerable minority community, we'd be ordering less hot waters with lemon and caring more about basic human rights?
Samantha decides to go down and make friends with the girls, all of whom are women of color, so…yeah, the only women of color in this episode are sex workers referred to as "tranny hookers." How many rounds of people did this script go through? A lot of people read those words and thought "yes! go for it!!" After Samantha "politely" asks them to quiet down, they agree to move down the block, only to be thanked by Carrie's pesky little narration: "Samantha always knew how to get her way with men, even if they were half women." Again, this isn't the craft services lunch of the day! These are words heard by millions of people tuning in each week, and for years after. Like, think about it a little!
In classic Sex and the City fashion, everything wraps up into a little messed-up bow when Samatha invites the transgender sex workers to a rooftop BBQ and Carrie says things like "I need to see you twirl, sista!" at the woman of color they've been talking sh*t about the entire episode, and they all snap their fingers at her joyously. Personally, I want to see this episode rebooted with these three fierce-ass transgender sex workers teaching Samantha and Carrie a thing or two about ignorance while wearing better shoes than them.

2. Season 3, Episode 4 "Boy Girl, Boy Girl…" – Bisexuality Apparently Doesn't Exist
People mostly remember this episode because it guest stars that guy I only know as Rachel's hot assistant Tag from Friends, and of course Alanis Morissette, but it's also the episode where Carrie discusses bisexuality and Miranda cries about being too masculine in her relationship, which is a whole different can of worms I can't even delve into.

Tag and Carrie go on a date to an ice skating rink (barf, literally never) while skating around and swigging Jim Beam from a flask, which I respect. Tag inexplicably calls Carrie "Carrigan" before listing all of his exes, ending with a guy named Mark. *Scandalous!* We immediately cut to the girls going in on their first serving of granola and berries of the day, and Carrie announces she's dating a bisexual. Samantha chimes in: "I'm a try sexual, I'll try anything once!" lol Samantha, l o l. Carrie reluctantly admits that yes, she does have a serious problem with his bisexuality, but he's just such a good kisser! "I'm not even sure bisexuality exists, I think it's just a layover on the way to gay town!"
Carrie, the authority on all things LGBTQ+, proclaims as a pride flag rises from the mist behind her. Charlotte, the resident conservative, makes her opinion known, "I'm very into labels, gay, straight, pick a side and stay there!" Miranda tosses in her two cents—"stop kissing him"—before they all scatter away to deal with their urgent $8,000/month apartments and Yves Saint Laurent bags. As Miranda leaves the screen, I wonder if Cynthia Nixon, real-life-out-lesbian-turned-politician, ever stopped for a second and was like, "wait you guys I have to tell you something!" Ah, the eighth world wonder.

At a fancy new club Carrie, makes her concerns known to Tag. "You're not gay?" she asks. *eyeroll* They end up in bed together, where Carrie starts throwing hypothetical situations at him: "So like..if there was a very beautiful girl on the street, and on the other side was a really good looking man…" He cuts her off and tells her it's not about sex, just about the person, before they have sex for hours. (Also like, sidenote: I  just want to remind you that he is very hot. This has nothing to do with what I'm talking about, but he is very hot.)
Eventually Carrie goes to a party with Tag and his friends, one of whom is Alanis Morissette, and describes the party as a "pupu plater of sexual orientation" before they all play spin the bottle like it's a cast party after a high school production of Anything Goes. Carrie spins the bottle and it lands on Alanis Morissette, and you oughta know it's going to be a messy situation. Isn't it ironic that Carrie kissing Alanis Morissette is what makes her run away from the party with one one hand in her pocket and the other smoking a cigarette, never t0 see Tag again? (Did you get all of those Alanis Morissette puns?? I deserve a f*cking Pulitzer.) There's literally no wrap up, Carrie just says "that was the last time I ever saw him, I took my old fart ass home." For the record, and I shouldn't even have to say this: bisexuality exists, Sex and the City doesn't know how to accurately portray any character that isn't an upper-class white woman, Tag is super hot, and Alanis Morissette's Jagged Little Pill album is still amazing.

 1. Season 3, Episode 2 "Politically Erect" – Voting is Stupid
Nobody is looking to Sex and the City for political guidance. If the show were to take place today I would be terrified to learn who each of the girls would've voted for in 2016, but let's face it, it would've probably been an overall disappointment. Speaking of disappointments, this episode starts with Carrie dating a hot silver fox who's running for comptroller. Naturally, she refuses to wear his pin out in the open, and instead hides its under a godawful flower pin. Carrie and the girls are all soon dining al fresco, discussing politics in fur coats. The conversation goes as follows:
Charlotte: I can't believe you're dating a politician, you're not even registered to vote!
Carrie: It's the undecideds they're really after.
Samantha: I totally get it, not only is he good looking, but he's got the power thing going for him. It's gotta be a turn-on.
Carrie: Oh yeah, I'm dating a potential comptroller, it's hot.
Charlotte: I want to help out with the campaign.
Miranda: Since when are you interested in politics?
Charlotte: Always. It's a really great way to meet men! And with Carrie by our side we can just get to meet the inner circle, and all the really interesting donors.
Miranda: By interesting men, she means single and rich.
Carrie: Guys, he's not running for President.
Samantha: Oh he should! I'd vote for him, he's really cute.
Miranda: So?
Samantha: I always vote for candidates according to their looks.
Carrie: I base my decision on the swimsuit competition.
Samantha: The country runs better with a good looking man in the White House!
The conversation goes on pretty much like that, Carrie saying one-off jokes while letting it be known that politics are stupid, Miranda making little remarks that remind us she's the smartest one of the group, but not smart enough to actually bring up the issue that Carrie's not registered to vote, Samantha talking about how hot JFK was, Charlotte discussing how she wants to date a hot politician—just the usual stuff! Carrie takes the girls to some political event and reminds them to vote for her politician boyfriend. Miranda asks why they're voting for him, and Carrie lists some bullsh*t reasons before giggling and saying "it's because I'm sleeping with him!" Samantha announces she doesn't believe in the Republican Party or the Democratic Party, she just believes in parties—just typical party convo. After more jokes about how he should be elected comptroller because he's hot, the whole politics storyline fizzles out. The comptroller-to-be asks Carrie to pee on him before breaking up with her because his campaign manager tells him dating a sex columnist is a bad look. Which is really the most believable thing about the episode.
Listen, I'm very aware that politics don't have to be a part of everything, but a little mention of how voting is important wouldn't have hurt anyone. If a show can inspire so many people to move to New York and convince their parents to pay for their overpriced apartments then it probably could've inspired some of those same people to vote, ya know?

Am I going to stop watching Sex and the City? Unfortunately, no. I'll probably make more comments on how f*cked up things are on the show, but I'll still sit there while the next episode auto-plays. There's nothing we can change about the media of the past, but at least now we can look at it with a different set of eyes. In 2019, I think we're all a little better at holding TV shows accountable. Also…just like…vote? 
Images: HBO (2); Giphy (14)
The Most Ridiculous Plotlines From Each Season Of 'Sex And The City'
As a 90s kid, I was too busy binging Dragon Tales to tune into Sex and the City when it was actually on TV, but thanks to both my parents' iTunes and my ex boyfriend's HBO Go, I've since made up time lost by watching and re-watching the show so many times that I can literally just say all of the lines with the characters at this point. Am I proud? Honestly, kind of. So in honor of this ridiculous show's 21st anniversary, I am graciously taking on the responsibility of pointing out the most absurd plotlines of each season of Sex and the City. It's a hard job, but someone's gotta do it.
If one of the reasons you love Sex and the City so much is because of its sheer ridiculousness, I'm with you. With that in mind, I'd just like to point out that I am well aware of the many more stupid plotlines than the ones I mention below. I don't have the energy or word count to list them all, so help a betch out and lmk the ones I missed in the comments. Let's get into it, shall we?
Season 1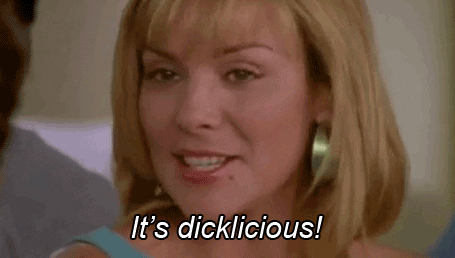 The most ridiculous plotline of this season is pretty easy. The threesome episode is so f*cking stupid it pains me to even talk about it. Why are all four women absolutely shaken to their cores when they learn that young men enjoy threesomes? Isn't this supposed to be a show that's like, pretty progressive when it comes to sex? Don't they live in New York where people are ~freeing the nipple~ left and right? Why are they all so shocked that their non-eunuch male counterparts are d for group sex? I'm pretty sure I learned that significantly earlier in my life than they did, and even I just kind of shrugged and carried on with my life. 
Anyway, I was pleasantly surprised that the most sexually vanilla character had the best reaction to the proposition of a threesome! Charlotte, you go girl! I'm sure it comes as a shock to no one that Miranda obv had the absolute worst reaction. She felt so #lame that all of her friends were having threesome drama, so she literally did the 90s equivalent of posting an ad on Craiglist to get in on the threesome game. Harvard-educated ginger seeking open-minded couples for a ménage à trois, anyone? Like, I'm sorry, but be a little more desperate, Miranda. Just because three of your friends are f*cking ignorant about men and their completely unrealistic threesome fantasies doesn't mean you have to be! The dumbest part of this whole plot line is that Miranda didn't even go through with it. Like, she somehow got this couple's hopes up and then "left to make a phone call" on her giant 90s cell phone and just left them high and, quite literally, dry. SMH, Miranda. This couple prob has some weird ginger revenge fantasy to play out now. Gross.
Season 2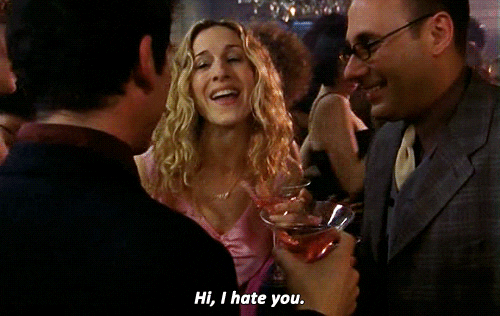 Anyone remember that episode where Carrie lost her sh*t because she ended up on the cover of The New Yorker looking like Frank Gallagher on a bender? I mean, you're a writer and you're on the cover of the f*cking New Yorker, so please explain why you're complaining. Be grateful, bitch! I can't even watch that episode anymore because it makes me so mad. To put things in realistic perspective, one time I ended up on the jumbotron at a Knicks game shoveling curly fries into the detachable jaw that I call a mouth, and I made my date (who I never saw again after that night) take a picture so that I could make it my cover photo for a whole two years. Carrie, live a little. She also let this amazing opportunity for self-promotion unflattering photo keep her from hooking up with one Bradley Cooper! I mean, he has a Porsche, girl. Let him give you a ride. As a struggling writer with an affinity for designer things and no man to pay for said affinity, I would do literally anything to get in/on The New Yorker. Writers are desperate for any notable editors to see their work or know their name in any capacity, so if you somehow land the goddamn cover of a reputable magazine looking like Shrek, you're f*cking thrilled about it. That's it.
Season 3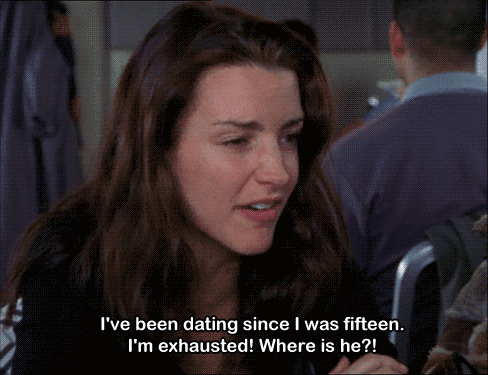 Charlotte and Trey. Like, is there an opposite hashtag for #couplegoals? I'd rather be single literally forever than end up on one single date with someone like Trey. First of all, he will always be Orson Hodge to me, so there's that. But, more importantly, he and Charlotte make absolutely no sense as a couple whatsoever. We already know that she has great taste in men because she ends up with my favorite Jew, Harry Goldenblatt, and his role in this show is a true mitzvah if I've ever seen one. Someone who could marry Harry would never be interested in the wet mop that is Trey MacDougal. The man says "alrighty!" for f*ck's sake!
The main reason this is just a ridiculous plotline is because Charlotte admits that she refuses to settle for anyone who isn't Prince Charming (how progressive of her…), so her engagement to an impotent Muppet is just so stupid, and I refuse to admit this season even happened because of it. Also, how does a Chanel suit-donning queen named Bunny produce such a waste of space? Like, if you look up the definition of "mommy issues" you will find a photo of Trey MacDougal, and there's no way Charlotte f*cks with a dude who lets his mother chill on the ledge of the tub while he's bathing in it naked. More importantly, Charlotte and Orson didn't even date! He paid for dinner a few times then said "alrighty" when she suggested getting married. Yep, sounds like a healthy relationship to me! I can't even get a guy I've been seeing for a month and a f*cking half to hang out with me more than once a week and she's over here proposing to herself and getting a big-ass Tiffany rock in return. This is not how things happen, y'all. Next!
Season 4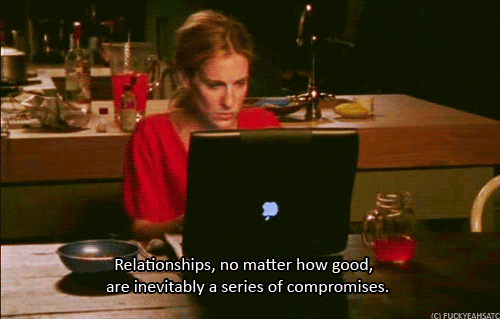 Ok this is a hard one for me to write because it involves throwing shade at my favorite SATC man, Aidan Shaw. As we know, Carrie and Aidan broke up because he didn't take her affair with Big very well. Is Mr. Big really that good in bed, or does he just like, live up to his name? I wouldn't cheat on Aidan for anyone other than Bradley Cooper, but Carrie lets this giant oaf screw up her relationship? I mean, at least she was honest about it, but that's beside the point. So after he and C called it quits, Aidan gets a serious revenge body/glow-up and Carrie is eating that sh*t up. I mean, same. Blah, blah, blah then they get back together. Like, I'm sorry, but he once threatened to break up with her because she had a f*cking cigarette during dessert. Remember that? Let me get this straight: he can forgive her full-fledged affair with an old flame who she ends up marrying (and then cheating on with Aidan, no less), but he draws the line at Marlboro Lights? Someone please explain this. Anyone? Bueller? Honestly, I am pro-second chances, so I would definitely give her another shot, too. But for someone who wouldn't bang her after a week and a half of dating because he didn't want to rush things with someone he really liked, he proposed to her pretty damn quickly after getting back together! Look, I love Aidan. Aidan is goals. I want to marry Aidan and have little woodworking babies with him, but he's giving us really mixed signals and I am not about it. Make up your mind, bruh. 
Season 5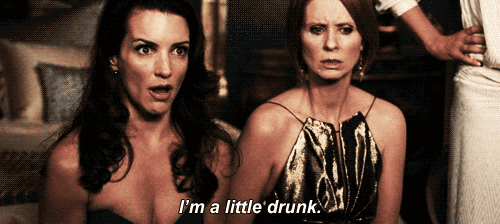 Charlotte's 36th-birthday-induced downward spiral was really confusing. She is like, hardcore trying to find The One, which isn't surprising since she's been playing the game since she was 15. But for some unexplained reason, the day she turns 36 is when she puts half of her thoughts and prayers toward finding her husband, and the other half into completely giving up. By that, I mean she attends inspirational love seminars right before she seriously takes up knitting. You can't claim you want to get married and be an avid knitter. You just can't. Sorry to all the knitters out there, but knitting is literally the most boring activity I've ever done, so I'm def not trying to fill the sexless void with handmade scarves.
Anyway, Charlotte is quietly having an emotional breakdown about not having a boyfriend, which is confusing because she's meeting a LOT of men in this season! The only time she looks pretty pathetic because she's literally flying solo is en route to Atlantic City, when she's third-wheeling Samantha and Richard f*cking on a private plane. Charlotte admits that she's pretty, smart, and cultured, so her breakdown seems kind of random, especially because there is only one episode during this season where she isn't dating someone. If I had that many men in my life, I would def not be complaining about being lonesome, honey. Also like, why 36?
Season 6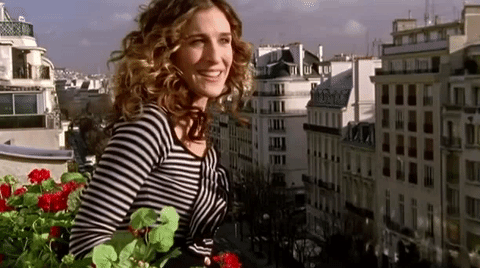 Carrie moving to Paris. Look, I get it. By the last season, Sex and the City was making so much money that they could have set up camp and starting filming on Mars. But, like, this whole plotline was so, so ridiculous that I just couldn't wrap my head around it. The only thing that made sense was when Big showed up and was basically just like, "wtf are you doing here? Can we leave?" And then they left. I wouldn't move to Paris with my f*cking husband, but Carrie is out here dating a former Studio 54 regular who she's been with for approximately two months. Quoi??? The fact that absolutely all of her friends, who she relies on for literally everything, were against this incredibly bold/stupid move should have been enough for her to not relocate her life in her late 30s for a man and a city she barely knows. But no, Carrie decides that now is the time to flee her very #blessed life in New York to walk the streets of Paris with a stranger. Don't get me wrong, I lived for the two Paris episodes, but I will never get behind the writers' choice to bring the ultimate New Yorker to a city where her disgusting attempt at a French accent would def not be taken lightly by the Parisians. Watching her eat sh*t in Dior, though, def made up for it!
If you're a tried and true Sex and the City fan, you prob noticed Samantha barely appeared in this article. Samantha's character was pretty on point throughout the entire show. She knew who she was and she did what/whom she wanted. The only thing she ever did that made me f*cking mad was in the series finale, when Smith flew all the way back to New York to surprise her with a succulent and she wouldn't even say she loves him in response to him saying he loves her. What a heartless wench! Like, it's the last episode of the most epic show, Sam. Tell the boy you love him.
Images: HBO; Giphy (6)
Kim Cattrall Put Sarah Jessica Parker On Blast
We always loved Sex and the City, but honestly the drama between the ladies has been even better since the show ended. This weekend, Kim Cattrall blasted Sarah Jessica Parker on Instagram, and we're still recovering. In the past, Kim Cattrall (Samantha Jones, if you're new here) has been open about not always having the best time on the show, calling out SJP and others, but this new development is a whole other level.
It all began last Sunday, when Kim Cattrall put a text post on Instagram announcing the unexpected death of her younger brother. Now, we normally have some strong thoughts about text posts on Instagram, but these are really sad circumstances, so it's okay. Kim asked for privacy for her family and herself through this difficult time, and obviously tons of people commented their love and support. Pretty normal stuff. Among the commenters were Sex and the City costars Cynthia Nixon (Miranda) and Sarah Jessica Parker. Again, there's just nothing weird about this. Sure, SJP and Kim have had their differences in the past, but it's not that hard to put aside your beef and say you're sorry someone's brother died. But this story is far from over.

Kim responded to Cynthia's comment, thanking her for her kind words, but SJP got no such response. Well, not until Saturday, when Kim returned to Instagram like a bat out of hell, sent here with the sole purpose of destroying Sarah Jessica Parker's fucking life. This time, she went for the text post again, but it was 100% savage.
Um, should we be here for this? Do you want us to like, go outside so you can have this conversation in private? Nope? Okay, we'll happily stay and talk shit. So, like, what exactly was Kim going for here? We've all known for years that she's not exactly Sarah Jessica's biggest fan, but it sort of seemed like she was maybe just trying to be nice? Clearly that's not how Kim sees it. Instead, she calls SJP a cruel hypocrite who's exploiting their tragedy to restore her "nice girl" persona. Wow, is she practicing her SAT words? While we're not sure why anyone would want to be a nicegirl on purpose, Kim really thinks she's the fucking devil.

Sarah Jessica Parker hasn't made any sort of public comment on this whole debacle, but it seems safe to say that Sex and the City 3 probably still isn't happening. Oh well, guess I'll just have to watch all the old episodes on HBO Go like I've been doing for the last decade. We're eagerly awaiting the next chapter in the Kim/SJP feud, which will no doubt take place in a Vanity Fair interview or some classy shit like that where SJP calls Kim delusional while also being so diplomatic it hurts. We love drama, can you tell?
Images: Shutterstock; Giphy (2); @kimcattrall / Instagram
I'm Calling Bullshit On This 'Sex And The City' Writer's Defense Of Carrie's Spending Habits
Head Pro Loves Sex And The City and is definitely a Samantha. Email him at [email protected] and follow him on Twitter and Insta at @betchesheadpro.
You might not even realize it, but your entire approach to sex and dating was probably influenced by Sex And The City. That's partly because it was such a cultural phenomenon, of course, but also because the characters' thoughts and actions were pretty grounded in reality, albeit in outsized, simplified caricatures.
One thing that wasn't realistic, though? Carrie's spending. It was never really addressed in the show, but it was kind of a running joke that Carrie managed to afford a Manhattan apartment (to be fair, this was right before King Giuliani started personally punching out every criminal in the city) and a shitload of designer gear with a weekly newspaper column as her only income. Her rock bottom came in season 6 episode 16, when she was bailed out at the last minute by her friend Charlotte in order to buy her apartment and stave off eviction:
It's a ridiculous ending to an already frustrating episode. It starts with Carrie being forced to buy her apartment back from the new owner, who just so happens to be her ex Aidan (WHAT ARE THE ODDS??), and hits a crescendo when Carrie goes full Hannah Horvath and scolds her friends for not offering to give her $40k, after it was offered to her by her (other) ex, Big. Along the way Carrie finally learns, at age 35, that she's worse with money than most drug addicts. Look, this show was a lot of fun, but it was also unbearably stupid. Roll with it.
Apparently because this episode aired 15 years ago, writer/producer Amy Harris talked with CNBC about the episode, for some reason? Idk, slow news day I guess. Anyway, she offered up the following very bizarre defense of Carrie's vile behavior:
"Sarah Jessica and I talked about this: We believe she paid her back. It was a loan, not a gift, so she did have to learn to save a little, to not spend everything on shoes and clothes."
Although that transaction never made it into the show itself, Harris says, "In my mind, she had to acknowledge all the s—– choices she'd made and the fact that she hadn't saved a penny and that was a big mistake, and so she was living with that."
Besides, she insists, "Carrie learned a lesson. I do believe she sat down every month and wrote Charlotte a check."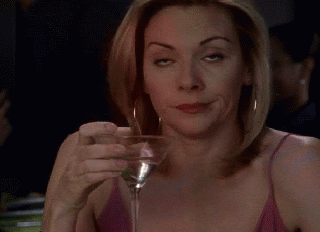 One, give me a fucking break: She could barely afford her apartment before she bought it, much less with a loan payment on top of it. Two, the idea that a 35-year-old woman needs to learn concepts like "don't spend more money than you actually have" is ridiculous for a show that's literally founded on the idea of strong, empowered women characters who buck societal norms. Like women actually enjoying sex, or not being bad with money, for instance.
You could argue that Carrie was such a shitty character because she was meant to be a foil to the other characters, even to challenge the idea that they could exist at all: Were you, a regular woman, to be dropped into the SATC universe, you would handle things a lot more like Carrie than any of the other characters. She was still insufferable, because nothing about that show was subtle, but fine. She's the "relatable" one, I guess.
In the end, it's still a really shitty justification for why Carrie did what she did, insisting that she only learned some measure of fiscal responsibility AFTER she received an auto industry-sized bailout that she never really deserved. Look, I'm not that far behind Carrie in age, and I don't exactly have $40k lying around, either. But I know that if I needed it, the first place I'd go wouldn't be my friends, because that's ridiculous. One of my friends tried to "register" for a down payment for his wedding, and I slapped him so hard he couldn't remember proposing in the first place.
Besides, that's what parents are for, right?