Hot Take: Let's Keep Erika Jayne On 'RHOBH' For As Long As We Can
There's nothing that brings the internet together like a good old fashioned scandal. Whether that's Hilaria "how you say cucumber in English" Baldwin, the O.J. trials, or Tom and Erika Girardi vs. everyone they've (allegedly) f*cked over. 
As of late 2020, Erika Jayne/Girardi officially transcended the reality TV world into mainstream news and pop culture after she filed for divorce from Tom and the couple was sued for allegedly leveraging their breakup to embezzle money. And even though the Housewives franchises are no stranger to legal scandals (Teresa Guidice, Lynne Curtin, Jen Shah, etc.), Tom's reputation and the sheer gravitas of the situation has catapulted the story into major news outlets like the LA Times and CNN — but most importantly, it's being featured on the Real Housewives of Beverly Hills. 
Up until this season, Erika Jayne was the Kourtney Kardashian of RHOBH: boring AF (Kim said it, not me). And sure, unlike Kourtney, Erika has been interesting to look at, but beyond that she's been cold, reserved, and truly an enigma wrapped in a riddle and (allegedly stolen) cash. 
IMO, getting to feature the divorce/lawsuit this season is the best thing to happen to RHOBH in a looooong time. Over the past few years the franchise has been littered with trivial storylines like PuppyGate that drag out for 10 episodes longer than they should, so bringing in an actual scandal to basically be the eighth cast member this season is bringing much-needed dimension and depth to the show. Otherwise, you just know the entire season was going to be ViolateGate (Sutton vs. Crystal). Yawn. 
And I commend Erika on what she's given us so far in season 11. She's basically the Faye Resnick we never got — divulging her perspective on the lawsuit, commenting on Tom's declining health, and sharing her real feelings about her and Tom's relationship now that she doesn't have to protect him. Her storyline this season has seriously resurrected the franchise from the brink of irrelevance, lacing it with a hint of true crime-ish elements combined with a more open and off-the-cuff Erika who's actually pulling her weight within the cast. 
And that leads me to my hot take: let's keep The Pretty Mess on RHOBH as long as she's still being… well, pretty messy. 
If I'm getting too far ahead, there are CliffsNotes below to get you up to speed. But if you already have your PhD in the Erika/Tom scandal like me, feel free to skip the summary and get straight into my open letter to Bravo on why they should keep Erika around for season 12. 
Erika's Involvement in the Lawsuit(s)
About a month after Erika filed for divorce, Edelson PC filed a class action lawsuit against Erika and Tom, alleging that the couple embezzled settlement funds meant for victims who lost family in the 2018 Boeing plane crash. The lawsuit also claimed that the "'divorce' is simply a sham attempt to fraudulently protect Tom's and Erika's money…". 
On the heels of that, Tom's former business partners filed a separate suit against him, claiming that Tom kept funds over $315,000 that he owed them for his own gain.
And although all this shadiness was allegedly orchestrated by Tom, the scandal is being framed in a way that implies Erika is guilty by association — and not just because of the allegedly opportunistic divorce, but also because her company EJ Global received over $20 million in loans from Tom's law firm. 
That $20 million was probably spent on her glam squad's room and board during cast trips alone (kidding) (not really), which makes it all the more sad to know it could have been used to pay victim settlements — and all the more infuriating considering it did not belong to Erika in the first place. And that's a sentiment the judge agrees with, after ruling that specific victims can go after Erika for up to $11 million to replace the amount Tom never paid them.
Why This Sh*t Is Interesting
What punches up the entire storyline is the juxtaposition between the way the media/lawsuits are framing Erika, and how she's portraying herself on RHOBH. 
While the lawsuits suggest that Erika had some part in/knowledge of Tom's shady dealings, the RHOBH version of Erika is acting as if nothing illegal happened. In fact, she's enraged that people dare speculate that the divorce timing was suspect, saying during the latest episode, "What's being said is just, I mean, it's insane. That my divorce is a sham, but nobody cares about the facts." She also explicitly said the divorce wasn't a ploy to hide assets while FaceTiming Kyle and Lisa. THE TEAAAA. 
I'm the first to admit that she's in a sh*tty position, mostly thanks to Tom. But we can't forget that Erika is a performer by trade with an alter ego that even Danielle Staub couldn't pull off. We've seen her transform from the world's best poker player to a puss-patting, bodysuit-wearing, loud and bright singer/dancer. All this to say, her time on the stage and those two episodes in The Young and the Restless prove that she has the chops to act the part that her PR recommends. 
And as much as I love to analyze what's strategy and what's not, at the end of the day I just want good TV. So Erica sharing those tidbits about the lawsuit hit hard, as did the comments about her and Tom's pre-divorce relationship. For the past five seasons, we've heard nothing but glowing reviews of Tom "styrofoam cup" Girardi. Not a peep of indiscretion or disagreement, and not even Kim Richards piped in threatening that she had dirt. But Erika has finally, finally expressed several iotas of emotion and raw stories about their relationship this season, and whether those are her true feelings or a narrative suggested by her PR team (or Mikey), it makes you wonder, what other dirt is she going to spill, now that she's not protecting Tom?
And we're going in the right direction. So far this season, Erika has detailed his heartless goodbye, admitted she was pissed he didn't come see her on Broadway, and even expressed her fear about her public perception post-divorce in the last episode when she said, "I don't want his actions to absolutely kill what I have created."
And there are logical reasons why Erika is being more real. For one, she needs that Bravo paycheck more than ever, especially after detailing her fears about the attorney fees in the latest episode. Now that she literally needs this job, it's in her best interest to involve herself in the storyline and bring some actual juiciness — whether that's Tom related, post-divorce dating stories, etc. 
Another reason to keep her on the show is that despite the accusations, Erika's still proving it's expensive to be heeeer-er-er-er by boarding a PJ and sporting a $189k ring. That's some major BDE when you're in the middle of an embezzlement lawsuit, and some very Jen Shah-esque energy that makes for ridiculously entertaining TV. 
And while Erika's attorneys briefly dropped her and then took her back (for reasons we can only speculate), her castmates have continued to show their support and allegiance to Erika, both on the show and on social media. From Kyle and Lisa dancing to "XXPEN$IVE" and most of the ladies wishing her a happy birthday publicly, they clearly don't feel a need to distance themselves at all. Truly women supporting women, in the words of Ramona Singer. 
Thanks to Tom, Erika's part of a truly impactful scandal that I'm 100% sure will be turned into a Hollywood blockbuster. With that being said, capturing Erika's perspective on the RHOBH is a fresh, deep, real storyline that's captivating AF. And because court cases take forever and Erika can only say so much right now, Bravo can easily milk this content well into next season as well. Not to mention, Erika will definitely be opening up with some new storylines about post-Tom life in an effort to stay relevant (and liquid… with those big lawyer bills). 
Image: Bravo
Crazy Wedding Story Of The Week: Puffy Sleeves, Macaroni Salad, & Pervy Dads
Whether you hate the wedding-industrial complex, are a bride planning a wedding and want to feel better about your own demands, or just need something to read, we're doing a new series where we share the craziest, most out-of-touch wedding story we found on the internet that week. Submit your own crazy wedding stories to [email protected] with the subject line Crazy Wedding Story, and we just might feature yours. And make sure to follow @BetchesBrides on Instagram and subscribe to our podcast, Betches Brides.
In case no one told you, planning a wedding is hard. As I have mentioned in about 87 other articles, I know firsthand how hard they are, so I am sympathetic to anyone going through this process because it will age you 100 years is a grueling one. To all of the ladies and gents who are just getting started, just remember that all a wedding is is a glorified party. I mean, unless Beyoncé accidentally stumbles in and decides to stay and sing a song during the reception, your rustic chic nuptials aren't, like, that different from all of the other weddings we've all been forced happy to attend. Some, though, are so out-there that we can't ignore them and must talk about them right this very second.
We received an email submission about a wedding that took place before most of you youths were even conceived, but it is so f*cking juicy that we couldn't not cover the insanity that went down, so here we are. I was literally cringing the entire time I read it, and my neck is now sore from scrunching my shoulders up to my ears for however long it took me to get through the email. Honestly, worth it, though. Let's get into it.
Our submitter writes: Jane was the first person in her family to go to college, but they all made fun of her until she dropped out. Fortunately, she met the love of her life, Derek, at that time, so she didn't feel she needed school. He was a former high school jock now working in a gas station and she got a minimum wage at a retail job. Everyone's happy. 
Good for Jane for being a first-generation college student and f*ck her hick family for making her feel bad about wanting to educate herself. Jane, honey, I know the '90s was a different time, but don't perpetuate the stigma that women only need an education until we get a husband. However, high school me is giggling with glee that this once jock is now the creepy gas station guy with whom you don't want to make eye contact when the pump eats your debit card. Ya truly love to see it… unless your friend is dating the jock-turned-gas-station-guy. And it's not all sunshine and rainbows:
Dereck was the f*cking worst. He was totally controlling, jealous, abusive, and he cheated. Sometimes in front of her. She obviously wasn't allowed to have friends or make plans or do anything that didn't involve him. And she was required to speak to him entirely in baby talk. To this day I think of him as "Dewek."
Hold. The. Phone. Ew that she "obviously" wasn't allowed to have friends or do anything at all without getting her keeper's boyfriend's permission? Gross. I honestly don't even know what to say about the baby talk thing because the second I read that, my bacon, egg and cheese started to creep its way back up my throat. I don't even like when babies do baby talk, so count me the f*ck out when adults do it. These dudes always turn out to be serial killers. Run, Jane, run!! 

Unfortunately, she did not run. In fact, the opposite.
Seven years later, they get engaged, but she and I have grown apart. I've moved away and I'm finishing my second degree while she's barely been allowed to talk to me. Plus Dewek is her only topic of conversation anyway. She seriously DNGAF what's going on in my life, but for some reason, she asks me to be her maid of honor. 
I'm no therapist, but this is textbook jealousy. You represent all of the things she could have been—chief among those things is educated. The maid of honor thing is definitely weird, but maybe she wants to make a big gesture to invite you back into her life and maybe help her escape Dewek? Who knows at this point, though.
Now, the next bit may be hard for the '00s babies to understand, but use your imaginations and bear with me, kay?
This is in the late '90s, but Jane is HELLA '80s: like perm, spiked bangs, the works. She comes to the big city I'm living in with her four other bridesmaids to spend the weekend dragging us to various bridal shops trying to find the perfect puffed sleeves, off-the-shoulder, dusty rose scary-ass '80s crap that we will all be paying for ourselves. Huge fights ensue, one of Jane's sisters is a vicious witch to every sales girl, and we all go home without dresses. Eventually Jane orders dresses from some boutique in her small town without any input from the bridesmaids and mine arrives six days before the wedding and is a size too small, so I start starving myself to fit into it. 
Drama, drama, drama. Ugh, starving yourself is never the answer. Stand up to your friend and tell her you don't feel comfortable wearing an ugly dress that's too small! Also, this is how I'm picturing these dresses:

Then comes the wedding weekend. Turns out that the five bridesmaids were expected to fully create the entire wedding, including cleaning, setting up and decorating the "hall," and cooking all the food! Apparently this was so obviously our job that no one thought to mention it to us. First, the hall. It was the local small town community center GYM. Like, lines on the floor for soccer and basketball, and no less than six basketball hoops. All five bridesmaids were sweeping, mopping, setting up folding tables and chairs, and blowing up hundreds of white balloons for two hours, and then climbing ladders to try and hide the hoops with the balloons. All while the five groomsmen stood outside and smoked. 
I am so over all of these brides asking their guests/bridal parties to cook and clean! I don't even like asking my roommate to do that on any given Tuesday because I feel like I'm Miss Hannigan-ing her, so asking my friends to clean/cook for my wedding is out of the question. But at the very least, you would think the bride and groom would tell them??? I wish I could say this is the first time I've heard such an outrageous request, but this happens in almost every crazy wedding story we do! WTF??? 
Then back to Jane's parents' house where, it turns out, the five bridesmaids were expected to make food for 100 guests in the parents' tiny kitchen the night before the wedding! The only thing I clearly remember was sitting on a wooden chair at 2am with a huge plastic bucket full of macaroni salad between my legs, which I was stirring with my whole arm. No one seemed to think this was strange or unhygienic. Then we were all given mattresses on the basement floor to sleep on.
If I was in this bridal party, now is right about when I would have staged a coup and/or dipped immediately. Whichever takes less energy. Macaroni salad at a Fourth of July cookout, yum! Macaroni salad at a wedding? Nope! Also, the mattresses on the basement floor is giving me serious American Horror Story vibes and I'm a little scared to keep going. 
Three hours of sleep later, we're all up and getting ready. I'm exhausted and still not eating much because I want to fit in my dress. Jane's dad, the one who has known me since I was eight years old, is hitting on me. I spent most of the day backed into corners so he'd stop stroking my ass. Jane's mom has quite reasonably decided that this is my fault, so she is being an utter bitch to me. Jane is demanding that I help her stick maxi pads to the underarms of her dress because she has chosen a long-sleeved, high-necked, massive tulle-skirted monstrosity of a wedding dress, and it is 104 degrees outside. 
All I have to say about the dad is:

Re: the maxi pad situation… try antiperspirant, I guess? Don't even get me started on the dress because it sounds like a direct assault to the eyes. Every bride has her own unique style, but this thing sounds offensive. 
The reception for me is blurry. It's a cash bar, but as mentioned I hadn't eaten for five days so I started drinking right away and I don't remember anything after the first 10 mins, except for being expected to go into the small metal stalls in the bathroom with the bride to hold her massive skirts up while she peed. 
Ok, to be fair, it's one of the more unfortunate tasks involved in being a maid of honor, but you are required to hold up the bride's dress while she pees. However, my sympathy ends there. Cash bars at weddings shouldn't be allowed. People are coming from far away, buying outfits, getting you gifts, etc. for your wedding, so the least the couple can do is let them drink for free. 
The reception ended just as I started to sober up (I ran out of cash) and that's when I learned that the bridesmaids were solely responsible for cleaning the hall. In our frothy '80s dresses and sh*tty dyed-to-match heels. In 100-degree weather. We had to sweep and mop again, pack all the leftover food back into buckets, clean the bathrooms, put the tables and chairs away, and climb ladders to take down the balloons. The groomsmen obviously stayed outside and smoked. Jane's dad continued to sexually assault me throughout. I finally sat down from sheer exhaustion and Jane's mom arrived immediately to tell me to "get off your lazy ass and help." 
I'm sorry, but wouldn't the bride be excruciatingly embarrassed that her dad is literally sexually harassing her maid of honor and do something about it? Like????? Anyway, wtf is with the bridesmaids having to do all of the heavy lifting for this piece of sh*t wedding? Where did the bride and groom even go? And if the wedding is over, why are the groomsmen just standing around smoking still? Enjoy lung cancer, boys! All I have to say about the bride's mom yelling at the MOH is that she can get off her lazy ass and control her disgusting husband's hands. But more importantly, WHY DIDN'T THEY JUST LEAVE?? Were they being held at this wedding against their will? I truly don't understand the lengths people will go to because they feel bad/want to avoid conflict.
I passed out on my basement floor mattress as soon as we got back to the parents' house, and then got up early and left before the gift-opening. I must have been otherwise disappointing and/or offensive I guess, because Jane never spoke to me again. A mutual friend told me though that the marriage lasted eight months. 
LOL. Eight f*cking months. I'm dead. The fact that she even went to the wedding after the whole bridesmaid dress situation is pretty impressive, so she clearly wasn't that disappointing. I am fully obsessed with this and need to know what the divorcées are up to. 
Can you top that craziness? Prove it! Submit your crazy wedding story to [email protected] with the subject line "Crazy Wedding Story"!
Images: NBC; Giphy (3)
This New True Crime Podcast Is The Next 'Dirty John'
If you've listened to Dirty John or Dr. Death, then you have an idea of what Wondery's podcasts offer. They're grisly, salacious looks into crimes you never knew existed, and honestly my morning commute has never been better. This week, Wondery dropped their newest podcast: Over My Dead Body. It tells the story of Dan and Wendi, "two good-looking attorneys" with "a bad breakup, a worse divorce, and a murder case involving a menagerie of high-priced lawyers and unexpected co-conspirators." So basically, the details of how a power couple fell apart, plus a murder twist. That's literally all of my favorite things.
So, what's the crime being investigated here? If you're the kind of person who hates having an appropriate amount of context spoilers, then I'd recommend you stop reading here.
Do I google the story @WonderyMedia did for #overmydeadbody podcast or keep guessing who's responsible? I've changed my mind 5 times! #truecrime pic.twitter.com/wS6410j6sX

— Jamie- Uglee Truth Podcast (@theugleetruth) February 14, 2019
Still with me? Good. In 2014, Dan Markel (the husband) was found dead in his Tallahassee home: shot in the head. According to Refinery29, Wendi Adelson's (the wife's) family was "immediately suspected of hiring someone to complete the crime." To be fair, if I had a bad divorce from someone I would want my family to at least OFFER to send a hitman. (JK! My family's not rich enough to pull that off.) The podcast starts with the story of Dan and Wendy's relationship (and subsequent divorce), then goes into the details of Dan's death and the investigation that followed.
Given how the trial in this case concludes, the story becomes less about their relationship, and more about the dynamics of race and privilege involved in the trial. Despite the Adelson family being immediate suspects, and further connections being found between the family and the suspected hitman, no family members were ultimately charged with any crimes. Instead, only people of color were arrested in connection to the crime. Given that the Adelsons are a wealthy, white family, Over My Dead Body explores how the family's privilege may have played a role in who was ultimately charged for this crime. I mean, yeah, if it's between wealthy Floridians staging a hit on their ex-son-in-law and a random break-in, I am 100% going with the former. People from Florida are, as a rule, insane. In-laws are also generally insane. It just adds up.
I listened to the first episode this morning, and what struck me most (other than how f*cking addictive it was) was how easy it was to forget that the story led up to a murder. Episode one starts with Dan's upbringing, then how he met Wendi, and what their wedding was like. They also interview friends who knew them as a couple. It tells you, from Dan's perspective, about the divorce. And as much as I love hearing the gory details of a murder, I have to say I find autopsies of relationships equally interesting—and this one sounds like a real mess. Also, and this may just be because I'm a messy b*tch, I live for seeing any two people who are described as "the perfect couple" be torn down. Especially when they try really hard to convince people they are, in fact, a perfect couple.
If you binge the first few episodes of 'Over My Dead Body' (can't blame you) and are hungry for more true crime content, here's a list of other relationships with famously violent ends. Enjoy.
Debra Newell
I mentioned 'Dirty John' earlier, but if you're not lucky enough to have listened yet, then here's what you're missing. 'Dirty John' is the story of Debra Newell, a wealthy, middle-aged interior designer, and John Meehan, the criminal and con man who seduces her. In classic Wondery fashion, the story starts with the dynamics of the relationship: the intense emotions, the broken trust, what it looked like from the outside. But as tensions build, the focus shifts from how to spot and catch a con man—and more to how you survive him. (If you're more of a visual learner, there's now a Bravo series on this too.)
Lorena Bobbitt
Lorena Bobbitt famously became known as the woman who cut off her husband's penis. While this crime was thrown around as a zany joke for most of the '90s, details of the crime—and the relationship leading up to it—are far from funny. I'll let you discover the rest on your own (preferably by watching Jordan Peele's new Amazon series about it), but suffice it to say that women don't typically go around cutting off genitalia without due cause.
Jodi Arias
On May 8, 2013, Jodi Arias was convicted of first-degree murder for the death of ex-boyfriend Travis Alexander. Alexander and Arias met in 2006, and began a long-distance relationship in 2007. Over their 18-month, off-and-on relationship, Arias moved twice to be closer to Alexander. Meanwhile, Alexander's friends consistently disliked Arias and felt her behavior was "worrying." Naturally, when these same friends found Alexander covered in stab wounds with a gunshot to the head, they pointed the police in Arias' direction. Arias pled "not guilty" to initial charges, but claimed she committed the murder was self-defense two years later, and alleged that she was a victim of domestic violence. While the Jodi Arias story doesn't have a TV show (so sad), there is a Lifetime movie that I am very excited to watch.
Basically, if you like hearing people talk sh*t about other peoples' relationships along with your regular dose of true crime, any one of these stories will be right up your alley. Do yourself a favor and start Over My Dead Body today, then drop your number in the comments so I can text you all my insane theories as I come up with them. Thanks!
Images: Bravo; Instagram; Twitter; Instagram; Instagram
JWoww Accuses Roger Of Abuse In A Shocking Open Letter
We've known since the summer that JWoww is getting a divorce, but things just keep getting messier. In December, we learned that she got a restraining order against her husband, Roger Mathews. At the time, details were scarce about the reasons behind the split, but Roger has always claimed he's a good husband and father. His main form of evidence is a sh*tload of Instagram videos that he's made of his life, because we all know that everything on social media is true. But now we have a lot more information, because JWoww posted an open letter to Roger on Wednesday, and it's explosive.
JWoww posted a snippet of the letter on her Instagram, but directed her followers to her website to read the full thing. That's because the statement is 2,300 words long, and there is a lot happening. If 2,300 words doesn't sound that long to you, just know that you're approximately 150 words into this article, and your attention span is probably already running out. The statement is also in all caps, and the entire thing is center-aligned, so it looks like a block of text that would be on the inside of the Lincoln Memorial. If you're having trouble visualizing, here's a snippet.
THE ALTERED PERCEPTIONS YOU HAVE CREATED FOR YOURSELF ON SOCIAL MEDIA IS TRULY STAGGERING. YOUR POSTINGS ARE CONSUMED WITH INACCURACIES, FALSE STATEMENTS, SELF-SERVING COMMENTS, OUTRIGHT MISREPRESENTATIONS AND BLATANT LIES. WHAT IS YOUR ACTUAL TRUTH? WHAT IS YOUR REALITY?
So picture that, but for literally eight pages of text. In the letter, JWoww goes into excruciating detail about her husband's allegedly abusive behavior, and how he has used social media to manipulate public perception of his relationship with her and their two kids. In one especially rough part, she alleges that he fed their son Greyson pizza, despite him being highly allergic to both gluten and dairy. She says, "When I asked you about the food situation, you chose to berate me instead of acknowledging that Greyson's health is of paramount concern." As much as I love pizza, that's pretty f*cked up if it's true. She also accuses Roger of not letting Greyson's therapist into their house, so she stood on the front porch for 30 minutes in the freezing cold. Messed up.
In the letter, Jenni says that Roger has purposely contacted abusive exes from her past, all in an effort to make her feel unsafe. She also alleges he's been physically abusive to her: "You have spit at me. You have pushed me. You have shoved me. You have aggressively thrown me to the ground. You have prevented me from closing doors to escape having you coming at me." That all sounds horrible, and I can't imagine what how it's been for her living through it.
Near the end of the letter, Jenni takes the opportunity to help other people in abusive relationships, linking to a guide that her divorce lawyer has set up. Whether or not you agree with her decision to publicize her relationship like this, it's important that she's using her platform to help others in similar situations. She ends the letter with this sentiment that I think we could all use.
YOU ARE VALUABLE, YOU ARE WORTHY, YOU ARE LOVED.
Leaving an abusive relationship is both difficult and dangerous, so I'm glad Jenni is getting out. Luckily, the ladies of Jersey Shore are always there for each other, and they offered their love and support in the comments section of her post:

Even though the Jersey Shore ladies have gotten into plenty of arguments on national television, they really do have amazing friendships with each other. It's good to know that Jenni has these positive relationships in her life, because I'm sure she really needs them right now. With all of this going on, I hope JWoww and her kids are okay and that they can get past all of this.
If you suspect you are in an abusive relationship, call the Loveisrespect hotline at 1-866-331-9474, text loveis to 22522, or visit loveisrespect.org.
Images: Shutterstock; @jwoww / Instagram (2)
A No-Bullshit Translation Of Channing Tatum & Jenna Dewan Tatum's Breakup Statement
On Monday evening, Jenna Dewan Tatum broke both the internet and our hearts with some tragic news: she and Channing Tatum are separating. It's a big loss. Their fairytale romance started on the set of Step Up back in 2006. Channing was Tyler, the sexy bad boy from the wrong side of the tracks, and Jenna was Nora, the beautiful dancer who was definitely a virgin. Their chemistry was obviously amazing, and the movie was a lovely example of what can happen when gentrification dance comes into your life.
After finishing Step Up, things seemed perfect. Channing Tatum went on to become one of the biggest movie stars in the world, and Jenna Dewan Tatum appeared in some TV shows here and there. They got married in 2009, and had a daughter, Everly, in 2013. They've always been pretty open about showing their love for each other, which makes it even more shocking that they're splitting up. They announced the news in a typed letter that they both posted to Instagram but, let's be honest, it sounds like something Siri could have written. Not only was the content of the statement lame AF, but it was also on a bizarre purple and yellow gradient background that looks like an invitation to your Grandma's annual Easter egg hunt.
It's okay not to air all your dirty laundry for the public to see, but that doesn't mean we can't read between the lines and of this situation.
Hey world! – Um, how do we do this? Like, we want to get people's attention but we don't want to sound too excited. Hey world! Yeah, I guess that works.
It feels odd that we have to share this kind of thing with everyone – We really don't want to be fucking posting about this, but if we don't then sites like Betches will probably just speculate about our relationship…oh wait.
It's a consequence of the lives we've chosen to lead, which we also happen to be deeply grateful for – Ugh why did we have to get famous this is so annoying but also we love all our fans please don't think we're not grateful!!
It's also a time where truth can easily get distorted into "alternative facts" 😉 – Ooh yeah, do a Trump joke, that'll get 'em on our side! Ha ha ha this is so awkward, fuck.
We have lovingly chosen to separate as a couple – We cannot stand being in the same room as each other for more than five minutes.
We fell deeply in love so many years ago and have had a magical journey together – Step Up was fun and all but it's been like 12 years and we are so damn tired.
Absolutely nothing has changed about how much we love one another, but love is a beautiful adventure that is taking us on different paths for now – Everything has changed about how much we love one another and this shit is not fun anymore right now. Again, we cannot stand being in the same room.
There are no secrets nor salacious events at the root of our decision – We're not like, getting bad divorced. It's good divorced. Like, cool divorced.
Just two best-friends realizing it's time to take some space and help each other live the most joyous, fulfilled lives as possible – Fuck, is "best friends" supposed to have a hyphen? Jenna, I need your help, I dropped out of college. Oh, and also, if I have to do the "Pony" dance routine for you one more fucking time, I'm gonna scream.
We are still a family and will always be loving dedicated parents to Everly – Our daughter will be fine and we can afford all the nannies and therapy we could ever possibly need.
We won't be commenting beyond this, and we thank you all in advance for respecting our family's privacy – We're not like, gonna have to talk about this, right? Let's just say this and hope no one asks us anything.
Sending lots of love to everyone – God this is shitty. These leeches better stay the fuck away from us.
Donald Trump Jr. Is Only Two Divorces Away From Being Just Like Dad
Ho. Lee. Shit. Another one bites the dust. And while it is someone living in the wacky world of Trumplandia, this time it's not another appointed official throwing in the towel. It's Don Jr.'s wife Vanessa Trump. Vanessa took to the Manhattan Supreme Court yesterday to officially file for divorce after 12 years of marriage. She decided it was time to free herself from the shackles and live her damn life, and I truly couldn't be prouder. Either that, or she saw that Mueller subpoenaed the Trump Organization and wanted to GTFO before her husband goes to JAIL. Either way, we're happy for ya, 'Ness.
According to multiple inside sources, Donny J and Vanessa have been on the rocks for quite some time, and Trump Sr. becoming president was just the icing on the cake – if the cake was made of Twitter rage, orange self-tanning lotion, and sadness. Baby V was understandably upset with the intense amount of attention and scrutiny bombarding her family, and allegedly hated Don Jr.'s tweeting, calling it "unhinged." (True, Vanessa. True.)
Just last month, Vanessa was hospitalized after receiving an envelope containing a suspicious powdered substance that was feared to be anthrax, but ended up being a false alarm. The couple also spent Valentine's Day separately, with their five (five?! Jesus.) children, which is a clear sign that this relationship was dead and gone. If you can honestly tell me you'd rather spend the most romantic day of the year telling your snot nosed pre-teens to stop blowing straw wrappers at each other across the table instead of breaking out the molly you've been saving for a special occasion and having marathon sex, I have some bad news for you and your soon-to-be-ex husband.
Vanessa and Jr. met back in 2003 at a fashion show. They were introduced by none other than the big Don himself. First of all, if some creepy old dad tried to set me up with his lube-haired son, I would run for the GD hills. Vanessa clearly does not have the same standards.
However, the first introduction didn't leave much of an impression, and when they met again at a party a few weeks later, Vanessa literally said, "Wait, you're the one with the r*tarded dad!" Forgive me for not being shocked that someone who knew the Trump family was an avalanche of stupid but married into it anyway for money would use the r-word to describe her future father-in-law. Though, in her defense, it was 2003 when we were all low-key pretending that was okay.
Clearly, the perks did not outweigh the constant nightmare of waking up next to Donald Jr. every morning and realizing she was trapped in a perpetual hell of MAGA hats and being the "other hot blonde who isn't Ivanka." Vanessa, I wish you luck on your journey back into the single life. Enjoy your glow-up as you drift peacefully away from all things Trump and probably try to salvage your former modeling career by resorting to promoting flat tummy tea on Insta. Oh and Melania, I hate to tell you to just copy someone else but…your move, girl.
Heads up, you need to keep up with the news. It's not cute anymore. That's why we've created a 5x weekly newsletter called The 'Sup that will explain all the news of the week in a hilarious af way. Because if we weren't laughing, we'd be crying. Sign up for The 'Sup now!
Audrina Patridge Is Getting A Divorce And A Restraining Order Against Her Husband
Today is a strange day for fans of The Hills. TMZ just reported that Audrina Patridge filed for divorce from her husband Corey Bohan. The two just had their first daughter and have only been married for 10 months. That's not quite 72-day marriage level, but not very good, either.
Sources are also reporting that Audrina is filing a restraining order against Corey for "a series of incidents," which does not sound very good. For now, that's all the information we have, but we will update you all if and when more information becomes available.
I don't want to kick a girl when she's down, but damn, Audrina has some questionable taste in men. She went from combat-boots-to-the-beach-wearing Justin Bobby to… a guy who looks exactly fucking like Justin Bobby. No, seriously. Look at this dude.

I mean, fam. COME ON. Tell me this isn't Justin Bobby in a different hat! You can't, can you? Now I can't help but wonder what Audrina's dad looks like. Thankfully, Instagram has my back on this one too…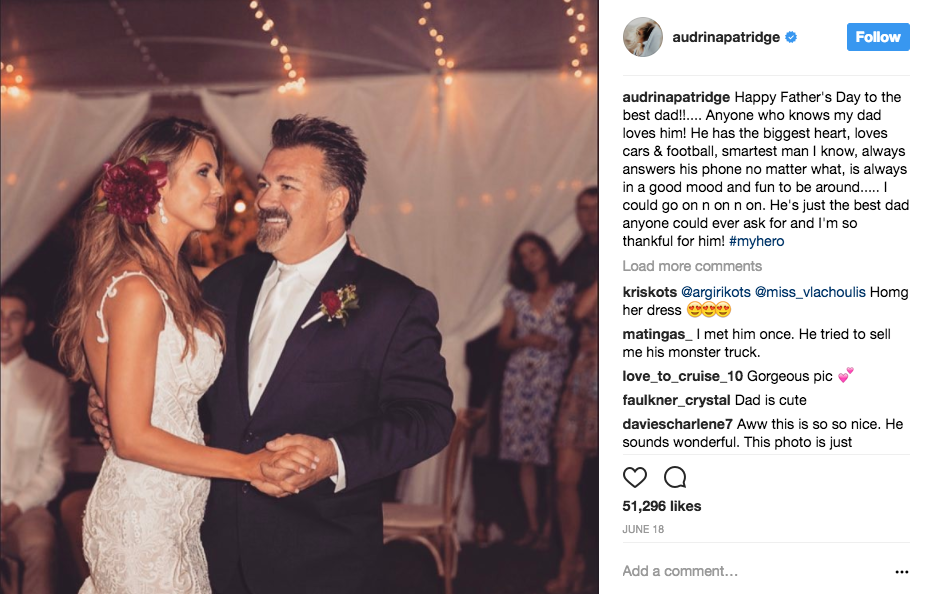 Wow, that was easy. Well now that I've successfully discovered the reason for Audrina's relationship woes, all I can do now is send her my well wishes. Seriously, Audrina, I hope you and your daughter are doing okay. In times like these, just remember the infamous words of LC: "He's a sucky person!"
Josh Duhamel Is Officially Single
If you thought love wasn't dead, think again. Yesterday, we got the news that Fergie and Josh Duhamel are getting a divorce, and it hurts. They had been married for over eight years, and they always just seemed normal and happy together. Here's the statement they released to the press:
"With absolute love and respect we decided to separate as a couple earlier this year. To give our family the best opportunity to adjust, we wanted to keep this a private matter before sharing it with the public. We are and will always be united in our support of each other and our family."
Okay, that's nice, but we're a little confused why we weren't the first people they told? Whatever, I guess it's the best thing for their son Axl, besides maybe getting a new name. Seriously, that name needs at least one more vowel, he's not a Black-Eyed Pea.
The timing of the announcement probably isn't a coincidence, because Fergie just happens to have her first solo album in 11 years coming out next week. It's called Double Dutchess, and if it can provide us with even one banger on the level of "Glamorous", "Fergalicious", or "Big Girls Don't Cry", we'll be very happy. Meanwhile, Josh is busy doing Transformers movies or something.
We hope everything works out for Fergie and Josh, and as long as John Legend and Chrissy Teigen don't break up we'll still hold out some hope that love isn't terrible.