4 Things To Stop Feeling Guilty About In 2019
2018 was a year of many revelations. (Yes, saying "revelations" instead of "realizing stuff" makes me the intellectual Kylie Jenner.) It was a rapid-fire year of watching our favorite celebs make engagements, break engagements, have babies, and get cheated on by f*ckboys. (What I like to call "the big four.") In between worrying that these celebs are growing up too fast and worrying I'm not growing up fast enough, I realized I was forgetting one important thing. (No, not refilling my anxiety medication. Good one though.) I realized I was spending so much time judging and measuring everyone else's process in life and feeling guilty about my own that I could barely remember what I actually wanted. All I knew was what I thought it should look like.
So, in the spirit of slowing down, letting go, and re-focusing on getting happy from the inside out, here are four things to stop giving yourself (and other people!) sh*t for in 2019.
Feeling Only Okay About Your Job
One of the more toxic elements of Instagram is that everyone on there (everyone successful anyway) seems to be a fully self-made entrepreneur who lives their best life every day, is grateful for every morning, and answers only to themselves. While that obviously sounds delightful, you have to keep in mind that you have no idea how those people got there, and how truthful they're even being about the joy they find in their careers. Similarly, the friends you compare yourself to and feel like sh*t about—whether they're pursuing creative goals or just pulling in a fat paycheck—all likely have their own unique doubts, fears, and misgivings about their jobs. That's the nature of work, and the nature of life in general.
So, am I saying you should stay at your sh*tty desk job forever, because everyone's probably unhappy about something? Try again, b*tch! If you hate your job, or even just don't love it, you can absolutely add "get a new job" to your 2019 resolutions, and go after that mother*cker. But please stop beating yourself up because you haven't yet landed the perfect gig, or even figured out what exactly that would look like. (Although if this describes you, you should definitely give When's Happy Hour a read.)
And here's a secret no one on Instagram will tell you. It's okay to not be totally obsessed with your job. It's okay to want a life that isn't only about the hustle/grind/whatever people are calling their 24/7 jobs these days. You do not have to wake up on Monday mornings eager to "get that bread" if you are happier working a moderately fulfilling 9-to-5 and spending the rest of your time with your loved ones. The world will not end, and you are not a bad person.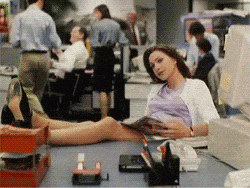 Feeling Only Okay About Your Body
This will all be thematically similar to the last section, so I'll keep it (kind of) brief. On Instagram, everyone either has a perfect body, is a "Before" rigorously working toward an "After," or is making a "bold" and "courageous" statement by weighing more than 98 pounds and being happy that way. Like with your job, if your body makes you actively unhappy then I absolutely encourage you to do something about it. But I also encourage you to think critically about that question. In a world without Instagram, would you be unhappy about your body? Does your body affect how you view yourself every second of every day, or only after you've scrolled through your feed? What makes you happier: a warm chocolate-chip cookie, or a DM request from a "promoter" with 200 followers after you post a selfie in a crop top?
Now, I'm also not saying that wanting to lose weight or achieve new fitness goals or whatever is always bad/shallow/for the 'Gram, but just because we all live our lives on the Internet doesn't mean we all have to look like swimsuit models. And being a work-in-progress—or just accepting that your body will never be the best, most accomplished, most celebrated thing about you is totally fine. Staring at your body every night and hating yourself about it? Not f*cking fine at all.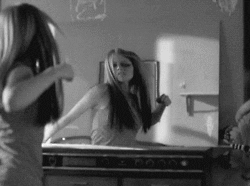 Not Having A Go-To "Squad"
This is really for my post-college and beyond readers. In college, you're surrounded exclusively by people of your own age and every article targeted at you is about the trials and tribulations of the group chat. Pre-gaming is basically a sacred ritual, and the bi-weekly group shot causes more drama than a season of Riverdale. Post-college, you find out a few things about those girl groups. Like that half of them have terrible personalities, drinking problems, or a b*tchy streak that used to be cute and aged poorly. Regardless, I often find myself feeling guilty when I see articles memes referencing a group chat that I no longer have. Or wondering when I became such a loser that my birthday dinner was under 20 people.
But here's the thing: I have never loved my friends more than I do at this stage in my life. Genuinely. The friends that I have are people who I know I can rely on, who I can talk to about anything, and who I personally consider to the coolest, smartest, and funniest people on this f*cking earth. Do I wish more of them lived in the same city, knew each other, and regularly attended Sex and the City style brunches with me? You bet I do! But I'm way over befriending a group of people I don't really have much to say to—just so I can stop feeling guilty and lame when I see pics of Kendall Jenner's girl squad.
This is the only squad that ever mattered anyway: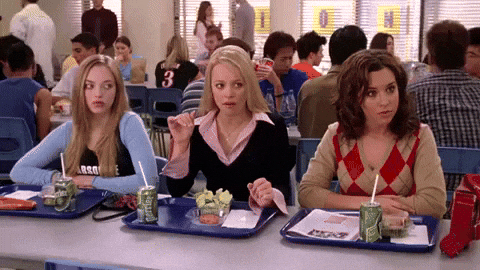 Taking A While To Orgasm
Okay I'll be real. This was the first category I thought of, and the one I was most eager to write. (It is also directed primarily at the ladies, to be clear.) It is about to be 2019, and I am thoroughly over people feeling guilty or ashamed of taking longer to orgasm. The planet is dying, our President is a moron, and society is so fragile that a change to Instagram's swiping feature literally almost killed us. It's the f*cking apocalypse, and women all over the world are still faking it or saying "I'm good" when they are not good because…Honestly, because of what? Sure, you're asking your partner to do more work. But that's not a problem when you're asking them to go in for the 300th pic of you in front of some wall art, so why is it a problem in the bedroom?
More likely, it's because men have systemically engrained the idea that women don't really need to orgasm in order for sex to be finished, so it feels bad or overly vulnerable to ask for it. But like so many things men have said over the years, this was a bad and wrong idea. Women of the world, repeat after me: sex takes as long as it takes you to finish. (Sound selfish? Too bad. Men and women alike have been saying it about men since the dawn of time.) You should never, ever feel guilty that it takes you a while—like putting pizza rolls in the oven vs. the microwave, the better product just takes more time. Let 2019 be the year of no longer accepting things just because men have been calling them true for centuries—the world will be a much better place for it.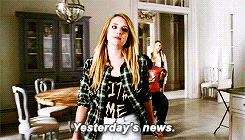 I hope you got some joy out of this article—it truly felt cleansing to write it. I want to reiterate that "not feeling guilty" does not equate to "not doing anything about it." You have the same goals and the same drive whether or not you make yourself feel like sh*t about where you are. This year, give yourself the gift of not feeling guilty about where you are in life. If hating on yourself burned calories, earned money, or gave us orgasms, we'd all have perfect lives. But it doesn't, and we don't, and guess what? It's f*cking fine. Happy new year!!!
Images: Giphy (4); Unsplash / Leighann Renee
Is Elon Musk Losing His mind? An Investigation
Brilliance requires a certain amount of insanity, but Elon Musk, never one to back down, really goes above and beyond what's required. 2018 has been, across the board, a nutso year, but that statement is most true for the man who up until recently, I thought was a car. (Seriously, you can't just name your kid Elon Musk…)
So what has the former PayPal CEO and walking billboard for hair plugs (Google it) been up to this year? Grab a glass of Silicon Valley's finest Soylent, sit down, and take a look-see.
Launched Tesla Into Space
The year started off strong for Mr. Musk whose antics, while nuts, were in line with what we knew about him. He loved cars and he loved space, so he launched one of his cars into space. The Falcon Heavy (name of the rocket, also seems a bit Freudian imho) launched Musk's personal car towards Mars and you can track it's whereabouts here if you've ran out of episodes of Great British Bakeoff to binge.
Started Dating Grimes
This is arguably a crazy thing for Grimes to do, not vice versa, but the couple's public appearance at the Met Gala sent our heads spinning. How did the electro goth pop songstress of our hearts end up swapping spit with a wax figure brought to life by a wishing upon a spaceship? Twitter DMs. Yep. Elon slid into her DMs which just goes to show you that no amount of money can fix a fuck boy.

The Thai Cave Boys Debacle
Earlier this summer, the entire world was waiting anxiously for 12 young boys and their coach to be rescued from a cave in Thailand. Elon Musk was among those worried, and when Musk worries, he worries strategically by building a "kid sized submarine" to rescue these children. When Thai officials were like, "thank but no thanks" to Musk's little sub,  he not so subtly decided to call the lead rescuer a pedophile? Feels like he is just throwing around disses to up the ratings, a classic move. Anyway, that lead rescuer is suing him now because you can't just call people a pedophile for roasting your tiny submarine.

Azaelia Banks
Azaelia Banks lived out our worst nightmare by getting stuck inside Musk's giant Bel Air mansion. Grimes lured Banks to Musk's recording studio where she spent a weekend completely alone, unable to find either member of the couple. Supposedly, Grimes had to console Musk after he sent an ill-advised tweet (been there, boo) and she never recorded with Banks. While camped out, Banks took to the highest medium, Insta-stories, to wreck on the couple.  Musk told the NY Times he recalls seeing the rapper in his house. "I saw her on Friday morning, for two seconds at about a 30-foot distance as she was leaving the house."
this a glitch in the simulation pic.twitter.com/YH3TLL6Rqz

— malcolm (@cloudbustings) August 12, 2018
Smoked Weed on Joe Rogan
After such an insane year, it's understandable that Musk would want to kick back and smoke a doobie. But instead of doing so in the privacy of one of his nineteen homes, he did so on Joe Rogan's podcast. The footage of him doing so brings back very violent memories of my uncles trying to prove to us kids that they are cool and hip. When this video released, Tesla stock dropped 9%.
Falsely Announced Tesla Going Private
To round out the worst summer of his life, Elon Musk falsely announced (via Twitter, duh) that his company would be going private, which boosted the company's shares. This led the Department of Justice to further investigate if this was true, which plummeted the company's shares. Until someone can get Elon one of those apps that limits how much time he spends on social, it seems like everything about his life will be yo-yo-ing for the rest of eternity (a concept he's tried to explain via physics and is soooo boring when he does.)
Heads up, you need to keep up with the news. It's not cute anymore. That's why we've created a 5x weekly newsletter called The 'Sup that will explain all the news of the week in a hilarious af way. Because if we weren't laughing, we'd be crying. Sign up for The 'Sup now!
Leo Dottavio Had A Complete Meltdown On Twitter
Happy Thursday! I've woken up in a world where recent Bachelor in Paradise reject, Leo Dottavio, had a very public meltdown on Twitter last night. You know, the guy who gaslighted the sh*t out of Kendall, threw a drink in Joe's face, and otherwise trashed whatever goodwill he'd earned on The Bachelorette. Over the past 24 hours, Leo has tweeted what some perceive to be attacks on former friends, threats of violence, and messed-up views on masculinity. While we expect this kind of behavior from our government, it's much more unsettling when it comes from a Bachelor in Paradise contestant. Let's take a look at how this spiraled out.
Apparently, things kicked off with this tweet from previous contestant Amanda Stanton.
Just got a lovely DM from Leo calling me a "piece of shit" & that my tweet about him last night is going to "come back to haunt me"…so i guess he can never blame "editing" #BachelorinParadise

— Amanda Stanton (@amandastantonnn) August 29, 2018
Oh, and in case you were wondering the HEINOUS tweet that sparked his outrage:
Catching up on #BachelorInParadise from last week. Thoughts: 1. I'm glad Jacqueline went home. She was too good for this show. 2. I love seeing @JubileeSharpe1 face on my TV! 3. Leo scares me.

— Amanda Stanton (@amandastantonnn) August 28, 2018
There was also, reportedly, a comment about Leo's place of employment. The Daily Mail reported that Amanda said, "Slightly off topic but Leo did get fired from WaterWorld, right? Need to make sure before I take the kids…"
Apparently Leo has some sort of Jonathan Cheban-level radar for his name (as one commenter pointed out, she didn't even tag him).
Original tweets have been deleted from this point on, but luckily US Weekly has done some detailed reporting,  and Instagram account @thebachelorbanter is here with the receipts. Leo reportedly fires back with the following:
If you're unclear what this is about, please see Bekah and Leo's interactions from earlier this month. Basically, Bekah got some DMs from women alleging Leo had sexually harassed them. He denied everything and had his lawyer send Bekah a letter demanding she retract her statements and issue an apology. He insisted, as he still does, that the harassment claims are false.
At this point, Tanner (another former contestant), suggests that Leo needs help. Leo responds with a joke about being a narcissist, then tells him he wants to fight him. Again, I'd recommend reading this in full, but he really gets into the masculinity politics with the ending: "When I knock you out can I stand over you and call you a beta?" I can only hope this is a joke and real men don't call each other "betas" and "alphas", except I read enough Reddit to know that there are absolutely people out there who use those terms in earnest. I just can't be sure if Leo is one of those people.
With that tweet, Leo sets off Nick Viall's spidey senses for when a sensitive male Bachelor contestant is needed. Either that, or he felt an interaction involving the Bachelor franchise had just gone on too long without him. He chimes in with the following tweet:
Breaking news: Self proclaimed Alpha suggests Charity boxing match with someone they have a clear physical advantage over as means to inflate their own ego all while further demonstrating their deep insecurities. https://t.co/EyyR0qC6xZ

— Nick Viall (@viallnicholas28) August 29, 2018
Look, Nick Viall's never been my favorite person. But someone if someone is going to call out toxic masculinity, the guy who cried in every episode of The Bachelor seems like a good candidate. Again, Leo deleted his responses, but US Weekly reports the following response: "Hey nick how about you and tanner at the same time vs me?… For allllll the marbles let's goooooo." Nick's response to this is still up—as are the comments.
Wait … you can beat us both up at the same time? … that's like sooo cool https://t.co/TNcyTnUBnS

— Nick Viall (@viallnicholas28) August 29, 2018
Now, maybe there's some fun new youth lingo I'm missing out on, but I truly had no idea where Leo was going with the "marbles" comment. So I have to say that Dean's responses are my absolute favorite here. NO, NOT JUST BECAUSE HE'S SO PRETTY. (Hi Dean!) Look how funny this is:
Are marbles still a thing? Why would anyone want ALL the marbles. Honestly, that seems like a burden.

— Dean Michael Unglert (@deanie_babies) August 29, 2018
A BURDEN. Dean. I'm laughing, I'm crying, I'm gazing into your blue, blue eyes…ugh. This brief moment of lightness is interrupted by Leo's now-deleted tweets back at Nick, reportedly saying the following:
"Jesus your forefathers would frown at your weakness my friend…This kind of adherence to physical altercation is what makes high school kids turn to guns. Be a good example and stand up to a cyber bully like I am… in person."
I don't think Leo knows what "adherence" means or how to use it. But I think he meant to say that refusing to engage in physical violence is the reason why kids shoot up schools…? It's not the guns that are the problem; it's the fact that boys are no longer beating the sh*t out of each other on a regular basis. Someone call Betsy DeVos and get mandatory fight clubs in school across the nation.
Finally, I happily don't have to deal with his "forefathers" comment, because Nick Viall did it for me:
Apologies for the delayed response. I went to a WaterWorld to look for you but you weren't there.

To be honest, my forefathers might have frowned at my support of feminism and gender/race/sexual orientation equality too …so like, it's fine https://t.co/iAPuaRg8CP

— Nick Viall (@viallnicholas28) August 29, 2018
For those of you who have lives outside of this, the WaterWorld dig is a reference to the fact that Leo reportedly works or worked there. And look, I hate to give Nick Viall the "feminist hero" title he's so blatantly vying for, but if the gender-neutral cape fits…
Even Deanie Babies, who in all other instances wins me over, was a little off the mark with his response. He commented "I would have forgotten we're living in the 1920's without it," which misses the point that sadly, this kind of garbage is as prevalent in 2018 as it ever was.
Leo ended the feud with a very confusing comment that amounts to "real men don't shoot up schools". No, I'm not sure how he got there, either, or if he watches the news. What I'm also not sure of? How many brain cells I lost in following this feud.
Mostly, my feelings from all this are outrage toward ABC. ABC, you need to screen your contestants better before you give them a national audience. First of all, for the safety of ALL contestants, and second of all, to give our eyes a break from this guy who is, at best, woefully inept at successfully pulling off sarcasm. 2017 me is shocked to hear me say this, but praise be for Nick Viall and Deanie Babies—the true heroes of last night's saga.
Images: Twitter; Instagram; Twitter 
One Of Harvey Weinstein's First Accusers Paid Off An Accuser Of Her Own
 Last night, the New York Times broke a horrifying, heartbreaking story on Asia Argento, one of the first public accusers of Harvey Weinstein. The report states that Argento paid $380,000 to Jimmy Bennett, an actor who accused her of sexually assaulting him in 2013. (*Cue enormous wave of people taking this as a reason to discredit the entire #MeToo movement.) Neither Argento nor her representatives have commented at this time, but here's what we do know about their relationship.
In 2004, Bennet played Argento's son in the film The Heart Is Deceitful Above All Things. They exchanged friendly messages on Twitter and Instagram through 2012 (Bennett's Twitter is now inactive.) In 2018, Bennett filed a notice of intent to sue against Argento. In the notice, he details a May 9, 2013 meeting with Argento in her Marina del Rey hotel room. Bennett was 17 at the time; Argento was 37. The legal age of consent in California is 18. Bennett claims Argento requested to be alone with him, gave him alcohol, performed oral sex and then had intercourse with him. She then asked to take photos of him. The photographs allegedly taken on this day, of the two of them partially clothed in bed, were included in the notice sent by Bennett. The following Instagram posts from the day in question were also included. I wouldn't recommend reading the comments if you wanted to eat or sleep tonight.
Not much is known about the contact between the two following the alleged incident, with the exception of one Twitter message sent by Bennett on June 8, 2013, saying "Miss you momma!!!!" In the 2018 notice of intent to sue, Bennett requests $3.5 million in damages for intentional infliction of emotional distress, lost wages, assault and battery, highlighting the harm to his mental health and subsequent hits to his career. Argento's lawyers agreed to a settlement of $380,000. In exchange, Bennett relinquished the right to sue Argento, or post the photograph taken of the two partially clothed in 2013. The settlement does not include a non-disclosure agreement. In an April 2018 letter, Argento's lawyer claims the decision to omit non-disclosure language was because Argento "felt it was inconsistent with the public messages conveyed about the societal perils of non-disclosure agreements."
Since the settlement, only one instance of contact has been logged between Argento and Bennett, when she liked an Instagram post on July 17. While neither Argento nor Bennett are speaking to the press, other members of the #MeToo movement have come forward, stating their disappointment, heartbreak, and an urging not to let this story destroy the message of #MeToo.
I've said repeatedly that the #metooMVMT is for all of us, including these brave young men who are now coming forward. It will continue to be jarring when we hear the names of some of our faves connected to sexual violence unless we shift from talking about individuals [+]

— Tarana (@TaranaBurke) August 20, 2018
So, yeah. What a terrible day, what a terrible year. It hurts to see any story as painful as this come forward, it hurts to hear this about a woman I admired, and it hurts me to think how this story will be used to further attack the voices of #MeToo. I'm sure I'll pitch a dozen more thinkpieces on this this week, but for now I'm too dazed and too sad. I'd like to say at least this week can't get any worse but hey, Trump still has the nuclear codes. So let's just buckle in and see where this shitstorm takes us.
Heads up, you need to keep up with the news. It's not cute anymore. That's why we've created a 5x weekly newsletter called The 'Sup that will explain all the news of the week in a hilarious af way. Because if we weren't laughing, we'd be crying. Sign up for The 'Sup now!
Images: Instagram (3); Twitter
We Watched Lala Kent's Movie 'The Row' So You Don't Have To
If you follow any of the stars of Vanderpump Rules on Instagram, you'll notice that Lala Kent's new movie came out. It's called The Row, and was released July 27th on iTunes and very few theaters. I first heard about this movie while listening to a podcast Lala was on. She said they decided to make her the star of the movie halfway through production. Sounds totally legit and not at all like someone dropped out. I'll be honest and say I wasn't expecting this sorority horror movie to be good. I was hoping it would at least be fun (it wasn't). It required the same number of drinks as The Bachelorette to get through, so don't see it in theaters. Be like me and rent it on iTunes with a bottle of vodka nearby. Or just read this recap instead.*
*Obviously, all of this contains spoilers.
The movie opens with some very extra EDM music and strobe light effects interspersed with hot women partying. This both makes me nauseous and sets a very accurate tone for the rest of the movie. Lala, a 28 year-old woman freshman in college, is being dropped off on campus by her muscular bald dad. I Googled her dad to see if he was older than Lala's boyfriend (sorry!) and his name is Randy Couture. You're welcome. Randy Couture turns out to be a detective, and immediately busts a meth lab. The lab is run by exclusively Victoria's Secret models in bras and he kills one. This will have almost no bearing on the rest of the movie.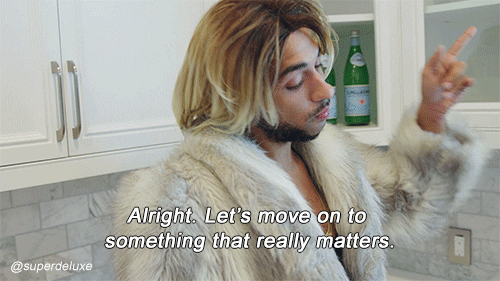 What the slutty meth lab does prepare us for is twofold. 1) Every woman cast in this movie looks like a lingerie model. 2) The women will rarely wear more than lingerie.
Back on campus, Lala's friend talks about how much she likes sleeping with professors. They decide to rush the "Victoria's Secret sorority" (told you this movie had a theme), Lambda Phi, where it turns out Lala's mother was president. Gasp. Lala is shocked, because her mother died when she was a kid and Muscle Dad doesn't open up much. Lala, who has spent the first half hour of this movie wearing knee-length dresses and refusing alcohol, reacts to this news by getting sh*tfaced. In case we forgot this was a horror movie amidst all the underage drinking and lingerie, one of the sorority girls is violently stabbed to death outside in lingerie and a robe.
TBH, I kind of expected this stabbing to have more of an effect on everyone. The police force literally says "this won't be the last," which like…is it not your job to stop it? The Lambda Phi girls take molly "for Isabel" (the dead girl), which makes me very sad for the state of female friendship in this movie. Lala is driven home by a stalker valet who tells her his sister was in Lambda Phi. Another girl is stabbed to death in hot pink lingerie.
Every girl in this movie five seconds before being murdered: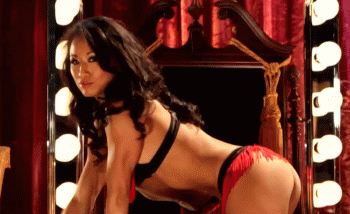 The rest of this movie pretty much drifts away with more of the same. Detective Dad struggles with case-solving and opening up emotionally to his daughter. Valet Guy shows up everywhere Lala goes without her questioning it. The Lambda Phi house mother, who very clearly wants to bang Detective Dad, tells Lala that her mom hazed a girl so badly she killed herself while she was Lambda Phi president. Lala is super upset with Detective Dad for not telling her this, which is very legit but also couldn't she have Googled this information? Two more girls are stabbed in the shower without any significant leads on the murderer. It honestly does not seem like the police are interested in this case.
I won't tell you who the murderer is, because I think that knowledge should be saved for those of us who actually had to suffer through  watch this. I can tell you that there are plenty of suspects, because every guy who hits on Lala in this movie has the facial hair and demeanor of someone who murders for sport. If you're wondering about the acting range Lala displays in the movie, she bounces solidly between "Lala trying not to get in trouble with Lisa" to "Lala drunkenly yelling at a party." She laughs, she cries, she only wears a bikini once—which makes her 600x more clothed than the rest of the female cast—and she manages to refrain from calling her detective dad "Daddy."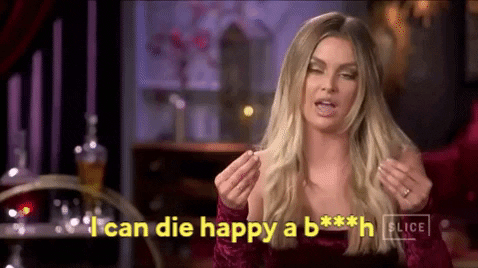 Mostly, this movie is 87 minutes of frat parties interspersed with bodies being hacked up, with lots of gratuitous nudity. If you want a reason to feel bad about your summer body, this movie will do the trick. But while it at least delivers on the promised "hot people partying" premise, the dialogue and soundtrack are honestly so bad that it's not worth blowing a Sunday afternoon on. Lala should maybe stick to reality TV where she can be her hilarious self, not star in someone's first shot at a legit movie after a long career in porn. I'm not saying that describes The Row's director, I'm just saying that's really what it felt like.
Images: Giphy (3)
The 6 Muscle Groups You're Neglecting & The Best Exercises For Them
91 percent of Americans give up on their New Year's resolutions, and I'm guessing they just got bored on the treadmill and decided to call it a day. Working out is boring, obviously. Every online fitness article shows us the same squat challenges and stupid 10-minute ab routines, but like, how many times can we keep working the same muscles? It's repetitive and annoying, and it's time we start working the muscles that we're not always told to care about on Instagram. Before you dismiss these muscle groups because you're "scared of machines" or "don't wanna get bulky," listen to why you should definitely pay attention to them. I mean, you can do burpees and sit-ups forever, but don't complain when you completely plateau and start Googling Gigi Hadid's workout routine. Here's a breakdown of the muscles you should stop neglecting, and what exercises you should start doing for each one.
1. Deltoids
What Are They?
Your deltoid muscles are basically your shoulder muscles, and there are different parts to the muscle, but the two you should care about are the front delts and the lateral delts. You might be scared that by working your shoulder muscles you'll bulk up like a football player, but realistically, that's not gonna happen unless you're literally lifting your bodyweight and consuming a shit ton of protein. Toning your shoulder muscles will make your whole arm look more defined and just so much better, and the most ideal way is to work the front of the muscle and the side of it in one workout to tone every angle.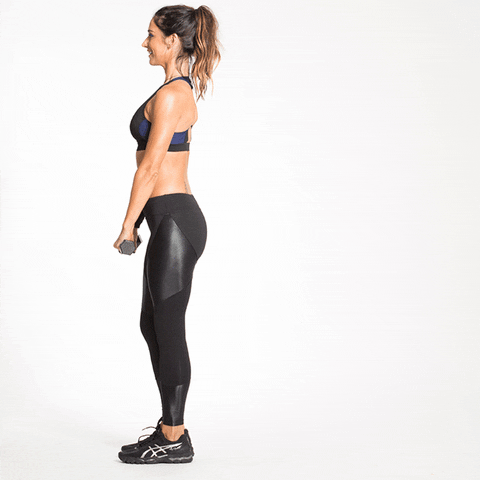 What Exercise Should I Do?
The Lateral Raise to Front Raise. Choose two dumbbells that are lighter than what you'd usually pick up. Your shoulder muscles are strong, but the side and front parts of the muscle can usually only handle very light weight, so think anywhere between three and eight pounds—maybe 10 if you do these regularly. Standing up while holding a dumbbell in each hand and your elbows slightly bent, raise the weights directly in front of you, bringing them to shoulder height with your arms extended. Then, lower them back down, and raise them again, this time laterally to the sides of your body. It should reach shoulder height again, but they're raised out to the sides instead of in front of you. You can even add in a lunge if you want to make this a total body move. Aim for 10 reps total, then rest for a minute and do another 10.
2. Lat Muscles
What are they?
The biggest muscle in your back is called the Latissimus Dorsi, and it basically gives your whole torso its shape. It's technically the muscle that makes up your upper back, which you've probably never even thought about.  When you  work your upper back, you're strengthening the muscles all around your core and back, which will actually help your back get stronger, your posture get better, and your waist look smaller. You've neglected this muscle till now, but it's never too late to start sculpting a sexy back.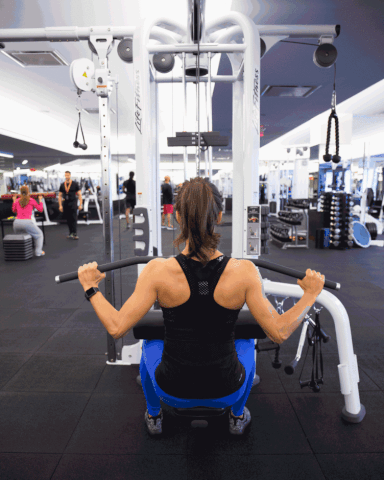 What Exercise Should I Do?
Lat Pulldowns. Find the lat pull-down bar at your gym. You've probably passed this in fear a million times, but it's really not that scary, so it's time to use it. Start by choosing a light weight, and then add weight as you get the hang of it. The idea is to put your hands on both sides of the pull-down bar, sit down on the seat facing the machine, and pull the bar down, squeezing the muscles under your armpits and around your upper back to bring the weights down. If you feel like you're using your shoulders too much, think about keeping your shoulders as far away from your ears as possible. You're using your arms, but the strength should be coming from your back, so it's super important to think about the muscle here.
3. Lower Ab Muscles
What are they?
If you spend your time in the gym doing planks, crunches, and twists, you're doing really good work for the top of your abs and your obliques, but most people tend to neglect the lower muscles in their abs because they're the hardest to hit. Most people's bodies tend to store fat in this region, so it can be hard to picture what I'm even talking about, but think about that V-shape at the bottom of Zac Efron's abs. Those are the lower abs.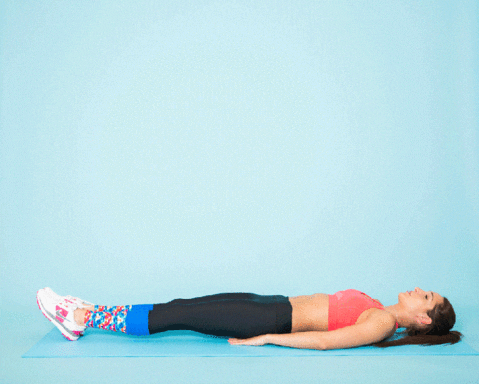 What Exercise Should I Do?
Lying Leg Raises. Start by lying on your back with your hands under your low back/the top of your butt. This will help protect your lower back from getting injured. Then, lift your legs off the ground, keeping them as straight as possible as you bring them up to 90 degrees. Then, SLOWLY lower them back down to the ground. These are meant to be done slowly and carefully, so if you find yourself kicking around and screwing up your form, slow the hell down. Also, a lot of people tend to hold their breath when doing this exercise, but don't. Inhale as you lift your legs up, and exhale as you lower. Your breathing makes a huge difference here, so don't forget about that part.
4. Hamstrings
What are they?
Your hamstring muscles are located on the back of your legs, right under your butt and above your knees. People neglect their hamstrings because we're so into squats and booty donkey kicks, but by strengthening your hamstrings, you'll actually help tone your butt at the same time. Plus, if you're into spinning, you'll get SO much better at it by strengthening your hamstrings. Like, your FlyWheel score will literally double.
What Exercise Should I Do?
Swiss Ball Hamstring Curls. This exercise is based on using a swiss ball or stability ball, but if your gym doesn't have one, this can also work using TRX bands or the rowing machine. Begin on the floor by lying on your back with your feet up on top of the ball. You want your ankles to be on top of the ball when your legs are fully extended. Raise your hips off the ground, keeping your weight in your shoulders and your feet. Then, flex your knees, pulling the ball inward toward your body while squeezing the backs of your legs. Once the ball is "curled" inward, straighten out your legs again, rolling it outwards. Do 10 reps, then take a quick break and do another 10.
5. Inner Core Muscles
What are they?
Let's clear something up.  There's a difference between your ab muscles and your core muscles. You can do a thousand unweighted sit-ups everyday, but that doesn't necessarily mean you're strengthening your core. Your pelvic floor, for example, is part of your inner core, and it's important to strengthen these inner muscles—not only to make us better at planking, but also to pretend our internal organs and actually have better control over our bladder. Most women don't even know about these muscles, but they're super important, especially if you plan on giving birth at some point in your life.
What Exercise Should I Do?
Oppose Arm and Leg Raises. Aside from your gyno-prescribed kegels, it's important to work on core stability to work these inner muscles, and working opposite sides of your body at once is the best way to challenge your core. Starting on your hands and knees, lift your right arm out in front of you and your left leg out behind you. Hold for five seconds, and then return to starting position, preparing to do the same on the other side. Try doing five reps on each side and remember to keep your core tight the entire time.
6. Back Extensor Muscles
What are they?
These muscles make up your lower back, and if you're used to doing ab workouts, squats, deadlifts, or even spinning, you've probably had some pain in your lower back at one point or another. This is because these muscles are easily injured if you don't warm up before exercising. Your extensor muscles are connected to your spine and to your glute muscles, and you'll find that once you get stronger in your lower back region, picking things up and other regular activities will actually get easier.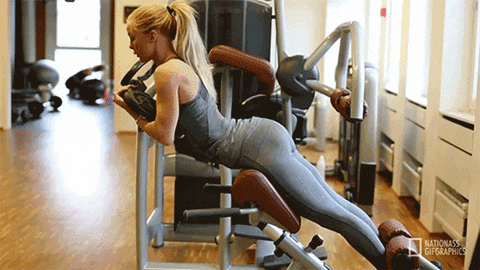 What Exercise Should I Do?
Hyperextensions. Most gyms have a specific bench that these are performed on, but any regular bench will do the trick if you're limited. Lie down with your stomach on the bench and your head facing the floor. If you're on the hyperextension bench, put your feet under the ankle pads. With your body straight, put your arms behind your head or crossed on your chest and bend slowly forward at the waist while keeping your back flat. Then, slowly raise your torso back to your starting position, and remember not to round your spine or swing your torso. If you're advanced, hold a weighted plate at your chest for extra resistance. Either way, remember to go slow and take your time on your way down and up. 
Images:  Geert Pieters / Unsplash. Giphy (5)
6 Good Things That Have Happened Since The 2016 Election
Not to be a bitch, but some good things have happened since Trump was elected. Am I saying everything happens for a reason and maybe this was meant to be? Ew, no, never. Never forget that this is not normal and a true nightmare. But it is important to take some time and focus on the positive. At least that's what my therapist says and she's like, really smart.
We put together a list of good things that have happened since a spray-tanned prune entered the Oval Office to help you cope with the existential dread that has become ever-present in your life. Mmmya, you're welcome.

More Women Running For Office
Well, it looks like America has gotten itself in a pickle and it's up to women to fix it, as per fucking usual. There's clearly a glitch in the system, and that glitch is rich, white men. Donald Trump is essentially the cherry on top of a shit-sundae that has been our male-dominated government. Enough is enough, and that's why over 500 women are running for office in 2018. Is this the part where we all move to an exotic island built by the gods and spend our days toning our biceps and training for war with Robin Wright? God, I hope so.

The #MeToo Movement
While we're on the topic of women being sick of everyone's shit, let's take a moment to appreciate the fact that holding men accountable for their actions went viral this past year. I mean, it's long overdue, but so is everything I've ever received from a man. Like an orgasm, for example. Anyway, powerful men are having their careers negatively affected when they are outted as sexual abusers, which is something I honestly wasn't sure I would live to witness. Here's to hoping this continues as more than just a trend, and all industries take it upon themselves to make real change when it comes to sexual harassment in the workplace. Also, fuck Harvey Weinstein.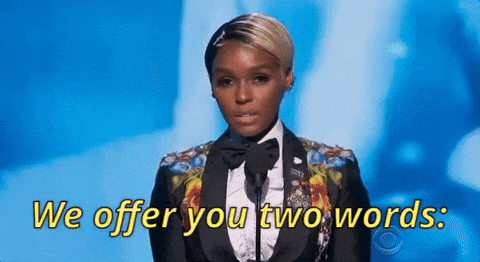 More Marijuana Legalization
This one is tentative for now, so we have to keep fighting. As I write this, Jeff Sessions is probably putting the finishing touches on his fan fiction about arresting every black man in the country who has ever looked at marijuana. California just legalized weed, which was supes chill. But then Narc Master 3000 (Jeff Sessions) rescinded guidances from  Obama's administration that allowed states to legalize marijuana with minimal federal interference, which was supes not chill. He actually received some backlash from Republicans on this one, because as we all know, Repubs are v horny for state rights. Interesting how conservative politicians are all about state rights until it comes to things like weed and abortion. Veeeery interesting. Anyway, weed is on the rise and we hope it keeps rising…higher.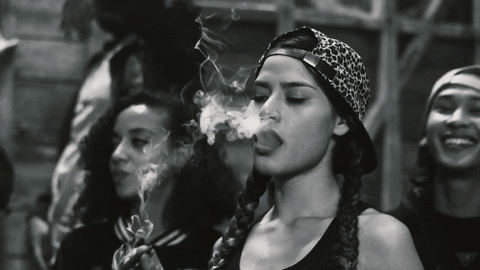 Cardi B's Rise To Fame
Speaking of things rising (wow, I am killing it with these transitions), let's talk about the incredible gift that is Cardi B. "Bodak Yellow" dropped this summer and we are forever changed. It's the perfect anthem for anyone who holds a petty grudge against all the haters and losers of their past. So, all of us. Not only is this song a banger, Cardi B herself is literal perfection. She's hilarious af and her Instagram is proof that she is a goddess that walks among us. We are not worthy.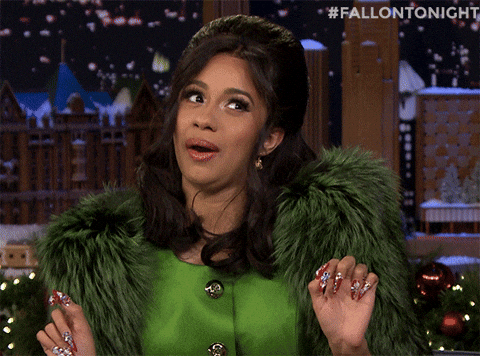 Jake Tapper's Rise To My Fantasies
Jake Tapper is the hero that none of us knew we needed. Before the Trump presidency most of us didn't know or care who some CNN news anchor was, but now we've been forced to watch the news and welcome Jake Tapper into our lives/fantasies. Jake is v smart and v good at making dumbasses look like dumbasses on live television. What else could you ever need? Also, one time he publicly humiliated Stephen-Most-Likely-To-Be-A-Virgin-Miller and it was everything.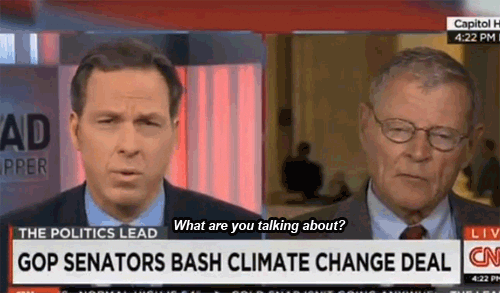 The Sup
The Sup became more of a thing this past year, and tbh it is taking the nation by storm. We know you read The Sup, because you literally are right now, but don't forget to spread the word. Tell your friends, tell your wife, tell your kids. We will take down this administration, one betchy comment at a time.

Heads up, you need to keep up with the news. It's not cute anymore. That's why we've created a 5x weekly newsletter called The 'Sup that will explain all the news of the week in a hilarious af way. Because if we weren't laughing, we'd be crying. Sign up for The 'Sup now!
6 Rom-Coms That Make No Sense In 2018
The perfect woman has the capability and work ethic of being a CEO, but also the cashmere sweater closet of a trophy wife. Where does this woman exist? Rom-coms, duh. There's a special place in hell for women who don't support other women people who pretend they're above rom-coms. What isn't to absolutely love? They are the dessert of movie – indulgent and you will sneak in extras without telling other people.
Some of the most beloved rom-coms, however, do not stand the test of time. That isn't necessarily bad! Times are a changin' and it's hard to keep up. The only love story that is truly applicable to all eras is Romeo & Juliet, which we saw expertly modernized with Leo and Claire. I digress. Here are some classic romantic comedies that wouldn't pass our #woke modern standards.
You've Got Mail
YGM might be the first online dating romance story? But let's face it, things have gotten a whole lot more complicated since the innocent heyday of AOL chat rooms. If you're still DM-ing with a dude after weeks of not meeting him, call up Nev Schulman because you're being catfished. Also, in 2018, there's simply no way modern woman Kathleen wouldn't have snooped out who Joe was through his LinkedIN or Twitter.

When Harry Met Sally
When Harry Met Sally is a story predicated on the two main characters weaving in and out of one another's lives. This isn't the olden days where you don't know what someone is up to since college. Sally would have been bombarded with Harry's obnoxious Facebook updates and Harry would know all about Sally dating Joe because of endless #mcm posts. There's no wondering if the other person has changed when you can see the nineteen Breitbart articles they've shared in the last week. Also someone in that restaurant def would have posted a video of Sally orgasming at her table, only to have it go viral and ruin her life.

Pretty Woman
Sure, the idea of a fun-loving, self actualized and non-traumatized sex worker is actually *very* 2018, but there's one scene in this movie that is neither rom nor com, and would certainly be far less well received in the cold light of the #MeToo movement. We're talking of course about the scene where Jason Alexander's character literally attempts to rape the Pretty Woman and the consequences are…he loses a friend? Given the fact that this scene literally takes place in a hotel room, between a powerless young "entertainer" and a powerful male businessman, I don't think I need to explain why it is problematic today.

Annie Hall
Woody Allen doesn't fly in 2018. Next question.

Never Been Kissed
Donald Trump is our president and every male celebrity over the age of 13 is being outed as a predator. The press is under attack by half of the country and is fighting tooth and nail to earn the respect of Americans. If you think for one fucking second an editor at a newspaper is going to use resources to send an adult reporter undercover amongst underage high schoolers to write a piece on a place where teens hang out called "The Court," you are literally fake news.

500 Days Of Summer
There's a lot about 500 Days of Summer that could still work in 2018, aka the year of the sad boy. But one glaring discrepancy is that our economy is nowhere near strong enough for a greeting card company to employ as many people as it did in that movie. Also Zoe Deschanel's bangs would be much blunter and shorter if she wanted to pass as an indie darling these days.

Heads up, you need to keep up with the news. It's not cute anymore. That's why we've created a 5x weekly newsletter called The 'Sup that will explain all the news of the week in a hilarious af way. Because if we weren't laughing, we'd be crying. Sign up for The 'Sup now!