So Much Is Wrong With Khloé Kardashian's New Instagram Post
This is a PSA: Khloé Kardashian, for the love of God, will you (and your entire family for that matter) put down the poorly made editing apps? I already did an entire article on Kardashian Photoshop fails alone, and honestly, it took every ounce of self-restraint to not make that article 500 entries long. The Kardashians are just so bad at Photoshop! And I don't even get why?? Number one, they are one of the most gorgeous families in America, and they should really be happy with the way they look. Two, they have (I assume) full-time teams of makeup artists, stylists, trainers, and plastic surgeons at their beck and call to deal with their dissatisfaction—they should not have to take out their issues on editing apps. Number three, and I said it before (but I'll say it again), they have enough money that they could easily hire experienced graphic designers to manipulate their photos before they post. I mean, if you're gonna erase chunks of your body (why? you all look amazing), at least do it the right way.
A short while ago, Khloé caught flak for making herself took tiny and her head look huge. This weekend, she was back at it again with a monstrosity of an Instagram post that's going to take me several suitcases to unpack. You think the bad Photoshop can't get worse and then you see something like this:
Here is what I do not understand. Khloé looks amazing rn. This pic is adorable. I'm sure the original picture required zero edits, but especially such poorly done ones.
Me to Khloé, but like, replace Britney with "YOUR PHOTOS":

As a Photoshop expert and digital artist, I'm going to go ahead and tell you everything that makes this photo seem a bit off. Hopefully you'll learn something and won't make these mistakes when editing your own photos. Or, even better, get some self-esteem and stop pretending women are supposed to be freaky, blurry demogorgons with no fat!
Problem 1: Skinny Arm

More like too skinny arm. Let's just dive right in here (no pun intended). Okay, this is the first thing I noticed wrong with the photo. I've blown it up, so it's pixelated everywhere, but you'll notice it is VERY blurry around the edges of Khloé's upper arms. In fact, part of her bicep has a bit of a tumor (?) that is threatening to leave and join the grass behind her.

In fact??? Her whole arm is wavy and has chunks missing from it?

Girl, you might need a doctor to check that out. It looks to me like the arm was pushed in on either sides, thus the extreme blurry edges, to look thinner. You can especially tell because the shadow on the bottom side of the arm is missing RIGHT where most woman get some arm fat. She forgot the bulge which is either probably where the real arm was, OR it was too difficult to do on the app, because of the grass shadow behind it. It also looks like she smoothed out the entire top part of the arm. It looks weird all around.
Problem 2: The Pool Edge Is Wavy

In Khloé's attempt to thin her arms, she did the *BIGGEST* editing giveaway ever. She messed up the lines around her. When Khloé moved the background to squish in her arms, she also further indented her armpit area, pushing the pool up to make it all look smaller. However, the pool is unaware a Kardashian is in it/in front of it, and therefore would not move its concrete edges to accommodate them. The pool wall should be straight across, not suddenly jumping half a foot higher into Khloé's armpit.
Problem 3: Rib Cages

Did Khloé have that same surgery that we somehow all heard about in 8th grade, where Marilyn Manson had to remove a rib so he could suck his own dick? 1) Why did everyone hear this rumor? 2) Whoever started it deserves a medal. I went to four different schools that year, and in different states, and somehow it made it to all of them. Anyway, Khloé forgot to leave room for internal organs and ribs in her editing, as many a Kardashian does. Sorry, it doesn't matter how thin you are, your body would not be a perfectly smooth (and very blurry) line in this position. You can see the difference in the ripples and hard lines where she stopped editing where her bikini bottoms fit and below. She cut her rib cage clean off for this edit and also made the following mistake in the process.
Problem 4: The Water Is Not Wavy

In Khloé's attempt to make herself a lumpy-armed, ribless beauty, she forgot that water moves. I think she edited her waist/arms by smearing the pool around her, which is how the pool edge became uneven *just* under her arm. This also created a problem, in what is really the Bermuda Triangle of Photoshop Fail in this picture. Water moves, guys. I don't know if you knew that, because Khloé somehow did not. In fact, you can see the uneven water ripples everywhere around them, except the part of the pool in the Bermuda Triangle of Photoshop Fail. There, the lines are *perfectly* parallel. Too perfectly, actually. This is what happens when you destroy the background by using a cheap editing app and not hiring a pro. Though, given how badly their professional photos are edited, I can't blame her for not wanting to spend the money.
Problem 5: A Chunk Of Her Ass Is Missing

This one I have no explanation for. What exactly were you trying to do, woman? Is this a result of blurring the background so poorly? Did you try to make your ass bigger and missed an entire section? Unclear, but definitely a huge fail. Good job creating yet another unrealistic expectation for women's bodies.
In conclusion, what could have been a totally cute photo got massively f*cked up due to Mommy's vanity. Khlo, u ok? I know you're going through some sh*t right now, but please remember you're some kind of f*cked up role model for women, and you have to remind them that it's totally okay to have stomach rolls, arm fat, unflattering poses, blemishes, cellulite, and ribs. Also, this of it this way: if you just left your photos alone, you would not have tumor arms or chunks out of your ass missing. Thank you for coming to my Ted Talk.
Images: Giphy; khloekardashian / Instagram
The Petty Ways Khloé Has Responded To Tristan's Cheating Scandals
I don't know if you've heard, but Tristan Thompson has a problem keeping it in his pants. Whether he's hooking up with his baby mama's family friend, motorboating randos in the club, or, let's face it, doing a lot of shady sh*t we probably haven't even heard about about, he's definitely not remaining faithful to the best member of reality TV's First Family. And he seemed like such a stand-up guy when he left his pregnant girlfriend for Khloé! This is an American tragedy.
Thankfully, we have Khloé to help keep our heads up during this dark time, because she for sure will not be taking the high road. No, Khloé is going to end this relationship as pettily as humanly possible. And nothing makes me evil giggle more than a good old fashioned public display of revenge. So, let's take a look at the pettiest things Khloé has done in response to Tristan's cheating. Enjoy them now, before she takes him back gets mature and, like, stops publicly shaming him.  

1. Put True In A "Wish You Were Here" Shirt
Let's start with the most recent incident, shall we? Last week, Khloé posted a picture of True to her Instagram story. A totally normal thing to do. I mean, I can't even open Instagram anymore without seeing every single bowel movement that came out of my friend's children. Everyone posts pictures of their babies, right? Wrong. Or at least, not like this. Because True just happened to be wearing a shirt that said "wish you were here." And US Weekly is reporting that Khloé is unhappy with Tristan because he hasn't been making an effort to be in True's life. Damn. It's too bad Tristan clearly doesn't give a sh*t about Khloé's feelings, or this would have been a sick burn.
Leave it to a Kardashian to use an 11-month old baby to get back at their ex. They're so rich now they don't even care that they're setting their children up for a lifetime of therapy. A small price to pay for 1 million likes, am I right?
2. Roasted Him On Twitter
We are so #blessed to live in the era of social media. I don't know what I'd do if I couldn't read about celebrity sex scandals in 280 characters or less. I'd probably have to start sh*t with my own friends or something. Thankfully, I have Khloé Kardashian to keep me apprised of where her boyfriend's d*ck has been, and it's all accessible via an app on my phone. And boy, is she keeping us up to date.
After Jordyn blabbed to Jada about what happened between her and Tristan, Khloé came after her, accusing Jordyn of breaking up her family. Naturally, people took issue with all the blame being thrown at Jordyn since it takes two to tango swap bodily fluids. So, Khloé decided to come at Tristan too.
This has been an awful week & I know everyone is sick of hearing about it all (as am I). I'm a rollercoaster of emotions & have said things I shouldn't have. Honestly, Tristan cheating on me & humiliating me, wasn't such a shock as the first time.

— Khloé (@khloekardashian) March 2, 2019
"Tristan cheating on me & humiliating me wasn't a shock," OUCH. Ladies, if you would not be shocked to find out that your significant other cheated on you, please imagine I just smacked you in the face with my huge red flag. Throw the man away!
Tristan is equally to blame but Tristan is the father of my child. Regardless of what he does to me I won't do that to my daughter. He has been addressing this situation PRIVATELY. If Tristan were to lie publicly about what conspired,then yes I would address him publicly as well

— Khloé (@khloekardashian) March 1, 2019
It's also interesting of Khloé to mention that she has been addressing the situation with Tristan privately. So he publicly rubs his face in another woman's chest, and he publicly "kisses" Jordyn Woods, but he gets to privately beg for forgiveness. Doesn't she see the issue here? He can't even man up and tweet an apology?! Disgusting.
3. Deleted His Pictures From Her Instagram
Okay so if we're being honest here, I don't actually follow any of the Kardashians on Instagram. Sure, I like to check what they're doing obsessively, but I also like to reply, "oh no, I don't follow them," in a superior tone to anyone who asks me if I saw the latest picture of Kim's ass. I know, I hate me too. So because of that, I can't say with complete authority that Khloé deleted any pictures of Tristan from her Instagram vs. she just didn't post any to begin with, but it does seem suspect that there are more photos of her Birkin bags on her feed than there are of the man with whom she created a life. So I suspect a serious social scrub.
She's also clearly using Instagram to show him what he's missing. I believe I've heard this referred to as the "revenge body."
4. Named Their Child True
And finally, in the ultimate act of pettiness after Tristan was caught cheating in 2018, Khloé named their baby True Thompson. I know, I know, Kris Jenner tried to convince all of us it's a family name, but I would not put it past her to resort to bribery to change old birth records. What, like it's hard?
And even on the off chance that True was a family name, perhaps it wasn't the best choice to give your child that name after your boyfriend was just caught lying and cheating on you? You didn't want to just go with Jessica to avoid speculation? Are you too good for the name Emma, Khloé?
View this post on Instagram
And that's how petty our girl Khloé is! I hope she chooses her next boyfriend much more carefully, but I doubt that will happen. So look for another story just like this in 9-12 months! Can't wait for those tweets.
Images: Getty Images; Giphy (1); theshaderoom, khloekardashian (2) /Instagram; khloekardashian/Twitter
The Lowdown On The Kardashian Christmas Party
How did YOU spend your Christmas Eve? I spent mine pretending to understand my uncles' fancy finance jobs (I'm sorry, but how are BlackSTONE and BlackROCK NOT the same thing?) or acting like my cousins' PR jobs and Etsy shops selling festival accessories for Burning Man are legitimately rewarding and respectable career paths (LOL they aren't). But then again, I write about Shakespearean sh*tshows like Pump Rules and the Kardashians for a website my grandparents think is called "B*tches," so who am I to judge them? And yet I do judge them, because, like my grandparents said, I write for a site that's called "B*tches." At least I got to sneak off to the bathroom for copious amounts of time to vicariously live through the Kardashians and watch their Instagram stories from their Khristmas Eve party! (Special shoutout to lactose intolerance and eggnog for giving me a believable excuse). We've talked about how the Kardashians have the most iconic holiday celebrations, so of course I had to give you the lowdown on what I learned about the Kardashians while I was hiding away from celebrating Christmas with my own flesh and blood.
Over-The-Top Decor
So instead of Kris throwing their annual Khristmas party this year, Kim threw it instead. (Sidenote: do I seriously have to spell everything that has a C with a K for this article? Because I can't go along with this joke for that long.) Anyways, upon entering, there was a tunnel of lights that legit looked electric (no pun intended). That tunnel is literally what Thomas Edison invented the lightbulb for (that was his doing right?), and it is literally what environmentalists are protesting! But oh well, it looks cool on Instagram! The inside of her house was all white. Like, whiter than Sunday brunch at Bagatelle. Let me put it this way: it was as if P. Diddy's white party's event planner and Jeff Koons did a collab on an igloo. That's honestly the only way I can articulate it. Pictures do it way better justice.
And leave it to Kim Kardashian to make it snow in L.A. Because if this chick can make it from being Paris Hilton's closet organizer to being on the cover of Vogue, she can certainly make it snow in L.A. while it barely even snowed in New England. This may sound sacreligious, especially on his b-day, but Kim Kardashian frankly performed a miracle more impressive than Jesus turning wine into water. No offense, Jesus!
The Fam's Outfits
So let's start off with the hostess, Kim, who totally underwhelmed us by wearing a dress that's a knockoff from her Met Gala dress from 2017. Kourtney, on the other hand, looked leggy and gorgeous by wearing a black velvet mini dress with a bow accent (is that what it's called? I'm not Anna Wintour here!). Kendall must've gotten the memo that she was too boring to make our worst Kardashian makeovers list, so she decided to go against the theme and dress in a highlighter yellow full length dress. Sweetie, in a party that is all white, you look like a trail of dog piss that's left in the snow. But at least you got our attention!
Khloé and Kylie had matching outfits with their respective condom accidents–I mean–publicity stunts. But it wasn't some Laura Ashley level sh*t our moms used to make us wear. Kylie wore a sparkly dress and Stormi wore a sparkly onesie, and they both totally worked it. Meanwhile, Khloe wore a star-studded top that matched True's star-studded onesie, but she spared True the embarrassment by being the only one who wore a skirt that looks like…I can't…I don't even know what that monstrosity looks like. A wedding dress on the sales rack at David's Bridal that went through a woodchipper? That's all I got.
And can we please talk about Kris, while we're at it? Kris wore an all silver full length gown and a platinum blonde wiglet. Was Schitt's Creek's Moira Rose based off Kris Jenner or was Kris Jenner based off Schitt's Creek's Moira Rose? These are the questions that we should've answered when I was a Philosophy major instead of meaningless sh*t like "Does free will exist?".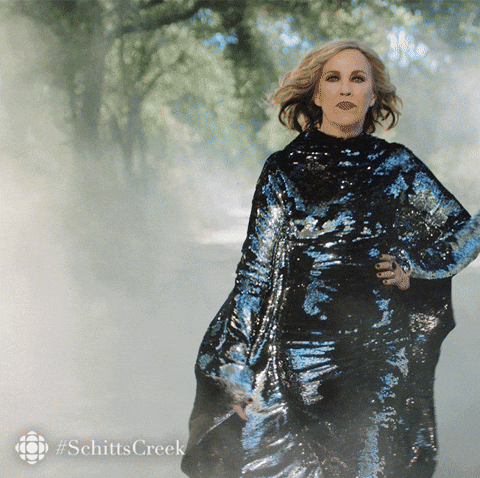 The Guest List
Of course, the Kardashian's annual Christmas Eve fête had the creme de la creme of the C-list with some A-listers thrown in. Jennifer Lopez showed up with her rumored fiancé A-Rod (I don't even know his real name-I just know that he has a giant painting of him as a centaur in his house). Kyle Richards of RHOBH and her fam also showed up. John Legend performed, but it doesn't look like Chrissy Teigen showed face because there's no photographic evidence of her being there and her Instagram stories were surprisingly dead on Christmas Eve. Kimora Lee Simmons was there because apparently they wanted to stay on theme for Christmas and stay on #brand for E! so they invited the Ghosts of Failed E! Reality Shows' Past. Look, if you're gonna do that, at least invite ones that know how to party, like Alexis Neiers from Pretty Wild or the Olly Girls from Sunset Tan. Those girls were my idols in middle school. It looks like Jonathan Cheban was a no-show, which is weird because usually he would be super in-your-face about how he was invited. I suppose they realize that he was so creepy as Santa on their contrived "Christmas Special" they had him dress as the Grinch instead. (Yes, they actually had someone dressed as the Grinch at this party.)
…And The More Interesting Guest List
Paris Hilton ended up showing up again this year, and she actually went sledding with Kim! It was some early 2000s level antics, but I can't help but think they're still frenemies. You know why? She was caught on Instagram cuddling up to Sofia Richie. They made a video selfie together with Paris saying her catchphrase "That's hot." #TBT to 2004 when we all had the dELiA*s t-shirt that said "That's hot" back when it was actually relevant. Stop trying to make "That's hot" happen again, Paris. It's never going to happen. She really is trying to make some Simple Life shenanigans again with the mini Richie, yet Sofia's big sis Nicole Richie clearly can't be bothered to relive the past. Anyways, kinda crazy that Sofia Richie showed up, right? Well, we all saw it coming since she just got back from vacationing in Mexico with Scott, Kourt, and their kids, like, hours before.
But the most controversial guest? Caitlyn Jenner. Kim and Kris both were up on their soapboxes saying how they'll never talk to Caitlyn again after she aired out Kris in her tell-all book, yet there she was. And she brought Sophia Hutchens, her much younger girlfriend? Or companion? Business partner? I'm not sure what they are, and Sophia doesn't either. Oh well! The craziest part is that barely legal Sofia and Sophia (weird coincidence) were up past their bedtimes and out at a party instead of waiting for Santa to come. At least Caitlyn and the Kardashians have made amends in time for the holidays. This was so touching, and if my shrink didn't increase my antidepressants to the point where I didn't feel emotion, I probably would've shed a tear.
Reign Is Still Kourtney's Favorite
I don't even know what Penelope or Mason wore that night. They may not have even shown up. Clearly Reign is the favorite. We told you so!
Kris Jenner's Cooking
First off, props to Kris Jenner for including Travis and Tristan on the family's gingerbread house even though they were no shows at the party to make it seem like their relationships aren't totally doomed. Anyways, Kris talking about getting up at 4 a.m. to make this meal that puts Martha Stewart to shame?
Kris is a queen, but she sits on a throne of lies. I am the proud owner of an autographed copy of Kris Jenner's cookbook, and I can assure you that none of the recipes in that book are this ornate or creative. The only highlight in that book is when she talks about her Hermes dishware. While she clearly is business savvy, she's no master chef and doesn't have a modicum of culinary finesse. Kris so obviously ordered this smorgasbord of diabetes from professional chefs. I mean, I do the same thing when I order off GrubHub for a date and pretend that I made it, so I can't really blame her for passing this off as her own.
I hope everyone had a merry Christmas, and I will be spending the next year trying to secure an invite to the 2019 Kardashian Khristmas.
Images: @kimkardashian / Instagram; @kendalljenner / Instagram; @khloekardashian / Instagram; Giphy; @foodgod / Instagram; @caitlynjenner / Instagram; @kourtneykardashian / Instagram; @krisjenner / Instagram
6 Celebrity Couples We're Shocked Made It Through The Year
Every year, people say "this is the year of devastating celebrity breakups!" Look, we're all really sad that Jenna Dewan and Channing Tatum didn't work out, but 2018 was surprisingly a year of toxic couples staying together (???). Pete and Ariana obviously didn't make it, but things have been weirdly stable other than that. For what it's worth, when these couples actually break up, the fallout and drama will probably be incredible to watch. But for now, here are some of the most shocking celebrity couples that made it through 2018 (relatively) unscathed.
1. Tristan Thompson And Khloé Kardashian
Okay, this is an obvious one, because Tristan cheated on Khloé while she was pregnant. I'm sure that her family is trying to save face right now by pretending to get along with him, but it was obvious in recent KUWTK episodes that they despise him. I get that he's 6'10", makes really cute babies, is 6'10", is extremely good looking, and is 6'10" (I'm terrified), but let's not forget that Tristan cheated on Khloé while she was LITERALLY carrying his child.
He's also been caught since the cheating scandal getting way too flirty with other chicks in public. I get that Khloé wants to try and work things out for the sake of True, but how can Tristan even look that adorable, mushy little baby in the eyes when her name is a reminder that honesty and loyalty clearly isn't his forte? Also, never forget that Khloé and Tristan did that cringeworthy maternity photo shoot. Obviously, I blame him instead of her for that fiasco, because did I mention that Tristan cheated on Khloé when she was pregnant?
2. Scott Disick And Sofia Richie
When Kourtney and Younes broke up, Sofia was in need of, like, a Pez dispenser full of Xanax. I love Sofia, but even after all this time, I can't shake the feeling that Scott is only dating her to piss Kourtney off. Here's what I'm thinking: Justin Bieber was Kourtney's rebound after dumping Scott, and Sofia is Justin's ex. What stings even more is that Sofia is Nicole Richie's little sister, and Nicole and Kourtney basically grew up together. It was also recently discussed on KUWTK that Scott and Kourtney both want another baby. Someone even suggested that they just have another one together. Stranger things have happened.
Let's not forget that Scott refuses to throw Sofia a follow on Instagram, and barely features her on his feed. Meanwhile, he's in every other picture she posts and even had his face as her phone case at one point. This is not the sign of a balanced relationship. He's also literally been photographed borderline cheating on her. I honestly think at this point he's just staying with her to prove to Kourtney that he was dating Sofia out of love and not spite. Maybe Scott and Kourtney will get back together eventually, or maybe they won't, but you'll never convince me that they're not both thinking about it.
3. Justin Bieber And Hailey Baldwin
Did anyone see these two actually making it to the altar? No. Did everyone see them making it to a New York courthouse? Yes, but only in the sense of Justin getting into some legal drama and Hailey serving as a witness. None of us expected them to go their for their marriage license, because we all thought this engagement was a complete joke. Sources close to them justified the engagement by saying she had made him happy for the last three weeks of dating, so they decided to get engaged. They also said he was planning on proposing to her for weeks. How can you be with someone for three weeks and plan on proposing to them for weeks? The math just doesn't make sense!
Fans try to justify it by saying "they got back together" but um, not really. In the past, they were casually dating and hooking up from time to time, but nothing official. Selena was the one who Justin wrote all those songs about and kept pursuing. He even convinced her to break up with The Weeknd. Yet Hailey's The One? A part of me will always believe that Justin and Selena belong together. Sorry Hailey, but Justin can only keep up these thirsty Instagram comments for so long.
4. Emily Ratajkowski And Sebastian Bear-McClard
How is this marriage still a thing? He was her rebound after a three-year relationship. They knew each other for, like, five seconds before getting engaged. Sebastian even proposed with a ring that he made out of a paper clip. They also made it on our trashiest weddings list because they deprived us all of seeing Emily go all-out-influencer for her wedding. Also, it would've been dope to see Emily play the field for a while. In terms of her charisma and disposition, she seems like she has major Rihanna vibes. She's a bad b*tch, and it's a shame we didn't get to see her single phase.
5. Jax Taylor And Brittany Cartwright
All right, allow me to paint you a picture of an actual adult male: he has had numerous affairs with women besides his significant other, an affair with a porn star, adamantly lied about said affair with this porn star at the expense of others, has a sh*tty fake tan, and is a reality star. I'm talking about Jax Taylor. This guy is clearly never going to be monogamous. Whenever I tell someone that I write about Vanderpump Rules, eight times out of ten they will tell me that they know someone that's hooked up with Jax. That's not a great track record, I gotta say. Brittany seems sweet, and I just don't want her to get hurt by Jax more than she already has. Whatever, it's her life, but he's a 39-year-old man, and it seems unlikely that he's going to change his ways at this point.
6. Mod Sun And Bella Thorne
In a lot of ways, Mod Sun and Bella Thorne are perfect for each other. They're obnoxious, questionably talented, and a lot of people find them nauseating. But they're like the Chad Kroeger and Avril Lavigne of America. They're totally a perfect match because they're the only people on the planet who could tolerate each other. Bella Thorne is what would've happened had I never stopped my "double vodka Red Bulls and whipped cream flavored vodka, make out with five guys in one night, scream-sing all the words to "Caribou Lou" by Tech N9ne" phase. But unlike me, Bella still has time to grow out of her questionable phase considering she's barely legal.
Mod Sun, on the other hand, is 31. He's a full adult. His tattoo situation makes him look like the doodles of a 7th-grader, if that kid also spent his time shoplifting from Hot Topic and doing whippits. And did I mention they named their dog Tampon? Is it supposed to be ironic that the most unhygienic couple on the planet named their dog after a feminine hygiene product? Or are they just trying to be obnoxious? Who's to say? Either way, I have a lot of questions here.
But congrats to all these happy couples for making it through the dumpster fire that was 2018! Can't wait to see who will break up and who will get prematurely engaged next year.
Images: @khloekardashian / Instagram; @sofiarichie / Instagram; @commentsbycelebs / Instagram; @emrata / Instagram; @brittany / Instagram; @bellathorne / Instagram
UPDATED: Which Kardashian Had The Best Halloween Costume This Year?
There's no better part of Halloween than getting the chance to judge everyone's costume choices. Who's going as a basic slutty cat and who will wildly offend everyone at the party? But of course, the most intriguing and expensive costumes come from celebs. So who better to judge than the Kardashians? Year after year, the Kardashians tend to go all out—especially Kim. At press time, Kim has not yet posted a picture of her Halloween costume, but we're sure it's going to be iconic. Some of her best past looks were Jasmine from Aladdin, a mermaid (but like, not in a basic way), and Poison Ivy, so we can't wait to see what she's going to do this year. But the other Kardashians posted their Halloween costumes, so we get to judge those. Who did it best? Here is our ranking of the Kardashian Halloween costumes.
1. Kylie And Stormi
Obviously, first place must go to the butterfly duo of Kylie and Stormi. If this isn't mommy-daughter goals, IDK what is. Ky went full-out and DIYed had someone make her beautiful wings. Of course, her mini-me had to look just as ~fly~ with her own set of baby wings. In true Kylie fashion, the base of her outfit (a skin-tight bodysuit) is understated but still serving major MILF vibes. Points for attention to detail with Stormi's hairclip, perfectly matching her attire and Kylie's butterfly details on her shoes.
View this post on Instagram
2. Khloé And True
A very close second place goes to the Mama Koko and True! These two went for the matching bodysuit tiger look. Initially, we were disappointed by Khloé's lack of creativity (a unicorn is basic, sorry), but she really one-upped herself. Khloé's makeup is also fantastic and really makes her look like a YouTuber sexy tiger. But can someone please tell her The Lion King is about lions, not tigers. So like the circle of life lift doesn't totally apply…cute pic either way though.
3. Khloé And True
In third place, below themselves, are Khloé and True in their unicorn outfits. Just when you thought True couldn't get more adorable, she literally became a stuffed animal. Her cheeks might be the most perfect things I have her seen. I just want to pinch them! Wait, who am I? Anywho… Mama Koko kept it cute with her matching onesie, but still managed to glam it up with some jewelry and a matching manicure. Also, a special shout-out to Chicago for making an appearance in her own unicorn headband.
 4. Kylie
Back on the list in third place is Kylie for her solo Barbie look. Although the costume on its own wouldn't be that impressive, Kylie went for it and added in the whole f*cking box. You also KNOW she didn't wear that sh*t out, so that was totally for the Insta. That's what Halloween looks like when you've got 900 million followers, I guess? Points also go to her for the slightly ironic caption, because truly, her life in plastic really is fantastic.
View this post on Instagram
5. Saint
Not gonna lie, Saint's costume was kind of lame, but he's too cute to be in the last place. According to Kim's caption, Saint is supposed to be a pumpkin, but like, maybe a Yeezy baby pumpkin? I'm all here for the minimalist Halloween looks, but I feel like Saint is for sure capable of producing a more extravagant look. Perhaps there's more to come…we'll be waiting!
View this post on Instagram
6. Kendall
Our bottom of the list is, unfortunately, Kendall for her basic AF Austin Powers sex-doll costume. Usually, this would be fine and totes creative, but it looks like she bought it from Dolls Kill and put literally no money effort into her look at all. Listen Kenny, when your job is basically to post Instas, at least give us something with a little more wow. But I mean, if you want to dress up as Kendall as a fembot, you can go buy it on sale.
View this post on Instagram
Images: kendalljenner, kimkardashian, kyliejenner (2), khloekardashian / Instagram
How Messed Up This Year's Celebrity Babies Will Be Based On Their Names
As we all learned yesterday, Kulture Kiari Cephus has made a grand entrance into the world. And apparently it's not a rare strain of chlamydia, it's a baby girl. Welcome to the world, Kulture!  It's a dumpster fire here, you'll love it! If we're being serious, though, this is a fucking heinous name that makes my ears bleed a little more each time I hear it. Soon I fear I will hemorrhage. Kulture is not even a name when you spell it CORRECTLY, Cardi B, and really, taking a page out of the Kardashian naming book? Sad! In other sad news, Kulture is not the only baby this year saddled with a name that will surely drive her to selling her own sex tape to TMZ approximately 18 years from now. So, let's take a look back at the celebrity babies this year and rank them on how fucked up they will be based on their "names." Because nothing is more fun than eviscerating innocent children, am I right? Obviously this list will go from "they'll probably be fine" to "their first DUI arrest will be next week."
Crew Gaines
TBH Crew is not the stupidest name I've ever heard. It just makes no sense with the Gaines naming philosophy, which is basically "all the boys get the same name and all the girls get the same name." Seriously. Joanna and Chip Gaines' other boys are named Drake and Duke, and their girls are Ella and Emmie. It's like they picked one name they liked and when they went to put it on the birth certificate they were told they couldn't use it again and so they switched some letters. So Crew just comes out of left field. I fear he will be screwed up because he knows he's different than his siblings. He will grow up feeling like an outcast and will end up being a loser that goes to art school.

Canon Curry
Let's be real, Canon Curry will be fine. His dad is Steph Curry and he's the only boy in his family, so I'm sure he'll be the anointed one. But he's going to have to deal with that annoying red squiggle on Microsoft Word for the rest of his life since that's not how you spell Canon, STEPH! Too busy hitting three-pointers to check a dictionary, huh? Odds are that this name will drive poor Canon to insanity, or at the very least, make him a very bad speller. But I also can't spell at all, and look how far I've gotten in life! I get to make fun of babies on the internet!
Marvel Wentz
So I guess Pete Wentz is a big fan of The Avengers? Why couldn't he have just gone to Target and gotten that Captain America shirt my brother wears every weekend? We wouldn't doubt your fandom, Pete. Marvel will most certainly not be a Supreme Court justice, but will definitely be a mediocre Red Lobster waitress, quick with a sarcastic comeback and flush with a trust fund. And an "ironic" Thor tattoo on her upper thigh.

True Thompson
True Thompson is going to be the biggest fucking liar this world has ever met. Nothing she says will ever be true, and she will be her father's daughter. True will burn through men like I burn through a family size bag of Lay's sour cream and onion chips when I'm on my period. Expect at least five marriages, countless cheating scandals, and at least one shoplifting incident where she swears she just "forgot to pay" for the couture gown shoved in her bag.
Chicago West
Chicago West is a SUPER cute baby. Unfortunately, even that won't be enough to save her from a life of butt implants, lip fillers, and a superiority complex. Chicago will see herself as the savior to her namesake city. Sadly, while running for mayor, her butt implants will explode, resulting in Chicago being forced to admit none of the Kardashian asses are real. Chicago will bring shame onto the entire family and will be forced to go into hiding and no one will ever see her again. There will be whispers Kris Jenner murdered her, but no claims will ever be substantiated.

Stormi Webster
The year Stormi was born, Stormy was also the name of the most famous porn star. Dare I say it's prophetic? Moving on…
Ariana Sky Magro
If we're being real for a minute, we all know that a name is probably only one factor in determining how fucked up a human being becomes, since Ariana is definitely the best celebrity baby name to come out of 2018. Know what's a bigger factor in determining your future issues? If your mom allegedly dragged your father with a car while you sat in the back seat sucking your thumb. Or, say, if your father said he couldn't turn your mother from a hoe into a housewife. Ariana Sky, our hopes for you do not reach the sky, they barely reach past the New Jersey state line. By the time she is a teenager, she will be a hybrid of the two grossest humans that ever existed and will have powers so evil and heinous she will destroy the world. May God have mercy on our souls.
Best of luck to these babies! I hope their lives don't turn out how I've predicted, but I fear they will. And to all the parents out there, just remember—it's never too late to legally change your baby's name to Emily.
Images: Giphy (3)
Khloé Kardashian Broke Her Silence In The Most Confusing Way
Friends, it has not been an easy few weeks for Khloé Kardashian. Not only did she have to push the giant spawn of an indiscreet cheater out of a hole the size of a lemon, but she had to do it while knowing that in the end she really should have gone the sperm donor route. I can only imagine this birth required lots of drugs, ice chips made from Evian water laced with liquid gold, and high thread count sheets. Then, since the birth of True "I was named to shame my father" Thompson, Khloé  has also had to endure the media saying she is "living in hell." What a beautiful way to describe Khloé's time with her brand new daughter. Put that one in the baby book for sure. Well, Khloé has finally had enough.
Yesterday E! News posted a picture on Instagram and linked to a story they wrote about how Khloé is "leaning on Kourtney" right now, since Kourt has also endured the shame of a cheating boyfriend with no regard for the woman whose organs literally shifted around inside her body to accommodate their child. I'm paraphrasing.
And after all the stories written about her since the cheating scandal broke, Khloé finally decided that a story claiming her sister was helping her out required a comment. So that's the line, then. Not her boyfriend being taped motorboating a rando in a club, or her mother telling Ellen that she is struggling with breastfeeding, but it was this nothingburger story that I can't even find a record of on the internet. Am I bad at Google? Anyway, Khloé commented on E!'s insta saying "oh damn… I hope I don't crush her by leaning on her! I love my little @kourtneykardash"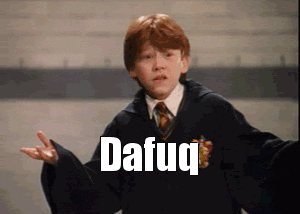 First of all, I feel betrayed by the stories claiming Khloé was "breaking her silence" and "clapping back." V misleading. It would be more appropriate for them to say "Khloé was finally so fucking bored while attempting to get True to latch on to her breast that she commented on an Instagram so she could get some more free media attention." Should I make that this story's headline?
Next, is she trying to shade E!? Like I just can't tell. If it's an insult, it's not a good one. It only serves to remind me that Khloé is, in fact, much larger than her sisters and that I really should get back to my investigation into who her real father is before the case goes cold. That bulletin board of clues in my basement isn't going to solve itself.
And finally, is she just agreeing with them? Like, "yeah I'm leaning on her, us gals with shitty taste in men gotta stick together"? I'd love to see how these sisters actually lean on each other. I'm sure we'll find out soon though, documented by a nude photo shoot for Insta.
Kourtney:  "I'm sure you're feeling sad Khloé but, like, you're blocking my ass and stealing my best light"
Khloé: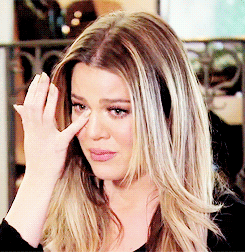 So basically it appears that the media made a story out of nothing. Shocking! Hit me up when Khloé actually breaks her silence with a scathing statement about Tristan's cheating ways while clasping his balls triumphantly in her hand. Sound good?
Images: @commentsbycelebs /Instagram (1); Giphy (2)
Ranking The Kardashian Baby Names From Bad To 'I'm Calling CPS'
The last Kardashian baby of the year has finally emerged from her mother's womb, wiped clean of her 24-karat gold amniotic fluid, and is ready to post her first topless pic on the Instagram account her grandmother so lovingly set up. She has been swaddled in Gucci blankets and her placenta has been commandeered by Kourtney for snacking purposes. True has officially arrived, and now it's time for reflection. Since we have a (probably brief) break in Kardashian procreation, I thought it might be a good time to take a look back at all the Kardashian baby names from over the years and rank them.
I realize most rankings usually go from best to worst, but so many of the names are terrible, horrible aberrations that I would not even deign to name my dog (Hi Macaroni! Mommy loves you!) so "best" is really a stretch. Our ranking will go from a scale of least ridiculous to I'm sending in Child Protective Services. Let's start the judging process, friends.
Me rn:


1. Penelope
Penelope is obviously the most normal of all the Kardashian baby names, and maybe Kourtney is on to something with all that placenta pill popping, because her children have the least insane names of the bunch. It's gotta be because they weren't as famous when Kourt's kids were born, right? I'm pretty sure the more famous you are, the more brain damaged you are, and therefore the more fucked up names you choose for your spawn.
2. Mason
Mason is also not a ridiculous name, so congratu-fucking-lations, Kourtney, you've impressed me and not made me want to jump out my window. But, I was poking around the internet trying to see where she got it from, and I stumbled upon an article in the Daily Mail that said Mason means the same thing in English that Kardashian means in Armenian. What a beautiful sentiment, Kourtney. But also a little weird because Mason's middle name is Dash, after David Schwimmer (her dad), and a part of the name Kardashian. I like that she's honoring her dad, especially since no one else seems to give a shit, but it's a little redundant, no?
3. Reign
This is where it starts to go off the rails for Kourtney. Reign is not a name. Reign is something a king or queen does. Your child is not royal, just the product of unprotected sex between the 4th best sister on a reality TV show and a basic white dude from Long Island. Prince George would spit in your face, Reign, and make you carry his knapsack like the peasant you are. Although, I guess Reign is descended from a Lord…

4. True
I don't even like the name True, so that's how you know what absolute dumpster fires I think the other names are. This name is bad, but I'm gonna give her a break because this poor baby girl is going to have other things to worry about. Like the fact that her dad's a cheating sack of shit or that she may or may not share DNA with the most famous murderer of the 90's.

5. Dream
I mean, Dream Kardashian is the product of a famous stripper and a man whose greatest accomplishment is the fact that his mommy bought him a sock company, so tbh this could be a lot worse. I guess it's like how my lawyer friends use the "Supreme Court Justice" test to give their kids names that would be appropriate on the bench; Rob and Chyna did the "Las Vegas Strip Club" test to give their kid a name that would be appropriate on the pole.
6. Stormi
I know Kylie Jenner is barely old enough to drive, so I shouldn't have expected much, but don't rich people get the news? Even if Stormi was Kylie's number one choice since she dreamed it up during recess in second grade, I would think the fact that it is also the name of the most famous porn star in recent history would at least give her pause. And no Kylie, the "i" at the end does not class it up.
7. Saint
Naming your kid Saint puts quite the expectations on them. Saints are holy, they live a life inspired by Jesus, they make sacrifices to help those less fortunate than themselves. They most certainly do not fly in private planes, have their diapers changed by a team of night nurses, and a mother that got famous because of a sex tape. Or wait, is that Mother Teresa's origin story?

8. Chicago
CHICAGO IS A CITY. IT IS NOT A NAME, YOU MORONS. It's windy, cold, and filled with murder. I don't care if that's where Kanye is from, that's not lovely imagery to associate with your brand new bundle of joy. Like what could have possibly possessed these morons to name their daughter Chicago? Did she look like a deep dish pizza coming out of the surrogate's birth canal? It's the only explanation.
9. North
Ding, ding, ding! North West, you are the winner of the fucking worst Kardashian baby name award! You get a blue ribbon, latent rage toward your parents, and a never-ending parade of expensive psychiatrists. I also was not even kidding about this ranking system, I legit called CPS on the Wests when I heard this name. Apparently they "have better things to do," and "don't appreciate prank calls." Well CPS, I was deadly serious. This is a living human, they should not be allowed to give her a name that is basically a joke. If you want to give something a punny name, get a goldfish for fuck's sake.

We've reached the end of our ranking, and honestly, that was exhausting. I guess in the end it doesn't really matter what these children are named, they're growing up on reality TV and being raised by plastic surgery-obsessed narcissists, so their mental health issues are inevitable. This family should have been sterilized.
Images: Wifflegif (2); Giphy (2); Gifer (1)