Shopbop's Annual Spring Sale Is Here, And These Are The Pieces We Want
Since I am an underpaid peasant, most of my clothes are from Zara. Tbh I have nothing against Zara because I like looking fancy as f*ck in my crisp, cropped blazer over my tea-length flowy skirt, and knowing that I spent less than $100 on the lewk. However, as I enter my 27th year, I want to wean myself off of fast-fashion and invest in higher-quality pieces, AKA shirts that won't unravel on the gentle cycle of my washing machine. That said, I'm not about to walk into Saks and buy myself a new wardrobe because, like I said, I'm poor. The solution? Shopbop's bi-annual sale! 
Now, if you're not familiar with Shopbop, climb out of the hole you're living in and join society. Shopbop, which finally has its own storefront on Amazon, carries literally thousands of designers that are perfect for people who want to graduate from Zara but not quite reach Saks. Shopbop is affordable and that is why I love it on any given day; obviously, I love it a little more when everything is up to 25% off (with the code SPRING). If you get overwhelmed easily, allow me to share our favorite things on sale, and make sure to buy before the sale ends on March 8th!
Shoes

Rag & Bone Razor Booties, $495
I am that annoying girl who wears boots in the peak of summer and guess what, idgaf. I have no shame in my game because boots—booties, to be more specific—are stylish all damn year. Rag & Bone sells all sorts of stuff, but the brand is most-loved for its amazing leather boots. My bank account weeps every time I admit that I own three pairs, but there's a very logical reason for that! The leather is thick af, which makes me feel a little fearless when I wear them because they're basically indestructible. I will say, though, the white definitely gets dirty, so make sure you get yourself a good leather balm to keep them clean. 

Soludos Lauren Espadrille Sandals, $85
I never would have bought these because they are obviously a tad loud, but I got them in one of my Trunk Club boxes and they are literally my favorite shoes. They are so f*cking cute and they surprisingly go with everything. I've worn them with a pale blue fit-and-flare dress, I've worn them with denim cut-offs and an oversized white tee, and I've worn them with skinny jeans and a cropped denim jacket. Seriously, they're more versatile than they seem. The only tiny issue is that they are definitely not made for long strolls. They do have a rubber sole, but it's very thin, so be careful where you wear them. Other than that, they're perfect.

Schutz is the underdog of shoe brands because I always forget about it when I'm on the hunt for a specific style, but they always end up having the exact pair I'm looking for. I have a pair of kitten-heeled boots, silver ballet flats, and sky-high, strappy stilettos from Schutz (can you tell I have a shoe addiction?) and the one thing they all have in common is that they are f*cking comfortable. Like the Soludos, they aren't meant for a walk along the beach, but if you are going to a dressy event and know you'll be on your feet for most of the night, these babies are the move. 
Tops

Tbh, I can't really say why this top is speaking to me so much because I haven't worn a crop top since 2012, but there's something about this hot pink number that I absolutely love. I would probably wear it with an aggressively high-waisted skirt, but I am also loving the way the model is wearing it. Even though it's obviously a very specific look, you can pack it for a trip and wear it a few different ways. I would, however, make sure it's the highlight of the outfit because anything that would compete with a top like this wouldn't be a good look. 

Stateside Poplin Twist Front Shirt, $162
I have a weakness for white button downs. Whether they're boyfriend style or super crisp, I don't even care. I want them all—especially this one. I am absolutely loving the menswear vibe and think it would look chic af French tucked into a pair of tailored bootcut jeans. A classic white shirt is timelessly elegant, but I love that this one has a little bit of a style moment with the subtle twist on the front. Obsessed. 

Birds of Paradis Carla Blouse, $218
For the record, I would not classify my style as preppy, but I appreciate very preppy pieces when they're paired with something a little grungy. For instance, this top, which screams Blair Waldorf circa season one, would look amazing with a pair of distressed boyfriend jeans and a pair of beat up high-tops. Or, of course, you could go the more neutral route and wear it over a pair of skinny jeans and metallic flats. Either way, this top wins.
Accessories

I am a big earrings gal and I am proud to admit that I have about a million pairs. It's a rough estimate. Anyway, as you can guess, I have multiple piercings and I would probably wear these with a few studs or smaller hoops in my other holes. **Cringes** These are a nice, contemporary shift from the classic gold hoop and I'm definitely into it. They aren't the kind of earrings someone will stop you on the street to ask about, but they can be the finishing touch on any look. Next!

Botkier Cobble Hill Mini Crossbody Bag, $198
If color scares you, fear not because this very chic bag also comes in white with a tortoise shell handle.  Tbh I love the yellow because it's attention-grabbing, but not too in-your-face because it's pretty pale. Another thing I love about this bag, aside from the sharp, structured shape, is the fact that the leather is textured, as opposed to smooth. If you're wondering what the f*ck difference that makes, let me just say, it makes a huge difference because all you have to do for smooth leather to scuff and scratch is, like, breathe near it. Textured leather, however, is tough af and, in my experience, is incapable of scuffs/scratches. 

Krewe Prytania Sunglasses, $275
I lose every pair of sunglasses I come into contact with, so I never spend too much on them. These are definitely a little bit of a splurge, but they're so stylish and timeless that I will put extra effort into not losing them. Of course, these will look good or horrible depending on your face, but this oversized rounded square shape is generally pretty flattering. The tri-color detailing on the upper rims make them a serious fashion find.
Dresses

FARM Rio Mini Cashew Mini Dress, $155
Yes, this is a dress with a cashew pattern, but it's so cute that it's nuts! I hate me, too. Personally, I think all dresses with a snatched waist like this are flattering regardless of your body type. You obviously have to be pro-color if you're going to buy this dress, but one thing I love about the palette is that it's pretty muted. This is something I'd wear to dinner on a beach trip with a pair of straw wedges and a big-ass pair of sunglasses.

LOVESHACKFANCY Edie Dress, $295
I don't know how they do it, but the designers at LSF make extremely flattering and sexy peasant dresses. This is the kind of dress, though, that would only look good in white. If it were in any other color, it would look like a nightgown my grandma would love, but in white, it looks like something a Grecian goddess would show up to brunch wearing. The eyelet details and the high slit in the front make it young-person friendly, and I am excited to wear it since I fully just purchased it as I am writing this article. I'd wear this with a pair of lace-up flat leather sandals or a pair of cork wedges. I seriously cannot get enough of this dress; it better fit me.

Z Supply The Reverie Dress, $60
As you can tell, I like a good oversized piece of clothing, and this dress is no exception. I love that it's cotton because that means I can get away with wearing it as a cover-up to the beach and to dinner later that same day! It is my personal opinion that everything looks good with heels, but I actually think this dress would look pretty stupid with anything other than a sensible flat. The dress is so casual that trying to dress it up with any type of heel just wouldn't work.
Images: Jakob Owens / Unsplash; Shopbop
Betches may receive a portion of revenue if you click a link and purchase a product or service. The links are independently placed and do not influence editorial content.
The 8 Prettiest Rooftop Bars In New York
Spring is finally here, which means New Yorkers will actually start to enjoy paying an exorbitant amount of money to survive living in this city. Unlike most places, spring in New York occurs for approximately two weeks between a disgustingly freezing winter à la March of the Penguins and a summer that is essentially just one giant heatwave. Fun times! New Yorkers generally don't enjoy nature (at least I don't), but that doesn't mean we don't like being outside when the arctic conditions have finally peaced the f*ck out. And because I refuse to pretend that I want to take advantage of the nice weather in Central Park, I will always be the first to propose the plan in the group chat before anyone else has the chance: rooftop bars.
Seriously, name one thing better than drinking against the backdrop of a beautiful skyline in pristine weather conditions. I'll wait. Here's the thing, as much as this city makes me question my will to live, there are times when I am happy to exist in a place where I can have a sit-down dinner at 11pm or run into Karlie Kloss every now and then. One of the most amazing qualities of this city is its ungodly amount of bars serving generous pours. So, while I couldn't tell you where the f*ck to eat in the Theater District for a 6:30 show (which is what most people want to know), I can tell you where to knock a few back as the weather warms up. You're welcome, darlings.
Gallow Green

If you can't picture where Gallow Green is on a map, would West 27th Street between 10th and 11th Avenues help? I know what you're thinking, "Wait. Isn't that where Marquee is?" Why, yes it is, but if you're not in college anymore, you have absolutely no reason to be at Marquee, so just keep walking west and you'll find yourself at the door of the McKittrick Hotel. Now, if you're a cultured New Yorker, you'll know that the McKittrick Hotel is home to the only reason any of us know what Shakespeare's Macbeth is about aka Sleep No More. So far, so good! Just above the steamiest play of all time is a seriously chic cocktail-slinging garden-vibes rooftop bar called Gallow Green. To paint a picture for you, it's the Garden of Eden with a bar in the back. It's named after a Scottish field where accused witches were hanged (neat!), so the bar has kind of an old-timey feel complete with string lights, greenery and tattered white flags hanging from the ceiling. Most importantly, the cocktails are to-die-for and the food is actually pretty amazing, too. I'll take a Sleep No More cocktail with a side of assorted pizzas, please.
Vida Verde
This place has a spring break in Cancun vibe, but for adults, and I am not mad about it. It's right in Midtown, so you can head straight here after you're done pretending to make the world a better place at your finance job. Vida Verde isn't like, revolutionary, but there are two things about it that make me want to go here over every other Midtown rooftop. First, there are more tables than I've ever seen in one place, which is ideal because I have a standing desk at work and now associate standing up with Excel and calendar invites. If there is a drink in my hand and nachos in the vicinity, I need to be sitting, mmkay? Second, there are 10 flavors of margarita. Lastly, a drinking establishment is only as good as its vibe, and Vida Verde clearly knows that, which is why the roof is literally covered in murals and every chair is a different color. I know the menu is prob the most important, but you're playing yourself if you think you're not going to take any Instagrams up here, honey. Take a seat, sip one of your 10 margs and enjoy the beautiful weather up here.
Ophelia
Ophelia is set in midtown East, but like, all the way east to the point that you are almost walking into the East River. But once you get inside, you'll realize it's well worth the trek. Perched 26 stories above the city, the Gatsby-reminiscent bar offers 360-degree views of the East River and Manhattan skyline in both its indoor and outdoor sections, so checking out this rooftop is not weather-dependent. The cocktails are delicious (and will sneak up on you—buyer beware). I had the appropriately named Flapper drink, which came in a glass dusted in sugar, and was prettier than I can ever hope to be (and tasted as good as it looked).
Refinery Rooftop

I avoid the Garment District harder than I do making eye contact with my ex in the Trader Joe's line on a Sunday morning. But I'll gladly step foot in New York's equivalent of District 12 for Refinery Rooftop. If you've ever experienced the nightmare that is a fashion internship, you'll know that those four miserable blocks between 6th and 9th Avenues are the bane of human existence during the summer months, but Refinery Rooftop is a game changer, I promise. I don't even get PTSD-induced flashbacks from my trips to Mood anymore! Anyway, Refinery is not a massive frat house like so many rooftop bars. It actually kind of feels like you got lost in someone's enormous house and just stumbled around until you ended up on her outdoor deck. I mean that in the best way possible: it's quaint, it's chic and it's surprisingly homey! The roof has a giant skylight and the walls are exposed brick, which is chic af. The cocktails are pretty decent, but be sure to order the bar's signature sips because for each one sold, one dollar will be donated to GrowNYC! According to Refinery Rooftop, GrowNYC "improve New York City's quality of life through environmental programs that transform communities and empower all New Yorkers." It'd be cool if they could improve New York City's quality of life by fixing the f*cked up subway system, but I guess environmental programs are cool, too. 
The Crown Rooftop at 50 Bowery Hotel

When it comes to sweeping views, this Chinatown gem truly has them all: Brooklyn, Manhattan, maybe even Queens! Don't get me wrong, Chinatown can def be disgusting what with the constant stench of freshly dead fish and enormous crowds that insist on taking up 110% of the sidewalks, but honestly, this is one of my favorite neighborhoods in Manhattan thanks to the mom in Broad City. Ok, back to The Crown. This summer, The Crown is rolling out all the stops with its new theme, Royal Summer. I'm into it. TBH, one of the things I love most about this place, aside from its bougie theme, is the fact that there are indoor and outdoor sections. As much as I love breathing in the polluted-beyond-reason New York air, sometimes I just want to sit on a plush sofa in an air-conditioned space with a drink in my hand. Is that too much to ask? The Crown doesn't think so! This season's new menu items include a lobster roll with North Fork chips and a "backyard" burger (among other items) and, for the drinks, Rose-Colored Glasses. My friends tell me I wear these on dates with attractive guys, fully knowing they will ruin my life for a few months, but whatever. To each her own, right?
Pod 39 Rooftop
Truth be told, I went on a horrendous date here when I first moved to New York, but the date was bad only because the guy absolutely sucked. The location was amazing and I have since been back many times. This bar is the perfect size, too: it's not too big and not too small, but more importantly, they let only a certain amount of people up at a time, so you will never have to take baby steps with your arms bent and pressed against your body like chicken wings as you try to squeeze through a crowd. I'm not sure if there's a theme, per se, but I have gotten chips and guac and a spicy marg more than once, so I'm going to go ahead and say Mexican is a safe bet? Like The Crown, there are indoor and outdoor sections, but the outdoor part is significantly better than the indoor one, which has exactly one sofa and one table. Feels like they are setting us up to fail here, but whatever. The outdoor part is also just really cute. There's no roof, so obv plan to go on a day/night when it's not monsooning, and enjoy the best views of Manhattan. The lack of roof also means the whole space looks and feels really open, so it doesn't get so loud to the point where you're scream-talking with your date/friends.
A.R.T. Soho

It's the Arlo rooftop in Soho, get it? The Hudson River provides the backdrop to this rooftop bar, so your Instas will be on point. The bar has plenty of seating (and a number of plush chaises), so you won't be fighting anyone for a seat (or, more likely, staring daggers at that table who just. won't. get. up). They've got an inventive signature cocktail list and a respectable selection of craft beer, plus snacks and small plates that I can personally attest are amazing. (Try the deviled eggs or grilled wings and thank me later.) And when the sun goes down, you can check out what's going down at the hotel downstairs, where they host all kinds of fun events, like a CBD pop-up, Movie Night, and once, a haiku poetry slam.
Brass Monkey
Say what you will about this place, but I f*cking love it. It's in the Meatpacking District, which like, chic, and the music here is on fire. The journey to get from the terrifying college-bar vibes of the first few levels can be a lot, but once you actually get to the roof, all feels right in the world again. It's the perfect place to go with a small group because there is so much space up there. You can push tables together, sofas together, your two friends you've always wanted to date together…etc. The drinks are like, fine, but no one really goes to rooftop bars for a truly quality craft cocktail. They are open pretty much all day and night, so go whenever you feel like, but I personally prefer to spend the day here than the night here because, after midnight, this place can be a cesspool rife with body con dresses and dudes asking what sorority you were in, which just shouldn't happen if both parties have graduated. The French Toast and anything from the Something Sparkly part of the menu is a perfect pair, so order up! Be sure to wear sunscreen because there is zero shade up here and no one wants brunch with a side of fine lines, amiright?
Images: Gallow Green; Refinery Rooftop; The Crown at Hotel 50 Bowery; Ophelia NYC; Arlo Hotel; Pod 39, Brass Monkey / Instagram
No Clue What Jacket To Wear In This Weather? Read This
The weather today is v nice but like, not to be pessimistic or anything, pretty sure it's going to snow again next week. I mean, I'm no Al Roker here, but it doesn't seem too hard to be a weather man these days. You currently have a 50/50 shot of predicting the weather and being right. That's because we're in that weird in-between time of the year where, with help from climate change #InconvenientTruth, the weather is more unpredictable than whether or not I'll be getting my period this month. And like, I'm on birth control so wtf, can we get some regularity??? But, just like my period likes to play hard to get, so does the current weather. So enough about me and my womanly issues, here are five transitional jackets under $150 that will help you stay comfortable and maintain some sanity during this inconveniently, unpredictable weather.

I bought this jacket the other day, and I think I've worn it every day since. It's a subtle snakeskin print, which is so trendy right now, and it's the perfect in-between lightweight coat for this crazy-ass weather. This jacket is thick enough that my headlights don't come on in my fitted tee, but it's not so warm that I'm dripping sweat, putting my natural deodorant to the test. It's the perfect jacket, and it's so f*cking cute, I highly recommend.

Corduroy is usually a material reserved for fall and winter. But in this gorgeous pale blue color, it totally works for this transitional time period. The material of the jacket will obviously provide a necessary level of warmth, but the color makes it totally work for spring. It's also cropped, so it makes this jacket that much less heavy than your average standard jacket.

This jacket is the ideal transitional piece for this time of year because it's a perfect neutral spring color without being an in-your-face Easter pastel. It's lightweight and stylish, with the balloon sleeves to make it a little less basic. It's polished enough that you could wear it to the office, but stylish enough you'll still want to wear it out on the weekends. Get you a jacket that can do both!!!

For the girl who's always cold, this is your ideal transitional jacket. It's a puffer jacket, so it will be able to actually keep you warm. But you also won't look like an overdramatic idiot wearing her best faux-fur puffer on a 60 degree day. It's plush and cozy without being a teddy jacket, so it's still weather-appropriate.

It's predictable, it's obvious, but it's the ideal transitional jacket for a reason, and you probs already have one in your closet: a denim jacket. A denim jacket works great for the in-between weather, particularly if you get an oversize one. An oversize denim jacket means you have room to layer underneath if need be, but it also looks great over a cute sleeveless crop top and shorts. You know, for when you're out day drinking and it's a bit breezy. It's very Hailey Baldwin vibes, and will even look cute just sitting on your shoulders without actually having to have it on. But then again, if you're day drinking, you should probs just keep it on, because otherwise it will fall off and with all those mimosas in your system, it's highly unlikely that you'll even notice it's gone.
Hopefully, for all of our well-beings, this weather will get its sh*t together sooner than later, and officially switch to spring. Look, if I can get my sh*t together enough to pass accounting my senior year of college, I think the weather can figure it out as well. And you know, if Mother Nature wants to just go ahead and skip spring and go right to summer, I'm totally cool with that option too. Until that happens, make your life easier with one of these transitional jackets.
Images: Jesus Santos / Unsplash; South Moon Under; Anthropologie; Urban Outfitters (2); Revolve
Betches may receive a portion of revenue if you click a link and purchase a product or service. The links are independently placed and do not influence editorial content.
Sprung on Spring: Weekly Horoscopes March 4 – 8
Don't look now, betches, but I think…Spring is…coming? The sun is shining, the days are getting longer, and the will to live is slowly returning to my body. Could it be? Are we really almost out of the woods? Probably not, but let's all just pretend together. How will the shifting seasons affect you this week? Find out in your betchy weekly horoscopes.
Aries

This is a week for closure, Aries. A new month brings new perspective, which we have loosely translated to "please move on." Setbacks, be they of the love or professional orientation, are bound to happen from time to time – you just need to figure out how to handle them. Take a few days to lick your wounds and then get back out there. Throwing yourself into something new is the best way to get your mind off the past.
Taurus
You've been in a bit of a rut lately, Taurus, and this week will show you a way out of it. It's time to dive into that new hobby you've been eyeing, but still not committing to. What are you waiting for? No one will greenlight your next passion project – it's on you to follow through. Carve out some time this week to dive in, and dedicate a few days to getting your bearings. If it turns out it's not for you, no problem! There's always a new thing to pick up.
Gemini
We're all for the hustle, Gemini, but even the best of us need a break sometimes. This week, try taking a step back from your never-ending to do list to center yourself. When was the last time you ate a good meal? Put on a face mask? Idk, washed your hair? If you can't answer any of those questions with 100% certainty, it's time to chill out for a minute. Your work will be there when you get back, and you'll be better equipped to deal with it with the renewed energy that only Netflix binging can give you.
Cancer
Time to get down and dirty, Cancer. You've got a week of hard work ahead of you, and your best bet is meeting it head on. Sure, these things can be exhausting and tedious, but that feeling of ease and accomplishment at the end of the tunnel should be enough motivation to get you through. Plus, nothing aids a good night's sleep like knowing you got sh*t done that day. Get your to do list ready, and don't look up until it's done. God speed, my friend.
Leo
This is the week for telling your truth, Leo. You'll find yourself feeling more open than usual, which is wild, because you're more open than most on a normal day. Let the next couple days be a spring cleaning for your soul, leading you into a happier, healthier March. Try getting things off your chest that you've been harboring, both good and bad. But please remember that those around you have not been privy to your internal monologue these last few weeks, so be sure to break any big news carefully.
Virgo

Be careful with your words this week, Virgo. You may find your tongue a little sharper than usual, and if you don't watch out it could get you into trouble. We know it can be hard to not bite back when people say stupid stuff, but we'd recommend erring on the side of civility just in case you come across a little harsher than anticipated. If you find your self-control slipping, try removing yourself from any situation that may lead to you popping off. It's better to be safe than sorry.
Libra
You know what Spring means, Libra? It means it's time to get your sh*t together. This is the perfect week to tackle the mess in your life, both literal and metaphorical. You've got a fever, and the only prescription is a full-on Marie Kondo of your life. Start with the physical – clothes you never wear but can't seem to get rid of, that box of loose papers that you've been saving because you never know when you'll need them, and maybe anything in your fridge with a questionable expiration date. Then move on to the less tangible things – numbers you should have deleted long ago, the unfollowing spree that you've been meaning to go on since 2015, and the text screenshots you save that only serve to piss you off when you read them. You'll be a lighter, happier version of yourself by the time the weekend rolls around.
Scorpio
Don't freak out Scorpio, but this week you're going to find yourself feeling vulnerable. Love is in the air, and it may just have you peeling back some of those ogre-y, onion-y layers of yours. Don't fight it! If someone has managed to make you feel this way, there's likely a good reason. For the next couple days, try letting your heart take the lead, rather than your mind. It won't feel natural, or probably even good at first, but you'll get used to it. This window won't last long, so take advantage of your seldom-seen sentimental side while you have the chance.
Sagittarius

Your already highly-attuned emotions are going to be working in over drive this week, Sagittarius. This will be less of a problem for you, and more of a problem for everyone around you. For the next few days, try taking a deep breath and counting to ten before reacting to literally anything. Odds are, you're going to be a tad bit more sensitive than you would usually be. In the meantime, try curling up with some wine and a rom com. This too shall pass. so don't be too worried.
Capricorn
Some wires are going to get crossed this week Capricorn, which will make your already reticent communication skills even harder to access. Don't worry, you can get through it, you're just going to have to try a little harder than usual. If you get to the point where it feels like people are starting to get frustrated, don't hesitate to remove yourself from the situation. Sometimes it can be easier to ride out these spells in solitude. Let your friends and family know that you need a few days to yourself, and re-emerge once you feel like you can communicate again.
Aquarius
You've been balling out a little too hard lately, Aquarius. You're not in dire straits just yet, but a few more weeks of this behavior and you're going to be reduced to a strict diet of beans and rice until your next paycheck hits. Let's try to avoid that by spending this week doing some good old financial planning. Don't know where to start? Maybe try hiding your credit cards for a couple days. A simple life may not be the most exciting, but right now it's what you need.
Pisces

It's time to get back to basics, Pisces. There's been a lot of development in your life these past few months, both personal and professional. This, of course, it isn't a bad thing, but it's also important to remember where you came from. Other people might be fooled by the rocks that you got, but deep down you know that you're still Jenny from the Block. Spend this week trying to reconnect with her. Old habits, hobbies, or simple pleasures can do wonders to heal your worry soul. Just be sure not to backslide to any destructive tendencies you may have left in the past.
Images: Giphy (4)
I Asked Guys Which Is The Best Season To Start Dating
With all these dating apps gaining a sh*t ton of popularity, I can't help but wonder when is the best season to start dating? On the one hand, cuffing season is here, so you may be thinking of whether to turn that summer fling into the real thing. But on the other hand, do you really want to deal with a SO around the holiday season (assuming you last that long)? I polled my friends and asked when they think is the best season to start dating and why. To say the least, I got some pretty helpful responses.
To cuff or not to cuff, that when is the question. I took the liberty of investigating, so adjust your Hinge preferences accordingly.
I Surveyed My Friends
Family Feud style, I asked around to see when they think the best season is to date. I posted to my Instagram story, so 600 of my closest friends and a few random people from high school could tell me. TBH I probably haven't spoken to most of these people in a v long time, but I got some really helpful and hilarious answers. One of my friends said to set him up for a date in each season and he'd let me know which season is the best to date after. So if anyone is interested in dating a nice Jewish boy, DM me.
And The Winner Is…
The majority of people claimed fall is the best season to start dating, with winter coming in a close second. The experts (aka Urban Dictionary) define these months as cuffing season. They explain, "people who would normally rather be single or promiscuous find themselves along with the rest of the world desiring to be 'Cuffed' or tied down by a serious relationship. The cold weather and prolonged indoor activity causes singles to become lonely and desperate to be cuffed." My friends tend to agree. A few people responded to my IG story saying that fall was the best because it's cozy and cuddly, with one of my friends responding, "Fall because my nips are just the right amount of hard." Touché.
Other Than Being Cozy, Why Does Fall Take The Cake?
First and foremost, the best part of having a boyfriend in the fall is that you have matching Halloween costumes. Another major plus is that annoying aunt who always asks you if you have a boyfriend during Thanksgiving dinner can finally STFU. Also, new shows come out during this time of the year, so there are so many for you two to choose from to binge watch (and secretly watch ahead on your own). The cherry on top of fall being the best season to start dating? Pumpkins are thought to be an aphrodisiac.
TBH fall seems like a good-ass time to start dating someone. The weather isn't so hot that the thought of touching each other to have sex makes you gag. But, it also isn't so cold that taking off your clothes would result in your nipples being so hard they'd cut your boyfriend's chest. Fall seems like the perfect time to fall for a new guy (Ew. I hate myself too for that). So maybe put on a pair of sweatpants and download your favorite dating app, because once winter rolls around, nobody is going to want to leave their apartments, much less go on dates.
Images: Pablo Heimplatz / Unsplash
Congrats On Being A Nice Person For Once: Weekly Horoscopes April 9-13
This week, Mars and Venus are at a 120 degree angle, meaning everyone is actually being nice to each other. Weird. This, combined with the fact that the weather might actually be warming up, is a p. dangerous combo. I guess what your weekly horoscope April 9 – 13 is trying to say is, babies will be made this week, people. Make sure you're prepared—or at least have a plan B. (Get it?)
Aries
This week you're going to be feeling inspired af, meaning there may be a to do list in your future. Your ruler, Mars, is in your goal-oriented house, so the chances that you finally start that goddamn bullet journal your Taurus friends won't STFU about are very high. Just remember, Aries: starting shit is your strong suit. Finishing it is not.
Taurus
Soooo you know how you like, hate doing anything that isn't sitting in your bed watching Netflix? Yeah, this is not the week for that. This week Venus is chilling in your sign, meaning that your chances of getting laid are like, 100%. Seriously. All you have to do is leave your apartment, and your next dick appointment will find you. But again, this will require you to leave the house. Start mentally preparing now.
Gemini
Grab the tissues, Gemini, because you are likely to catch feelings this week. The position of Venus in relation to Mars is opening up your cold, dead heart, making it easier for you to fall in love with whoever may slide into your DMs. And not only that, this week is actually perfect for settling the score with your longtime frenemy. Clear out some of that dusty winter drama so you can make room for some sexy summer drama. You know there will be plenty.
Cancer
It's not your fault your so popular this week, Cancer. Thank Mars and Venus. You're feeling randomly social right now, so why not capitalize on it? This week, accept every happy hour offer, text that friend you've been meaning to text, and swipe right with abandon. Who knows how long your feelings of love for humanity will last?
Leo
For once in your life, Leo, you're looking for some effing stability. Keep your eye out for a nice guy this weekend, because you might finally be attracted to someone who isn't a total fuckboy. Even if the love of your life doesn't appear, take time to focus on your existing friendships this week. Maybe get the brunch crew back together now that it's not so cold and sad out all the time. You'll reconnect with old friends and catch up on the latest goss. What's not to love?
Virgo
You're emotional this week, and that's okay. Just let it happen. Watch that episode of Queer Eye where the guy comes out to his stepmom for the first time and just let the tears flow. Send that incoherent midnight text to your childhood best friend saying you miss her. Tell a guy you just met that you love him. Wait, actually, don't do that last thing…
Libra
You're feeling like a nice person (for once) this week, congrats! So nice, in fact, that you may feel compelled to—shocker—be nice to your coworkers. Maybe you'll grab some extra coffee on your morning Starbucks run, or feel compelled to bring in a box of donuts. Give in to these nice girl instincts now, because Denise in accounting may return the favor later.
Scorpio
This is the week to make money moves, Scorpio. Deals—they're being sealed. Hands—they're being shaken. Investments—they're being made. Follow your best business instincts and get everything written down on paper because the effects of Venus and Mars mean that you might be able to seriously up your pay grade. Just don't spend that money until it actually hits your account, k?
Sagittarius
It's time for your spring glow-up! Get excited. Sunday's new moon in Aries means that you're going to be suddenly inspired to change up your look, and honestly, trust your instincts. Make that hair appointment. Buy that jumpsuit. Whatever it is, the fashion Gods are smiling upon you and it would be literally insane not to listen to them.
Capricorn
If you notice your Instagram followers go wayyyy up this week, that's because Venus is currently hanging in Taurus, your fifth house of fame, flamboyance, and romance. Maybe send off a warning text to your friends now, because this week you're going to be the center of attention and there's just nothing anybody can do about it. It's literally in the stars.
Aquarius
Here are the words everyone is always waiting to hear: You have permission to cancel plans. This week, focus on intimate relationships (aka 'Netflix and Chills') over big, public outings. If you already packed your schedule with happy hours, there's no harm in planting the seeds that you're "not feeling so great" now, so nobody will call you a flake when you cancel day of. I mean, they'll probably still call you a flake, but at least you have an alibi.
Pisces
This week you're going to be stepping it up in your friend group and becoming the one who makes all the plans. Get your group chat ready, because you will be in the mood to coordinate some kind of group outing. God bless you. Make a reservation now for your favorite brunch spot and check out what kind of cool events are going on in your area. This week, you are the group mom and honestly your friends will be thanking you for it when the pics of your girls night get like, a thousand likes.
Images: Giphy (6)
The Right Foods To Eat Before Working Out
There's nothing worse than showing up to your workout feeling nauseous, lightheaded, dizzy, or like you're about to throw up the slice of leftover pizza you ate as you left the house. My esteemed colleague Betchy Crocker recently suggested some good things to eat after you work out, but your pre-workout food is just as important. You want to make sure you're eating enough to give you energy, but not something you'll regret as soon as you start doing cardio. Here are some of the best foods to eat before working out.
1. Oatmeal
Whole grains, like oats, are complex carbs that break down into glucose and fuel your muscles during your workout. Try going for a bowl of oatmeal or some granola about an hour before your workout. Professional nutritionists swear by these options because they're simple and will give your body immediate energy.
2. Apple Or Banana
Apples and bananas are simple carb sources, which means they'll give your body the energy it needs almost immediately. They digest faster than whole grains do, so even though they won't keep you as full, they'll give you a boost of energy if you eat them 20-30 minutes before the workout. Mostly any fruit is good to eat before working out, but stay away from high-fiber fruits like berries and pears because they'll take longer to digest and may hurt your stomach if you're jumping around a lot. Also, has anyone in the history of the world gotten full off berries? Lmk.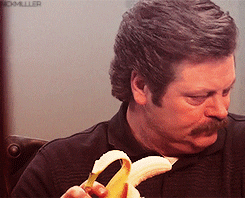 3. Greek Yogurt
People like to eat yogurt after their workouts because it's mainly a source of protein, but protein is super important to eat before working out as well. Especially if you're doing weight training, you'll need the protein in your body to help your muscles repair themselves from the microtears that occur during your session. Try looking for simple ingredients and minimal sugar in your yogurt. Siggi's and Fage both make great nonfat yogurts. Chobani works too, but watch the sugar count depending on the flavor.
4. Eggs & Toast
If you have an hour or two before you head to the gym and need something more substantial than a piece of fruit to eat before working oat, the eggs and toast combo is your best bet. The toast will give you the energy from its complex carb makeup, and eggs are a simple protein source with a little bit of fat. It's enough to fill you up without making you nauseous halfway through.

5. Maca
Maca root, often found in the form of maca powder, is an ancient Peruvian plant that is literally filled with nutrients that will boost your workout. Maca is rich in amino acids and vitamins, and it's also an adaptogen, so it aids in adrenal function, increasing your energy levels and enhancing workout performance. Blend it into a smoothie before your workout or mix it into your oatmeal. It's a game-changer.
6. RX Bars or Lara Bars
Bars are a go-to option to eat before working out if you're going straight from the office and don't have time to stop and pick up legit food. Natural protein bars have been all over the health food market recently, and two great pre-workout options are RX Bars and Lara Bars. They're both made with dates and nuts, so you have a quick carb and natural sugar source from the dates, and a little healthy fat from the nuts to keep you full. RX Bars even include eggs for extra protein. The Maple Sea Salt flavor is a personal fav. Just saying.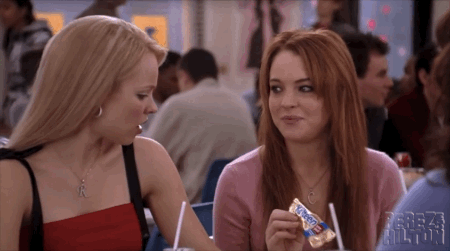 7. Caffeine
I know this isn't actually a food, but having a cup of coffee or green tea before your workout is KEY if you want a real energy boost. I would pair this with some real food too, but caffeine has been scientifically proven to boost your workout by tapping into your central nervous system and recruiting muscle fibers in your body. Basically, it helps you fight fatigue and improve physical performance. So like, order the venti. It's the responsible thing to do.
Images: Melissa Belanger / Unsplash (1); Giphy (2); nbcparksandrec / tumblr
It's Time To Shine Even If The Sun Won't: Weekend Horoscope April 6-8
The weekend is here and you know what that means? All bets are off. Blindly take our advice and live the next two days to fullest. You won't regret it until you do. It's time for your motherfucking weekend horoscope April 6 – 8.
Aries
We're a little over halfway through your birthday month, Aries, and it doesn't really seem like you've celebrated appropriately. This is nothing less than unacceptable. The horoscope decrees it; sorry, I don't make the rules! I don't care if your birthday already happened, I don't care if it hasn't happened yet, and I don't care if you held a parade in your own honor yesterday (love the drama though). This weekend you are on 24-hour birthday watch. You should be drunk the entire time, and preferably in a crown. Eat every brunch, drink every alcohol, and make sure everyone treats you like the queen you are.
Taurus
I have one word for you this weekend, Taurus: you. You've been doing the most these past few weeks, and seem to only suffer for it. Your life right now is the truest example of no good deed going unpunished, so it's time to stop fucking doing good deeds. The next 48 hours should be a tribute to you, and anyone who's not onboard can get tossed to the side. You deserve some unadulterated praise and it's about time you get it. Bless up.

Gemini
After what was hopefully a relaxing weekend and moderately lowkey week, it's time to let loose, Gemini. We're not talking balls to the wall blackout, but a weekend full of sunny, light hearted happy hours. Nothing says "spring is coming" like some old fashioned day drinking. Just tell your friends your horoscope says you have to. It's time to break out the rosé and pray that the weather follows suit.
Cancer
After a severe stripping down last week, Cancer, we hope you're taking this weekend to make some time for you. It's rough getting called out, but you're one of the few signs strong enough to take that critique in and make yourself better for it. This weekend, do whatever it is you need to do to get back on track. If that means some good old you time, go for it. Sometimes the only way to get a clear mind is to shut out literally everything else. You'll come out the other side of this weekend with a sense of clarity that most people don't achieve after a year's worth of hot yoga.

Leo
Spring is in the air, and you know what that means, Leo? The stars have ruled it's time to start hooking up with new guys. Leave winter and all of its terrible memories behind; focus your efforts on warm weather and guys who don't make you want to die. Despite what it may seem like right now, they do exist. This weekend, branch out by heading to a new bar in a new part of town. You'll be shocked by how many people you won't recognize. Don't hesitate to hand your number out to a few hopefuls. Most importantly, have fun and make sure everyone sees you doing so. Good vibes attract good people. By the end of the weekend, there might be the very beginnings of love in the air.
Virgo
After surviving last weekend, you deserve a break, Virgo. It's not an easy feat navigating life when Mercury has it out for you, but you made it through in (mostly) one piece. For the next couple days, celebrate with a full routine of pampering. Pedicures, massages, facials, you name it. I want your Saturday looking like a montage from an early 2000's teen movie. Sunday is a day for sleeping and the occasional TV show (but mostly sleeping). The horoscope is eyeing your Netflix queue. Come Monday you should be well rested and ready to take on the week.

Libra
Let's continue last weekend's trend of a new you, and carry it over into new friends. Let's be real, Libra: your friends have been a total drag lately. And by lately, I mean the past six months. It's not necessarily anyone's fault; people grow apart. Sometimes we all have to sit back and realize that the people you spent every living second with in college don't transition into the real world with you. It's a hard realization, but a necessary one. This weekend, start the slow and arduous process of expanding your social circle. Who knows, six months from now you may have a new crew to call your own!
Scorpio
It's been a while since you've let loose, Scorpio, and honestly it's getting kind of boring. We miss the days of you being the wild card friend who would either end the night dancing on tables or crying under them. We're not asking for a full revival of your old ways, but maybe just a visit. This weekend, break out that dusty bottle of tequila and warn everyone in a twenty-mile radius that you're back in action for a limited time only. Maybe take Monday off to recover from the physical and emotional damage you will have incurred (and caused).

Sagittarius
After spending last weekend figuring your shit out, it's time to start implementing some of those much needed changes, Sagittarius. This weekend be sure to leave old baggage behind and start living your new, best life. Friends who aren't supportive? Toss them. Plans that don't excite you? Cancel them. Clothes that reek of old you? Burn them. Nothing is safe in the journey to the New You, and we for one can't WAIT to see the end result.

Capricorn
Listen up, Capricorn. It may be time to step back and take a breath. You're burning the candle at both ends these days, and your mental, emotional, and (probably) physical health are suffering for it. Your social calendar can be put on the back burner for two days if it means maintaining what little sanity you have left. Warn your friends, turn off your phone, and let the next two days be the calmest you've been in months. No joke, you should burn through no less than three heinously expensive candles. The hectic shit can resume come Monday.
Aquarius
After a winter full of pasta, it's time to get back on track, Aquarius. We're not judging; nothing warms those cold January nights like a nice bowl of mac and cheese. But the sun is coming, and the time for hibernation has ended. Use this weekend to turn over a new leaf and kickstart your healthy spring diet. Thanks to literally any celebrity ever, there are countless recipe hacks to trick you into thinking cauliflower tastes like mashed potatoes. Try those and get accustomed to lying to yourself. It may be hard at first, but you'll be loving life come July when it's too hot to wear anything other than a bathing suit.

Pisces
Standing up for yourself can be hard. No one knows this better than you, Pisces. A perennial people pleaser, it's difficult for you to ever put yourself first. But luckily for you, this weekend is when you start. Make your voice heard, Pisces. Your friends will still love you even if your opinion differs from theirs. And if they don't, what kind of fucking friends were they, anyway? Don't make time for people who won't let you live your best life. It may seem harsh, but you'll be stronger for it come Monday.
Images: Giphy (5), Unsplash (1)