Typically, the only sport I would consider myself a true follower of is The Bachelor (don't try to tell me it's not a sport – it is, they just play with people's emotions instead of balls.) But this year, the GOAT of all GOAT's, Serena Williams – has turned me into a tennis fan. Because her comeback story was so compelling, her outfits so iconic, and because finally there was a sport I could watch whose biggest star was a woman. It also didn't hurt that this was one sporting event whose main draw was the story of a new mother's return to glory. This year's US Open was the Serena Williams show, and I was fucking here for it.
But the Serena Williams show came to an abrupt and disappointing end on Saturday when the chair umpire influenced the outcome of a championship match because he couldn't stand for a woman speaking her mind. By imposing point and game penalties on Serena that had at most, questionable merit – and absolutely no place in a finals match, a small man in a tall chair turned a glorious female led tournament into a sexist sh*t show.

(Yes, yes it does…)
It shouldn't be a surprise really, that tennis and it's officials are sexist. I mean, earlier in this same tournament a female player received a code violation for turning her shirt around while wearing a fucking sports bra. Meanwhile all of the male players get to walk around the court fully shirtless. Honestly, in today's world it would actually be more surprising if a man was capable of going a full two hours without doing something horribly sexist. But this marring of a historic championship – a match between two badass women of color, by another dude's need to assert his power over an outspoken woman, this was just too f*cking much. Could we not just have one tournament where women where the stars? I guess not, because it's only the 21st century and oh, we still have tits.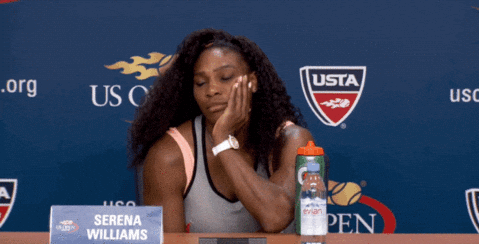 For forever, male tennis players have been arguing with chair umpires, throwing tantrums, and smashing racquets in response to heated matches and unfair calls. But have any of them ever been penalized to the degree that Serena was on Saturday? Of course not, because having a penis on the court is like having a get out of jail free card. And the worst part is – not only can men not be trust to run the government call a tennis match, they also can't seem to understand the real problem here. When I tried to discuss what happened with both my father and cousin, both long time tennis fans and lifetime white males, they basically said, "the rules are the rules" – arguing that Serena should have known better. That's the thing though, the rules are not the f*cking rules if they are only applied to women.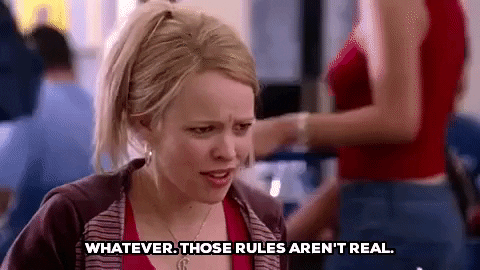 Serena Is Still Our Hero
The whole thing is super f*cked up – that Serena lost the way that she did, that Naomi Osaka's first grand slam win will be tainted by controversy, that it's still so hard to be a feminist sports fan – oh and that society has made like zero progress since women's suffrage. But my short tenure as a tennis fan has also reminded me how v grateful I am that there are women like Serena in this world – that will stand up for what they feel is right, no matter the consequences. Honestly, the GOAT said it best during her post match press conference:
"I just feel like the fact that I have to go through this is just an example for the next person that has emotions, and that wants to express themselves, and wants to be a strong woman. They're going to be allowed to do that because of today. Maybe it didn't work out for me, but it's going to work out for the next person."
Heads up, you need to keep up with the news. It's not cute anymore. That's why we've created a 5x weekly newsletter called The 'Sup that will explain all the news of the week in a hilarious af way. Because if we weren't laughing, we'd be crying. Sign up for The 'Sup now!