Which New True Crime Documentary You Should Watch Based On Your Personality
I've gone through TV this pandemic like the stages of grief. The first stage was the prestige drama. "It's the perfect time to finally watch The Wire," I thought! Turns out, the intricacies of the drug trade in Baltimore were heavy and complicated. Who can handle that in a time like this? Next came the trashy reality TV stage. "Watching people get drunk, naked, and make bad decisions is exactly what I need to get me through this pandemic! Too Hot To Handle will heal me," I reasoned. Turns out, watching people get closer than six feet apart made me jealous, angry, and a little bit panicky. On to the next! The third stage was comfort TV. "Time to settle in with all my old friends! A little Jess Day-Nick Miller time is what I need." Turns out, New Girl just made me long for the simpler times when I first discovered it.
So I've finally made it to my final stage of TV. The true crime documentary. THIS is exactly what I need. Something that keeps me up at night out of fear that someone will break in and dismember me and not because I'll never be able to buy a house! And the great thing about true crime is that there's a little something for everyone. Murder? Good! Scams? Good! Cults? Good! It's all here. And lately we've been blessed with an embarrassment of true crime riches. So which one should you watch? Oh don't fret, I've got you covered and will be breaking it down for you by interest. Because when my therapist says, "maybe you should slow down on the crime so you don't have to clutch a butter knife all night long" I like to double down instead of taking the suggestion. You're welcome! 
*Friendly warning: There might be some light spoilers in here, so tread carefully if you're going to be mad that I mentioned something that happened 20 years ago was already splashed all over countless newspapers and magazines!*
If You're A Late Night Reddit Fiend You Should Watch…
Me the next few days trying to solve all the crimes. #UnsolvedMysteries pic.twitter.com/fehQDM2WCC

— Cancelled♡ (@Thatsovirgo) July 2, 2020
Unsolved Mysteries dropped on Netflix in July, and it's a revival of an old show that was on TV way back when The Bachelor was but a twinkle in Mike Fleiss' eye. There are six new episodes detailing crimes or weird happenings (aliens are real y'all, change my mind) that have never been solved. So if you're the kind of person that likes to spend all night theorizing to strangers as to why a man would sleep with the ashes of his murdered wife, or if you enjoy combing through letters that were left by a dead man and comparing them to the plot of a movie then this. is. your. show. And hey! If you solve one of these cases, all that time you spent maniacally whispering to yourself, "it wasn't suicide", neglecting showers, and subsisting only on Cheetos and then the left over Cheeto dust that collected on your shirt will just be called a "cute phase" instead of a "mental breakdown". 
Speaking of it not being suicide, it's obviously time to move on to Jeffrey Epstein. The theories abound about what actually happened to him in that prison cell, but this documentary actually focuses on the girls (now women) he abused and how his money, access, and power allowed it to happen without consequence for years. It's terrifying. Netflix even calls it a "molestation pyramid scheme" and now I'm actually thankful that all the girls I went to high school with only got involved in makeup pyramid schemes. But in all seriousness, Jeffrey Epstein was very connected to some of the most powerful people in the world and it makes me suspicious that literally every man in charge of anything was involved. My mom always did tell me growing up that everyone's a perv. This series made me believe it. 
This one is for all of you out there that love Friday Night Lights, but wish it had involved more ruined lives, child molestation, and shoddy detective work. Greg Kelley was a high school football star in Texas when he was accused and convicted of sexually assaulting a 4-year-old that attended daycare in the house where he lived. I know, a tough pill to swallow. But this series follows Greg as he is in prison, and then eventually is exonerated for the crime. Throughout the documentary we see how poorly the case was handled, how important leads were not investigated, and how because of that, this child never got justice. I have my theory of who actually committed this crime but for legal reasons I'll not publish it here, so maybe this time that anonymous person you see speculating on Reddit is ME. 
*Cue Beyoncé* If You're Into Girl Power You Should Watch…
Friends, Love Fraud brought me so much joy. I mean, not the part where we hear from multiple women that they were conned out of hundreds of thousands of dollars. That brought me rage. I mean the part where these women connect with each other, hire themselves a badass female bounty hunter, and attempt to find this life-sized maggot dressed in a suit and masquerading as a man on their own. I mean, the part where one of the women, Sabrina, says right to the camera, "Scott, you lying sack of sh*t, you f*cked me. And I'm coming after you." Sabrina is my raison d'être. I mean the part where they're out for revenge. Ladies, if you're like me and you need a little joy in your life, it's time to cue up Love Fraud. 

Our bounty hunter, ladies and gentlemen.
I can't say enough good things about this documentary. It started as a book about the Golden State Killer by Michelle McNamara that transcended the true crime genre. The documentary details the case and features survivors, while also including Michelle's writing process, her dogged efforts to solve the case, and her tragic death before completing the book. It's different from any documentary you've ever seen (much like the book was) and the best part? They actually caught the son of a b*tch that did it using a genealogical website! And less than two weeks ago, they rolled that old murdering prick who thought for so long that he got away with it into court and sentenced him to life in prison without parole. How often does that happen?! It's hard to watch and beautiful to watch, and I highly recommend it. And it also teaches you to maybe warn your family members before you spit in a tube and send it off to 23 and Me, because you might find out you aren't as Italian as your mom said you were, but they might get arrested for murder.
If You Think Everything Is A Scam You Should Watch…
This one's for you, Goopers. Believe it or not (believe it) shoving a jade egg up your vagina is not a good idea. And if you've done that, it's time you check out this series. (Un)well examines the wellness industry and how it takes advantage of unsuspecting folks like you and me to make billions of dollars. Each episode examines a different wellness trend like essential oils or breast milk and shows us both sides of the issue. It might not sound your typical true crime series, but I promise you when you hear a grown man talk about his "mother's milk smoothie" you'll certainly be ready to commit murder yourself. 
And finally we've made it to The Vow, the new HBO series detailing the NXIVM cult. I've only watched the first episode so far (the new episodes are still dropping) but I'm obsessed. We haven't gotten to the part where anything bad happens yet so I'm full-steam ahead invested in this organization. Yes I DO want to find my higher purpose! Yes, they DID cure Tourette's! Yes, I DO need one of those sashes! Needless to say, I can see how people got roped in. I've got to see where this goes quick, before I start writing to Keith Raniere in prison. Help. 
I think there's something for everyone on this list, so I hope you all get everything your true crime seeking heart desires. Did I miss anything? If you know about a crime doc I forgot please hit me up in the comments, lord knows I need more fuel for my constant nightmares.
Images: Netflix; thatsovirgo/Twitter; memetides, grkelley2, pattonoswalt, hbo/Instagram; Giphy (1)
A Decades-Old Pyramid Scheme Is Making A Comeback On Instagram
One thing I love about the 2000s is how every trend just gets regurgitated. Tie-dye from middle school? I never thought that would be popular again, but here we are and it's all the rage. Chokers had their moment in the early 2000s and again for the past few years. But not all reemerging trends are good ones—some should just stay buried. For example, I really never wanted to see low-rise jeans make a comeback. And another thing? Chain emails. Although in modern times, chain emails tend to be less of actual emails you forward on to everyone in your contact list, and more of random memes that circulate the internet that your parents and older relatives fall for (like that one that claims drinking water will kill coronavirus because… stomach acids kill the virus). Well, there's a new chain in town—and by "in town" I mean "circulating the internet", one that promises a return of $800, guaranteed, if you just "buy in" by sending $100 to a stranger via Cash App. That's right, folks, we've got a good old fashioned pyramid scheme mixed with a chain email on our hands. We love a good crossover episode. But before you fork over $100 of your stimulus check, let's think through why this "new" money-making scheme might be a bad investment.
Because I'm deeply fascinated by multilevel marketing and pyramid schemes (some people would call it "unhealthily obsessed"), I caught onto a sort of meme making its rounds on the internet, and therefore, within anti-MLM circles called the Cash App circle or Cash App wheel. It starts with a picture of a wheel that's divided into 15 different sections, each section assigned to a different person.

And then there are the instructions.

Okay, first of all, if you have to insist that the moneymaking initiative you're running is not a pyramid scheme, I feel like that's a pretty good indicator that it is, in fact, a pyramid scheme.
Second of all, while this seems simple to execute, I'd argue that it's far from easy. Have you ever tried to recruit two people to dinner plans, pre-quarantine? Not exactly easy to get people to commit, is it? And then you have to get a bunch of other randos who also need to buy in, all before the scheme collapses or gets shut down?
Now, I'm not a financial expert, nor do I work in the FBI fraud division (yet). But I can tel you that this Cash App scheme looks a lot like other pyramid schemes. Same premise, different shape.
In the late 1980s, something called the "Airplane game" started popping up around the country in places like Oklahoma, Miami, Tampa, Rochester, Los Angeles, and others. The idea was this: someone, who would be later referred to as the "pilot", would start the game. They would then recruit two people to pay into the game and become "co-pilots". A 1987 Associated Press article reported that the entry fee to become a co-pilot could go up to $1,000 or more, but was typically $100. Sound familiar yet?
The pilots would then recruit two players each, who would also pay the entry fee. Those four would become "flight attendants". The flight attendants would then—you're probably getting the hang of this now—recruit two passengers each. Here's how the pilot would get money, per AP: "When a plane is full – say, with 14 entries – the pilot has $1,400 and the pyramid splits in half, with the co-pilots becoming pilots, flight attendants becoming co-pilots, and passengers becoming flight attendants." The flight attendants would then have to recruit new passengers, who would pay the $100 entry fee, so "the pyramid continues splitting and growing."
Or, if you need a visual interpretation:

In 1987, the Associated Press called the airplane game "the newest twist on the age-old illegal pyramid scheme." It led to at least 17 arrests in New York and four in Los Angeles. In other words, it was not legal.
But 1987 is practically ancient history, believers might say. And plus, this is a circle, not an airplane. Totally different shape, totally not a scheme. And to you, I see your argument and raise you: one Blessings Loom. The Blessings Loom is basically the exact same scheme as the airplane scheme, and it's existed since at least 2016. It's also been referred to as a Christmas Wheel, Snowflake Blessing, or Infinity Loom, and guys, it's the exact same sh*t as this Cash App circle. According to a 2016 Consumer Affairs article, "Facebook users must deposit at least $100 into a PayPal or Whatsapp account. They're promised an $800 payout if they can recruit two other people to do the same." I would take this time to facetiously ask you if that sounded familiar, but I'm not going to insult your intelligence, because they are exactly the f*cking same. This is a half-hearted rebrand of the same scheme.
Even back in 2016, the Mississippi Attorney General at the time called it a "pyramid scheme", and the FTC called it a Ponzi scheme. Whatever type of scheme you prefer to classify it as, promoters can face fines or even jail time, depending on the state, and it can also lead to your Facebook or Instagram account getting shut down, since it violates the Facebook terms of service.
And remember how I said I'm not a financial expert? That's still true, so I spoke to a Bank of America expert who warns, "The risk of falling victim to a fraudulent money scheme can increase during financially stressful times, as scammers aim to take advantage of vulnerable people and uncertain situations." While it may sound tempting, Bank of America advises, "Never send money or give out personal information to an unknown recipient, especially in response to an unexpected request, and don't pay upfront for a promised return." Don't deposit a check into your account so you can wire someone back a couple hundred dollars, don't pay some person in your DMs $100 with the hopes of eventually getting $800—just don't do it, ok?
The Bank of America expert emphasizes, "When it comes to personal finance—especially at an uncertain time like this—focus on tried-and-true tactics. Keep your budget updated, track your spending closely and remember: if it seems too good to be true, it probably is."
So, listen. The next time a girl who bullied you in high school tries to slide in your DMs to sell you on a pyramid scheme, just say no. You won't get your money back, you could end up in jail (jail, Ron, jail)—even though that seems kind of unlikely given the times, but whatever—and you could lose your Facebook or Instagram account. And worst of all? You'll look like an idiot, and I can guarantee that whatever number of people you manage to recruit, double that number will be talking sh*t about you for falling for this scheme.
Images: Giphy; cashappcircle_1 / Instagram
Crazy Wedding Story Of The Week: Bride Scams Friends & Family Out Of $30K In Wedding Donations
Whether you hate the wedding-industrial complex, are a bride planning a wedding and want to feel better about your own demands, or just need something to read, we're doing a new series where we share the craziest, most out-of-touch wedding story we found on the internet that week. Submit your own crazy wedding stories to [email protected] with the subject line Crazy Wedding Story, and we just might feature yours. And make sure to follow @BetchesBrides on Instagram and subscribe to our podcast, Betches Brides.
Welcome back to another Crazy Wedding Story of the week. This one is especially crazy and convoluted. It has everything: a ridiculously demanding bride, angry family members threatening to sue, and a twist you definitely won't see coming. You're so welcome that I've brought you this juicy incident to brighten your Wednesday. I know, I know—I deserve a f*cking medal. Or, in lieu of a medal, I will also accept $30,000 in donations—you'll see why in a sec. I can't really give an introduction to this story without giving too much of it away, so let's just cut right to the chase.
The Set-Up
Today's crazy wedding story comes to us via the Choosing Beggars subreddit, which proves in and of itself to be gold. The premise of the subreddit is exposing choosy beggars, i.e., people who expect ridiculous freebies for no good reason. Highly recommend for your procrastinating-at-work pleasure. So when someone posted screenshots to r/choosingbeggars of a Facebook post in which a bride reveals she's canceling her wedding after receiving a whopping $30,000 in donations, the post quickly went viral on the subreddit. Just in case we have some dirty deleting on our hands, here's the screenshot of what went down:

HOLY SH*T. First of all, it's nuts that this couple managed to raise $30,000 BEFORE the wedding. But that's obviously not the real issue here. How in the actual sh*t does someone think it's okay to collect tens of thousands of dollars from their friends and family, then pull a bait-and-switch? Then ask for MORE money and gifts?? The audacity of these people. I would be mildly impressed if I didn't want to slap the sh*t out of them.
The thing with donating money to a cause is that you typically expect the money you give will, in fact, go to that cause. Sooooo flip-flopping and saying that you suddenly need to use that money for a lavish honeymoon BEFORE you're even married (which, let's be real, is simply a vacation) and to get yourselves financially stable, makes actually zero sense.
Here's a hot tip: if you're not financially stable, you probs shouldn't be taking a $30k honeymoon. I'm no business insider, but that seems like pretty legit advice, right?
Also, you know that "rescheduled wedding" ain't happenin' and this is just a blatant cash grab. If I knew this person, not only would they not get another gift from me for their honeymoon, but they would never see another cent from me as long as we both shall live.
The Backlash
NATURALLY, every family member, guest, and wedding party member rightly freaked the f*ck out. The screenshots for you, my loves:
There's so much more than even these, but can I get a rich uncle who just gives me like $12k? That'd be tight. Also, can we not with the one bridesmaid that's like "I gave you $200 and I love you—I'm such a good friend"? Alright, Gretchen Wieners, take it easy.
The Plot Thickens
If the initial post and comments seemed a little wild even for the average psycho wedding story, you aren't alone in being all, "hmmm."
The detectives at Buzzfeed did some sleuthing and it looks as though this entire incident could have been a marketing ploy by some bullsh*t company. I mean, good job, marketing assholes. The post went up on Reddit on Monday and quickly was shared, like, everywhere because of how purely insane it is.
More screenshots of the family responses popped up on Monday night, but only via some f*cking website we've never heard of called CapturedIt.club, which seems a little weird. When it did go up, literally NOTHING ELSE was on the website. Sketch.
Any additional "comments" from family members had the Captured It Club watermark, which, like, again, seems a bit odd. If these are real screenshots, why are they watermarked with some rando website's name? Damn, how did none of us pick up on this? I feel like a fool. Even more questionable, none of the Facebook posts had any reactions, which is pretty weird. You would think something of this caliber would be a sea of angry face emojis, wow faces, and dislike buttons. The nail in the coffin, though, is that GoFundMe has no record of a bride named Pam and her supposed fiancé, Edward. And despite mentioning an Amazon registry in her original post, no such Amazon registry for a Pam and Edward exists.
And, after Buzzfeed published their article exposing the fact that this whole story may have been a PR stunt, capturedit.club took everything down off their website and replaced it with this screenshot:

So… it looks like we've all been hustled, scammed, bamboozled, led astray. But now I have more questions than answers. Who/what is Ben Hobbs? What the f*ck is the point of this capturedit.club website in the first place? Why were we all so eager to believe that someone would scam their friends and family out of $30,000?
I guess I've got to hand it to the people behind this weird-ass website for fooling us all. But, honestly, I'm kind of sad this isn't real. What does that say about me? Perhaps I'll grapple with these existential dilemmas in next week's crazy wedding story.
Images: Vitaliy Karimov / Shutterstock.com; Choosing Beggars / Reddit (6)
5 Weight Loss Products That Don't Work
Everyone wants a quick fix. In the age of instant gratification, the concept of waiting for results is lost on everyone. Smh. The diet industry knows this, and over the years, they have capitalized on consumers' lack of patience. Cue late-night infomercials and IG sponsored ads for the next big thing in weight loss. Spoiler alert: none of this sh*t actually works. Real results take time—we have been through this. I know you're better than that, but I also get the temptation. Like, even if something seems too good to be true, you might think to yourself that it can't hurt to try, right? Well, it might not hurt your body, but it will hurt your wallet. Here are five fitness products that promise a quick fix, but really do not work.
1. The Shake Weight

Oh, the infamous Shake Weight. Did you know that "you can get firm and fabulous arms and shoulders in just six minutes a day" with these? At least, that's what the manufacturers want you to believe. The Shake Weight comes in two versions, weighing two-and-a-half pounds and five pounds. That's very…minimal. But the creators of the Shake Weight claim the vibration creates isometric force on the muscles to hold steady, working the muscles more than regular concentric-eccentric movements. Seems scientific sounding and therefore legit, except for the fact that you can create your own isometric force during any exercise by holding the movement at the most force-generating part of the movement. So, by holding a bicep curl halfway for 10 seconds, holding the bottom of a squat, holding a V-sit for your abs, etc. That means you don't need a Shake Weight to do it. You can also work your muscles more by using dumbbells greater than 2.5 lbs, I'm just sayin'.
2. ThighMaster

Suzanne Somers is one entrepreneurial betch. I love and respect her hustle. This vintage little tool is like the at-home version of the hip adductor machines at the gym. For the goal of this product to be thinner thighs, it does make some sense kinesthetically for this movement and product to work. However, there is no way to spot reduce just one area of your body, so this product alone won't help you achieve thin thighs. There are also plenty of superior ways to work the thighs that don't require equipment, such as squats and lunges, as well as plyometric exercises. Plus, keep in mind that when it comes to any fat reduction, diet will always play a major role.
2. Ab Belt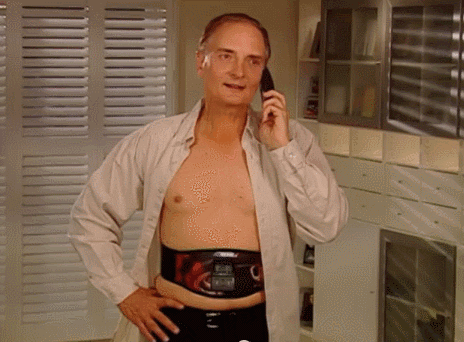 These belts send electronic stimulation to your abdominal muscles, so your muscles contract without you doing the work to contract it. As in, you don't even have to think of contracting your muscles. Who has the time and energy to consciously flex their muscles, right? But you want abs, though. Talk about lazy. Whether or not it works? Well, the Federal Trade Commission sued the makers of these belts in the early 2000s for making false claims, so that's that on that. Here's the real tea: if you can't even put in the effort to contract your own abs, then no product or person can help you. The end.
4. Weight Loss Gummies

So you've heard of the weight loss teas and lollipops that the Kardashian-Jenner clan have promoted. But now, there are also weight loss gummies for you, because diet pills are soooo 1999. This popular brand's gummies contain two steps, because that looks more legit. One gummy is basically caffeine from green coffee beans to give you energy, and the other one is supposedly an appetite suppressant made from garcina cambogia (a tamarind fruit extract). A one-month supply will cost you $49.90. Not only is packaging and marketing weight loss in a candy very ironic and a cheap juxtaposition, none of their claims have been evaluated by the FDA (no supplements on the market in USA are). These gummies could be, at best, ineffective and a waste of $49.90, or at worst, dangerous if you are allergic. On their website, they do not provide a full ingredients list for these gummies, so I would not be surprised if they contain very small amounts of these "active" ingredients. BTW, in 2014 the FTC sued a green coffee bean company for making false claims and false studies.
5. Slimming Creams/Masks

There are no products on Earth that, once applied directly onto the external surface of your body, can melt off fat, which is an internal cell INSIDE your body. Yes, because we have pores and glands on our skin, products do get absorbed. This is why it is important to use products that are clean and do not contain metals (such as aluminum in our deodorant). However, if we still haven't gotten aluminum poisoning after years of using our trusty Secret deodorant, there's no way a cream or mask can make us lose five inches in three weeks. Granted, supple and moisturized skin can appear tighter than dry, dehydrated skin (so don't skimp on your water), but if you ever see a cosmetic product claiming to "effectively burn fat," run from those scammers.
Hyped up fitness products come and go every year, but one thing has remained the same: the hunt for a magic weight loss solution. There is a reason why the diet industry is worth $72 BILLION. But just think—if weight loss was something you could purchase at a GNC, the nation as a whole would be a whole lot fitter and obesity would not as much of an issue. Not only is the hunt for overnight weight loss a waste of money, but it is also a waste of time. Can you imagine if instead, we spent that money on buying fresh produce, a gym membership, a piece of at-home gym equipment, or getting a session with a trainer to show us how to lift and work out properly? Something that breeds healthy habits and not false hope? Before you give this industry another dime, don't let the flashy commercials and edited transformation pictures fool you: there is no product that will give you maximum results for minimum effort. In fitness, just like in life, what you get is what you give.
Images: Giphy (4)
Theranos Scammer Elizabeth Holmes May Have Secretly Gotten Married
Elizabeth Holmes is many things: a Stanford dropout. A founder of a company that was, at one time, worth $9 billion. An alleged fraudster. And now… a wife? Perhaps, if a recent report in Page Six is to be believed. Though Holmes is currently awaiting trial for wire fraud, due to the fact that her blood testing company, Theranos, could not perform nearly any of the tests it claimed to the public and investors to be able to do, she is still living a pretty luxurious life in San Francisco. (This is white privilege.) Redditors claimed she is out and about, taking her fake wolf-dog, Balto, out to dog parks. She is currently living in a high-end apartment. And, to top it all off, she was noticeably engaged to hotel heir Billy Evans—but now they might be secretly married. Why is it that scammer Billy McFarland has a girlfriend, murder-commissioner Gypsy Rose Blanchard is engaged, and fraudster Elizabeth Holmes is married, and yet I have not committed a high-profile felony, and I can't even get out of the f*cking booty call zone???
Perhaps that is precisely the problem. If you'll excuse me, I need to go make a hit list of everyone who has ever wronged me and devise no less than six fake companies.
Just kidding, I won't do that (right now). But is Elizabeth Holmes really married? It's possible, but so far neither she nor fiancé Billy have confirmed anything. The news comes from a live recording of Bitch Sesh, a Real Housewives podcast. Apparently, the Bitch Sesh event had an open mic where people could come up and share gossip *jots down notes for my next work happy hour gathering*. A friend of Billy's got up and said that he and Elizabeth are already married.
The girl who shared this tea claims to have had Friendsgiving at Billy's apartment with Elizabeth also in attendance. Another audience member told Page Six, "She was sharing details like the fact they have a stripper pole in their apartment. The room audibly gasped, and this girl got a standing ovation. And a shirt!"
A free shirt for selling out your famous friends? Sign me the f*ck up. Just kidding, I don't have any famous friends! Damn, now I need to go make some so I can share their secrets in exchange for clothing.
Anyway! Holmes and Evans reportedly met at a party in 2017, and it's unclear why Evans would choose to shack up with someone who is currently facing wire fraud charges (maybe he, heir to the Evans Hotel Group, thought to himself one day, "hmmm, I have too much family money to blow—maybe I should get in a relationship with someone who can help me take care of that problem"). Not surprisingly, Evans' family is reportedly not pleased about the engagement.
For everyone asking about Holmes's social media. It's private. But here are a few screenshots of her and her fiancé we found online. (I personally find it crazy that she's being charged with 11 felony counts, thousands of people's lives were harmed, and she's as happy as can be.) pic.twitter.com/6nYfjltLt4

— Nick Bilton (@nickbilton) February 21, 2019

"His family is like, 'What the f–k are you doing?' It's like he's been brainwashed," a source told the New York Post. Still, Evans reportedly insists that the media "has it wrong" about Holmes (and I guess, by extension, the criminal justice system does too). But just like when your mom and dad tried to tell you the 21-year-old who still hung out behind the high school was not a good person to date, Evans doesn't seem to care what his family thinks. A source told the NY Post back on April 6 that wedding invitations had been sent out about two weeks prior. And although Billy could afford to give Elizabeth a huge rock, he gave her his MIT signet ring, because, the source claimed, "it could end up owned by the feds if she has to give up her material possessions." I mean, that's actually kind of smart, but so would be not getting engaged to someone charged with fraud.
If Holmes and Evans are indeed married, I think I speak for all of us when I say that I need all the details of their wedding immediately. Was Balto the ringbearer? Was Sunny Balwani, former Theranos president and Elizabeth's ex, in attendance? Did Elizabeth still use her fake voice when saying her vows? And, most importantly, what the hell will happen if Elizabeth is indeed sentenced to the 20 years of prison she's currently facing? No matter what happens, I'm going to need multiple documentaries on every streaming platform out there about Elizabeth's life behind bars.
Images: nickbilton / Twitter
This Fake Influencer's IG Posts Got Her Whole Family Arrested
You know how much we love a good Instagram influencer scandal, so I was thrilled to learn about today's story. It has everything: alleged money laundering, expensive cars, a fake influencer, and multiple arrests. Ladies and gentlemen, meet Jenny Ambuila. Her story is reminiscent of the Anna Delvey saga, but like, if her entire family was in on it. I'm still trying to put all the pieces of this story together, but let's go through what we know.
Jenny Ambuila is a 26-year-old woman who is originally from Colombia, but she's now based in Miami. She has two different Instagram accounts, and both have over 10,000 followers. They're both set to private now, but luckily her Facebook page is still public as hell (at press time, anyway), and from Jenny's photos, you'd think she has some serious money. She loves to post about her Lamborghini, her expensive handbags, and her lifestyle of luxe international travel. Before we even get to the whole reason this is all fake, let's first talk about her social media presence. The funny thing is that this girl doesn't seem to have any sort of aesthetic or photo editing skills. Usually with influencers, they have some kind of "look" to their feed, and they take quality photos (or just edit the hell out of them to make them look quality). Jenny's Facebook photos, though, just look like she just hit the "upload new profile picture" button and banged it out right then and there without even applying any filters. She's not even posing! It's tacky as hell, and I love it.

In case it wasn't clear already, Jenny Ambuila might be my favorite person. There is truly nothing I love more than an aspiring influencer who spends all her time trying to seem bougie on social media. What's not to love? This Instagram bio has all of my favorite things: multiple random cities, incoherent job descriptions, and the exact kind of car she drives:

Jenny Ambuila really is that bitch, and her Twitter page is proof. She only has eight followers on Twitter (lmao), but she's still using it to brag about how hardcore her life is:
10 insane days in Vegas. Zero sleep, full time partying & excessive drinking.

— JennyLifestyler (@JennyLifestyler) May 30, 2018
I've got to wonder, with eight Twitter followers and no likes on this tweet, who was she allegedly "full time partying & excessive drinking" with??
Live footage of me scamming men and avoiding all my responsibilities:

I'm obsessed. This whole thing reeks of new money, and so obviously her parents must be loaded, no? Well… no. Jenny is a student at University of Miami, so her lifestyle is bankrolled by her dad, who lives back in Colombia. The problem? Jenny's dad is a customs inspector at a sea port, and he only makes $3,000 a month. Now, I'm no math genius, but by my calculations, that's not nearly enough to buy a $300,000 Lamborghini. Something does not compute! To paint a picture for you, I make more than Jenny's dad, and I can barely afford a monthly Metrocard.
Clearly, Jenny's lavish posts raised some eyebrows back in Colombia, and this led authorities to launch an investigation into her purchases. Turns out, her father Omar has allegedly been accepting bribes in order to let goods into the country tax-free. Since 2012, he's reportedly pocketed millions of dollars in illegal payments, which sounds a bit more like Lamborghini money than that $3,000 a month we were talking about before.
Last Friday, Jenny and both of her parents were arrested while on vacation in Colombia, and now they're on house arrest while they face money laundering charges. Oof. Jenny hasn't made a statement or anything about the arrest, probably because no one actually cares about what she has to say, or because it's generally not a good idea to comment on pending litigation.
The crazy thing is that the whole point of being an influencer is that people are invested in your personal story, and there's nothing that interesting about Jenny, other than how hard she and her family were allegedly scamming everyone. Like, sorry, but posing with a luxury car just is not that interesting. She also has a website, "jenbyjen", which is supposed to be a "luxury blog", I guess. Move over, Poosh! The website just says "coming soon," but now I have a feeling it might not be so soon.

What's the moral of this story? Before you post pictures of your Chanel bags on Instagram, make sure that they weren't bought with money from international cargo bribes! Where does Jenny Ambuila rank on the all-time list of Insta-scammers? This whole thing is less impressive than the long-con of Anna Delvey, but Jenny was definitely better at the fake influencer lifestyle than some of these basic girls.
Images: Jenny Ambuila / Facebook (2); @jennylifestyler / Instagram; @jennylifestyler / Twitter; Jenbyjen.com
I Grew Up With The Wealthy & Connected—Here's Why The College Scam Shouldn't Surprise Anyone
I'm a person who's followed celebrity news since I was a kid (like, I had subscriptions to Us Weekly and PEOPLE in fourth grade), and even I did not anticipate the celebrity college admissions scandal blowing up like it has. When the news first broke, I was like, "Perfect. Now that Aunt Becky is relevant again, I can segue more easily into the story about how two women at Friendly's said I was a dead ringer for her when I was 16." Also, if we're being honest, I would drop $500,000 just to not have to endure the embarrassment of having a child who unabashedly calls themselves a "YouTuber" and "influencer." But beyond that, I was pretty unfazed about the news, because where I grew up, people have been fleecing the college system for years.
Full disclosure: I come from a WASP-y family. I was raised to not take that identity seriously, but to actually find humor in it. That led me to writing satire for a society website called Guest of a Guest, where I make fun of the culture and the people who try so hard to swindle their way into it all the time. I even make fun of myself for falling prey to it: I actually made the GofG list of "Most Pretentiously Named Socialites," my dog is literally related to the Kennedy's dog (plus I had relatives that worked for that administration), and I attended a boarding school at which my family boasted a really long legacy (although I only lasted a year). But thank god my family encouraged me to form my own identity, because otherwise, that would've made me the biggest douchebag. (I'm still a douchebag because I make snarky remarks about celebs for a living and literally highjacked an article about this scandal to talk about how someone once said I look like Aunt Becky, but at least I'm not wearing a cashmere sweater draped around my shoulders while doing it.) My parents and grandparents would be disappointed if I was too lenient on the WASP identity because it's tacky and lame to go into superfluous details about that lifestyle, but for the sake of illustrating how common it really is to game the college admissions system, I'm willing to risk sounding gauche, because it does need to be aired out.
First off, I'm proud of the family I come from, because while we were all given a great education, my grandfather taught us humility and the importance of a good work ethic. For the record, my family never once tried to buy their way into schools they didn't deserve a spot at, and I am grateful they didn't. Having access to great education and other perks is wonderful, but my parents really wanted to instill in me that there's so much more to life than going to a name-brand undergrad program straight out of high school.
But I grew up surrounded by and summering with a lot of ritzy prep school kids who didn't share the same beliefs (even the fact that I use the word "summer" as a verb is a huge tell). So I guess that makes me a ritzy prep school kid as well. I took a gap year after high school and did a program abroad, and the very first day of my program, I talked to a girl who went to an elite New Hampshire boarding school (I'll let you figure out which one), and she made it very known that she was attending Harvard in the fall. We took classes at a tutorial college and she would skip class and refuse to do homework because, "I'm going to f*cking Harvard." Ok, Elle Woods.
But some things she said would make me seriously side-eye. This chick was all too open about how lavish her family's lifestyle was and how liberal her dad was with his AmEx (only later on, he got tried for embezzlement). Ok, whatever. But one big piece of info she kept quiet about? Her grandfather was the president of a foreign country. Yeah. So I had to wonder if she got into Harvard solely on her own merit.
did any one else just assume that celebrities paid to get their kids into college and are shocked that it's actually illegal

— jaboukie (@jaboukie) March 12, 2019
This is not just me being salty—Harvard literally admitted that they let in wealthier people in hopes of getting more money from them, as if they need it. I even recall asking my parents how the hell our neighbors got all three of their kids into Harvard. Sure, they went to a really great New York prep school, but they also let the Harvard squash coach stay in their guest house for the summer.
I have tons of anecdotes like these, but I'll save the rest for my book. When I was having dinner with my parents after this whole story broke, I went into the conversation thinking it was funny as f*ck that these people were finally getting called out so publicly, while my parents were disgusted. Huh?
I brought up the story about my neighbors, and my mom said, "That's different. Those kids are smart." Is it different, though? It's just using your privilege, wealth, and access to get what you want. Maybe overt wire fraud isn't involved, but your hands are not entirely clean.
Now that the Hollywood Bribery Ring has been busted, the only thing helping rich kids get into college are legacy admissions, private tutors, board member connections, unpaid summer internships, interview coaches, and a lifetime of Ivy-bound grooming!!!

— Bess Kalb (@bessbell) March 12, 2019

What's even funnier to me is that my parents were outraged by Lori Loughlin and Felicity Huffman paying someone to falsify their kids' SAT scores. I don't see the big difference between that and donating a building, or giving free lodging to somebody who works at the school. And whether you're committing blatant fraud, or just throwing money to get your kid into a school you're not confident they could be accepted to on merit alone, you're doing a disservice to your child. Like, I know a girl whose dad is a higher-up in finance, and he secured her a job where he works, along with an elite education. When it came time to take the CFAs, she couldn't pass the test, even after her third time. So she wasted her time and energy (and Daddy wasted his money) on a career she wasn't cut out for, and she had to endure the humiliation of being fired from a company at which her father is a huge mover and shaker. I'm confident she's not the only story like that. I mean, Olivia Jade barely went to class at USC after her mom spent hundreds of thousands (and risked prison time) to scam her way in! Do you think she was really going to graduate with honors and a set career path in anything but makeup videos? No. An elite education, a trust fund, and two brain cells to rub together can't ultimately guarantee you success.
Job interviewer: Tell me about your time at USC
Olivia Jade: pic.twitter.com/qzDMWsyVxK

— Betches (@betchesluvthis) March 15, 2019
But ultimately, what I think should be on trial here is the antiquated education system that American society shoves down our throats. This stifling structure should be questioned because only a small percentage of kids actually thrive in that environment, and it's sad that parents are wasting money to force their way in. It's a detriment to their kids' personal growth, and pretty much everyone's personal growth, that we all think graduating college by 22 and adhering to a suffocating system like that is the only way to be successful in life. The VP of Google (F*CKING GOOGLE) even said that having a high GPA or going to an elite school has never been an accurate litmus test of whether or not you'd be a promising employee there (yet they funnel in Ivy League grads with 4.0's so…what the hell?). But until we realize that it really does not f*cking matter where you go to undergrad, wealthy, connected people will continue to finesse their wealth and connections to get what they want—just like they do in every other facet of society.
Images: jaboukie, bessbell, betchesluvthis / Twitter
Is 2019 The Year Of The Scam?
We're mere months into 2019, and already this year is shaping up to be messier than my IG stories after 12am. If you haven't been paying attention, then I'm of course referring to the unprecedented amount of scam scandals that have fed my will to live the media cycle over the past few months. First, the Fyre Festival documentaries dropped, and I've never felt more alive than I did watching a bunch of rich millennials resort to looting and petty thievery for a roll of toilet paper. Then Aunt Becky got caught bribing colleges because her daughter wanted to go to frat parties at USC, and now HBO just dropped a new documentary about disgraced CEO/Silicon Valley "It Girl" Elizabeth Holmes. While these scams aren't a great look for humanity as a whole, let me just tell you, they are GREAT for my Friday night binge-watching. But all of this makes me wonder: is 2019 the year of the scam?
To be fair, most of the aforementioned scams didn't actually take place in 2019. But while most of these scandals started hitting the news cycle in 2018, we're seeing the fallout from said scandals right now in the form of bingeable documentaries and docu-series. I guess it's like the old saying goes: "one person's trash catastrophic f*ck-up is another person's treasure."
So the question remains: Why is 2019 acting like my ex who texted me "you're the one who got away," and then once I responded in kind, followed up with "oops wrong number", leaving me feeling bamboozled, hoodwinked, and led astray? What is it about this particular year that is making scammers come out of the woodwork left and right?
View this post on Instagram
Well, I have some theories.
*clears throat*
*stands on soap box*
First, I think we have to talk about the giant heeto in the room: our President. Trump's Presidency opened doors for a lot of sh*t to come out, and I fully believe one of those doors was scamming. I mean, the man was just investigated for scamming the American people out of a democratic election, for god's sake!! Then there's the fact that everything that comes out of his mouth and Twitter feed is about as factually accurate as my Outlander fanfic. It's no wonder people think they can just lie their asses off, cheat people out of money, and not have to answer to any consequences when our own president freely admits he doesn't pay his taxes (and that's one of the less illegal things he's accused of doing).
Take Elizabeth Holmes, for example. For those of you who don't know who she is, let's just say her scam is more dramatic than any plotline Shonda Rhimes has ever concocted. Lizzy—I'm going to call her Lizzy from here on out because I know a Lizzy and she's also a goddamn mess, so this feels fitting—is the disgraced founder and CEO of the biotech company Theranos. Her whole thing was that she claimed to have invented a blood-testing technology that from one "pinprick's worth of blood" could test for hundreds of diseases simultaneously. This claim made her a casual billionaire, even though her technology DIDN'T EVEN WORK. Sh*t hit the fan for our girl Lizzy when a reporter actually, like, did his job and realized that she was sitting on a literal throne of lies. I mean, what does it matter if this "world-changing" technology works or not as long as you're making billions, amiright, Lizzy?
the first red flag should have been the name Theranos sounding like a villain in a Captain Marvel movie

— Danny Murphy (@kashmeredanny) March 19, 2019
It's this sense of bald-faced lying and entitlement that got Lori Loughlin in trouble as well. I think I speak for all of us when I say that the college admissions scandal is the gift that keeps on giving. And  by "gift that keeps on giving" I am of course referring to Olivia Jade, Aunt Becky's daughter and the reason she bribed a college at all.
Look, do I think Aunt Becky went into this scandal thinking, "Well, if the leader of this country can be a scam artist, so can I"? No, I don't. But I do think there's this underlying understanding in our country that as long as you're white and rich, you can get away with a lot, including lying and fraud.
And since my therapist says I can't blame Trump for everything bad that happens (blergh), I guess we as a collective people have to take some responsibility for all of this. We've become a country that prides itself on being ostentatious, outrageous even. The more insane you act, the more followers you get, and then the more sponsorship deals you land and the more money you make.
Nobody understood this philosophy of "acting ostentatious = getting money" better than fake socialite and real scammer Anna Delvey. Through the powers of white privilege, sheer confidence, and determination (and check fraud), she was able to convince Manhattan's richest millennials that she was one of them. Just by flashing cash here and there, she got people to cover her bills for fancy dinners, parties, and even a $60-grand vacation. Her friends never questioned that she was rich and could pay them back, because she seemed to constantly have cash—until she didn't. But Anna wasn't content to just live the high life; she upped the ante even further and tried to start a "foundation" (that was really just a glorified art gallery/Magnises clubhouse). She attempted to raise $25 million for her fake foundation, and she got pretty close! She even got linked up with respected venture capitalists, who vouched for her finances even though they knew next to nothing about her. All they knew was that she wore designer clothes and seemed to know what she was talking about, and they filled in the blanks about her net worth and legitimacy. And she almost got away with it!
To me the craziest thing about this Anna Delvey story is the fact that the Vanity Fair girl had a credit card limit of OVER $60K

— Betches (@betchesluvthis) June 1, 2018
And look at Billy McFarland, the creator of the greatest music festival there never was. Do I think Billy went into Fyre Festival thinking this would all just be one big scam? Maybe not consciously, no. That doesn't change the fact that he did actually scam people out of a lot of money. Like the chill $2.8 million he's been ordered to pay back to all the people he duped into showing up at his 2017 Hunger Games. And if you're thinking to yourself "Well, Billy got what he deserved in the end", I ask you, did he really? Sure, he got a six-year jail sentence, but he also gained infamy and a prominent feature in a Hulu documentary (which he got paid for), and that, my garbage friends, is priceless. Think about it. The Fyre Festival happened TWO years ago and we're still talking about it, talking about Billy, who he is and why he is the way he is. And while I don't think Billy went into Fyre Fest thinking he would gain infamy in quite this way, I do think that quest for fame and likes is what drove some of his actions.
It's certainly what drove him to continue scamming people WHILE HE WAS OUT ON BAIL. And you know what? People are eating this sh*t up. They're buying memorabilia from the festival, using memes of Andy King's face to lament bad dates, and they're doing this because they love the scam. It's hilarious and ridiculous and even though it hurt a lot of people and screwed a lot of people over, we still want to be a part of it. That's why we will listen to The Dropout podcast and watch the HBO documentaries. It's why we watched two documentaries on the same topic, and read an article in The Cut that was about 9 days long. It's because we love a good scam—so long as it's happening to other people.
So, there you have it. 2019 is officially the Year of the Scam. But the scam year didn't just happen over night; it's been years of buildup to get us to where we are today. Trump's presidency may have opened the door to let people get away with way more sh*t than they would have previously (*cough* white supremacy), but with that came the equal and opposite reaction of calling people out on their sh*t—whether that be your racist uncle at the Thanksgiving table or the people running our country. And you know who we're especially calling out in 2019? The rich and powerful. With the exception of Elizabeth Holmes, all these scammers were rich and famous or scheming to be rich and famous, so we don't feel bad for them, not really. In fact, we actively root against them. We don't want to just watch the mighty fall, we want to watch them crash and burn and then keep the burning carcass of their worst mistakes alive for all eternity in the form of a very shareable meme.
Which brings me to my second point: the media. Ten years ago, if the Fyre Festival—or any of these scandals, for that matter—had happened, it would have been a blip on our radars. Before Instagram and social media and news story roundups sent directly to your phone, I used to get my news from, like, The Today Show. And that's only because my mother refused to see the merit in letting me watch reruns of The Fresh Prince of Bel-Air while I trying to down my Eggos before school! I might have heard about the Lori Loughlin thing, but only if my mom called me up to personally tell me about it. Now, though, it's impossible not to keep up with these stories. You can watch the Fyre Fest disaster play out in real time, then head over to IG where someone has inevitably made a meme out of someone else's misfortune. Just when the scandal might die down, bam! Any streaming service suddenly has the rights to the story and has made a movie out of it. And don't forget the podcasts! My point is, there have definitely been stories about scam artists in the past, but 2019 has amped up the stage for their scams. We're not just consuming stories anymore, we're immortalizing them.
So whether the Year of the Scam came to be because of our country's leadership, the timing of the media, or if it's just because the American people are flaming piles of garbage who live for messy drama, I can't definitively say. I can say that if you need me, I'll be on my couch watching whatever train wreck Netflix recommends to me next. That's just how the cookie crumbles, people!
Images: @natcpod, @betches / Instagram; @kashmeredanny, @betchesluvthis / Twitter