Scheana Shay Is Releasing New Music & Here's What We Know
Here's a sentence I never thought I'd say: Scheana Shay has given me something to look forward to. Yesterday, the Vanderpump Rules star and self-proclaimed brunette Britney announced that she's been working on new music. To be clear, I'm not excited about the music itself—I'm excited to see it absolutely skewered when she performs it in season 7 of VPR. Every single detail she gave about said music is f*cking hilarious, as is the fact that Bravo's article about this refers to it as "huge career news." I'm sorry, but didn't Scheana herself admit in season 6 that she didn't see music as her career? Anyway, read on for details on the death of pop Scheana's new music.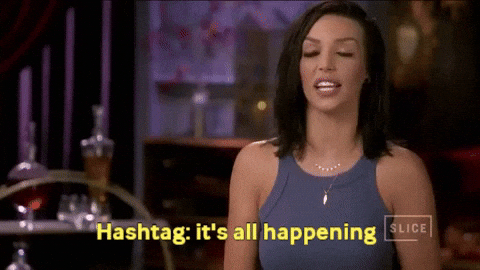 Apparently, this is Scheana's first time making music in five years. I guess time flies when you're addicted to Snapchat filters. The first of Scheana's new music is a song called "Better Without You," and it's a breakup song. Specifically, a breakup song about her divorce from Shay—AND about her break up with Rob Valletta, the guy who gave her verbal diarrhea for all of last season. Honestly, I'm a little surprised that the divorce from her high school sweetheart-turned-opiate-addict only merited half of a song. Then again, she now claims she was thinking about Rob even on her wedding day, so I guess I should be surprised she's willing to admit Shay ever existed. But whatever, if she compares their d*ck sizes half as much in this song as she did on TV, it's guaranteed to be a banger make everyone uncomfortable.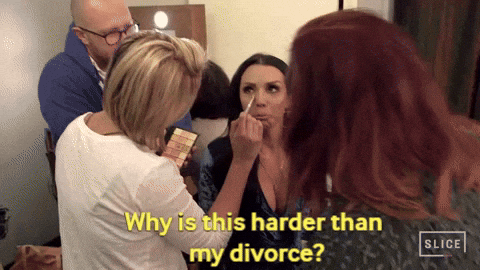 Scheana further threatened teased a song called "Do It Now (Get Naked)," for which she says she'd "have to do a music video." Do you, though? Do you HAVE to?
The worst best part? Scheana feels that she has "new swag" now (as in, since her days performing on the SUR bar), a phrase that means nothing but has apparently given her the confidence to get involved with the songwriting process for the first time. Frankly, I'm a little relieved and surprised that she wasn't behind the lyrical genius of "Good As Gold," but I can't say I have high hopes for whatever lyrics she does come up with. And before you yell at me for being judgmental, allow me to remind you that the title she's announced is "Do It Now (Get Naked)." When you're right, you're right.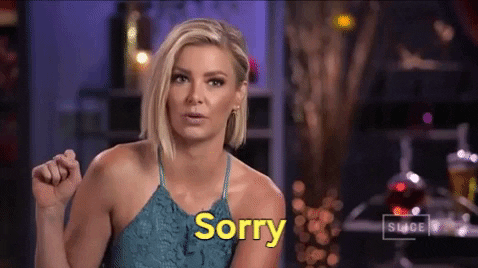 The grand total of Scheana's "big career news" will be five songs, including a "bad reputation" track that sadly confirms she will be drawing inspiration from the worst of Taylor Swift. Apparently you can hear teasers of "Better Without You" on the latest episode of Scheana's podcast "Scheananigans" (gag me), but that would require actually, like, listening to Scheana's podcast. Personally, I'm going to wait for season 7 of Vanderpump Rules to enjoy Scheana's new music. Because no matter how inventively I try to sh*t on it now, I know Stassi will do it better.
Images: Giphy (3)
A Look Back At Scheana Shay's Most Delusional Moments
Happy Monday, gang! Today is the 33rd birthday of Vanderpump Rules' Scheana Shay. Marie? Whatever. I'll give you all a moment to call in sick in honor of the 75 degree weather this holiday. While Scheana has the same three careers of most LA residents (actor, singer, waitress), she's better known for her work as a professional Delusional Dater. TBH, it's unclear whether Scheana needs an intervention or a lifetime achievement award when it comes to her delusional behavior. But I'm compiling a rundown of her most deluded moments either way. Without further ado, a list of all the times you wanted to reach into your TV and slap some sense into Scheana. Happy birthday!
Season 1: Scheana The Delusional Mistress
As you may remember from Season 1, Scheana dated Eddie Cibrian, then-husband of RHOBH star Brandi Glanville, back in 2006. What takes this episode from "being a bad person" to "being delusional AF" is that she claims not to have known he was married. Again, she's dating an actor who's married to a future Real Housewives star. Not exactly people known for keeping their private lives private. And yet it takes her "six to eight months" into dating to "find out." Oh, and she takes him back when he says he's actually "separated." Because really, why would he lie?? Great instincts.
As an added bonus, Scheana throws a fit when Lisa bans her from a dinner with Brandy Glanville in attendance. This isn't John Tucker Must Die, Scheana. It's kind of common courtesy not to invite your guests' husbands' mistresses to dinner parties.

Season 2: Scheana The Delusional Invalid
As delusional behavior goes, this is a minor offense, but still extremely funny. Scheana opens season 2 after having oral surgery and giving Stassi the silent treatment for not having called. Stassi neither gives a shit nor acknowledges that there's anything to give a shit about, all season long. It's glorious. But of course, that means the screaming monster inside Scheana's head that needs attention hasn't been fulfilled. So Scheana announces a foot injury. When this, too, does nothing but annoy people, Scheana suddenly has an eye injury. All injuries magically heal after administration of 30 seconds of Lisa Vanderpump telling her to grow TF up. Funny how that works. My only regret is that Lisa stopped this before Scheana came into SUR wearing the neck brace she definitely ordered.
(In case it's unclear why this counts as a delusional episode, consider that this is a 29-year-old woman claiming three distinct injuries in as many episodes. These are the excuses of a third grader trying to stay home from school, and it's confusing why Scheana thinks Lisa's that dumb.)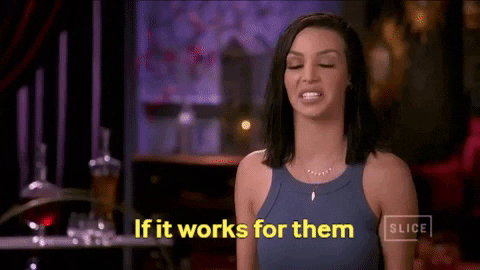 Season 3: Scheana The Delusional Wedding Planner
Between her impending wedding and Stassi alienating all her friends, Scheana's confidence is at an all-time high here. This leads to many deluded moments, like designing a crop top wedding dress and choreographing the reception. My favorite moments, however, are when Scheana tries desperately to chip away at Stassi's hold on the group. This is best exemplified on her bachelorette trip to Miami, which Stassi doesn't attend. So Scheana spends the whole trip loudly saying subtle shit like, "it's so nice when CERTAIN PEOPLE aren't here." Sadly, I really think she hoped if she made the trip fun enough, they wouldn't all run back to Stassi the second she decided to pick up their calls. Sorry Scheana, that's not how girl world works.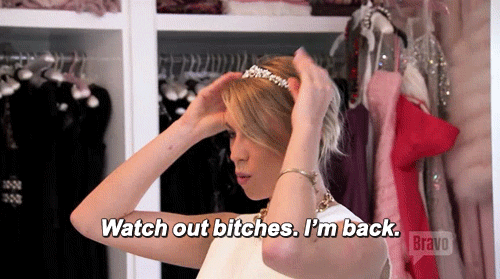 Seasons 4-5: Scheana The Delusional Wife
You all know about this particular delusion, and it's pretty sad so I won't dwell on it long. Despite the fact that Shay seems chronically depressed and occasionally disappears for days, Scheana insists they're fine. He eventually confesses to her that he's addicted to opioids. Scheana is devastated, but decides this can be turned around by working out and having Sandoval make them egg whites. This leads to a series of very painful episodes where Scheana tries to get Shay to act like nothing is wrong. She makes him go out and party with her friends, tells him she wants a fun husband who drinks, and forces Shay to make a confession about his drug use to the group. (The group's joint effort to pretend they considered Shay a friend is both heartwarming and deeply cringeworthy.)
Lisa gently reminds her that there are rehab facilities filled with professionals for this type of issue. Scheana's rebuttal is that she's making Shay pee in a cup at home. Later, she finds out he's spent a bunch of their money buying more drugs (I'm sorry, but duh). Shay continues to lie to her about it (I'm sorry, but double duh). In her one shining moment of VPR clarity, Scheana finally demands a divorce.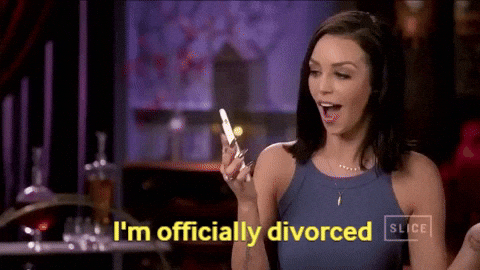 Season 6: Scheana The Delusional Girlfriend
Finally, the Scheana you all know and love, girlfriend of Rob Valletta, future mother of Madison Marie Parks-Valletta. Let's recount Scheana's absurd Rob statements this season. There's the story (repeated three to five times per episode) of how he assembled a TV in seven minutes (while she timed him!). There's the general praise of Rob's status as Platonic Ideal of Man, including a giant penis, ability to both fix a boat and water-ski behind it, and foresight to buy real estate large enough to accommodate all her bratty friends. Then there's the insistence that he never could have kissed another girl at Toca Madera, because "Rob doesn't like kissing." Also, there's the time Scheana said "I love you," blankly stared at him for five minutes, laughed, and walked away. Yikes. I think the pause here was her brainwashing herself into thinking he said it back.
I'll wrap it up with my favorite exchange of Scheana's Rob-related delusion. She's rooming with Lala in Mexico, and Lala gets flowers from her boyfriend. Scheana immediately gets competitive and FaceTimes Rob, who basically says "please stop calling" and hangs up. In the next room, Lala asks if Rob ever sends her flowers. "I don't like flowers," she says. Gifts? "I don't like gifts." While it might seem like Lala is kind of badgering Scheana here, I honestly think it was a kindness. They all just recently watched Rob around Scheana acting like he kind of hated her. Then he essentially hung up on her. If Scheana had been like, "oh no I have $10,000 worth of merchandise in gifts," that would have given the world something to go on. Instead, she said "I hate all gifts."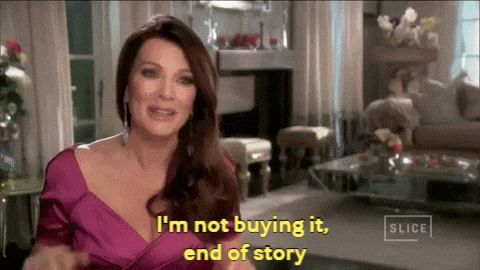 In a final bit of delusional news, Scheana now thinks she should have her own spin-off reality show. She's quoted as saying "with my life in Vegas right now, there's just so many interesting aspects to everything I'm doing out there, and the group of people I hang out with." Pro tip, Scheana: if you're angling for a reality show, maybe don't make your Instagram stories a second by second replay of exactly how boring your life is. And once again, happy birthday!
Images: Giphy (5)
All The Reality TV Guys Scheana Has Tried To Date For Attention
As I reflect on Monday's Vanderpump Rules finale, I'm grateful for a few things. 1) Lisa's face as she gleefully bankrupts the two Toms, 2) Human fedora Patrick is out of Stassi's life, 3) Scheana's airtime was limited to five minutes. Bless. Of course, it took Scheana exactly zero days to get herself back in the news. This time, it's for hosting a "viewing party" of the VPR finale with Ronnie Ortiz-Magro of Jersey Shore. Hmm, Scheana hanging out with a male reality star for attention? Where have we heard that before? I guess I'd be pretty desperate to distract from that season 6 performance too. But hitting up a Jersey Shore reboot cast member in the midst of his v public, v messy baby-mama feud? Has to be a new low. Here are the other D-list celebs Scheana's tried to pretend she's dating on Instagram been linked to this year.
Scheana, when even your mom is roasting you like this, you know it's bad:
Scheana Marie's mom told her she looked 'crazy' on #PumpRules due to obsession with Rob https://t.co/4aetrkdAXp

— Vanderpump Rules (@VanderpumpRules) April 30, 2018
Carl Radke
Around January, Bravo gossip started circulating that Scheana had hooked up with Summer House cast member Carl Radke. This wasn't explicitly Scheana's doing, to be fair. Kristen and Stassi were the first to spread this rumor, expanding on their favorite hobby of ruining lives via podcast. But Scheana then immediately took to Twitter,  making a huge deal out of how totally not true these rumors were. If she was actually trying to shut these rumors down, she was about as effective as with the Toca Madera rumors. But I'm more inclined to think she was just thrilled to hear her name coming out of Andy Cohen's mouth.
For what it's worth, Carl ended up confirming that he hooked up with Scheana twice on Watch What Happens Live. His ex-girlfriend Lauren Wirkus specified that he meant making out, not sex, which Scheana of course also immediately responded to on Twitter. Honestly, thank God WWHL doesn't have a call-in feature—Scheana would never leave the house again.
Scheana: *makes a bad joke about Kristen being thirsty*
Last thing I will say about this BS. In the words of Stassi, @kristendoute idk what I've done to you, but I'll GET you a Pinot Grigio. Looking pretty thirsty over there… ????????‍♀️

— ????️‍????Scheana (@scheana) January 30, 2018
Scheana's mom: (*furiously types even worse joke about Stephen being thirsty*) You're doing amazing sweetie!!!!
So @stephenmcgeeee Because Scheana knew where "cups" were at his apt that means they had sex? So lame…Maybe she can get you a cup…you sound a little thirsty! ???? https://t.co/AvnunCob3Q

— Erika van Olphen (@erikavanolphen) January 30, 2018
Robby Hayes
Next, Scheana briefly tried to convince everyone she was dating Bachelor Nation's Robby Hayes. (Quick background: Robby was first on JoJo's season, then went on Bachelor in Paradise, met Amanda Stanton, cheated on her, and weirdly Tweeted a bunch of their emails a few weeks ago. Actually, he could be a perfect match for Scheana.) On February 28, Scheana posted an Instagram of herself with this charmer. And of course, she captioned it with the classic "please start rumors about us" . (I guess that caption has since been changed?)
When asked about their relationship, Scheana has maintained that they're just "good friends" who "get each other" and live in "similar worlds" (aka fake reality TV worlds). Beyond the fact that this sounds like code for "we bang sometimes and the conversation in between doesn't make me want to kill myself," I fail to see how Scheana would have just naturally stumbled upon this "friendship." Scheana Someone DM'ed Robby someone to make this connection, and it's probably the person posting sus Instas about it later. In other words, it's notable that Robby has never posted anything of Scheana. (Though maybe he just doesn't have his iPhone welded to his hand like Scheana does.)
Either way, in a classic Carl "please keep paying me please care about me" Radke fashion, Robby couldn't resist giving US Weekly this final quote: "Whether we have moved on from our unsuccessful love stories on television to our own is still up in the air." Barf. These two really should date.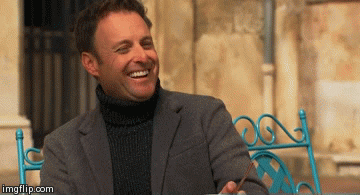 Ronnie Ortiz-Magro
Finally, we get to last night's encounter. Apparently, Ronnie had a rough Monday: in the midst of an argument over whether (now-ex) girlfriend Jen Harley had "sex videos" with an ex, the couple decides to livestream this shit. Highlights include Jen's packed boxes in the background, Ronnie screaming "put your fucking hands on me again I dare you," and, presumably, the quiet sound of their one-month old baby being scarred for life.
So, how does a Jersey Shore cast member unwind from a day like that? Apparently, drives directly over to Scheana's house so she can film the entire evening and upload it to Instagram. Jesus. Guess there's really no scandal too private or dark for Scheana not to want to get in on the 15 minutes of fame. I mean, it's a little too much of a coincidence that the first time they're hanging out is the day Ronnie's name is exploding in the news, right? And if you needed any further evidence that Scheana is desperate for more attention, she says the following in her story. "I mean, while watching the Vanderpump Rules finale, we have our own reality show in my condo."
No Scheana, you do not. In order for something to become a reality show, there has to be an audience for it. And—please believe me—people do not want to see more of you right now.
I'd yell at Scheana a little for not looking out for other women here (any footage of Ronnie other than him quietly weeping was probably rough for Jen to watch), but let's not pretend she's ever cared about that. At this point, I'm just getting genuinely concerned about her need to Instagram all moments of her life. (New theory: maybe she fakes crying on the reunion next week and runs out just to be with her iPhone?)

If we've learned anything from Rob/Scheana + Stassi/Patrick this season, it's that if you're the only one talking about the "relationship," you're probably the only one who thinks it exists. So until a guy comes forward and says "I'm dating Scheana," I'm going to have to start disregarding this nonsense.
That concludes today's round-up of Scheana's extreme thirst. Stay tuned for the day when Scheana posts her next "look at my reality boyfriend" Insta and "accidentally" tags Rob on her tit. I personally can't wait.
UPDATE: Maybe five seconds before we were about to publish this, Scheana opened her mouth again. I literally cannot keep up with this manic episode endless stream of thirst. In an E!News article, Scheana "speaks out" about Ronnie's relationship, sharing the kind words that "not everyone can work, not everyone is compatible." Welp, I guess she'd know.
She also snidely mentions that "they weren't together very long before she got pregnant," as evidence that the couple was beyond repair. All pretty rich coming from someone who made the comment "I know a family is something I want one day whether it's with Rob or Joe from down the street." So yeah. Maybe don't be taking shots at women for their sub-par family planning. All in all, this is the Scheana commentary no one asked for, on a situation she has nothing to do with, in the latest of her many sad attempts to have people give a shit. I think I speak for everyone when I say she should pull a T-Swift and cleanse from social media ASAP. Just please god don't follow it up with an "edgy" new album.
Images: Twitter (3); Instagram (1); Giphy (2)
The Twisted Timeline Of Scheana Shay's Relationships
Scheana Shay and Rob Valletta are a confusing couple for many reasons. Mostly, for the reason that he seems to barely tolerate her while she worships him like a tiny, water-sporting god. Their timeline, however, is nearly as confusing as why either of them stays in this relationship. On Monday night's episode (recap here), Rob announced that he and Scheana have been "dating for 10 years." His definition of dating seems admittedly flawed, given his addition that "she was married for six, so we weren't talking." But then again, marriage has not historically been a dealbreaker for Scheana, dating-wise, so Rob's comment seems worth investigating. Here's a definitive timeline of Scheana Shay's relationships.
John Mayer
John Mayer has dated everyone from Taylor Swift to Kim Kardashian (literally), so this is less than surprising. But yes, our very own Scheana Marie had a brief (under a month) fling with Mayer back in 2009. According to the Daily News, Mayer broke it off because she was too public about their relationship. Specifically, she called him "like, a dork" to Young Hollywood, and Mayer dumped her immediately, demonstrating his Arie-level sensitivity. The rest of the John Mayer coverage is pretty good evidence that Bravo ran out of ideas 5 years ago. (Tarot card readings and ruined birthdays are heavily featured.) Mayer's reps also apparently suggested that Scheana was "delusional" and the singer "laughed off all of this." Ouch, but kind of seems legit?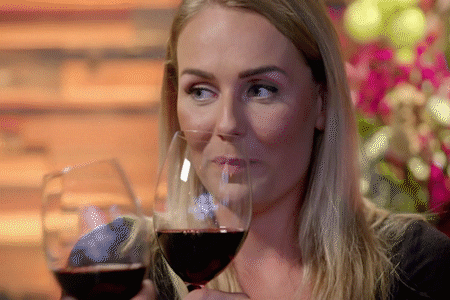 Eddie Cibrian
In 2013, Scheana says she met Eddie "seven years ago" (2006, for the mathematically challenged). "Six or eight months" after that, she temporarily broke it off when the whole "he's married" thing first came up. But then, "one night after work" (thanks for the attention to detail, Scheana, I need DATES), they make up. You know the drill: boy says his marriage is over, girl knows he's lying, girl sleeps with him anyway. Romantic stuff. "Shortly" after that, Scheana reads more about his marriage, gets pouty, and ends things for good. (A different article cites their relationship as 2006-2009. So I guess homeboy put over a year between the "I'm married" conversation and the "not really tho" follow-up. Bold.)
Is this information as helpful as, say, timestamped screenshots? No. But that's 2006 for you. At least we can add to the extensive pile of evidence that she has always been a delusional dater.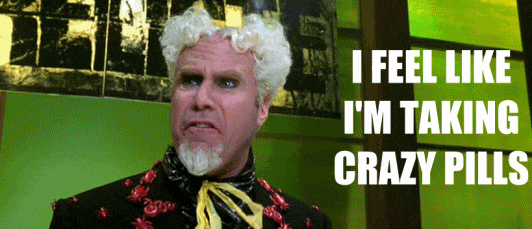 Michael Shay
Technically, Shay should be listed first. The two met in high school, where she was a cheerleader (of course) and he was a football player (really?). The couple married in July 2014, and divorced in November 2016. According to most timelines, they'd been dating for three years when they got married—giving Scheana plenty of time between 2009 and 2011 for that fictitious relationship with Rob. I'd devote more time to this section, but it was literally a televised event for five years. Keep up.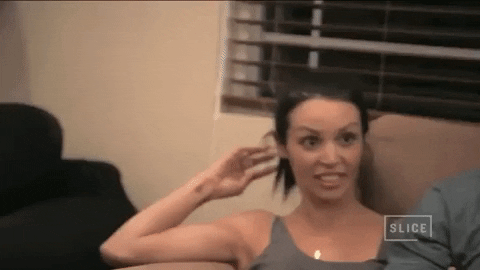 Rob Valletta
Now we get to the interesting part. According to this Page Six article (v legit), Scheana claims to have met her boyfriend 10 years ago, in 2006. Even back then, Scheana remembers being desperately thirsty smitten, claiming she broke things off because Rob was "the guy you marry, not the guy you casually date at 21." However, you'll recall from like, two paragraphs ago that 2006 is also the year Scheana met Eddie Cibrian. So let's just say it's possible that that was more of a factor in their breakup.
As for the years between 2006 and 2017? There's literally almost nothing. A random source claims the two "supported each other through the years," but like, the same could be said of my ADD and anxiety. It doesn't mean two people even like each other. Valletta says similarly meaningless crap, like this week's announcement that he and Scheana "have cared for and supported each other for 12 years." (Again, 2018–12 = 2006, so they're really getting their stories straight on the year at least.)
As we all know, Scheana and Rob broke up in October 2017. So it seems like they at least had significant overlap with Eddie Cibrian—but not much else is clear. More than anything else, I've learned that "facts" and "Scheana Shay's relationships" do not mix. It's partially because Scheana paints fiction over her past to go with whatever relationship she's currently in (e.g. saying she was thinking of Rob on her wedding day with Shay). And it's partially because half of Scheana's affairs are so scandal-ridden that the men refuse to comment. But mostly, it's for the same reason that mapping out your relationship with your first-ever freshman hookup would be impossible. Two hot people who keep each other in their lives as long as they continue finding each other hot tend to have a messy paper trail. I have a feeling Scheana and Rob fit that description.
Images: Giphy (3); Rob Valletta / Instagram
Scheana Still Doesn't Get That Rob Isn't That Into Her
Vanderpump Rules season 6 is well under way, and there's a lot to process this season. Not much of it is new, but it's all there: Jax cheating and subsequently lying about it, Schwartz cheating and sort of lying about it, Sandoval being emotional, etc. I could go on, but then I'd just be summarizing all 6 seasons of Vanderpump Rules, and then who would read my recaps? Anyway, one part of season 6 that's like, kind of a big deal but not as big a deal as Scheana wants it to be is her rebound relationship with Rob Valletta. This past week alone we grappled with pressing issues such as, did Rob cheat on Scheana? And, does anybody care? Apparently Scheana thinks we care (we don't), because she's still out here on Instagram posting thirsty messages directed at him. Last week, she posted a super grainy photo of the two of them with a corny-ass caption that said things like, "All I'm going to say about tonight's episode is that this is the most loyal man I've ever met in my entire life and he never left my side the night this so called incident took place!" She also asserted, "I know him better than anyone and him and i are just fine." She ALSO hashtagged the picture with "#kickstand" which, like, must be their weird nickname for each other, because Rob has put that in his Instagrams with her, too. And they say romance is dead. Get you a man who calls you his "kickstand."
Now that you've got a little background on the situation, this week Scheana kicked things up a notch—and no, that pun was not intentional, I swear. Yesterday, she uploaded a photo of herself in lingerie to Instagram, and tagged Rob. As her boobs. Well, specifically, one of her boobs.

I'm sorry, what? What does this mean? Why are you tagging your ex in this, and why is he tagged as your breast? Just…why? What am I supposed to make of this? What are any of us supposed to make of this? I'd say this is like, the more public version of you sending your ex a revenge nude because you want him to miss having sex with you. I'm just getting the sense that she's not completely over Rob. (Who would be, with a house like that?)
There's more to this story. Earlier this week, Scheana spoke to Page Six about her and Rob's relationship and basically blamed her fellow Vanderpump Rules cast mates for their breakup. She said, "After everything that happened this past summer, it's just not a group of people he wants in his life." She also said that she's sure one day they will get back together (sure, Jan), but not while she's in Vegas and not while she's working at SUR and filming Vanderpump Rules. Okay, whatever helps you sleep at night.
Scheana has also been on Twitter vehemently defending Rob against the "accusations". I put "accusations" in quotes because does anyone really give a shit if he may have made out with someone while he was dating Scheana, but they're not even together anymore? It just seems like a moo point.
I'm not worried. He was really hurt and bothered by the rumor Bc it wasn't true and I feel the need to defend him. It's not my reputation on the line here. It's upsetting ppl exaggerated a story about a great man. https://t.co/WzQO0x9fFl

— ️‍Scheana (@scheana) January 16, 2018
Like, oh my god. He may have made out with someone while he had a girlfriend. This dude is an actor who lives in LA. His reputation is not "on the line". Calm the fuck down. It is not that deep. She even told Page Six, " I do feel the need to defend Rob because what everyone is saying happened isn't the case," adding, "I'm defending him because I'm a very loyal person and that's out of character for him." I just eye-rolled so hard that I'm stuck permanently looking at the ceiling. This is me; this is my life now.
But what about Rob? Is he really as heartbroken over his reputation being ruined as Scheana makes it seem? Hardly. For one, he hasn't tweeted a thing about it. He also doesn't appear to have tweeted at all since 2014. He did upload an Instagram recently, though. Check it out. I think it's very telling.

Sooo yeah. Scheana is tagging Rob in lingerie pics of her boobs, and Rob is cheerily taking pictures with his arm around literally nobody, hashtagging "#couplegoals". Rob just does not seem as broken up over this relationship as Scheana does, and I wish she would get it because this is not a good look for her. If any of you out there need a handbook on how NOT to act after a breakup, just go through all of Scheana's social media accounts and then do the opposite of everything she's doing right now.
Scheana And Her Ex Are Being Super Annoying On Instagram
Well folks, it's officially that time. We're within 20 days of the premiere of Vanderpump Rules. I can't believe it's finally here. Maybe I'm tearing up a little bit at my desk rn just thinking about it. SUE ME. Based on all the shit we've been expertly reporting since last season's finale and the new trailer that just dropped, it's safe to say this season is going to be lit af. One of the main points of drama will be Scheana's relationship with Z-list actor Rob Valletta and whether or not he's there for the right reasons. I'm sorry… Since when does Chris Harrison moonlight as a VPR producer? We also know, thanks to an array of thirst trap Instagrams, that Sheana and Rob's relationship is already dunzo. Or is it? Because over the weekend she posted a 'Gram with none other than Mr. Valletta at the Vanderpump Dogs gala with hearts in the fucking caption. Brb. Going to the hospital to get checked out for the whiplash I got from trying to keep up with this shit.

I obvi have so many questions, that I will direct right at Scheana, because obviously she's reading this. Are you back together? Are you still trying to pull that "we're still best friends" bullshit none of us believe? What does this mean? You can't just post an extremely mature breakup post on Instagram that features you wearing a waist-length fur in the California desert with no panties on and then change your mind. You just can't. But maybe it's just a little publicity stunt, right? Like, one pic doesn't prove anything. But wait for it…

BOOM. A little hidden gem in the comments section of Rob giving the most fuckboy excuse I've ever heard in my life. You get called out by a rando Instagram troll for not posting shit of your on-again off-again girlfriend, and the best you can do is, " does post more about her private life than I do"? I mean, you had time to post all those shirtless selfies, Rob. I know your scheme. But tbh, I don't care either way because this is clearly complicated af we can count on Scheana's overly Botox'd face to cry about it at the reunion. And I live for a Bravo Botox cry.
One thing's for sure, and it's that somebody needs to mail that last commenter a Xanax. Andrea, girl, DM me.
Jax Threw Shade At Scheana And Her New Boyfriend
Maybe one Monday I'll wake up and Google Vanderpump Rules like I always do and there will be absolutely nothing new to report, but today is not that day. And I know what you're thinking… WTF else could be going on out there in that sexy unique restaurant? Stassi and Patrick have already broken up again. Mr. and Mrs. Bubba's fucked up engagement has turned into an equally as fucked up marriage. Lala is friends with Stassi & Co. How many more storylines can there be?!?!?! Well at least one, because Jax legit came for Scheana and her boyfriend Robert Valletta in the latest issue of Life & Style magazine. Oh shit here we go.
This shouldn't come as a surprise to anyone because if Jax doesn't stir up shit with someone new at least once a season, I think he might physically implode and turn into a fucking Pumptini. And sure, Life & Style isn't exactly the beacon of factual journalism but this shit came from Jax himself and not some sketchy-ass "source," so this is about as legit as we're gonna get. Anyway, Jax went on to say that Scheana was "fresh off of a divorce" and "the ink was barely dry" on her divorce papers. Way harsh, Tai, but not as harsh as the "I have milk with a longer shelf life with that marriage" quote. Classic. He also gave Scheana shit for "flaunting" her relationship on social media which is RICH given that he and his girlfriend have their own show whose whole purpose is flaunting their relationship. SMH.
But how does Brittany feel about this? Wasn't she just in Atlanta on vacay with Scheana at my favorite bar on the one Saturday I wasn't fucking there? Yes. Yes she was. And they're still besties. Brittany even came out saying she disagrees with her fuckboy boyfriend about the whole thing and is just glad Scheana is happy. Bleh, such a nice girl thing to say. So typical. No word on what Scheana thinks about all of this but I'm sure we'll see her cry about it and play the victim on the upcoming season of VPR.