Were Cole Sprouse And Lili Reinhart Broken Up This Whole Time? An Analysis
This just in, y'all: 2020 might actually be my year after all! Am I saying this because we finally found a vaccine for COVID-19 and can now shed our mole-people skin and live our lives doing truly wild things like breathing indoors amongst other people without covering our mouths and noses? Lol no. Am I saying this because my clip-on bang extensions finally came in the mail and I am about to look fire AF for my next zoom happy hour? Still no (but only because as my mother, hairdresser, the checkout girl at Walgreens, and Sweetest Betch You'll Ever Meet tried to tell me, I look like a prepubescent boy with bangs). I'm saying this because Cole Sprouse is back on the dating market! That's right: #Bughead is dead. In the irreverent words of Dylan O'Brien: 2020 is f*cking relentless. 
2020 is fucking relentless https://t.co/MsUyqHdGfU

— Dylan O'Brien (@dylanobrien) August 19, 2020
After months of speculation, will they/won't they articles, and a thorough breadcrumbing of the general public on their relationship status, we finally have confirmation that Cole Sprouse and Lili Reinhart have broken up. Yesterday Cole took to Instagram to post a picture of what was either a nature candid of Lili or stock image from Taylor Swift's "Cardigan" music video with a caption detailing the circumstances of his breakup. In the post he wrote:
"Lili and I initially separated in January of this year, deciding to more permanently split in March. What an incredible experience I had, I'll always feel lucky and cherish that I had the chance to fall in love. I wish her nothing but the utmost love and happiness moving forward. All I'll say about it, anything else you hear doesn't matter.
Also her movie comes out soon! I'm sure she's just as incredible in it as everything else she does. Thanks guys ❤️" 
Let's take a minute to unpack this. First of all, I love that he took the time to clarify the exact date range of their romantic demise. It's like he knew I was going to research the astrological significance of this time frame so I could use this as a reason to justify why I was ghosted in the spring. Also, the phrasing of a "more permanent split" feels very much like they both felt the weight of COVID and the CDC's wild guidelines for safe sex during a pandemic and decided their relationship wasn't worth salvaging—at least not if it meant f*cking through a sheet. Sad!
I will say, as far as breakup posts go, this is very mature and very sweet. He even took the time to plug her new movie! I can't even get my ex to complete my Venmo request for his last bar tab, let alone get him to do something like encourage people to support my life's work. For shame. 
Cole's post comes after a rocky year for the couple—like, rockier than the G&G plotline during season three of Riverdale. First there was the now infamous W Magazine cover shoot from the summer of 2019 where the two dressed in Twilight cosplay and looked absolutely miserable together, sparking rumors that the two of them were donezo, only for them to take to Instagram posting THE SAME PHOTOS with the captions "you don't know sh*t" and successfully trolling us all. We were then treated to a year of musings about the couple's relationship status, religiously stalking their Instagram feeds looking for any shred of evidence that the two were more than just amicable coworkers.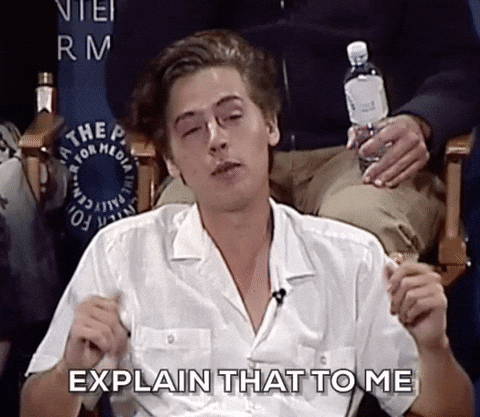 Then, earlier this summer, Cole was accused of sexual assault by an anonymous Twitter account and, despite speculation of a breakup, Lili rushed to his defense on Twitter. It was later discovered that this account had made multiple false claims and there were no charges filed against Cole. 
Which brings us to August 2020. In an interview with Refinery29, Lili talked about upcoming projects and her mental health. She spoke about how the coronavirus has affected her mentally, specifically saying, "The last couple of months have probably the most emotional few months of my entire life and my therapist me, 'Your body's going through withdrawal from love." She went on to say: "You're used to having this exchange of happy chemicals between you and the person that you're with… In moments of my life, I have dropped every ounce of pride that I had just to be like, 'Love me. Please take the pain away for a day, a second, an hour,' just so I can feel that fix again."
The internet, along with every tween Riverdale fan (and myself), took this to mean that the two had finally called it quits. Lili was quick to clarify on Twitter that her comments were taken out of context and she would like us all to kindly back tf out of her business, thx. She clarified that in the interview she was not talking about being depressed over her breakup, but rather the depression she's struggled with over the last few months. 
Quotes taken from my most recent interview are not about a "breakup." They are about the depression I've felt over these last few months. Tired of people taking my words out of context and piecing together their own story for clickbait.

— Lili Reinhart (@lilireinhart) August 18, 2020
A day later, Cole officially confirmed their breakup on Instagram. So, there you have it folks! Cole and Lili are no more. While I'm sad for them, I'm THRILLED for the added angst that's about to go into their characters' Riverdale sex scenes. Now, if you need me, I'll be here googling photography and meadery conversation starters, and other ways in which to slide into Cole's DMs. 
Don't miss out on any pop culture or entertainment news. Subscribe to our weekly newsletter here. 
Images: @colesprouse /Instagram (1); @lilireinhart /Twitter (1); @dylanobrien /Twitter (1); giphy (1)
Cole And Lili Broke Up Again, But This Time Feels For Real
For the six of you who are somehow still watching Riverdale, I'm so sorry. As we all know, we're in a major period of celebrity breakups, and another couple has bitten the dust. Over the weekend, it was reported that Lili Reinhart and Cole Sprouse have broken up after three years of dating, and it seems like it might be real this time. I don't know if there's anyone who's actually surprised about this, but I guess it's still a big deal.
On Monday, People and Page Six both reported that sources confirmed that Cole and Lili are no longer together. According to the Page Six source, they "split before the pandemic hit, and have been quarantining separately."  The source added that "they remain good friends," because god forbid two celebs hate each other like normal exes. If this timeline is accurate, then I've got a long list of follow-up questions.
The biggest indicator of this split came last week, when Riverdale actor Skeet Ulrich slipped up on an Instagram Live. When asked by a viewer if he thinks Cole and Lili are a cute couple, he responded "I think they were a cute couple." Lmao, WERE. His girlfriend, Megan Blake Irwin, chimed in, agreeing that they *were* a cute couple, and added that "they're both beautiful people." I love mess. How many angry texts do you think Cole and Lili sent Skeet after this? My guess is more than three, less than 12. How bizarre that in 2020, half of our celeb news comes from people saying things they weren't supposed to say on Instagram Live. Mason Disick was ahead of his time.
As we all know, this is not the first time that Cole and Lili have been on the receiving end of breakup rumors. Last summer, it seemed like they allegedly (maybe?) broke up, but then they clapped back with that bizarre magazine cover and some smug Instagram captions. We never found out if they actually split up during that time, which is exactly how they wanted it.
But the current breakup apparently happened a couple months ago, which would explain last month's rumors that Cole was hanging out with/dating/hooking up with Kaia Gerber. Of course, this led to a lot of speculation about the status of his relationship with Lili, but no one actually knew anything for sure. He seemed to respond to those rumors in an Instagram story, referencing "rumors and slander" and saying that "while I truly never intended to indulge any part of my private life to the ravenous horde, it's clear my restraint in updating them has allowed them to push their own agenda onto my habits and lifestyle." He also told everyone to "eat my delectable plump ass," because of course he did.
I get that being an asshole on social media is kind of Cole Sprouse's thing, but this couple has always rubbed me the wrong way. Cole and Lili have always been one of those couples who seem to want it both ways. Like, they star on a hit show together, and have done joint red carpets and magazine covers, but they always seem weirdly caught off-guard when their millions of fans are curious about their relationship. Of course, everyone is entitled to privacy, but Cole Sprouse has been at this a little too long to act surprised at people prying into his personal life.
I certainly wouldn't expect any kind of confirmation from Cole and Lili on this one, but these sources feel pretty realistic to me. We always knew that this quarantine period was going to lead to a lot of shifts in celebrity couples, and now we can just add Bughead to the list of quarantine breakups. That being said, it wouldn't shock me if they're suddenly back together next time they have to do Riverdale press. The network heart wants what it wants!
Images: Kathy Hutchins / Shutterstock.com
The Best Shows & Movies Coming To Netflix In May 2020
You know what they say: April Showers bring May… Netflix marathons? Look, I know you would rather not be watching one million hours of TV. May is supposed to be the beginning of darty season (or maybe you've graduated to drinking on rooftop bars). The sun is starting to shine, everyone can smell the beginning of summer, and things are generally looking up. This May… well, there's no need to restate the obvious, but all I'll say is that it does not appear we will be heading to a rooftop bar anytime soon. 
At least we don't have to worry about how pale we've all gotten. If only the glow of a computer screen could tan my face. Not that I'd have anyone to show it to, but I'd like to feel at least somewhat confident about my appearance in my Zoom square during meetings, which I do stare at 100% of the time. Anyway, here are the best shows and movies coming to Netflix in May.
'Becoming'

This week, Higher Ground Productions, The Obama's production company, announced their plans to air the documentary Becoming, which follows Michelle Obama on tour promoting her memoir of the same title. The documentary is set to premiere on Netflix on May 6th. I will take any and all Obama family content I can get, so I cannot wait to see the stories Michelle encountered and shares in this movie.
'Back to the Future' & 'Back to the Future Part II'

Has the Back to the Future franchise aged well? My guess is no, but I haven't seen the classic 80s movies in forever. Luckily, the first and second movies about the antics of Marty McFly and Doc Brown time-traveling are coming to Netflix this month, so we can decide once and for all. Hilarious that 2015 was considered to be so far into the future, and now I look back on those days wistfully.
'What a Girl Wants'

What A Girl Wants is Amanda Bynes at her peak. Fresh off the success of The Amanda Show (can they put that on Netflix?), Bynes goes to England to find her dad, who is none other than Colin Firth. A British politician, he takes her into his family, but she has to learn to fit in and not cost him the election. But at what cost, if she can't be her quirky, destructive self?
'Jerry Seinfeld: 23 Hours To Kill'

Seinfeld fans will be happy to know that Jerry Seinfeld is coming out with a brand new stand-up special, taped at the Beacon Theater in New York, premiering on May 5th. I watched the trailer and all 90 seconds of it are Jerry trying to convince the audience that something can suck and be great at the same time. "Never feel bad that your life sucks. The greatest lesson you can learn in life is 'sucks' and 'great' are pretty close," he tells us. Okay, clearly he knew this quarantine was coming? Something smells fishy, but maybe he will have some advice for us all.  
'Workin' Moms: Season 4′

Netflix is releasing the next eight episodes of Workin' Moms on May 6th, which gives you just shy of a week to catch up. The comedy follows the lives of four moms who met in Mommy & Me classes, and who have to return to the workforce after giving birth. In season 4, the kids are growing up, and the moms are too. They still have to figure out how to keep their lives, families, and careers are together without going insane.
'Dead to Me: Season 2'

The end of season 1 of Dead To Me was pretty crazy. (Spoilers ahead.) Judy confessed to Jen that she ran over Ted (Jen's husband), but then it was like… maybe not? And then Jen shot Steve, Judy's ex-fiancé, because she thought he was the one that killed Ted? Steve kind of sucked, so when the season ended it was kind of like… okay, I guess everything's evened out now. Season 2 says not so fast, missy, we've got a lot of questions to answer. Does Jen forgive Judy? Is Steve really dead? Who is actually responsible for killing Ted?
'The Eddy'
The director of La La Land, Damien Chazelle, is releasing his new eight-episode drama, The Eddy, on Netflix May 8th. "The Eddy" is the name of the struggling Paris jazz club owned by musician Elliot. The show follows him as he tries to save his club and his family when both begin to unravel. I expect lots of Paris scenes (who doesn't like those?), and lots of great music, so this show will definitely be one to look out for.
'House at the End of the Street'
The 2012 psychological thriller House at the End of the Street starring Jennifer Lawrence will soon be available on Netflix. In case you're looking to feel something again, horror movies are probably your best bet. When 17-year-old Elissa moves to a new town with her mom, she learns the house at the end of the street was the site of a gruesome murder in which a girl killed her parents and then disappeared. Elissa begins to date Ryan, the girl's brother, who still lives in the house and holds many secrets and grudges. I'm sorry, but that is a major red flag and her first mistake. 
'Grey's Anatomy: Season 16'

The most recent season of Grey's Anatomy will still be on Netflix. With production cut short due to the virus, the season features 21 episodes instead of the planned 25. If you need something comforting (comforting, as in, a show you've been watching for literally ever), then you'll be glad to see the newest season coming out May 9th, with all of your favorite characters—well, the ones who are still alive.
'Unbreakable Kimmy Schmidt: Kimmy Vs. the Reverend'

I have seriously been missing Kimmy Schmidt in my life, and I am so excited about this special. The whole eclectic bunch from the show appear in this special, and in Kimmy Vs. the Reverend, Kimmy embarks on her biggest adventure yet. The more exciting part? It's interactive; the viewer gets to choose what Kimmy does with her life. That's good, because sometimes she needs a little direction. Remember Bandersnatch? I imagine it will the same sort of setup, except it's not part of the Black Mirror franchise so you won't be weirdly distraught by the ending. 
'Riverdale: Season 4'

I seriously cannot believe this show is still being made. So much respect for Riverdale, the best show written by predictive text on an iPhone. I faded out during season 2 when they made up a drug ring and decided to call said drug "jingle jangle." But that's not even close to the worst they've done on this show. I might need something to laugh at and hate-watch soon, though, so maybe Riverdale will make its way back to my screen after all.
'Soul Surfer'
This is a classic. Soul Surfer is based on a true story of the life of Bethany Hamilton, whose left arm was bitten off in a shark attack. She eventually recovers and learns to surf with one arm. Still, she is frustrated that she can't be where she once was, and slowly realizes that her dreams of pro-surfing competitions and sponsorships probably aren't going to happen. When Bethany goes on a service trip to Thailand after the 2004 tsunami, she realizes that she can still use her skills to teach kids not to fear water. Let me tell you, you are never not in the mood for this movie. It's inspiring and a feel-good for sure. 
'Just Go With It'

Just Go With It is your typical Adam Sandler comedy, and is a fun watch when you're not really in the mood for anything else. Sandler's character is a womanizer, and his go-to move for getting women is telling them he's going through a divorce. When one of them demands to meet his "ex-wife", he enlists the help of Jennifer Aniston and also, to keep it going, pretends her kids are his kids. The kids convince Sandler to take everyone to Hawaii, where he and Jennifer Aniston actually do fall in love at the end of the day.
'Uncut Gems'

Speaking of Adam Sandler, he stars in Uncut Gems, but this crime thriller is the opposite of his typical roles. I'm glad this movie is coming out on Netflix because I thought about seeing it in theaters last year, but ultimately decided it wasn't worth the money, and then promptly forgot about it. Luckily for me, the wait is over. Uncut Gems is about a jeweler who needs to repay his debts quickly. Through dangerous and high-risk pawning and betting, he finds ways to get increasingly more money, and hopefully, it will be enough. 
There's a lot arriving to Netflix in May, so hopefully, something catches your eye. As always, they're kicking many shows and movies to the curb as well. Here are some of the shows and movies that are leaving Netflix in May 2020: Scandal: Season 1-7, It Takes Two, Yours, Mine and Ours, Austin Powers in Goldmember, Austin Powers: International Man of Mystery, Austin Powers: The Spy Who Shagged Me, Dear John, Final Destination, The Final Destination, Final Destination 2, Final Destination 3, Ghosts of Girlfriends Past, My Girl, The First Wives Club, Royal Pains: Season 1-8, Limitless, The Place Beyond the Pines, Love, Rosie, She's Out of My League, What's Eating Gilbert Grape. 
Images: sebastiaan stam / Unsplash; Giphy (10)
The Most Dramatic Celebrity Breakups Of 2019
There are so many things to love about this time of year. The bottomless supply of baked goods, the wall-to-wall Hallmark Channel Christmas movies, the multiple consecutive days where you don't have to change out of your pajamas, and finally, looking back on all the juicy breakups that happened throughout the year. I believe the phrase is "the best way to spread Christmas cheer is by recounting strangers' personal pain loudly for all to hear," no? Well, it certainly is for me. And this year, there were A LOT of celebrity breakups. So many, in fact,  that Ryanne even had to talk me down from one when I INSISTED you would all care about the guy from This is Us divorcing his wife. You can thank her in the comments. But let's take a look at the rest of the most dramatic celebrity breakups of 2019, and really get in the holiday spirit! 
Khloé Kardashian & Tristan Thompson
I had really hoped that by the end of this decade we would have stopped talking about these people, but it seems that is not the case. In fact, two members of America's First Family of Reality TV made it onto this list. The things I do for you guys. I still can't believe this breakup was only this year, but it was indeed back in February when Jordyn Woods foolishly cut herself off from the Kardashian juvederm gravy train by making out with Tristan Thompson. Big mistake. Huge. She claimed (on Red Table Talk) that it was just a quick kiss on the lips, but that was enough to seal her fate. Kylie threw her out, onto the mean streets of the Hollywood Hills, left to fend for herself with nowhere else to go but a slightly smaller mansion. Poor baby! 
This was the last straw for Khloé, who will tolerate her boyfriend motorboating models while she's at home pregnant, but a goodbye kiss on the lips is OVER. THE. LINE. She also seemed to blame Jordyn for her breakup when we all know men are the ones responsible for where they put their d*cks. 
Why are you lying @jordynwoods ?? If you're going to try and save yourself by going public, INSTEAD OF CALLING ME PRIVATELY TO APOLOGIZE FIRST, at least be HONEST about your story. BTW, You ARE the reason my family broke up!

— Khloé (@khloekardashian) March 1, 2019
Maybe don't pick a cheater next time, Khloé! 
Kylie Jenner & Travis Scott
We might as well get on with the Kylie and Travis breakup, since we're here. This relationship was a whirlwind. Kylie and Tyga broke up, and then she almost immediately got with Travis, and then she almost immediately got pregnant, because her mother was too busy selling her sister's sex tape and building an empire to teach her youngest daughter about the birds and the bees. At the very least she could have showed her that tape! Alas, she did not, and here we are. Stormi was born in February 2018, less than a year after Kylie and Travis got together. Things seemed to be going well for a while, with Travis even telling Playboy that having a baby had not slowed down their sex life at all. Duh, Travis! You are still in the honeymoon stage! And you have nannies! I think a decrease in sex life happens because people are tired from the baby and also kind of sick of each other from being together so long. Two problems Travis and Kylie would not be encountering. But congrats on beating the odds! 
But then, October came and Travis and Kylie announced they were on a break. Guess that sex life finally slowed down, huh? They still appear to be close, and although I wouldn't count out a reconciliation, this really was the end of an era for Kylie. Thankfully she has those billion dollars to hold her close at night! 
Miley Cyrus & Liam Hemsworth
I've got to admit, this one hurts. I thought these two crazy kids might just make it. After meeting on the set of The Last Song *pause for audible sobbing* and dating on and off for over 10 years, they finally got married in December 2018. Then, by August, it was over. And that's when it got messy. All of a sudden Miley was dating Kaitlynn Carter, the most annoying cast member on The Hills: New Beginnings, and Liam was walking around Australia looking like someone drowned his puppy. I haven't seen anything sadder since we got my brother's wedding photos back and it looked like my glass of champagne was my plus one in every single shot. (It was.)
THEN! Miley and Kaitlynn breakup (duh, she's annoying!) and now Miley is with Cody Simpson. AND THEN!!! Miley got a tattoo that says "freedom" which is obviously throwing shade at Liam. A little dramatic, but okay. 
But FINALLY! Liam is getting his head in the game and fighting back, recently posting a thirst trap. He looks hot, but we know you're not that innocent, Liam. Even my grandmother knows what a thirst trap is. 
Cole Sprouse & Lili Reinhart
This summer it was reported that Cole and Lili, aka the one sane spot in that bonkers fever dream known as Riverdale, broke up after two years of dating. OR DID THEY? This story was reported in July, but the day before they had been perfectly cordial at ComicCon. And I don't know about you, but I don't think "cordial" is the word I would use to describe myself post-breakup in my early 20s. Maybe "deranged" or "paralyzed by rage," but definitely not cordial. 
They never confirmed the breakup, and then, they started f*cking with us. Lili posted a picture of their magazine cover together saying "none of you know sh*t," and Cole posted the same picture, with a caption I don't understand but I can feel like I'm being mocked, you know?
If Cole and Lili broke up, or if they did not, it doesn't matter now, because they're back together! I don't like being toyed with, but I will take it if it means that Bughead is forever. 
Bradley Cooper & Irina Shayk
I heard you all sigh when you got to this one, but don't act like I'm the only one here who cares about Bradley Cooper. He's still hotter than most of the men in Hollywood even when he's pretending to pee himself at the Grammys, okay? So, last year, Bradley wrote, directed, and starred in a little film called A Star is Born, maybe you heard of it? *pause for audible sobbing*. Sorry, that garage scene haunts me. Anyway, his co-star was the inimitable Lady Gaga, and boy did people want them to be a thing. And then, Gaga and her fiancé broke up, and she and Bradley performed at the Oscars, making everyone believe they were in love. Guys, THEY ARE ACTORS. THEY WERE ACTING. 
With this kind of speculation, though, it was almost inevitable that Bradley and Irina were going to break up. In June they announced that they were separating, which is sad, but at least they did produce quite possibly the most adorable child of all time. Yes, I do follow celebrity baby Instagram accounts, and no I don't want to talk about it. I would just like to stress, though, for all you believers that are still out there, he will never, ever, be getting with Lady Gaga. Because he's obviously going to end up with Jennifer Garner, right? Where my Alias fans at??!
Hannah Brown & Jed Wyatt
And finally, we get to the biggest Bachelor Nation breakup of the year. I think this one can be summed up by saying "men ain't sh*t," but you probably want a little more explanation than that. Basically, Hannah picked the incredibly poor man's Tim McGraw as the winner on her season of The Bachelorette. And then, after she picked him but before the season was finished airing, it was revealed that Jed had a girlfriend when he went on the show and he clearly was in it just to get famous. FOR SHAME, JED! Tim McGraw would never do something so nefarious. So, Hannah dumped him on After the Final Rose, and went on to win Dancing with the Stars, and in general be one of the best Bachelorettes that the franchise has ever produced. She scrubbed him from her Instagram, but he didn't because he still needs her to keep him relevant, duh. It appears Jed has a new girlfriend, good for him! Just FYI sweetie, he didn't write "I wanna be your Mr. Right" for you. 
And there you have the most dramatic celebrity breakups of 2019. Count on even more Kardashians on next year's list!
Images: khloekardashian, travisscott, liamhemsworth, winterstone, commentsbycelebs, lilireinhart, colesprouse, _itsleeas, jedwyatt/ Instagram; khloekardashian/Twitter
All The Best Times Kelly Ripa Trolled Her Children On IG
We love celebrities who don't act fake on social media, so naturally Kelly Ripa is one of our faves. When not publicly thirsting over her husband, she can be seen trolling the sh*t out of her kids, which we always appreciate. Like, sure your kids are the light of your life and whatever, but what fun is being a parent if you can't rag on your kids a little? I started taking note of Kelly's trolling on Father's Day, when Lola apparently walked in on her parents having sex and probably wanted to claw her own eyes out. Now, I know you're thinking that's bad, but not "time to finally file the paperwork and get emancipated from these lunatics" bad, mainly because it was an accident. But not only did Lola walk in on her parents having sex, they then recounted the story to their five million closest friends on Live! the next day. MOM!! While Kelly and Mark did seem slightly embarrassed that this happened (AGAIN?!!!), I can't help but think they went backstage during a commercial break and did their best Dr. Evil laugh. 

And that's when I realized that Kelly Ripa lives to torment her children. I mean, of course, she loves them, I'm sure she bought them each a Bentley for their 16th birthdays yada, yada, yada, but I also think she loves trolling them. I'm certain my parents had children solely to mulch the backyard, and I'm certain that Kelly Ripa had children (especially Lola) so she could lovingly make their lives a living hell, and I'm here for it. I can't wait to do the same to my own daughter one day! I'm taking notes. Here are all the best times Kelly Ripa has trolled her children.
Like most teenage girls, Lola is particular about which photos she'll allow her mother to post of her on Instagram. This makes complete sense because Kelly has over two million followers, half of which I'm sure are ready to call a teen girl a washed-up street dog or something equally vile. The internet is the best place!!!! Kelly respects Lola's request and gives her photo approval, but also roasts her for it, as any good parent would. For example, when wishing Lola a happy 17th birthday, Kelly claimed she couldn't get any photo approval so just posted a picture of Lola when she was still in the womb.
Honestly the only thing that would have been more savage would've been if Kelly had posted Lola's sonogram. Maybe next year??
Kelly also engages in lots of very suggestive flirting with Mark over Instagram. Take, for example, this one:
Lola felt she couldn't let this moment pass by and commented "is this caption necessary" which I think is a very sweet way of saying "could you two get a room, preferably with a locked door?" 
Kelly and Mark also decided to engage in some light foreplay in the post below, and while it appears none of their children commented on the exchange, I'm sure they saw it on IG and also in their nightmares.
I'm just imagining Kelly and Mark sitting in the same room, giggling to themselves as they reply to their own Instagram comments. And then their children, reading this and gagging at their parents making jokes about group sex. Also RIP Luke Perry, I'll never stop missing you and I'll never stop rewatching season 1 of Beverly Hills, 90210 an unhealthy amount.
But even though Kelly does troll her daughter online, she is also willing to troll herself, which I appreciate even more. Most celebrities take themselves way too seriously *cough* Leonardo DiCaprio *cough* so when one of them demonstrates even the slightest bit of self-awareness I'll give them props. I know, I'm like, really generous.
I think this is my favorite interaction between Kelly and Lola because it involves self-mockery, 90s fashion, and Hiram Lodge doing what he does best: sucking. Plus, it also shows that beneath Kelly's deep dark desire to torment her children for her own pleasure, she also is a generous mom, and probably has an amazing closet she shares with Lola. If I had to make a deal that in order to wear all those designer clothes I had to occasionally walk in on my parents having sex, I can't say I'd turn it down. Oh wait. Yes I would. I really, really would.
And those are some of the ways Kelly Ripa trolls on Instagram! Personally, I don't think I'd be the perfectly well-adjusted pretty okay human that I am today if my own mother had not simultaneously trolled me and loved me, so I think Kelly is doing something right. But I will say, for God's sake, get a lock on your door!
Images: Giphy (1);  kellyripa (1), commentsbycelebs (3)/Instagram
This Gen-Z Celeb Quiz Will Make You Feel Like The Oldest Person Alive
If you spend a lot of time reading Betches articles, chances are you have a pretty solid amount of pop culture knowledge. From Bachelor Nation to the Kardashians, you're probably the source of all things celeb news in your group chat. And like, same. But no matter how much Access Hollywood you watch, we all have blind spots. And if you were born before the late '90s, your biggest blind spot is probably literally everything about Gen-Z.
Gen-Z celebrity culture is a wild mix of YouTubers, hot people from Netflix shows and movies, and people who maybe used to be on a Disney Channel show, but I'm not actually sure. Luckily, the good people at BuzzFeed know how little you know, and they put together a handy quiz about all the biggest Gen-Z celebs. For each question, they show you a celeb photo, and you have to pick the right name from three choices. It's harder than it sounds.
The quiz is 100 questions long, but they promise that "Only a Gen Z'er can make it past level 40." Basically, you'll be done quickly, especially if you don't know who any of these people are. Some of the questions aren't that bad, but they're mixed in with names that seriously sound like you put them through a random generator.
Things get going on a pretty easy note, if you pay literally any attention to what's happening in the world.

Really, one of the best parts of this whole quiz is the fake name options they come up with. I'm still not over William Eyelash, which I have been told by my younger cousin is Billie Eilish's government name.
The first few questions are mostly pretty easy, but the first real curveball comes at question seven, which at least half a dozen people in the Betches office couldn't get past this morning. Do you recognize this man?? I'm not going to spoil it here, but go read my article explaining wtf TikTok is if you want a little help.

No, that's not Josh Peck, and shame on you if you thought it was.
For me, the hardest of the quiz is probably that I absolutely can't be bothered to watch Stranger Things or 13 Reasons Why, and that's apparently all people born after 1998 care about. There are some things I'm simply not meant to know or care about. Still, I was able to make it into the 50s the first time I took the quiz. Luckily, it lets you retry the last question you missed, so you don't have to start over if you really just want to know who the kids are talking about.
The quiz is both a fun learning experience and a walk down memory lane of celebrity hot messes, with fun appearances from the likes of James Charles, Tana Mongeau, and Bella Thorne. Oh yeah, and quick reminder that Ariel Winter looked like this at some point:

Maybe this is the sleep deprivation talking, but I could've sworn that was Isla Fisher.
I personally recommend that you stick with the quiz till the end, even if it takes a few tries. Once you get past the first 50, you're in true word salad territory, with collections of words that could be names or fictional creatures in books—your guess is as good as mine. Example:

I really have to applaud BuzzFeed for this one, because I haven't stressed this much over an online quiz since I took government class online in high school so I could get an extra study hall period. This quiz really is an improvement from their typical "Choose A Picture Of Garlic Bread And We'll Tell You What Career Path You Should Choose" quizzes they've been doing a lot of lately.
My advice? Go for the best score you can, then drop it in the group text so you can see how clueless all your friends are. Bonus points if you get your whole office to take it so you can spend an hour not working. You might never truly know who all of these Gen-Z stars are, but at least you'll have something to talk about with your teenage cousins when you see them at Thanksgiving.
Images: Shutterstock; BuzzFeed (4)
Lili Reinhart And Cole Sprouse's Breakup Is More Dramatic Than We Thought
After a few days to process the news of Lili Reinhart and Cole Sprouse's breakup, I was feeling pretty at peace. I'm not a Riverdale fan, so I never felt any strong personal connection to their relationship. They're both obviously gorgeous and I'm sure they're great, but I wasn't heartbroken over the news like some other people were. But now there's more drama going on, so all of a sudden it's all I care about. Apparently the stars of Teen Mom haven't been stirring up enough controversy, because right now I feel like I'm one notch away from starting a Lili Reinhart and Cole Sprouse truther Twitter account.
I've got to say, it's frustrating how not-messy these two are on social media. Here I am, checking which tweets they've liked or who they've replied to, and it's all a big nothing in terms of clues, except for one tweet that Lili liked. At first, I passed it over because the tweet is in Portuguese, but the video is actually hilarious. The tweet translates to "When I'm about to do something stupid and change my mind," and the video shows Lili refusing to take a microphone from Cole. It's actually a funny meme, but we don't know whether Lili liked it out of humor or to be shady. Who knows?
Quando estou prestes a fazer uma coisa de errado e mudo de ideia:@lilireinhart pic.twitter.com/hx0q4DrKR4

— centralreinhart (@centralreinhart) July 24, 2019
Over on Instagram, Lili posted a couple photos of her with the Riverdale cast from San Diego Comic-Con, so she and Cole have been in the same place, but that was never a mystery. Cole, on the other hand, hasn't posted since June, when he reminded us all that he's actually a super real photographer by posting half a dozen pics from a shoot he did for Elle in Iceland.
I'm not mad at this Iceland content, but it's not really what I'm looking for from Cole right now. On paper, we still don't officially know that they're broken up, but the deluge of tabloid stories and anonymous stories in the past week would indicate that there's at least something going on. Of course, you can't trust every tabloid story, but when a lot of people are saying more or less the same thing, it's usually at least a little bit legit.
For example, a source told E! News that Cole initiated the breakup after a big fight earlier this summer. The source says that "their relationship has always been up and down," but that they'll probably get back together. When this alleged fight and breakup happened, they were on their summer break from filming Riverdale, but filming has now started back up. They obviously spend a lot of time together on the set, and I don't think they can really rewrite Betty and Jughead's scenes together.
Of course, we don't actually know who this source is, or how reliable their information is. But I don't buy the idea that they're definitely going to get back together just because they're working together again. Coworkers date and break up all the time, and it's a pain in the ass for everyone else in the workplace, and no Janice, I don't want to hear about Steve's erectile dysfunction in the break room.
Maybe they'll get back together out of convenience (or love I guess, if you're into that kind of thing), but there are also other factors at play here. Another source told People that Lili and Cole's breakup wasn't that surprising to people who know them, and that "Things have felt super heavy in the relationship for a while, and it got to be too much." Again, take all this with a grain of salt, but I can imagine that it would be stressful to have the entire world paying attention to your relationship. Lili and Cole have always kept the particulars of their relationship pretty low-key, but the pressure still must get to them.
According to the People source, "They're both very professional though and trying to be as amicable and friendly as possible." This makes sense, because Lili Reinhart and Cole Sprouse aren't in the position to ruin their reputations by causing scenes on the Riverdale set.
So, can we synthesize all of this info into one theory about what's going on with Lili Reinhart and Cole Sprouse's relationship? My best guess is that they're currently not together, like in a relationship sense, but they can obviously still stand to be in the same room. As the press ramps up for season four of Riverdale in the fall, we'll probably get a better sense of whether they're actually a couple, but it probably doesn't matter much at this point. They're so young, and it would be weird if they didn't have a healthy dose of relationship problems. They're both pretty, so I'm sure they'll work it out.
UPDATE: It looks like my newfound obsession with finding out the truth about Lili and Cole isn't going anywhere. No sooner had I finished writing the above article, than Lili and Cole broke their Instagram silence with a post that really throws a wrench in this whole situation.
Okay so, yeah. This complicates things. The caption is an obvious wink to all of these sources that have been speaking about Lili and Cole's breakup, which might not have actually happened? I'm so confused by all of this, but Cole and Lili are definitely not into all of the rumors that have been going around. Personally, I don't necessarily read this as proof that they aren't broken up, but they obviously don't really want us to know exactly what's going on.
Also, it's important to note that this cover for W Magazine was definitely shot weeks, if not months, ago, so it's not like they were doing this photoshoot specifically to prove everyone wrong. They still have a show to promote together, so press appearances come with the territory. For now, we're all just going to have to keep guessing what's going on with these two.
Images: colesprouse, lilireinhart / Instagram
Lili Reinhart And Cole Sprouse Reportedly Broke Up
When it comes to celebrity couples, we all have that one. You know, the one you think are completely rock solid and take for granted. The one that, to you, exemplifies true love. The one that, if they were to break up, would signify that love as we know it does not exist. For me, that couple is probably Chrissy Teigen and John Legend. But if you're a teenager and Riverdale fan, that couple might be Cole Sprouse and Lili Reinhart, who are (were?) a couple on Riverdale and in real life. So I'm sorry to be the bearer of bad news when I tell you that multiple outlets are reporting Cole Sprouse and Lili Reinhart may have broken up.
Cole and Lili, who play Jughead Jones and Betty Cooper, respectively, on Riverdale, started dating two years ago. They started dating secretly in July of 2017 and started publicly flirting on Twitter a few months later, in February of 2017. They were known for generally being pretty cute towards each other on social media, without being over-the-top or annoying. They would also post these beautiful, artsy photos of each other, because I guess that's what you do when you're young and in a relationship in 2019.
Or at least, Cole would post artsy photos of Lili. Lili posted pretty normal looking pictures. Still cute, though.
View this post on Instagram
Now, though, outlets are reporting that the two have split. A source told Us Weekly that they overheard Cole telling a friend that he and Lili were broken up. WHAT?! I'm going to need a transcription of exactly what was said and an itemized list of the reasons they supposedly broke up. Now, an anonymous tabloid source isn't exactly ironclad evidence of a breakup, but apparently, Cole and Lili "kept their distance" and "were rarely seen together" while at San Diego Comic Con this past weekend. Awkward. If I can think of the last place on Earth I'd want to be with my recent ex, it would be an overcrowded convention center or hotel ballroom. Also, Lili posted a picture of herself sitting between KJ Apa and Cole at a panel at Comic Con and captured it, "Please don't put me between these two ever again."
View this post on Instagram
However, I'm going to go ahead and say that this is just a cheeky Instagram caption, and trying to read into it for evidence that Cole and Lili have broken up is a big reach (Cosmo).
For now, neither Lili nor Cole have officially confirmed the breakup, but five days ago, Lili posted this tweet. Again, it's not evidence of a breakup, but it seems kind of shady in retrospect, like all Khloé Kardashian's sub-Insta Stories directed at Tristan Thompson.
One must choose very wisely when considering how many fucks to give. Don't give your fucks away so easily. Don't let someone who is not worthy of any fucks, take your fucks away from you. Some things/people are just not worth it. ?? amen.

— Lili Reinhart (@lilireinhart) July 17, 2019
I crunched the numbers, and there are precisely two types of situations in which I would post something about giving f*cks to the wrong person: a job that destroyed my mental health, or a guy who f*cked me over. I'm personally leaning towards the latter because this reads like the exact type of tweet I would post after finding out a guy who never had time to see me because of "personal issues" was going on multiple dates with other girls. (And also because of confirmation bias.) But again, without any official word from either Cole or Lili's camp, this proof is about as solid as my conspiracy theory that McDonald's never made ice cream, they just put dummy machines in all their locations so you'll keep going back and buying something in the hopes that one day, the ice cream machine will be working.
Then again, despite reports that Cole and Lili were basically avoiding each other at Comic Con, Cole was on Lili's story as recently as a few hours ago.



This looks like the exact type of light poking fun these two are known for, and not really like a "get me away from my ex" post. So one question remains: What is the truth??
I think I speak for all of us when I say, let's all hope this is just a bad rumor. I won't go so far as to say that love is dead if Cole Sprouse and Lili Reinhart are no longer together, but I will say that the world would have lost another attractive celebrity couple who are generally pretty cute and seem sincerely into each other. For now, we'll have to wait and see.
Images: lilireinhart / Twitter; lilireinhart, colesprouse / Instagram